Rejuvenated Rua back from heel injury
Texas hopes Hamilton can pinch-hit before season ends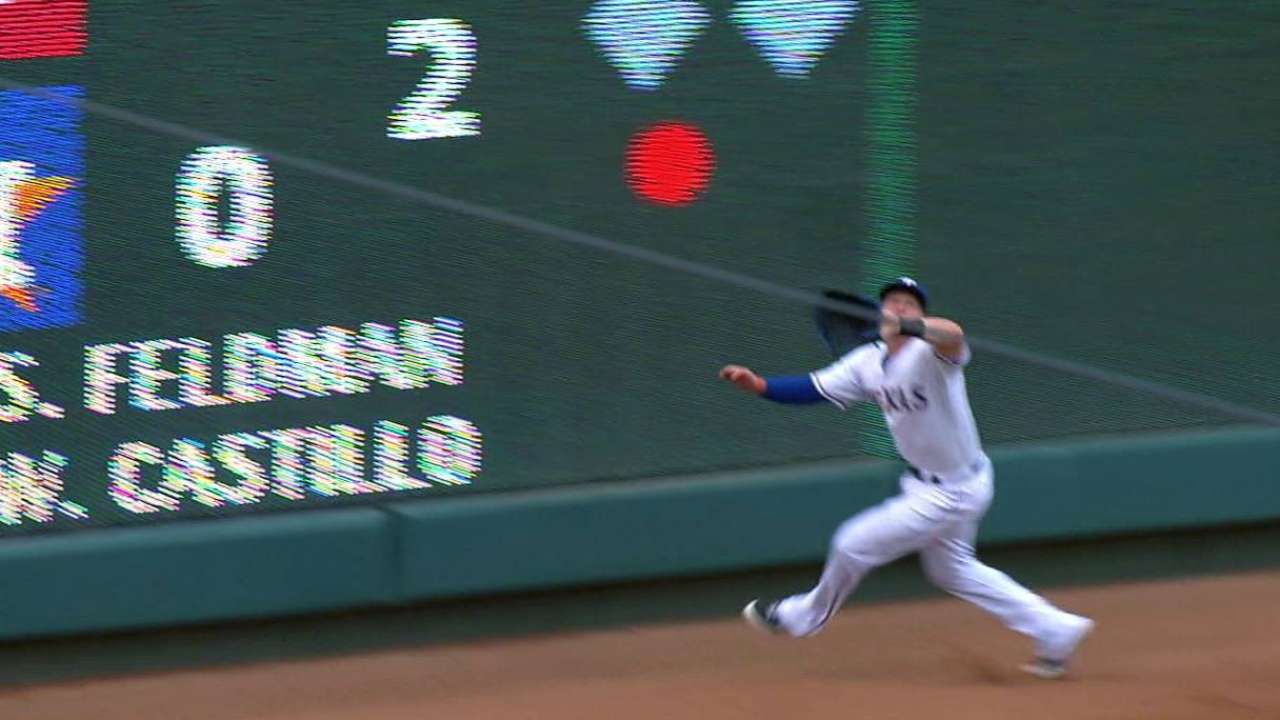 ARLINGTON -- The Rangers recalled Ryan Rua from Triple-A Round Rock on Saturday and started him at left field, batting eighth against Oakland. Rua, the team's Opening Day left fielder, fractured his heel in the fifth game of the season and has been limited to only 25 Major League games.
The rookie struggled upon his return in mid-June, hitting .190 with four homers in 20 games before being sent to Round Rock.
"This year went from possibly the best year of my life to going downhill real quick with injury and then the setbacks," Rua said. "But the team is playing good right now and I'm excited to be back up here and hopefully here for the long haul."
Rua hit .306 with a .404 on-base percentage, .571 slugging percentage and three homers in his final 13 regular-season games with the Express.
"The reports have been that he's having quality at-bats, that he's driving the baseball, he's on the fastball," Rangers manager Jeff Banister said. "And he's healthy and feeling good, and I think that's probably the biggest key.
"The thing with hitters and foot injuries, that's their foundation … when you crack that foundation, it throws the whole kinetic chain of events out of whack. So it takes some time."
Hamilton, Martin on the mend
A day after outfielder Josh Hamilton had knee surgery to repair a small tear in his meniscus, general manager Jon Daniels said the team is hopeful Hamilton can play a pinch-hitting role before the season ends.
"Based on how he feels right now, we're pretty optimistic that he's got a chance to make it back and play a role down the stretch or have that potential," Daniels said.
Outfielder Leonys Martin, who is recovering from surgery on his right hand, bunted, ran the bases, threw and shagged fly balls Saturday and could soon rejoin the Rangers as a defensive replacement and pinch-runner.
"He's making considerable progress," Daniels said. "He's not that far off."
Daniels said the other Rangers who are out until next season, namely Yu Darvish and Jurickson Profar, are progressing as hoped with their rehab programs.
Worth noting
Longtime Rangers play-by-play broadcaster Eric Nadel, who has called Rangers games since 1979, underwent surgery Saturday to repair a detached retina in his left eye. He is expected to return next week during the Astros series.
Sunday's game will be carried on 1080 AM locally instead of the usual 105.3 FM due to the Cowboys game that evening.
Dave Sessions is a contributor to MLB.com. This story was not subject to the approval of Major League Baseball or its clubs.