Pair of unusual double plays show off defense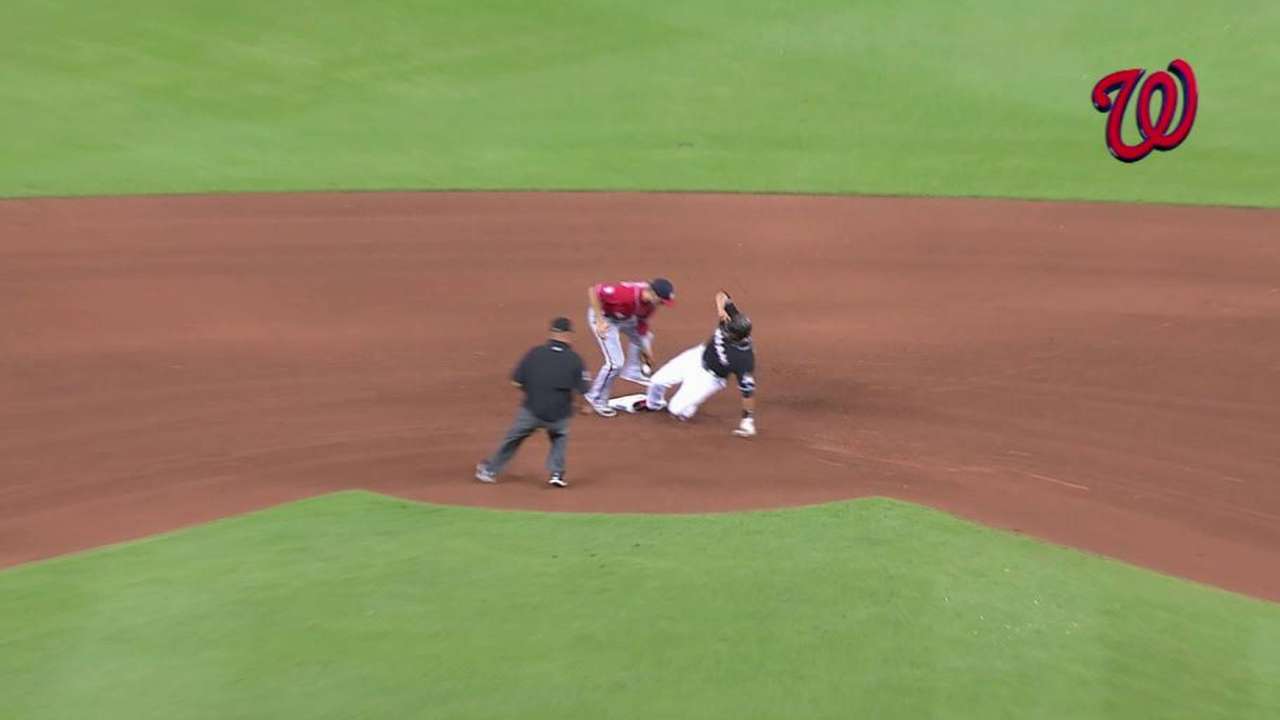 MIAMI -- Miami's Martin Prado appeared to be executing a smart base running play in the bottom of the fourth inning on Saturday, until Bryce Harper unleashed a laser throw from the right field wall. It was one of two fine plays turned in by the All-Star outfielder -- and started one of two unusual double plays for the Nationals -- in Washington's 2-0 loss to the Marlins.
"A couple of double play balls were great and allowed our pitchers to get through innings with one pitch and get a couple outs," manager Matt Williams said. "So we want to make those plays because it helps our pitching staff."
With Christian Yelich on second and Prado on first with no outs in the fourth, Miami's Justin Bour hit a fly ball off of Tanner Roark to the base of the right-field wall, which Harper settled under and caught. Yelich then tagged from second -- while Prado tried tagging from first -- as Harper fired a perfect shot to the cutoff man, shortstop Ian Desmond.
Desmond quickly flipped the ball to second base where Danny Espinosa tagged out Prado, completing the 9-6-4 double play. The Marlins went on to take a 1-0 lead in the frame, but Harper's impressive right arm certainly helped nullify a big inning.
"I'm thankful that Desi was there and Espy was at the bag," Harper said. "Definitely being able to cut a ball off and do what he did, that was good for me and we got the double play. That was big in that inning."
It wasn't the only unusual double play the Nats completed on the night.
In the fifth inning with Marlins at first and second and no outs, Washington completed a 1-6-5 double play when Yelich hit a bouncer back to Roark, who got the force out at second. Desmond then threw to third to pick off Tomas Telis, who rounded the bag too far and couldn't scamper back.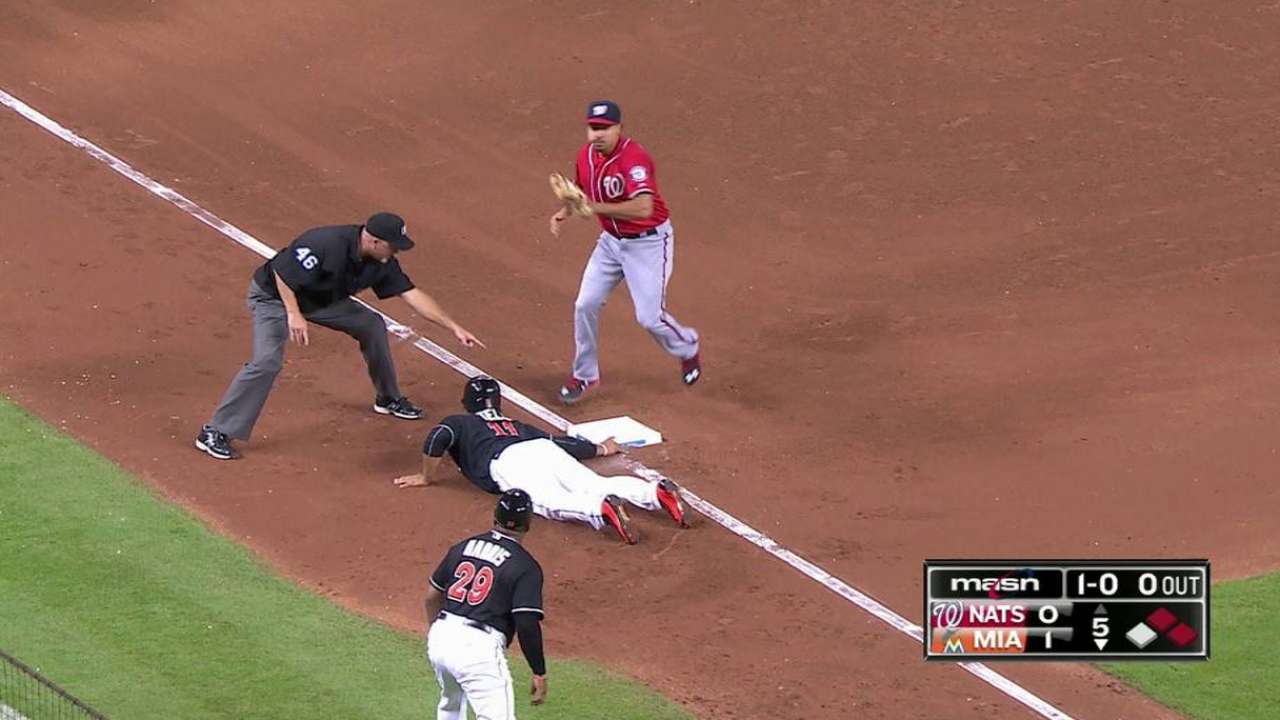 Telis was ruled safe initially, but the call was overturned on a replay review. The Marlins again tacked on one run, but the Nats avoided the big inning for the second straight frame.
"We really played some great defense," said Roark (4-5, 4.38 ERA), who exited later in the fifth and finished with two earned runs on eight hits in 4 2/3 innings. "There were some great plays behind me."
Roark also got help from Harper in the first inning when Yelich launched a deep fly to the right field fence. Harper went back on the ball, measured and snared it with a leap as he hit the wall. It was the first fine play of a strong defensive night for the Nationals, whose offense didn't follow suit as it managed just three hits.
"All in all, good defense tonight and pretty good pitching from both sides," Williams said. "We just couldn't get enough runs."
Steve Wilaj is an associate reporter for MLB.com. This story was not subject to the approval of Major League Baseball or its clubs.