Mets not letting lead go to their heads
Club allowing key players to rest if necessary, but still playing aggressively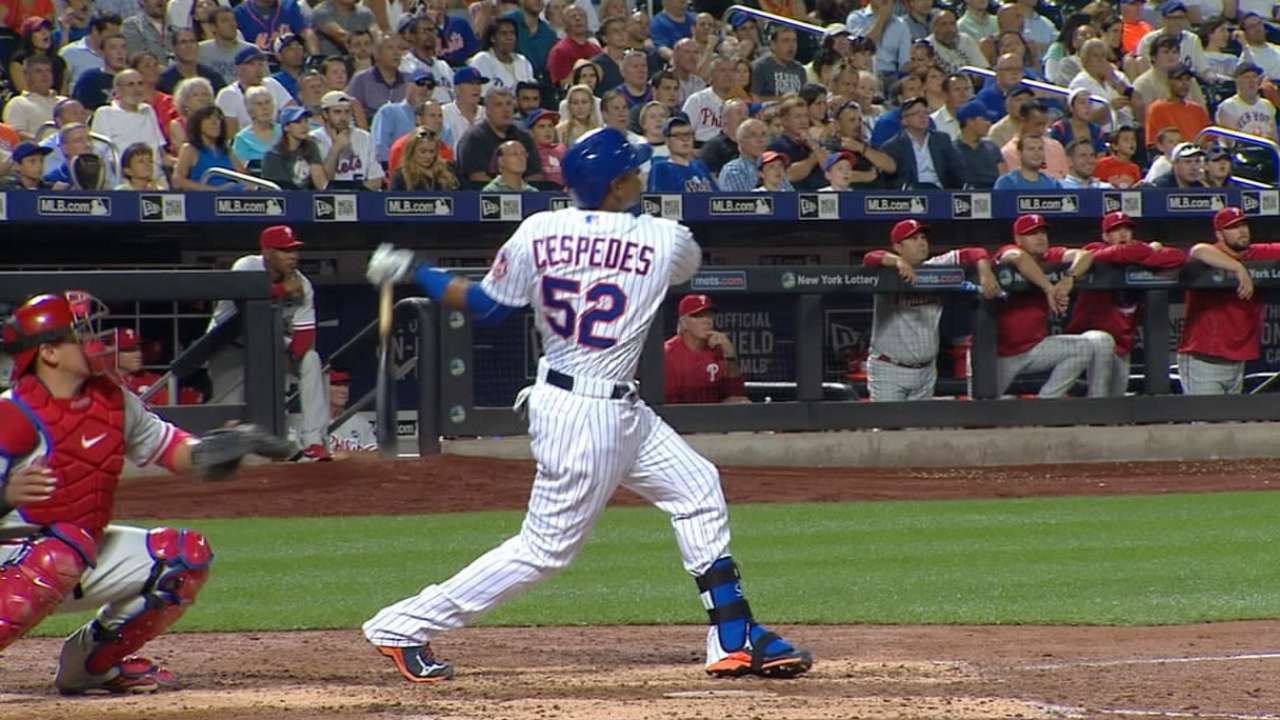 ATLANTA -- An important part of having a huge first-place lead this late in the season is acting as if you don't -- believing that other teams are always banging on the door, guarding against overconfidence, straight-out pooh-poohing any talk of the postseason.
The National League East-leading Mets are playing that game as well as anyone right now. The still-fresh disappointment of September 2007 is no doubt a good teacher. But as every day flips by, it's becoming harder and harder to see the streaking Mets finishing the regular season anywhere but on top.
The Mets rolled into Saturday night's game vs. the Braves -- with five straight wins, nobody is on more of a roll -- 8 1/2 games ahead of the second-place team in the East, the Nationals. The Mets have the best road record in baseball over the past eight weeks (24-11 since July 1). No team wins more in its division than the Mets (42-20, .677), important considering they play 14 of their final 21 games against the East.
So, time to relax?
"I'll be happy," Mets manager Terry Collins said after the Mets beat Atlanta, 5-1, on Friday night, "when we got an 8 1/2-game lead with eight to play."
Still, Collins is using the lead to his advantage. Saturday, he took Lucas Duda out of the starting lineup, both to get him some rest and to get key reserve Kelly Johnson some at-bats. On Sunday, Collins will give third baseman David Wright the afternoon off. On Monday in Miami, Michael Cuddyer, slowly working his way back after spending time on the disabled list with a sore right wrist, is scheduled to be in the starting lineup.
"It's a part of where we are right now that I go to every guy and say, 'Hey, look, when are you going to need a day?'" Collins said before Saturday's game.
One player who so far has refused to sit: Yoenis Cespedes, who is absolutely destroying the ball. Cespedes entered Saturday with 28 extra-base hits in his 38 games since his trade from Detroit -- including 15 home runs.
Although they're taking what they can get, Collins and the Mets hardly have hit cruise control. In Friday's game, after seeing the Nationals had lost again, Collins changed his plans and called on his bullpen stalwarts, including Tyler Clippard, Addison Reed and closer Jeurys Familia, to close out things against the Braves.
Collins mentioned the need to get relievers Tim Stauffer and Sean Gilmartin some time on the mound. There's the situation with starter Matt Harvey and his 180-inning ceiling that needs to be resolved. The Mets will start right-hander Logan Verrett for only the second time this season Monday as the team looks to get more rest for its starters.
But with the lead they have, the Mets have to admit that they're sitting pretty. Collins will take it.
"I don't care how we got here," the manager said. "I'm just glad to be here."
John Donovan is a contributor to MLB.com. This story was not subject to the approval of Major League Baseball or its clubs.