Bryant not paying attention to 3B-OF splits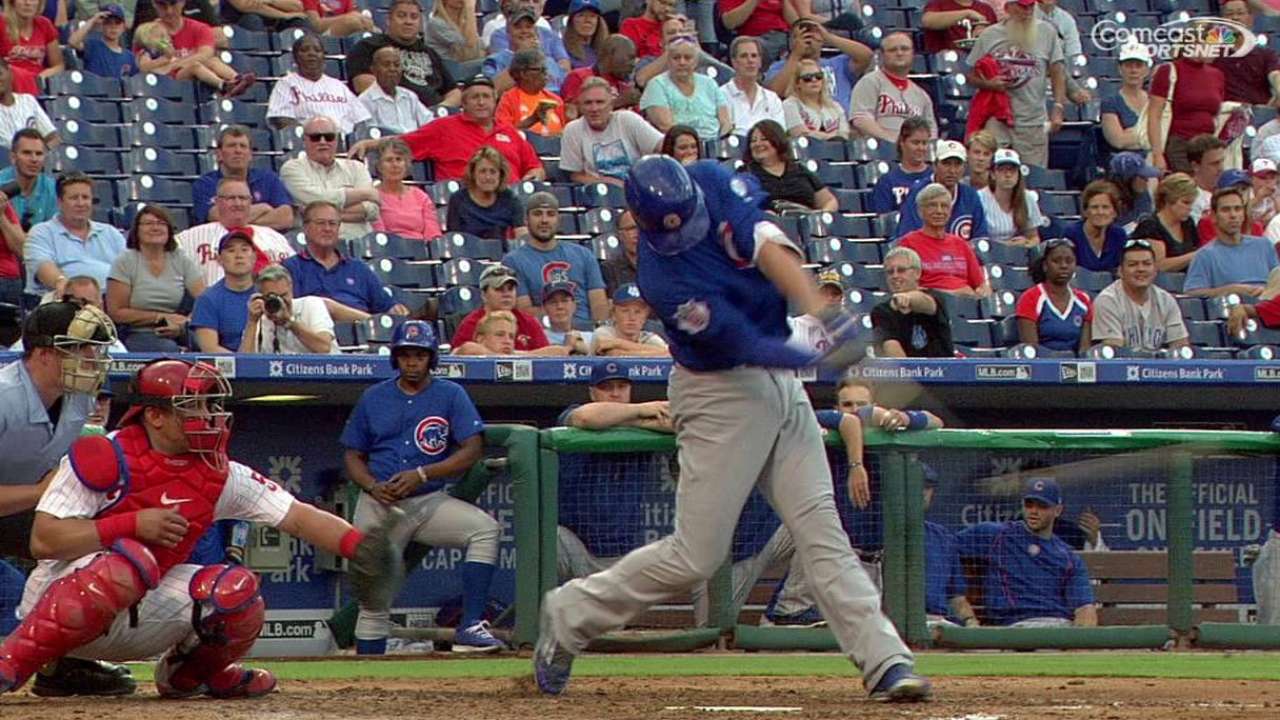 PHILADELPHIA -- Cubs rookie Kris Bryant says there's no truth to one of his teammates' assertions that he's a better hitter when he plays third base compared to when he starts in the outfield.
Bryant has started 120 games at third base and eight games in the outfield, but he's also switched from infield to outfield in the same game.
"I'm getting more comfortable with it," Bryant said of changing positions in-game. "It's hard to go from the outfield back to the infield. Things are more fast-paced in the infield. I'm getting the hang of it. I think [Javier Baez] is doing well and having good at-bats."
Baez has been starting at third when Bryant is in the outfield. Bryant has taken some ribbing from his teammates about his outfield play. So far, he's batting .277 with 24 homers as a third baseman, and .212 with zero homers and three RBIs as an outfielder.
"[Anthony Rizzo] was joking with me about how I'm such a terrible hitter when I play the outfield," Bryant said. "I don't pay attention to that -- I'm not big on superstitions."
Then he thought about it for a moment.
"In the outfield, you have more time to think about your at-bats, but I think I'm doing a good job of not letting that get to my head," Bryant said.
A leading candidate for the National League Rookie of the Year Award, Bryant hit his 24th home run on Friday and entered play Saturday one homer shy of tying Hall of Famer Billy Williams' record for most by a Cubs rookie in a single season. Bryant also entered Saturday with 90 RBIs, the most all-time by a Cubs rookie and tops among all Major League rookies this season.
What Cubs manager Joe Maddon sees, and likes, is how Bryant is able to deliver with runners on base. Bryant was second on the Cubs to Rizzo with runners in scoring position, batting .313, before Saturday's game.
"When you get to a better pitcher or tougher moment, some guys don't perform well in those moments," Maddon said. "[Bryant] definitely has better focus in those situations. It's probably something he's always done and has always been that way. It's going to get better. You're seeing good, but I think it will continue to get better as he understands what they're trying to do to him."
It helps that Bryant is willing to accept a walk in those situations. Maddon said he feels Bryant adjusts his strike zone and "expands less" in those moments.
"Those kind of guys are so nice," Maddon said of players who hit in clutch situations. "He does his best work for me when it really matters."
Carrie Muskat is a reporter for MLB.com. She writes a blog, Muskat Ramblings. You can follow her on Twitter @CarrieMuskat and listen to her podcast. This story was not subject to the approval of Major League Baseball or its clubs.