In rare start, Schumaker hits even rarer homer
Pinch-hitter extraordinaire stings former team with first long ball since last August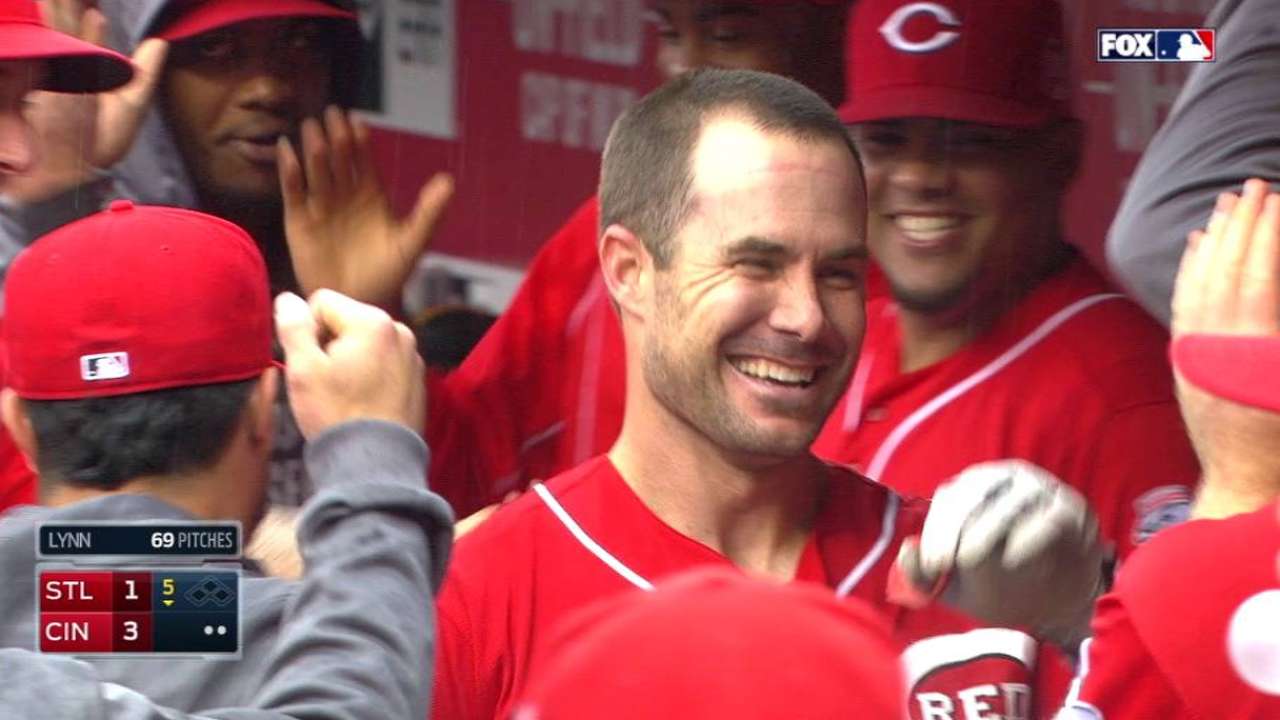 CINCINNATI -- As the Reds completed Friday's rain-suspended game on Saturday, Adam Duvall's eighth-inning home run was not only the game-winner over the Cardinals, it made all three of his hits homers in his eight games since joining the club.
Skip Schumaker, who had been without a homer for over a year, was on the bench during that game talking with teammates Homer Bailey and Brayan Pena.
"I was just talking to Homer on the bench in the first game, 'I think this might be the year I'm not going to hit one.' I really thought that," Schumaker said. "'It's Sept. 12, I guess this was it.'"
In a 5-1 Reds victory over St. Louis in Saturday's regularly scheduled game, Schumaker proved himself wrong. Cincinnati was trailing 1-0 in the fifth when he hit a Lance Lynn 2-1 fastball for a three-run homer to right field.
It was Schumaker's first homer since Aug. 13, 2014, vs. the Red Sox.
"I think Pena was more upset that I hit one than anybody," joked Schumaker.
Pena hasn't gone deep for the Reds since July 18, 2014.
After Schumaker rounded the bases, he bounded to both ends of the dugout for two tours of high-fives while wearing a huge grin on his face.
"He was a ball of fire when he came into the dugout. It was really cool," said Reds starter Anthony DeSclafani, who earned the victory.
"It doesn't happen too often, so I get real happy when I see one go over. And they know it. They were probably as excited as I was," Schumaker said. "I go third person when I hit a homer. That's what happens."
A member of the Cardinals from 2005-12, Schumaker stung his former club when it really didn't need it. St. Louis has dropped eight of 10 games and is losing its grip on the National League Central lead.
"We have to hopefully disrupt a little bit what's going on in the division race," Schumaker said.
Schumaker, 35, leads all Major League players in pinch-hitting plate appearances (72), hits (18) and doubles (six) while batting .257 in the role. He's two pinch-hits shy of Jacob Cruz's 2005 club record for a season.
When Schumaker is in the lineup this season, he's struggled and is batting .195. In Saturday's game, he started in left field -- only his 35th start of the season.
"Being a bench player is not easy," Schumaker said. "You're usually facing the closer and setup guy. It's not an easy spot. It's something I knew when I signed with the team that there's some really good guys in front of me. So I had to be good off the bench. I haven't been real good as a starter, but I've been pretty successful as a pinch-hitter. I wish I could be better as a starter, that's for sure."
Reds manager Bryan Price has appreciated Schumaker's contributions and leadership as a bench player who accepts his role.
"The thing about Skip is he's making all of those other guys that are bench players better that are around him, teaching them philosophical stuff, how to prepare, how to get ready," Price said. "He's answered the bell."
Mark Sheldon is a reporter for MLB.com. Read his blog, Mark My Word, follow him on Twitter @m_sheldon and Facebook and listen to his podcast. This story was not subject to the approval of Major League Baseball or its clubs.