Skip homers as Reds cut Cardinals' division lead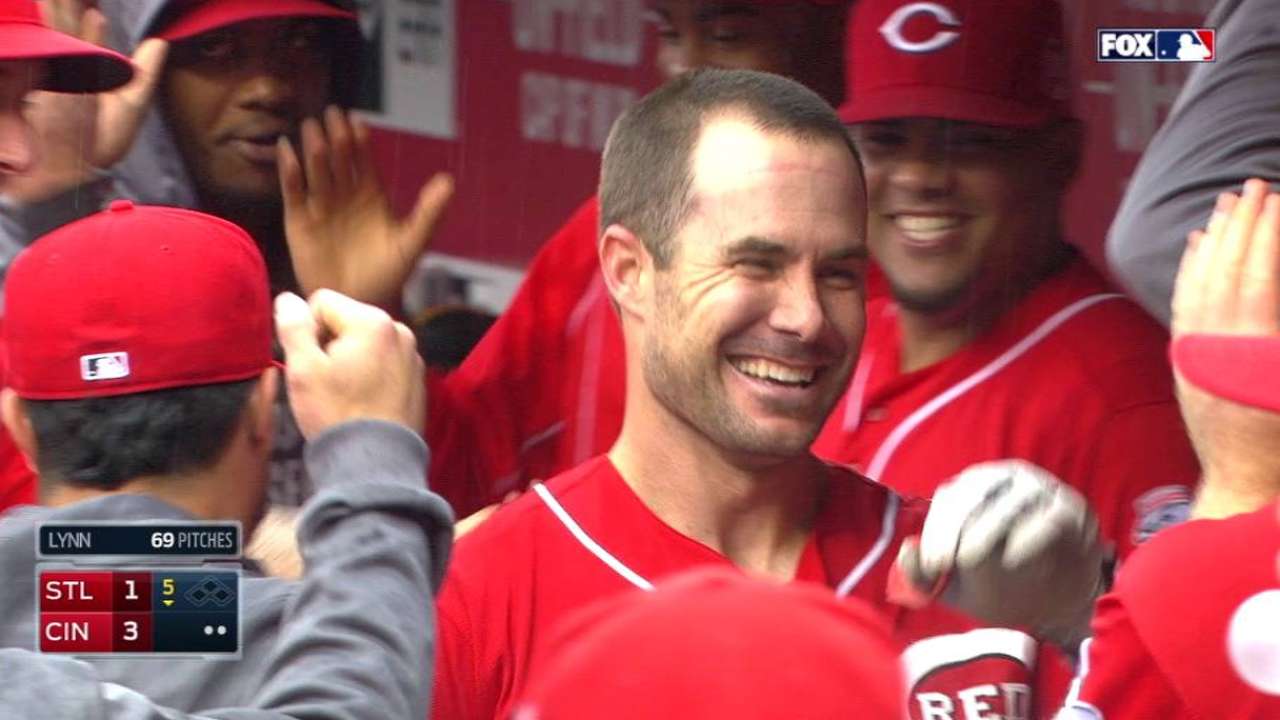 CINCINNATI -- Stung by a Skip Schumaker home run, the National League Central-leading Cardinals watched their division lead further fritter away as the Reds followed their victory in a suspended game with a 5-1 win later Saturday afternoon in front of a sellout crowd at Great American Ball Park.
The Cardinals' grasp on the division lead has weakened while the team has dropped eight of its last 10, including the first three games of this visit to Cincinnati. It is just the third series win for the Reds in St. Louis' last 10 trips to town. The Pirates (2 1/2 games) and Cubs (5 1/2 games) are inching closer with each Cardinals loss.
• Cardinals won't panic amid worst stretch
"We have to hopefully disrupt a little bit what's going on in the division race," Schumaker said. "We have a chance to affect some teams. We're playing the Pirates a bunch, the Cubs a bunch and the Cardinals a bunch. In order for us to have some fun around here, you have to try to beat the teams that are going to the playoffs. This is probably the organization I respect the most; it's nice to win against them."
Schumaker, who played eight seasons with the Cardinals, picked a timely spot to connect for his first home run of the year. Making his 35th start of the season, Schumaker followed singles from Eugenio Suarez and Tucker Barnhart with a two-out blast off Cardinals starter Lance Lynn, who had not allowed a hit in the first four innings.
• In rare start, Schumaker hits even rarer homer
"When you go through a game here and Jay Bruce and Joey Votto don't get a hit off of you, you expect to have a good game," Lynn said. "You're going to go through stretches where you make a mistake and they get three runs or it seems to snowball. Then you go through phases where you make a mistake and they pop it up or it doesn't mean anything. Right now, we're going through that stretch where it's costing us more than it usually does."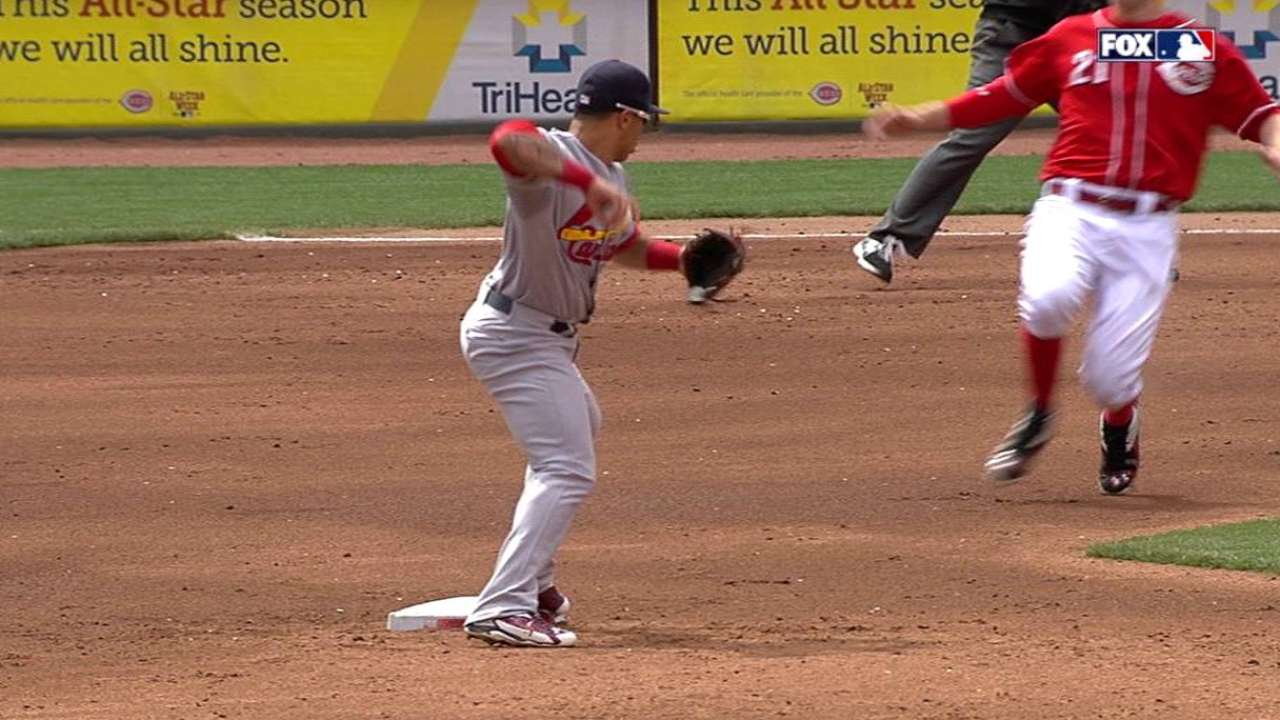 Lynn went on to finish six innings, as did Reds starter Anthony DeSclafani. After allowing a first-inning run, DeSclafani bought time for his offense by retiring 15 in a row. In less than two months, DeSclafani, who struck out a career-high 10, has tallied three wins over the Cardinals, who have scored just three runs off him in 19 innings.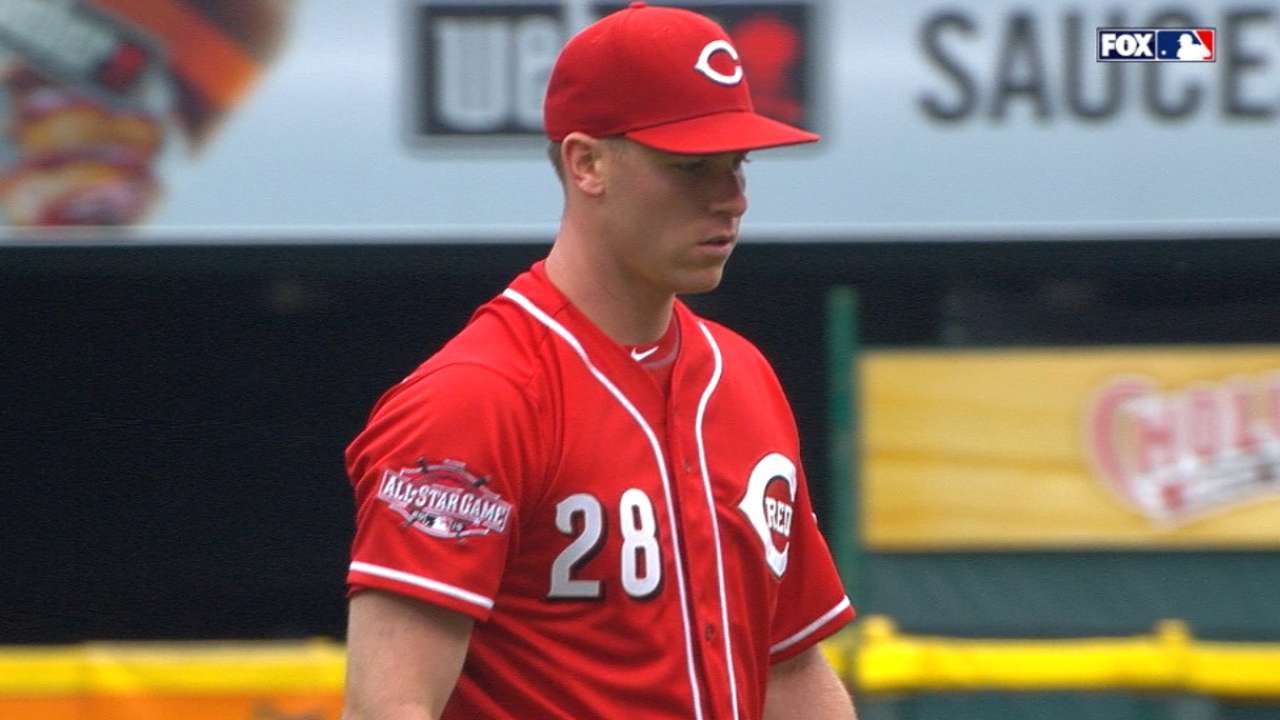 MOMENTS THAT MATTERED
Cingrani saves himself: In his second game since being recalled from Triple-A Louisville, Tony Cingrani nearly let DeSclafani's lead slip away when he took over in the seventh. Cingrani's first batter, Randal Grichuk, drew a walk and advanced on a wild pitch. A one-out walk to Greg Garcia brought the tying run to the plate. In a 2-2 count, Cingrani got pinch-hitter Jhonny Peralta to bounce to third base for an inning-ending double play. Peralta, who has hit into a team-most 21 double plays, had been given the day off due to recent fatigue.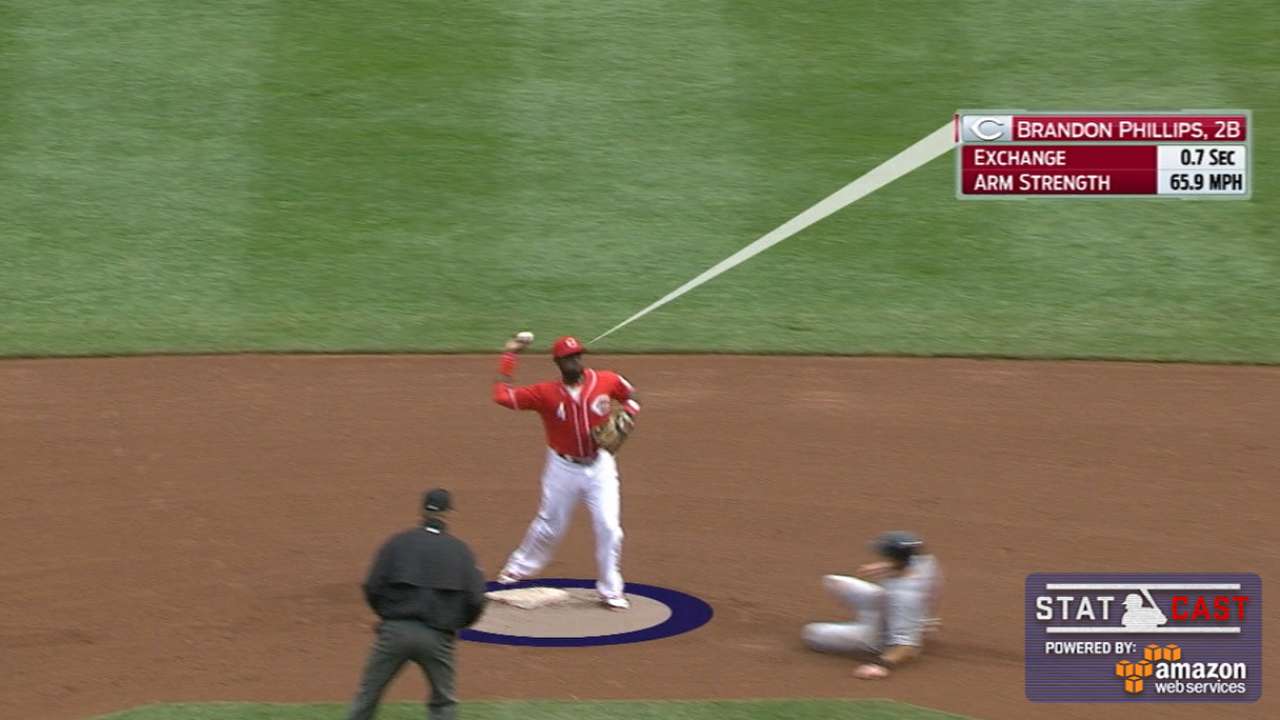 Momentum stalled: The afternoon opened promisingly enough for the Cardinals, whose first three batters tallied a hit off DeSclafani in the opening frame. It led to only one run, however, as Mark Reynolds, Brandon Moss and Kolten Wong each went down swinging with a runner in scoring position. DeSclafani did not allow another baserunner until the sixth.
"He did a nice job pitching out of that," said Cards third baseman Matt Carpenter, who opened the inning with a double. "That's how it's going right now. Our offense is having a hard time getting that big hit. But when this thing turns around, we'll see in that inning somebody hit a big homer or a bases-clearing double. Until then, we have to stay positive and not panic."
"I was glad I was able to get out of it," DeSclafani said. "That's damage control there, just letting up one run. It still lets the team know they're still in the game and it's not getting away from me kind of putting us in a hole early. I think that [stopped] some momentum, for sure."
Garcia's gaffe: An error by Garcia, who was making his fourth career start at shortstop, complicated the seventh inning for Steve Cishek and helped the Reds pad their lead with an insurance run. With the chance to turn an inning-ending double play, Garcia didn't even get one out as he dropped a throw from Cishek. Later in the inning, Joey Votto hit a sacrifice fly.
Barnhart's insurance: In the bottom of the eighth with runners on the corners, Barnhart slashed an RBI single into center field that scored Bruce. It made it a four-run game and also helped the Reds' bullpen. Instead of using Aroldis Chapman twice in the same day for the save, Jumbo Diaz worked the non-save situation in the ninth, and that kept Chapman available for Sunday's series finale.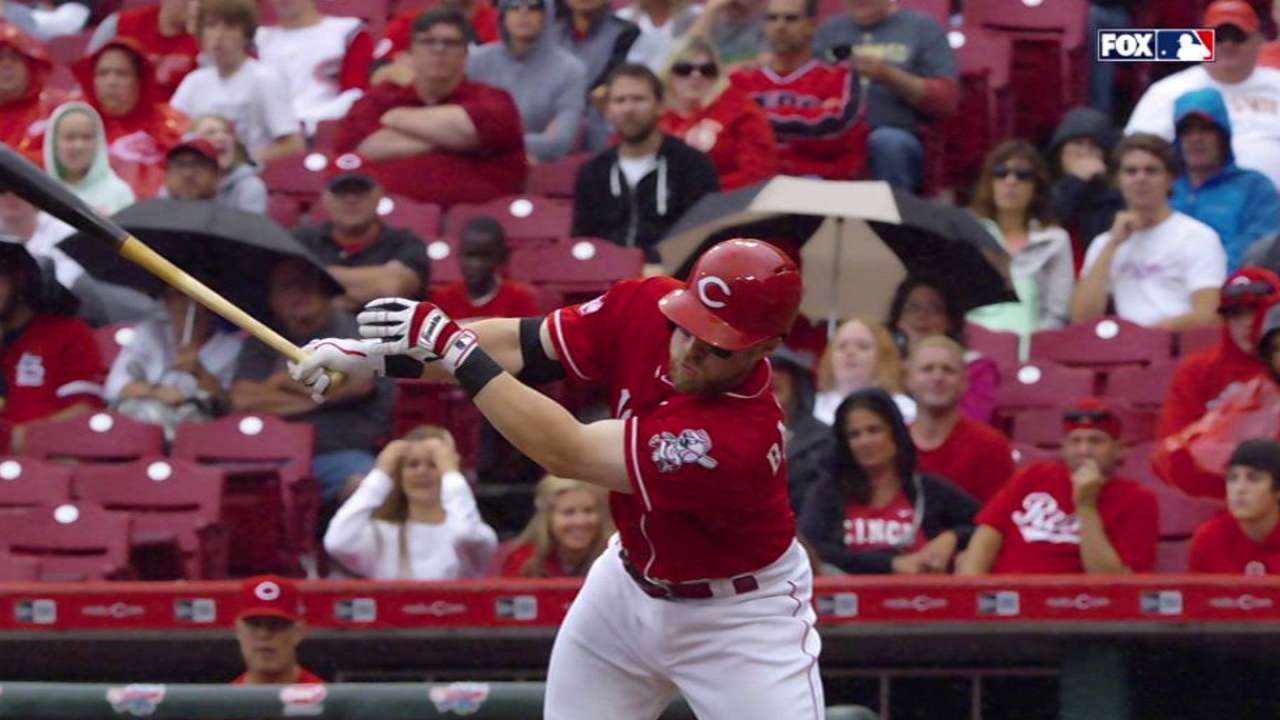 QUOTABLE
"I know we talk a lot about how good his stuff is, but if he doesn't have the demeanor that he has, he doesn't persevere through that first inning, most likely. He's just a tough kid. I'm really happy about the development as a pitcher, but he made up with the makeup intact, he didn't have to be taught how to be a tough kid." -- Reds manager Bryan Price, on DeSclafani
"I get it that down the [stretch], people are putting [results in] a magnifying glass, and that's fine. It's just not fine for us. You have to expect that you're going to have bad stretches. And the best way to get through them is to stay the course." -- Cardinals manager Mike Matheny
WHAT'S NEXT
Cardinals: The Cards will play their final regular-season game in Cincinnati on Sunday at 12:10 p.m. CT, with Michael Wacha taking the mound in search of his 16th win. Wacha has enjoyed the best run support in the National League at an average of 6.02 runs per game.
Reds: Raisel Iglesias will be charged to help pitch the Reds to a series sweep when he gets the ball Sunday at 1:10 p.m. ET. In Tuesday's 7-3 loss to the Pirates, Iglesias pitched three innings and allowed five earned runs and six hits -- with all the runs and five of the hits coming in the third inning.
Watch every out-of-market regular season game live on MLB.TV.
Jenifer Langosch and Mark Sheldon are reporters for MLB.com. This story was not subject to the approval of Major League Baseball or its clubs.