MLB.com Columnist
Hal Bodley
Blossoming Archer is wise beyond his years
Improvement by Rays' ace on the field is eclipsed by his maturity off the diamond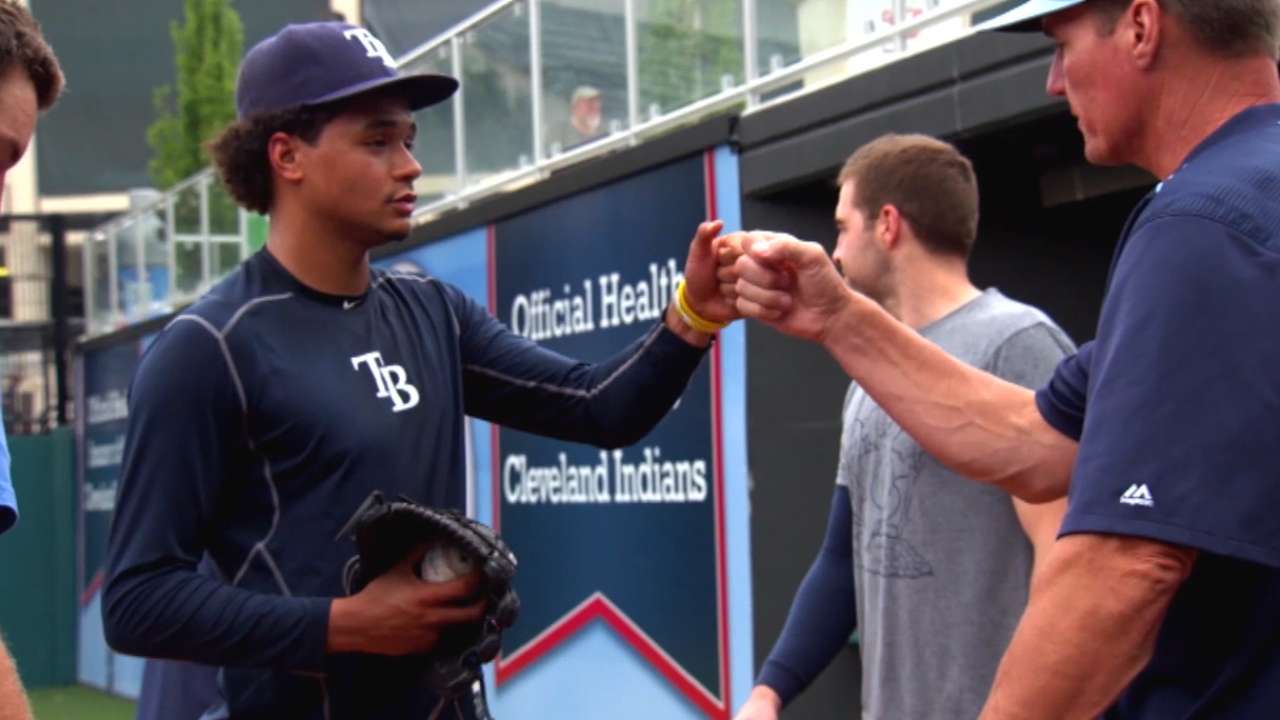 ST. PETERSBURG -- The first time Chris Archer met new Rays manager Kevin Cash at lunch there was no small talk.
Fastball down the middle: "What did Corey Kluber do to turn his career around?" Archer asked Cash, who'd been Cleveland's bullpen coach in 2014 when Kluber won the American League Cy Young Award.
Cash was amazed at the first question out of Archer's mouth. But now, after a season managing him, the skipper understands.
"For a young pitcher to realize this guy [Kluber] struggled for a time and [wanting to know] what was his secret to success in winning the Cy Young, it showed me a lot about where Archer's mind was and where he was headed," said Cash. "He's lived up to that, and proved it day in and day out. Arch is a young pitcher, but he carries himself like a veteran."
Christopher Alan Archer is just 26, but don't let the age fool you.
I've seldom spent time with a player so young who can put this very difficult game in such perspective. If he has a poor outing, there's not sugarcoating.
"He's extremely accountable," said Cash. "Being a good teammate and being accountable are probably as good as any qualities you can have in this game."
Archer is a thinking man's player. It's so refreshing to hear him rehash a pitching performance.
Take Friday night at Tropicana Field against his nemesis, the Boston Red Sox. Archer needed 33 pitches to get out of the first inning and fell behind, 1-0.
Before the game, interim Boston skipper Torey Lovullo praised Archer, but said the Red Sox had a plan. Building up the right-hander's pitch count was obviously the basis of that.
Yet, after three innings, Archer had tied a Tampa Bay record by striking out seven consecutive batters and the Rays were up, 3-1.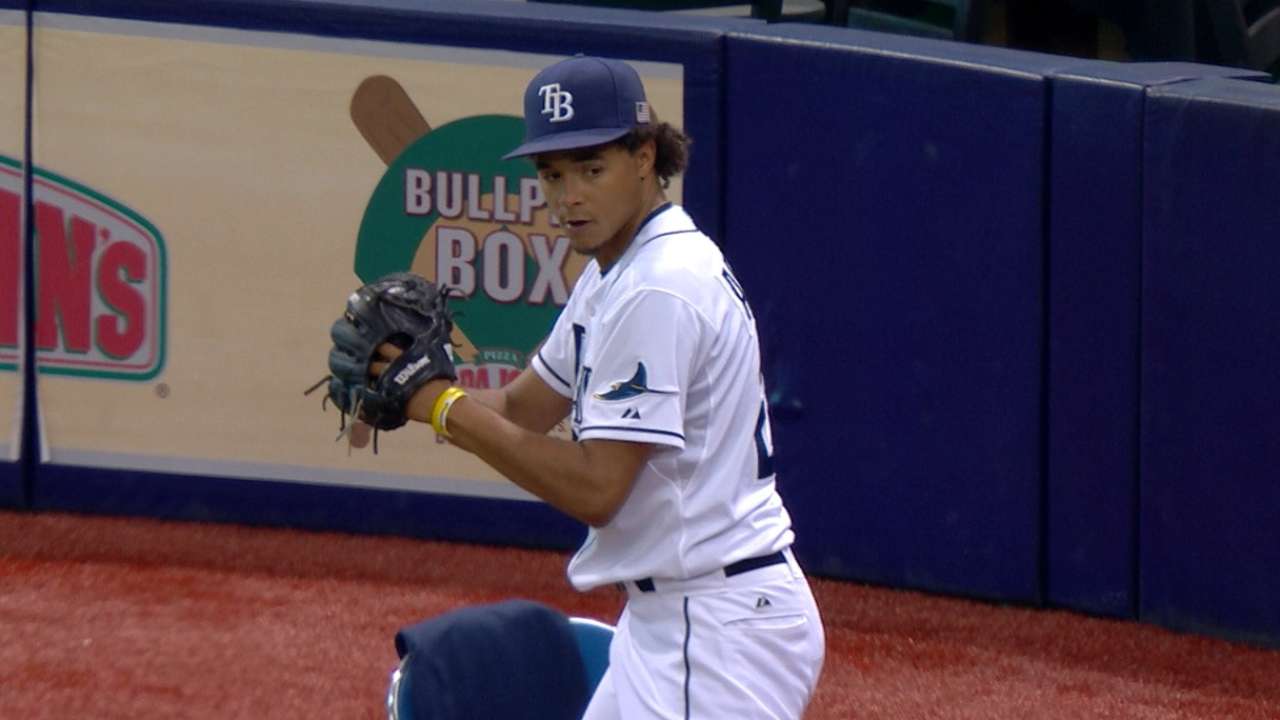 The first inning and all the deep counts during the strikeout stretch took their toll.
"Obviously, I'd prefer not to throw so many pitches in such a short amount of time, but whatever it takes to get them out," Archer said. "If they're going to swing early and make contact early, cool. If I have to throw five or six pitches to everybody because they're fouling off pitches and being selective, then I guess I'll have to do that, too."
He'd thrown 102 pitches to start the sixth and was finished after giving up back-to-back bloop singles to Xander Bogaerts and David Ortiz. The Red Sox eventually scored to deprive Archer of his 13th victory. Before the inning ended, another run crossed the plate and Boston led, 4-3.
Tampa Bay's offense exploded for two homers and five runs in the eighth and won, 8-4.
Friday night's no-decision left Archer with a 1-6 record in 10 career starts against the Red Sox. He's 12-11, with a 2.95 earned run average this season.
"He had to work for everything he got," said Cash. "For him to put those kinds of numbers [eight strikeouts] together against a bunch of guys who've had plenty of at-bats against him speaks volumes about how good his stuff is."
"[I didn't let the first inning] discourage me," said Archer. "I just kept attacking, kept going after them. ... Offensively, they're one of the strongest teams in the Major Leagues. I battled, and mission No. 1 every time I take the mound is to get a team win -- and we did that."
This is what I like about Archer. With his pitch count mounting, it was two bloop singles to begin the sixth that sent him to the bench.
That had to be disheartening. But, once again, it came down to his perspective.
"I try not to judge myself based on the outcome," said Archer, looking straight into my eyes with conviction. "I try to focus on the process and where I was mentally. I was in a good place. Sometimes they're going to hit missiles right at people and sometimes they're going to get the bat on the ball and find a hole. They found holes, but I was encouraged [by] the way we bounced back."
Archer's maturity this season has vaulted him from the Rays' No. 3 starter to their ace. He pitched in the All-Star Game in July and defined his talent on Aug. 20, when he pitched a 1-0 shutout against the Astros. He struck out 11, with the only hit being a fifth-inning single by Colby Rasmus.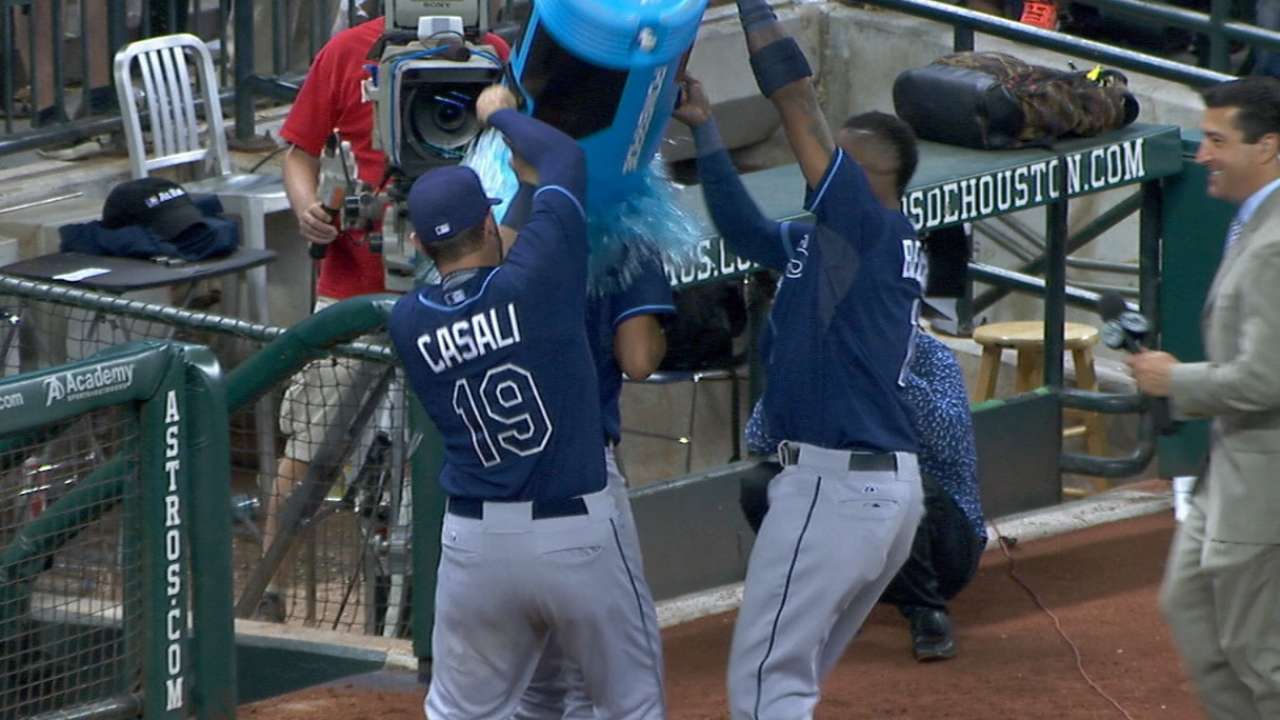 His on-field achievements in just his second season in the Major Leagues are important, but, in his mind, merely a platform for what really matters. While he's intelligent and a deep thinker, more importantly he cares about people.
"I feel the reason we are on this Earth is to be a positive influence and to positively impact as many lives as we can," Archer told Marc Topkin of the Tampa Bay Times during Spring Training. "I try to use baseball -- and my success in my industry -- as a platform to do that. ... And hopefully, one day, I can reach millions [of people]."
Archer spends most off-days talking with youth groups -- including the Reading with the Rays program and the Archway Foundation in his hometown of Clayton, N.C.
When he speaks to these organizations, his own family situation is probably motivation. He was born to a white mother and an African-American father, but was adopted and raised by his maternal grandmother and her husband. He considers them his parents.
You won't find Archer reading baseball books. No way. Try these on for size: "Freakonomics," by Stephen Dubner and Steven Levitt; "The Food Revolution," by John Robbins; or "The Champion's Mind," by Dr. Jim Afremow.
He concentrates on reading books that will make him a better person.
"I feel like I'm good at baseball and can use baseball to help people," said Archer, obtained by the Rays in a 2011 trade with the Cubs. "The more success I have in baseball, the more people I can help. So, it's dual-purposing the entire way through."
Archer is one of baseball's most gifted young talents, but that's on the pitcher's mound.
This really isn't about his fastball, his wicked slider or changeup. It's what's inside Chris Archer -- and that's what makes him so special.
Hal Bodley, dean of American baseball writers, is the senior correspondent for MLB.com. Follow him @halbodley on Twitter. This story was not subject to the approval of Major League Baseball or its clubs.