Moose's RBI show: Saturday Nine Live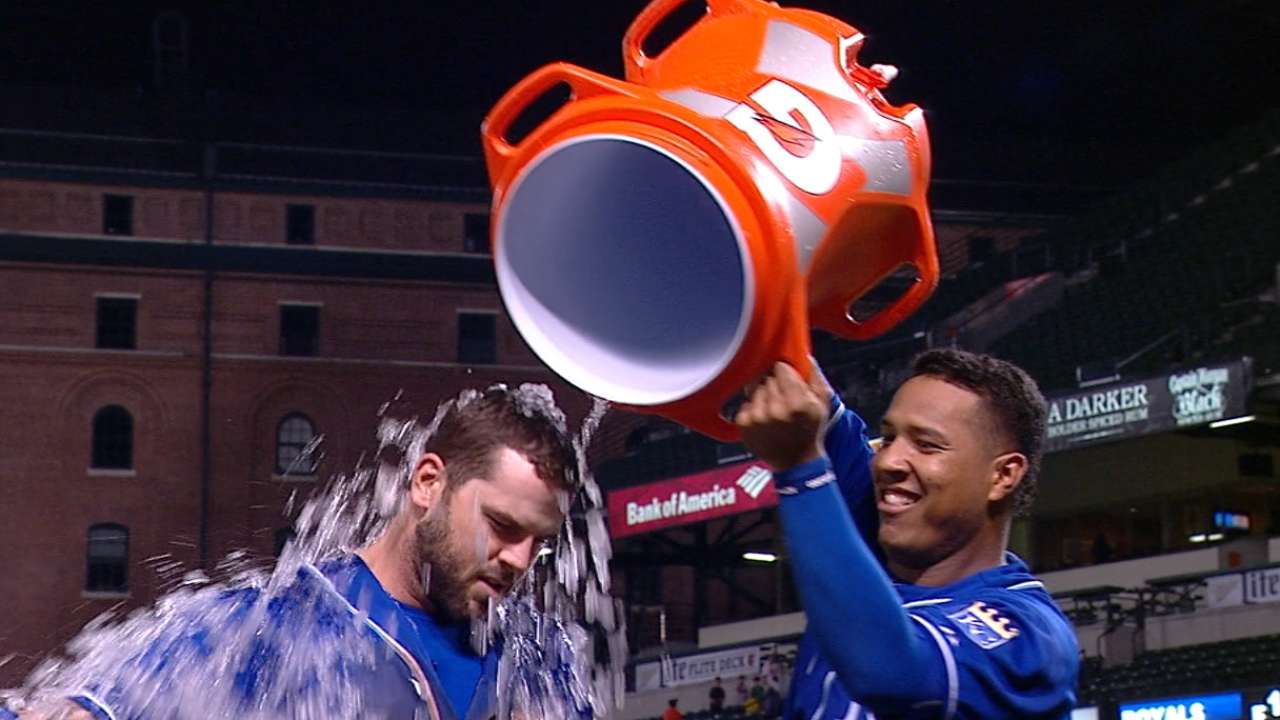 BALTIMORE -- Immediately after the Royals' stirring 14-6 triumph over the Orioles on Saturday, third baseman Mike Moustakas was spotted sitting down and watching video.
Moustakas wasn't admiring his best day in the big leagues -- two homers, including a grand slam, and a franchise-record nine RBIs. He actually was trying to pinpoint some flaw in his swing.
"I've been working with [hitting coach] Dale [Sveum] the last few days trying to figure out why I've been missing some hittable pitches," Moustakas said. "Even that last at bat [a three-run homer in the ninth], I missed a 1-0 pitch.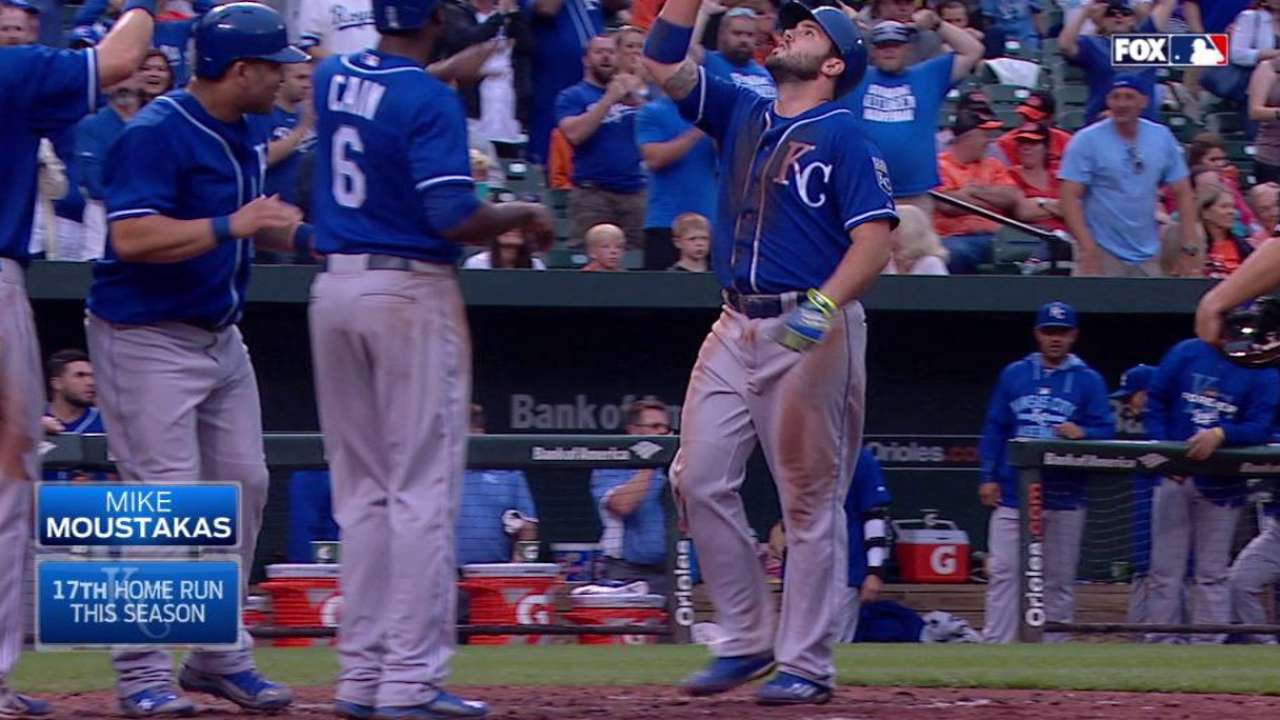 "I think it's because I just got to my front foot too fast and that was dropping my hands a little, and I was popping stuff up."
Moustakas had not become a big video guy until this season, and the results seem obvious. He is hitting .284 with 18 homers (second best on the team) and 71 RBIs. Remember, he spent much of the season in the No. 2 spot in the order, trying to be a table-setter, or the RBI total might be higher.
Moustakas' nine-RBI day was one for the ages.
"That's a month's worth of work," teammate Eric Hosmer said, smiling. "He had guys on base and he cashed in."
Actually, Moustakas has had a better game as a pro. In 2010, while with Triple-A Omaha, he had three homers and 11 RBIs.
"I know Dice [Jarrod Dyson] remembers it because he was on base every time," Moustakas said.
The Royals' previous record was seven (done 12 times), most recently on April 7, 2013, when Billy Butler went deep for a grand slam and hit a three-run single.
This is the 36th time in recorded history that a player has recorded nine RBIs or more in a single game. Twelve players have surpassed the mark, with the record established at 12 by Jim Bottomley in 1924 and equaled by Mark Whiten in 1993.
Only two other players -- Edwin Encarnacion and Lonnie Chisnehall -- have accomplished the feat in the last five years. Encarnacion did so earlier this season on Aug. 29, going yard three times and contributing nine of the Jays' 15 runs in a win over Detroit at Rogers Centre.
Moustakas likely will remember his second career grand slam and his three-run homer in the ninth. But his appearance in the sixth inning was the key at-bat of the game at the time.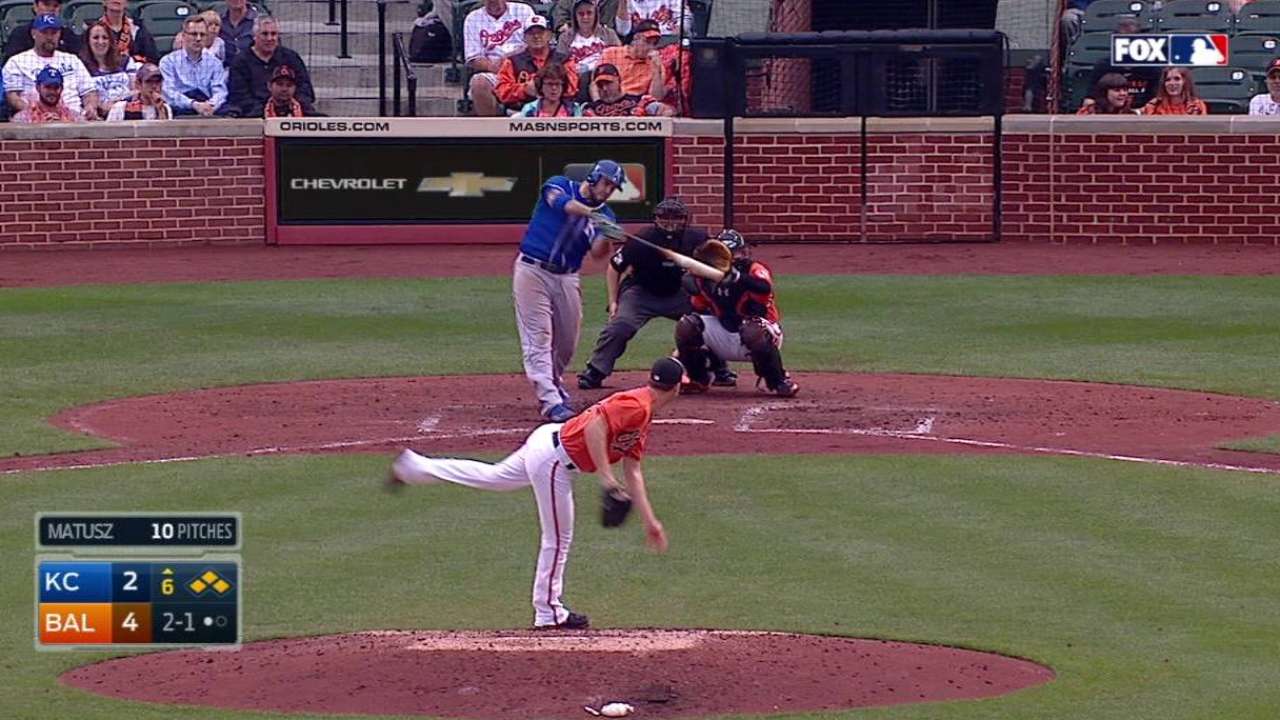 With the Royals trailing, 4-2, and staring at another potential damaging loss, Moustakas lined a two-run single up the middle to tie the score off lefty Brian Matusz.
"I was just trying to put the ball in play and get some runs home," Moustakas said. "Got the barrel on it."
So much happened in this crazy game, manager Ned Yost couldn't even recall all of Moustakas' feats.
"He sure had a great day today," Yost said. "Grand slam, three-run homer. I don't know what else he did, the game was so darn long. He had nine RBIs?"
Reminded of the two-run single by Moustakas, Yost said, "That's right. He got us right back into the game. Huge play. It's just so hard to remember everything that happened today."
Jeffrey Flanagan is a reporter for MLB.com. Follow him on Twitter at @FlannyMLB. This story was not subject to the approval of Major League Baseball or its clubs.