ICYMI: Padres' offense can't solve Peavy in opener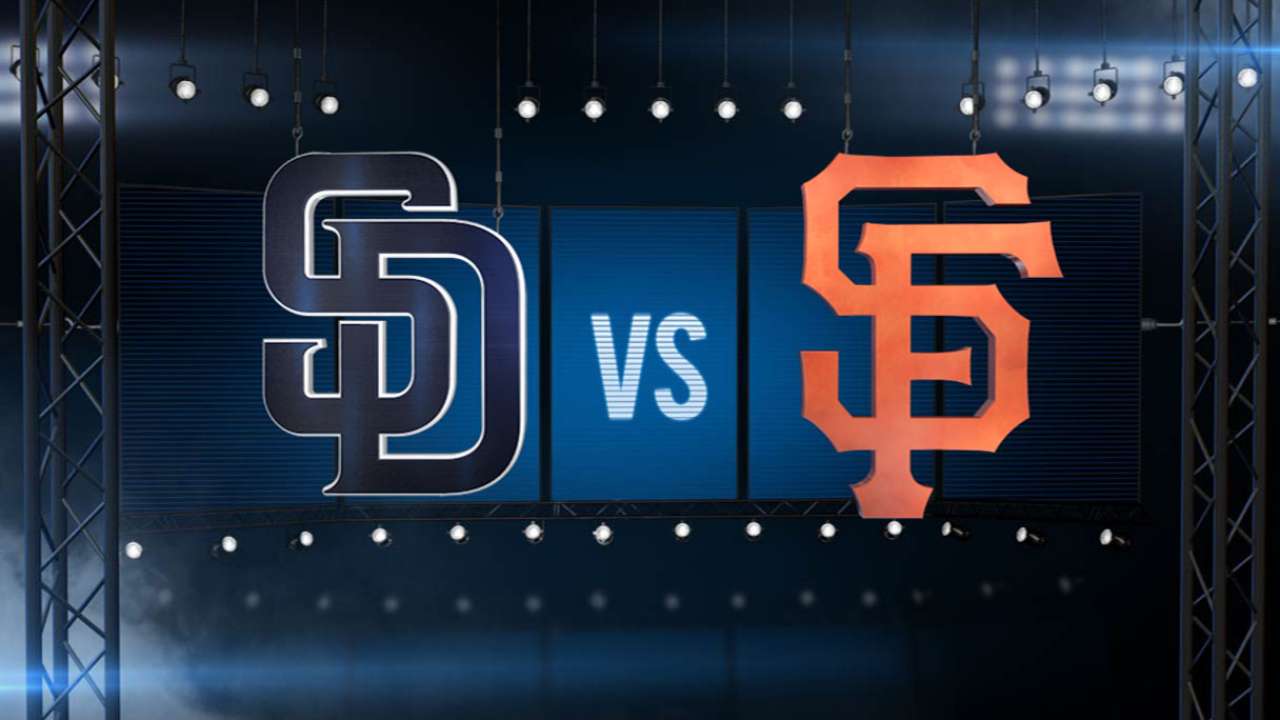 While the Padres might have escaped the heat in San Diego, they were thrown right back into the fire in San Francisco, as the Friars dropped Friday's series opener to the Giants, 9-1, at AT&T Park. Andrew Cashner, who started on his 29th birthday, had a rough outing against San Francisco, as he was unable to get out of the fifth inning, while the offense was limited to just four hits on the day.
Cashner, who has historically done fairly well against the Giants, struggled on Friday, as he surrendered five earned runs on nine hits and five walks through 4 2/3 innings. Cashner struck out seven batters, but his high pitch count (117) ultimately ended his night early, as the Giants' hitters continued to find success against the hard-throwing Texan. All nine of the hits Cashner surrendered were singles, as Cashner was successful in keeping the ball in the park.
Relievers Marcos Mateo and Jon Edwards each posted scoreless outings for the Friars, combining for 1 1/3 innings with one strikeout. But Odrisamer Despaigne continued to struggle in his role as a reliever, surrendering four earned runs on five hits over two innings of work. While the Padres' pitching corps was able to collect nine strikeouts, San Diego's arms also surrendered 14 total hits and nine earned runs.
The Padres' offense struggled on Friday, with the exception of outfielder Justin Upton who went 2-for-3 with a home run -- his 25th dinger of the year. Outside of Upton's success, however, Giants starter Jake Peavy limited the Swinging Friars to just two hits over seven innings of work, as the Padres' offense went 0-for-1 with runners in scoring position while stranding four total baserunners.
Fortunately, Friday's game was not without at least one other Padres highlight, as Matt Kemp managed to hit a single in the ninth inning off of Giants reliever Brett Bochy to extend his active on-base streak to 31 games. Kemp's streak is the longest such streak of the Padres' season, while also being the longest since Ryan Klesko reached base safely in 56 straight games during the 2002 season. Outside of Kemp and Upton's individual performances, however, the Padres' bats simply couldn't solve the Giants pitching staff.
In case you missed it, here are some highlights and stories that might not have seen from Friday:
Padres post-game recap: After early blast, Padres held at bay by Giants
Cashner strikes out Belt in the first, one of his seven strikeouts on the day: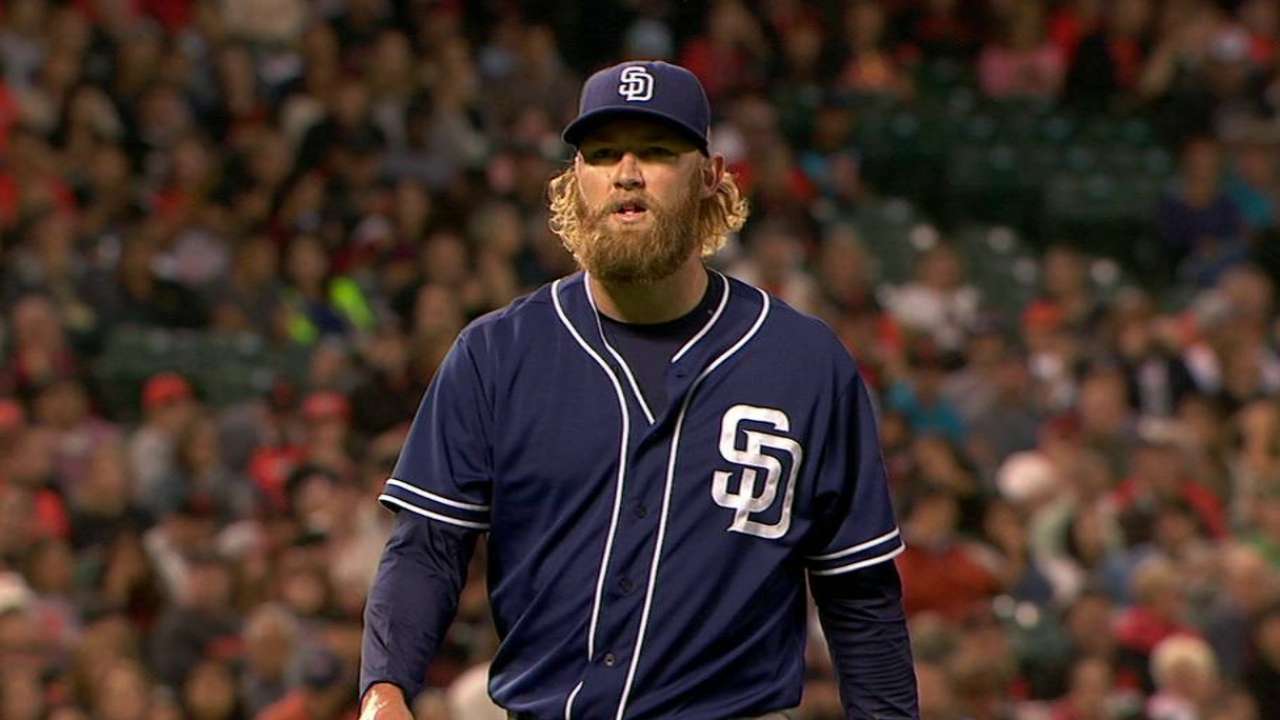 Justin Upton opens the scoring with a solo home run in the second inning: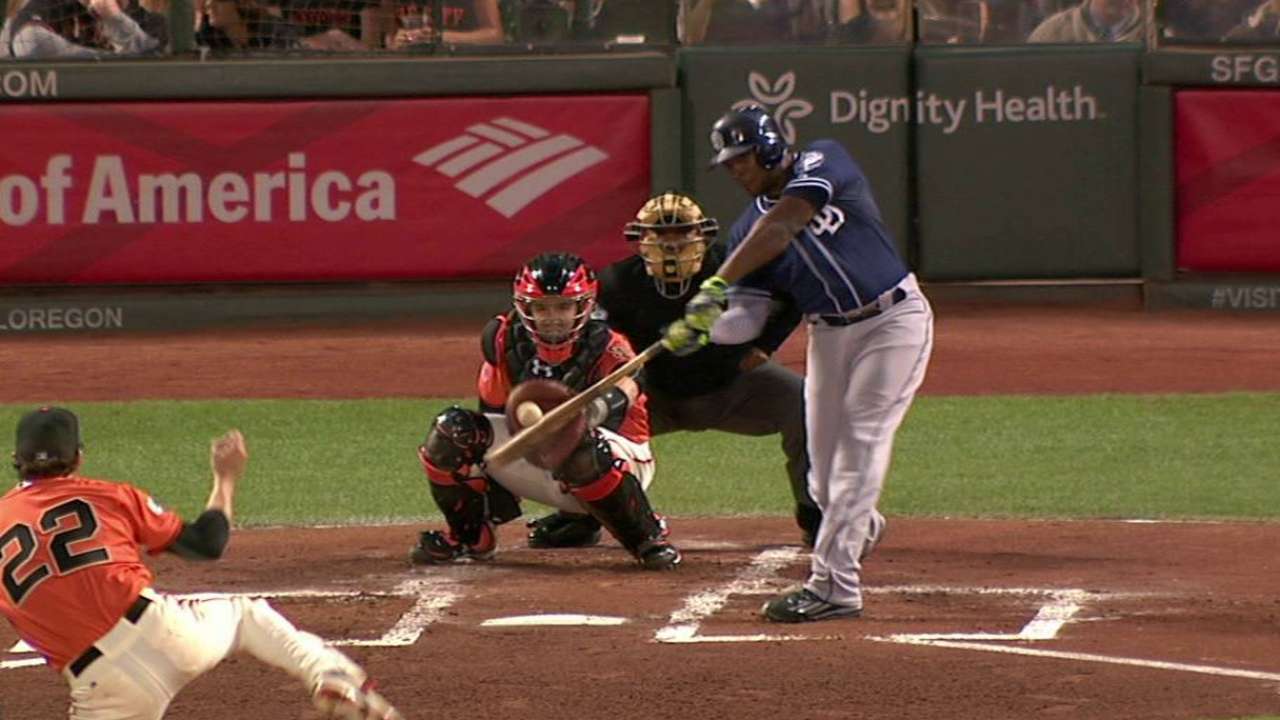 Upton then nabs Adrianza at home plate to get the Friars out of the second: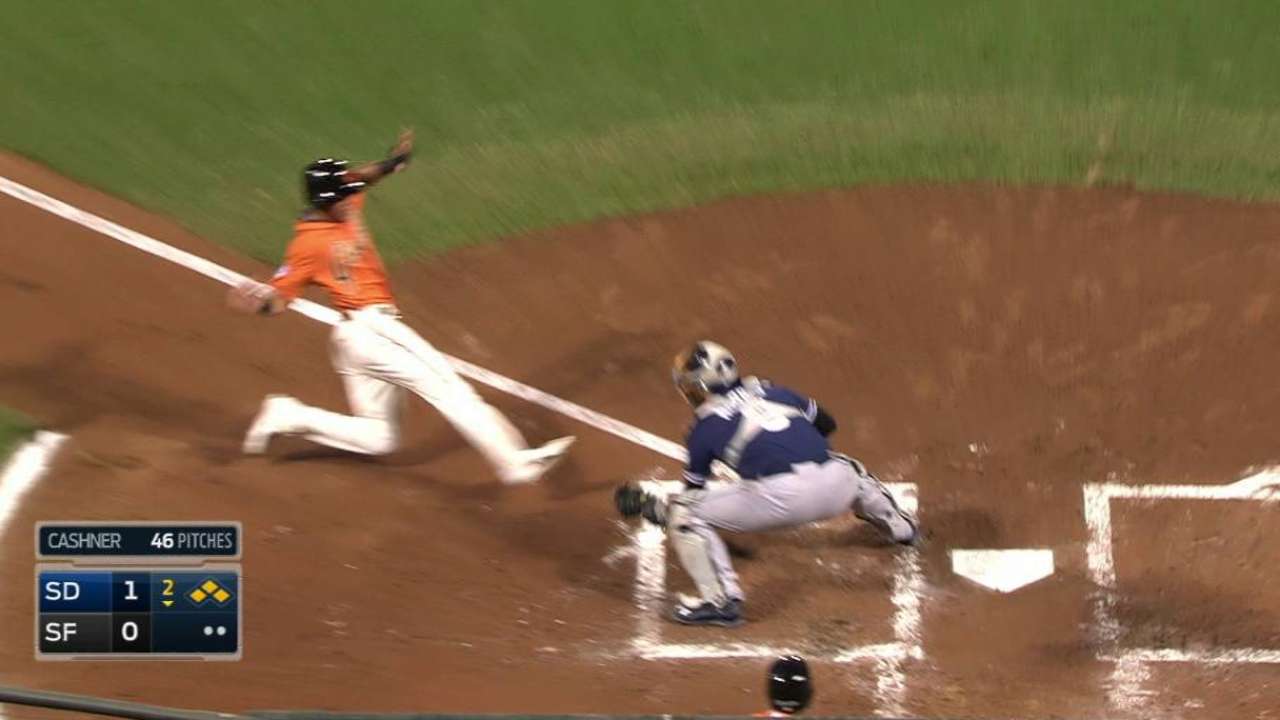 The day's top stories:
Offseason leaves questions to be answered for Friars: Preller: Padres won't rush manager search
Friday rough for San Diego, but Upton still shined: Upton unleashes power with both bat, arm
Ross throws strong outing on the mound despite illness: Ross victimized by stomach bug, homer bug
Alonso's 2015 campaign likely over, so what of '16?: Questions growing over injured Alonso's future
Other side of the diamond panning out for Jedd: Gyorko hitting better as a shortstop
Down on the Farm: Fort Wayne eliminated as Padres affiliate swept
Notable Notes: Game Notes @ SF (09.11) Padres to Face a Familiar Foe in Peavy during SF Opener
Looking forward to the next game:
Friar Forecast at AT&T Park: Kennedy puts strong 2nd half to test vs. Giants
Saturday's pitching probables: Ian Kennedy (8-13, 3.99 ERA) vs. Madison Bumgarner (17-7, 3.05 ERA)