Duo's BTS run ends at season-best 42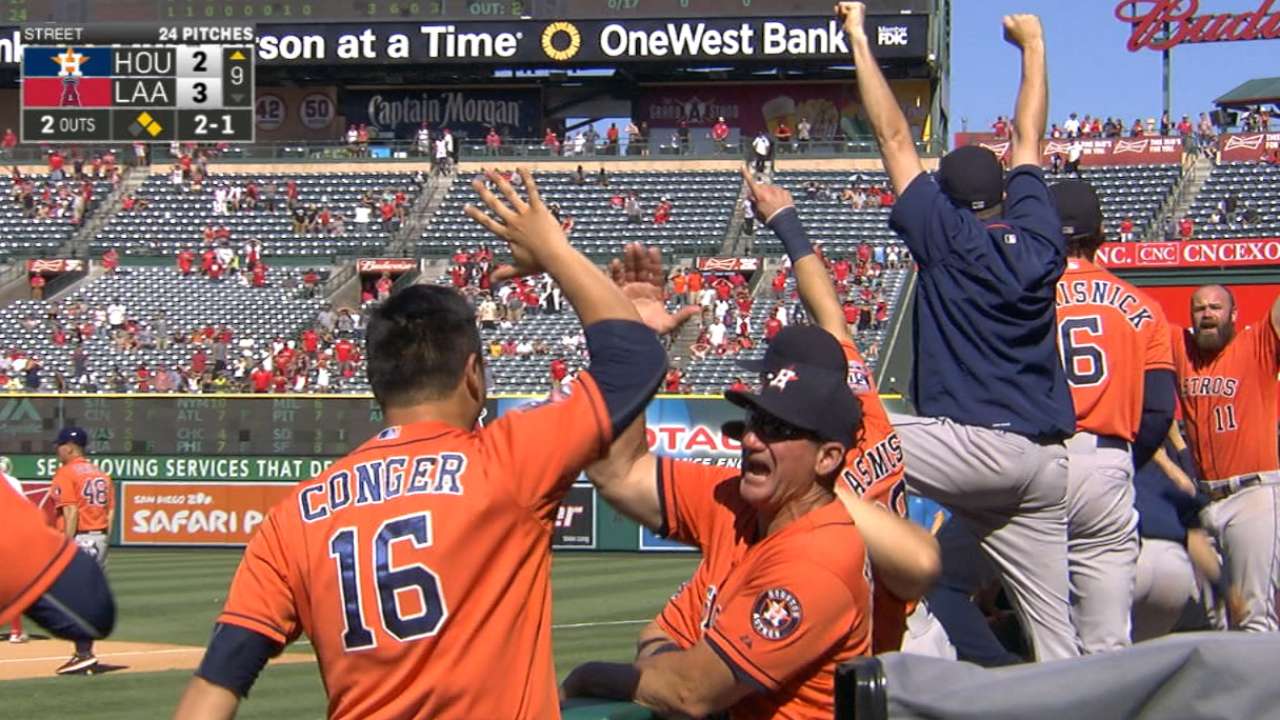 After an incredible run up the Beat the Streak ladder -- 42 straight successful picks -- two of the BTS' best flied out to the warning track on Sunday.
Both users' streaks came to a close on a rare 0-fer from Kansas City star Lorenzo Cain, who entered the contest with a .314 average.
Through Beat the Streak, participants try to establish a virtual "hitting streak" by picking one or two big leaguers per day, with their run continuing as long as their selections collect at least one hit in that game. In the history of BTS play, no one has matched Joe DiMaggio's magic number of 56, set in 1941. To win it all, one must top Joe D.'s run by one.
Although one half of the mostly successful duo managed to remain anonymous, the other took the time to discuss his prescient picking prowess.
Vito Chiappetta, a 20-year-old from Bethpage, N.Y., put in good work, making thoughtful selections based on solid analysis.
In an effort to prolong his run in expedient fashion, Chiappetta leaned heavily on the BTS Double Down feature, which allows Streakers to select two hitters at a time.
If both batters collect a hit, the Streaker's run advances by two. But if either batter goes hitless, the streak drops back to zero.
This strategy had worked quite well for Chiappetta -- who utilized the Double Down almost exclusively across the past few weeks -- until Sunday night.
The Long Island resident's first pick of the day -- Houston second baseman Jose Altuve -- notched a pair of hits to prolong Chiappetta's time in the spotlight until the night.
By advancing as far as they did, both users -- along with a third from earlier in the season -- own the longest BTS runs of 2015. The accomplishment is of great significance given the stakes; if 57 isn't reached, the season leader(s) split a $10,000 consolation prize.
Such news, as one might imagine, has made Chiappetta a happy man.
"It feels great [to be tied atop the season leaderboard]. I love the sport, and watching it alone is a great time. Being in the position to win [a share of $10,000] is a great feeling as well," Chiappetta said on Saturday.
The BTS prize vault contains a whole lot more than that, though. In fact, it houses millions of giveaways for streaks as small as five. So you, too, can finish strong.
Fans interested in joining in on the fun can do so free of charge online, and participating takes only seconds a day. Not a bad deal, considering the millions of reasons to play.
Zachary Finkelstein is a fantasy editor for MLB.com. This story was not subject to the approval of Major League Baseball or its clubs.