Heaney to issue stock in personal brand
Angels lefty will be first MLB player to have stock in himself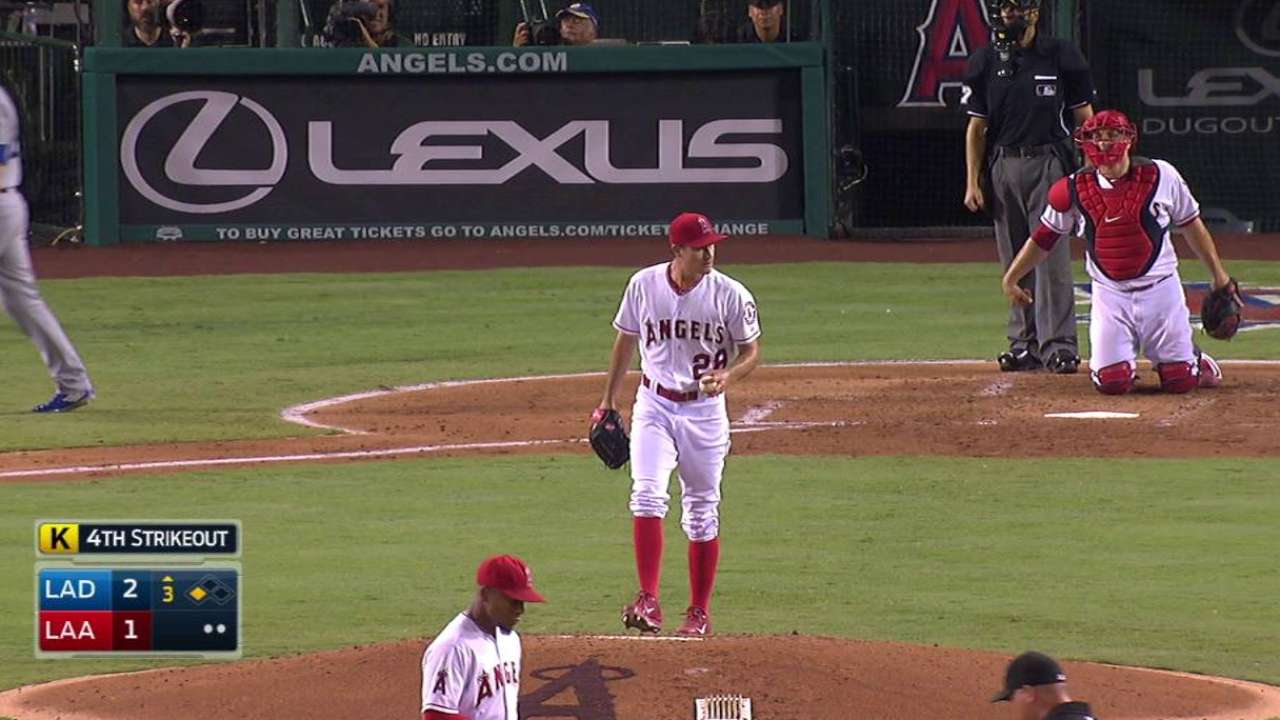 ANAHEIM -- Angels rookie pitcher Andrew Heaney is set to become the first Major League Baseball player to issue stock in his own brand through the company Fantex, the left-hander confirmed Friday.
"It's happening," Heaney said, though neither he nor his agent can comment further until the agreement is complete due to Securities and Exchange Commission regulations.
The agreement, which does not violate Major League Baseball rules, would pay Heaney $3.34 million up front in exchange for receiving 10 percent of all Heaney's future earnings, and all future earnings tied to his brand, the company announced Thursday.
The Commissioner's Office and the MLB Players' Association initially had some concerns, with FoxSports.com reporting that MLB was worried the agreement would leave Heaney vulnerable to exploitation by gamblers and the MLBPA had reservations about Heaney giving up a sizable percentage of future earnings.
However, both parties feel comfortable with the measures Fantex has taken to address those issues, including a screening process that weeds out problematic investors, a source said.
Angels vice president of communications Tim Mead said the Angels had "no issue at all" with Heaney's decision.
Fantex would raise the money to pay Heaney by issuing "tracking stocks" in Heaney's brand to the public -- the price of which, ideally, mirrors the player's perceived worth -- on its closed exchange. Fantex stocks are currently listed for seven NFL players, including Chicago Bears receiver Alshon Jeffery and San Francisco 49ers tight end Vernon Davis.
At least one of Heaney's teammates, though -- Angels closer Huston Street -- didn't think Heaney should make the deal with Fantex. Street said he thought Heaney was signing too much over to the company, based on the earnings he believed Heaney would generate in his career and beyond.
"I'd read the fine print again, see if I can't back out of that deal," Street said Friday afternoon. "A left-handed starting pitcher that throws 95 [mph]? No chance I'd do that deal."
Street clarified after Friday's game that he wasn't bashing Heaney, but was criticizing the system of investing in players and the degree that athletes could end up beholden to the company. He said he talked to Heaney about his thought process and respected his opinions.
Heaney hasn't publicly given his reasoning for entering into the agreement, but Street said if Heaney wanted to secure himself against the risk of injury or poor performance costing him future earnings, the $3.34 million wasn't worth the 10 percent tradeoff.
"That's what insurance is for," Street said.
He said he's taken out an insurance policy on himself once in the past -- paying around $90,000 in exchange for $5 million to $10 million worth of coverage lasting a year.
For a young pitcher like Heaney, Street said, that would mean a $270,000 cost until he could earn a more lucrative salary when he became arbitration-eligible in 2018 -- much less than the 10 percent would amount to if Heaney pitched a successful career. And if Heaney -- who is making $509,250 this season, just over the league minimum -- were injured before signing a new contract, the insurance policy would pay out three times what Heaney's getting from Fantex.
Street added that there would be a valuation that would make such a deal worth it for Heaney -- but it would be more than $3.34 million: "If he'd have just let me be his agent for about five minutes, I think we could have gotten him $10 million and told them to kick rocks if that's not the price."
Fantex shares in Heaney are not yet available, and the company would have to cover the $3.34 million through their initial public offering for the deal with Heaney to stand.
For investors to profit, Heaney and his brand would theoretically need to generate more than $33.4 million in the future -- although there's no guarantee that the stocks would pay dividends. A Heaney stockholder isn't technically entitled to a share of that 10 percent of brand earnings, as detailed in a laundry list of risk factors accessible on Fantex's site.
"I'm gonna own Heaney before the day's over," Street said jokingly -- although he also compared the idea of athletes investing in other athletes to gambling on baseball. "That's the easiest investment of my life."
David Adler is an associate reporter for MLB.com. Follow him on Twitter @_dadler. This story was not subject to the approval of Major League Baseball or its clubs.