Garneau gives batterymate huge boost
Rockies rookie catcher breaks up duel with three-run HR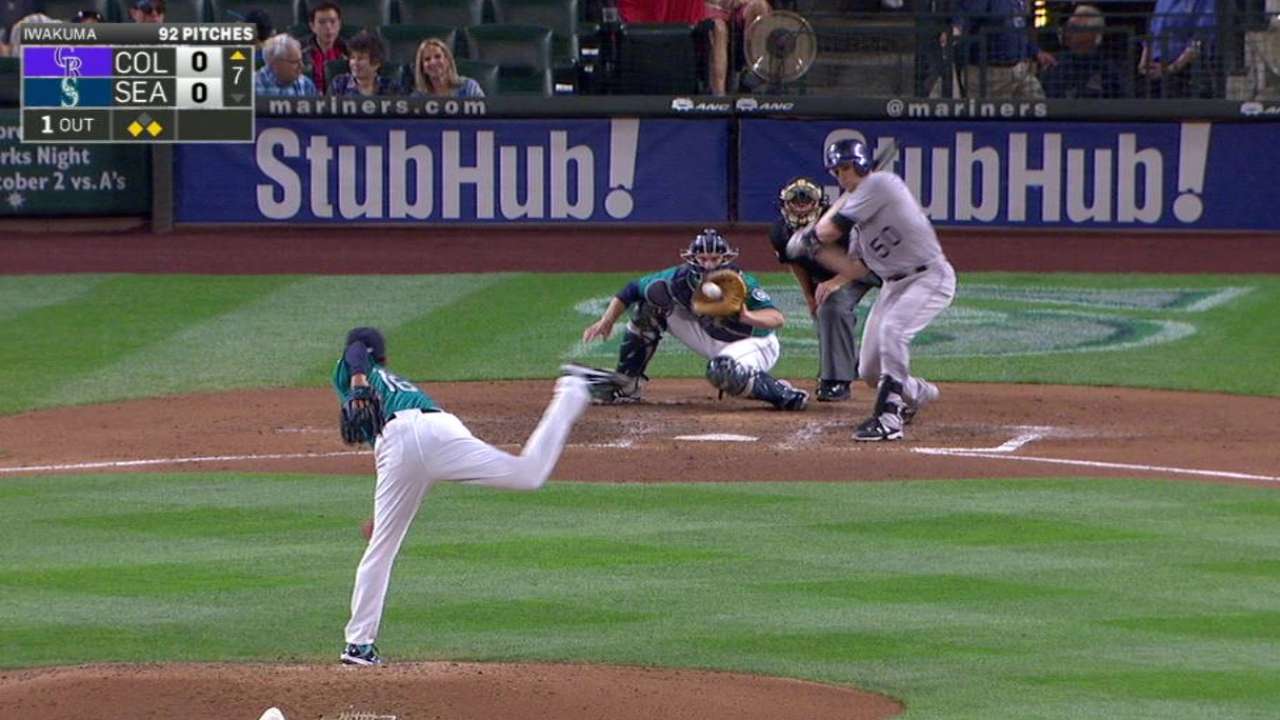 SEATTLE -- It took Dustin Garneau 10 games and 27 at-bats to launch his first Major League homer, a two-run shot off James Shields in the Rockies' loss to the Padres on Wednesday.
Just three at-bats into his next start, a 4-2 win over the Mariners on Friday night, Garneau showed he's starting to get the hang of things.
In what had been a scoreless pitchers' duel for six innings between Chad Bettis and Hisashi Iwakuma, Garneau gave Colorado the jolt it needed with one out in the seventh. He jumped on the first pitch he saw from Iwakuma -- the same front-door cutter that got Garneau to pop out to the catcher two innings earlier -- and smashed it to left for a three-run homer. Statcast™ estimated the blast traveled 381 feet.
"He's a pretty mentally tough kid. I don't think any situation's going to be too big for him," said Rockies manager Walt Weiss. "He got a pitch to hit and didn't miss. It took one big swing and that made the difference because Bettis pitched so well."
Home run No. 1 on Wednesday came with the Rockies trailing by four and made little impact in a Padres blowout. It also resulted in a prank -- the silent treatment -- from his teammates, who later congratulated him.
Both in the scorebook and in the dugout, Garneau's three-run blast Friday was one worth celebrating.
"It was really nice, especially in a close game like that, getting the high-fives and stuff," Garneau said. "I blacked out, don't really know what happened. I just swung and it went over the fence. [Iwakuma] took a chance to throw me [inside] there and luckily I got my barrel to it."
Garneau's transition hasn't been without its growing pains, as the rookie went 4-for-30 following his Aug. 20 debut. But this was a step in the right direction, a way of proving the stage isn't too big.
"Now, luckily, ball's coming off the barrel a little bit," Garneau said. "Now I'm just trying to hone my strike zone down and I'm just barreling some balls."
The 28-year-old is more confident at the plate. It's an attitude he transferred behind the plate late in Friday's game.
With two runners on and home-run threat Kyle Seager at the plate with a full count and two outs in the ninth, Garneau could have called the safe pitch, a fastball which closer John Axford had thrown as fast as 98 mph Friday. Instead, the rookie went with the unconventional call, signaling for a curveball that Axford executed to perfection, getting Seager to swing and foul tip it for the final out.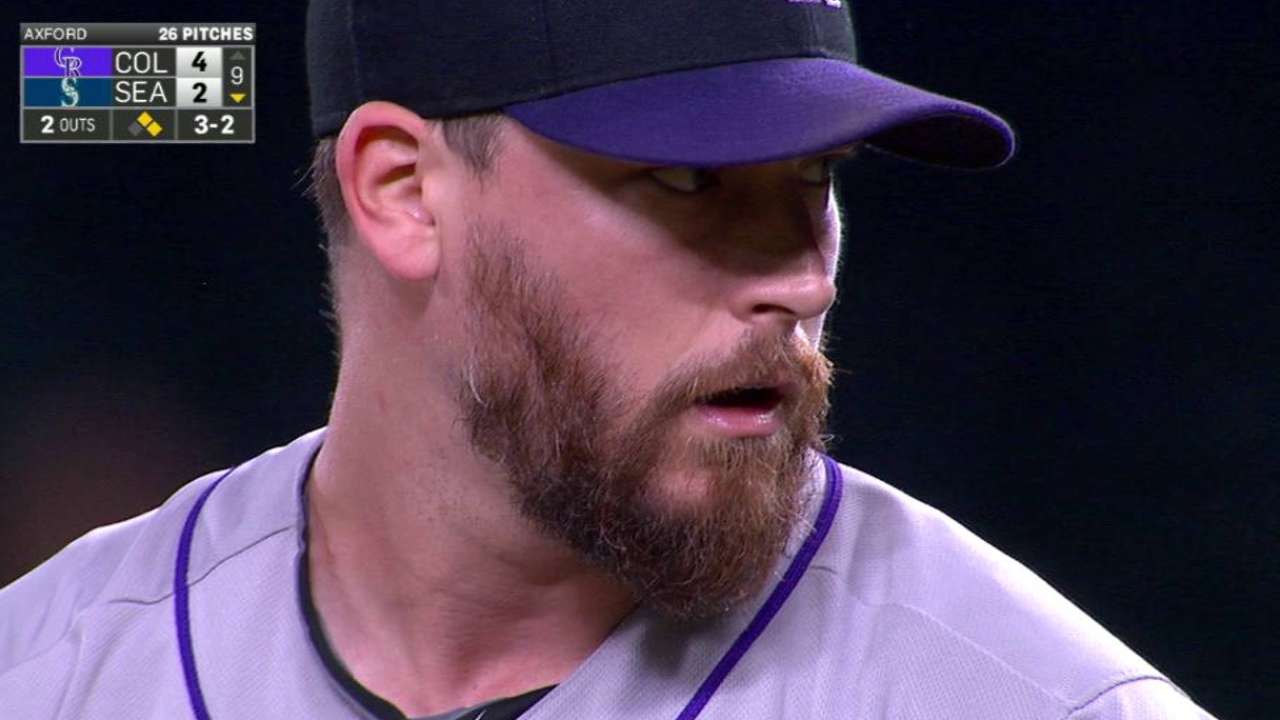 It was the mark of a veteran catcher, and with Nick Hundley on the 60-day disabled list and Tom Murphy called up Friday for his first Major League stint, that's more of what Garneau's role will be down the stretch.
"Yeah, you've got to go with your gut feeling sometimes and luckily it worked," Garneau said.
Andrew Erickson is an associate reporter for MLB.com. This story was not subject to the approval of Major League Baseball or its clubs.