MLB.com Columnist
Lyle Spencer
Weaver rises up, matches Ryan in Angels wins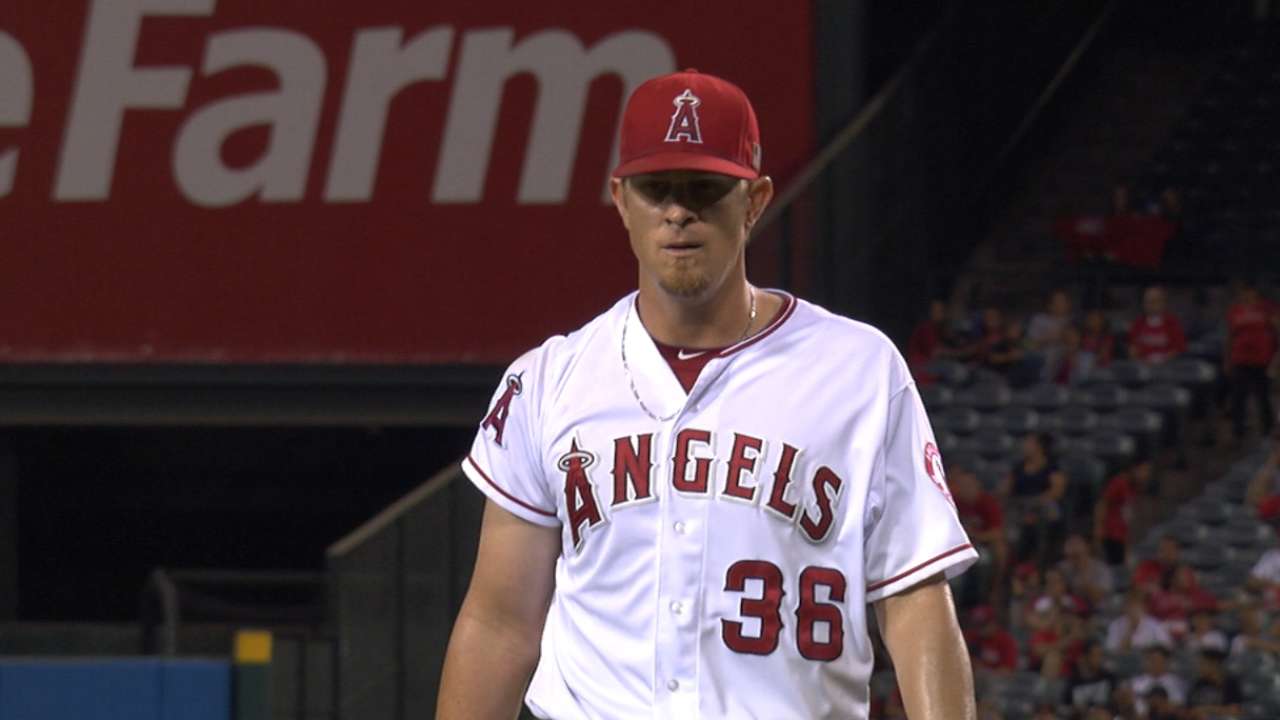 ANAHEIM -- If Nolan Ryan was The Express, Jered Weaver is The Local.
Weaver's fastball in the second half of his career comes in about 15 mph slower than Ryan's in his prime, but the right-handers with contrasting styles share something in common today: 138 wins in an Angels uniform. They trail only Chuck Finley, with 165 victories, in franchise history.
Weaver matched Ryan on Friday night at Angel Stadium in a game that was more important in his mind than any milestone. Turning away Dallas Keuchel and his Astros, 3-2, with three innings of aid from Fernando Salas, Joe Smith and Huston Street did wonders for Weaver's psyche in a season full of bruises.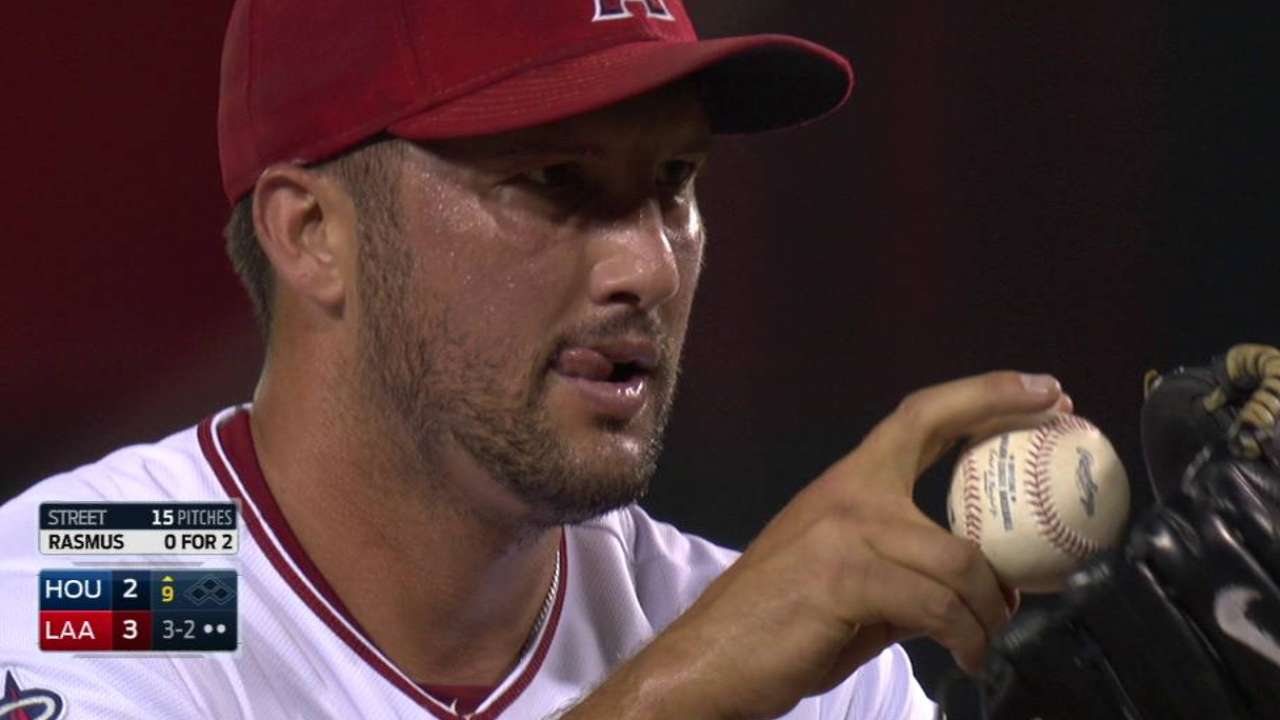 "Right now, I'm not into personal accolades -- if anyone knows me," Weaver said. "I've played for some outstanding teams here and been able to pitch for one organization for a long time. But the time to think about things like [milestones] is later.
"I'm looking forward to getting some more [wins] and to us making a push here at the end of the year."
Weaver is 7-10 with a 4.71 ERA. His career numbers are 138-79, his ERA 3.39. It has not been smooth sailing at age 32.
The Angels needed a towering effort from their big man, and he delivered across six strong innings. The lone glitch was a changeup Carlos Gomez lifted over the wall in left center in the sixth after a one-out walk to Carlos Correa.
Facing Keuchel, an AL Cy Young Award candidate in pursuit of his 18th win, the Angels needed a break and got that too. The Astros' bearded wonder -- a 2014 NL Gold Glove Award winner -- made a rare error leading to three unearned runs in the second inning.
The Astros' AL West lead was shaved to 1 1/2 games over the Rangers, who blanked the A's to retain their three-game cushion over the Angels and one-game edge over the Twins for the second AL Wild Card.
Teams that win down the stretch do it with quality pitching, airtight defense and timely hitting. The Angels had all three.
Kole Calhoun, the warmest Angels hitter, drove a two-run single in the second after Keuchel was unable to handle Taylor Featherston's two-out hopper, loading the bases. Erick Aybar already had doubled and scored on a wild pitch.
"Kole did a great job taking what Keuchel was giving him, going the other way," Angels manager Mike Scioscia said. "And we got a break on the ball Keuchel couldn't field."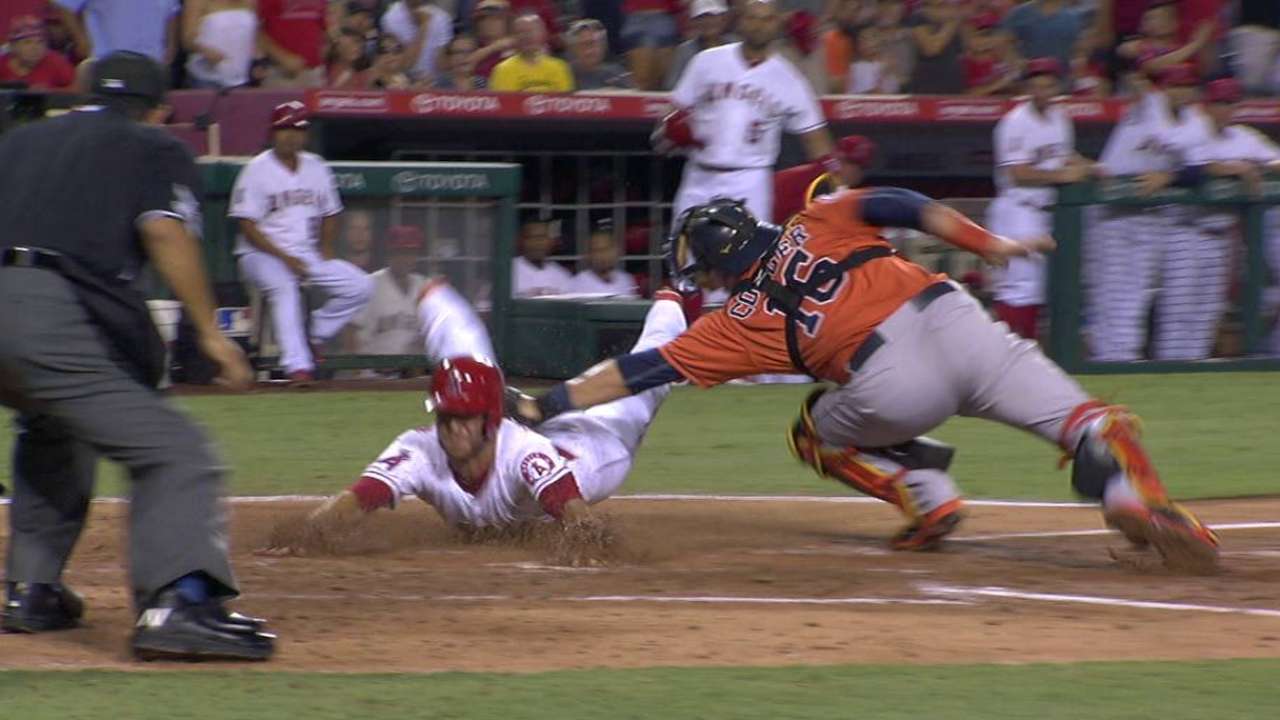 It wasn't exactly an explosion, but it was enough with Weaver reaching back to his peak years and the bullpen getting nine outs without allowing a hit.
Keuchel, who reduced his ERA to 2.22 with seven strikeouts in six innings, still has a shot at 20 wins with his 17-7 record. But this was one that got away from him, literally.
"Against a pitcher like that," Weaver said, "you know you have to limit baserunners and runs. We were able to scratch together three in the second and hold them down."
Scioscia always has maintained that a team's foundation is its rotation. Fronted by Garrett Richards, back in top form, and big-game Jered with Hector Santiago, Andrew Heaney and Matt Shoemaker filling it out, the Angels have the arms to hold their ground in the 22 games left.
Lefties Santiago and Heaney engage Astros right-handers Lance McCullers and Mike Fiers on Saturday night and Sunday, respectively.
"It's obviously an important series," Weaver said. "Hopefully, we can get the next two and make things interesting."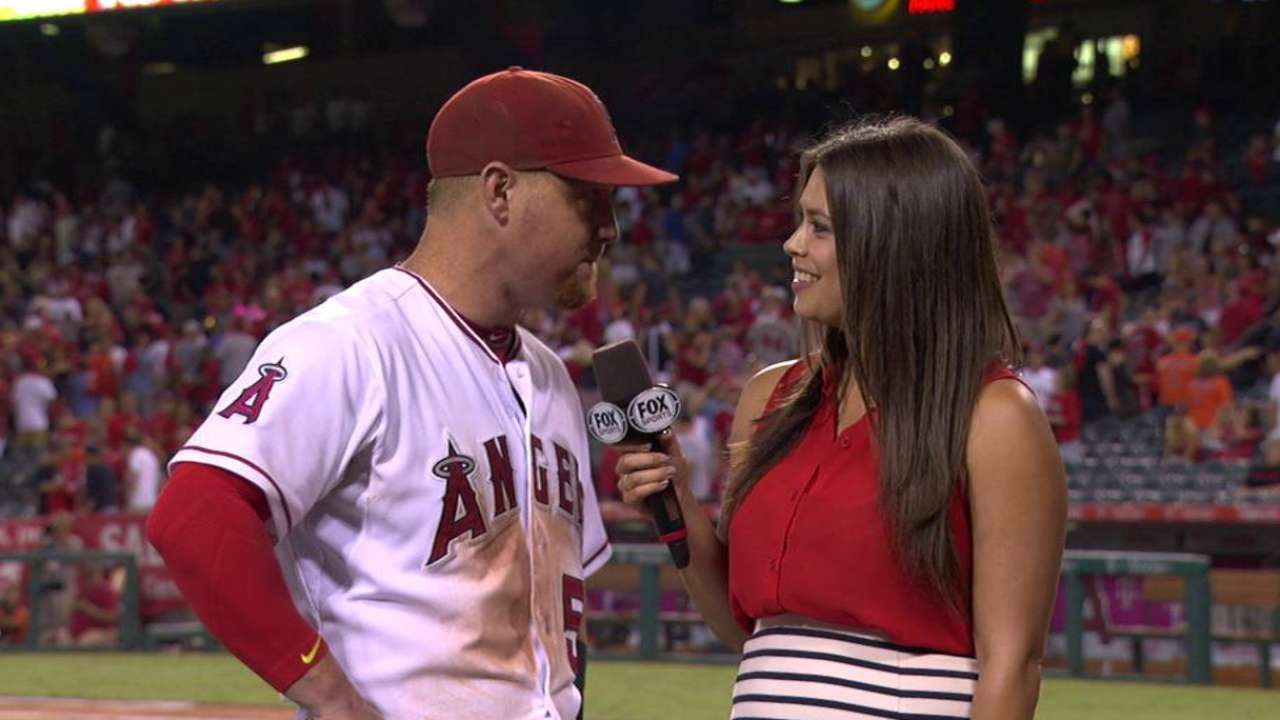 In classic Weaver fashion, he used his mid-80s fastball and wide assortment of off-speed stuff to keep hitters off balance. Seven strikeouts in six innings is no easy task for a guy who has lost more than 10 mph off his heater, but Weaver became a pitcher long ago. He has a deep bag of tricks to reach into.
Weaver's seven punch-outs came on third strikes ranging from 67 mph to 84 mph, on fastballs, curves, sliders, changeups. He was putting guys away with some stuff that might not have popped a balloon.
"I just use what I have," Weaver said, grinning.
Scioscia has watched the 6-foot-7 Weaver rise up in big moments since 2006. Seeing hm linked with the Hall of Fame legend who holds all-time records for strikeouts and no-hitters underscored Weaver's place in the franchise's hierarchy, in Scioscia's mind.
"When a guy's been there for a while, sometimes you overlook him," Scioscia said. "Some of the names he's catching, that puts perspective on what he's done for us."
Lyle Spencer is a national reporter and columnist for MLB.com. Follow him on Twitter @LyleMSpencer. This story was not subject to the approval of Major League Baseball or its clubs.