Statcast: Texas fielders flirt with perfection, too
Although Rangers starter Colby Lewis ultimately came up shy in his bid for perfection on Friday night against the A's, it certainly wasn't due to a lack of defensive help.
The Rangers made a pair of nifty defensive plays in support of Lewis, each of which helped to temporarily preserve the veteran's perfect run at the time. Though the two plays may not ultimately go down as a part of history due to Lewis losing his perfecto in the eighth inning, each defensive gem still deserves the Statcast™ treatment.
That said, those weren't the only highlight-reel grabs across the Majors on Friday night, as a certain Braves outfielder made one of his own while crashing into the center-field wall and a Giants outfielder took away a home run with a perfectly executed leap at the wall. As for the offensive side of things, three frequent Statcast™ subjects find themselves in yet another nightly recap after the sluggers added to their home run totals with towering blasts on Friday.
Here's an in-depth look, courtesy of Statcast™, at each of those aforementioned plays.
DeShields' diving grab ends the fourth
Outfielder Delino DeShields provided the first big defensive lift for Lewis, racing in and making a diving catch to take a hit away from Josh Reddick to end the fourth inning. Though DeShields initially took a step back, leading to a route efficiency of just 86.6 percent, he quickly made up for it by reaching a max speed of 20 mph as he dashed in to close the gap and made the diving snag. The speedy outfielder covered a total distance of 72 feet in completing his defensive gem.
Odor temporarily preserves perfecto with leaping catch
Lewis' next big scare came in the sixth inning when Max Muncy led off the frame by hitting a line drive toward shallow right field. Already positioned on the outfield grass due to an infield shift, second baseman Rougned Odor ranged even farther back into the outfield before making a leaping catch to take a hit away from Muncy. Odor managed to reach a max speed of 14.5 mph and cover 26 feet in the short amount of time that Muncy's sinking liner remained in the air, all while turning in a route efficiency of 93 percent.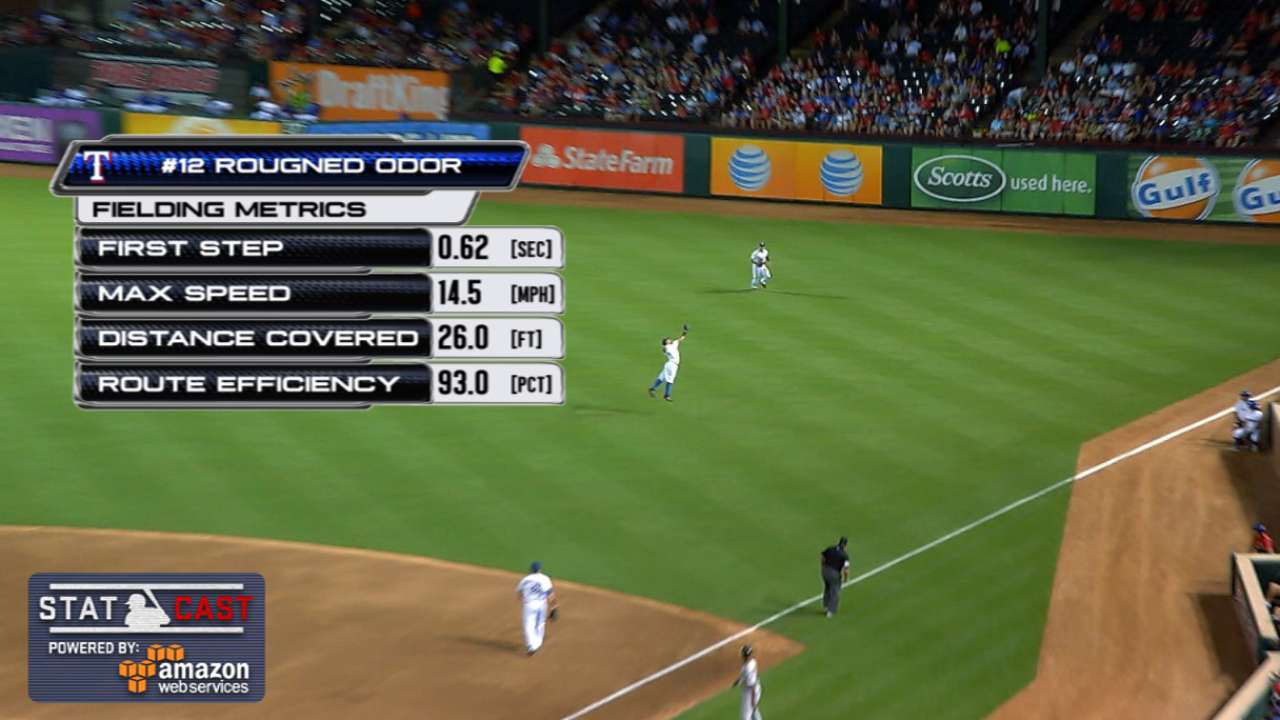 Bourn makes leaping catch at the wall
Braves outfielder Michael Bourn turned in a leaping, highlight-reel catch of his own at Turner Field against the Mets. Bourn had the added element of holding onto the ball as he crashed into the outfield wall after covering a total distance of a whopping 99.5 feet to take an extra-base hit away from Michael Conforto. Bourn reached a max speed of 17.6 mph on the play, all while logging a route efficiency of 97.3 percent.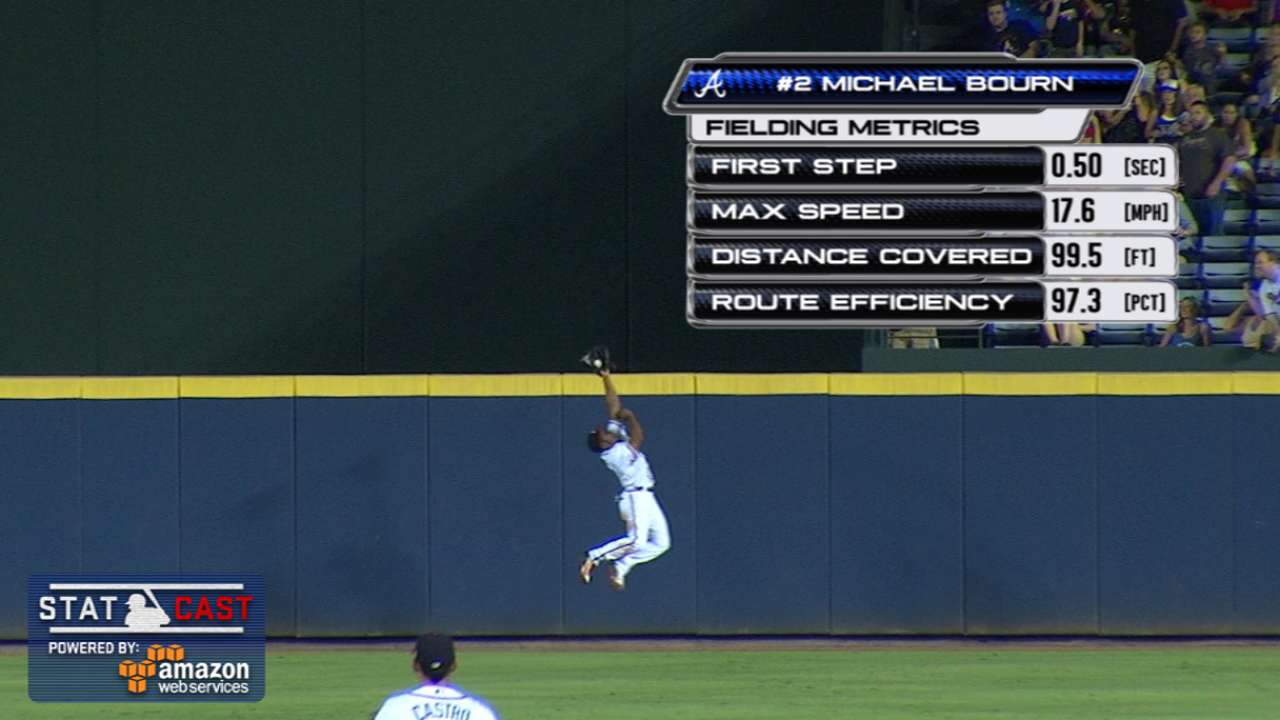 Pagan scales wall, takes away a homer
Giants outfielder Angel Pagan joined in on the party with a jaw-dropping catch to rob Matt Kemp of a home run in the seventh inning of Friday's game at AT&T Park. Pagan ultimately covered a total distance of 91 feet, while recording a route efficiency of 95.4 percent in his sprint back to the wall. He reached a max speed of 16.3 mph before briefly taking his eyes completely off the ball to locate the wall, only to then relocate the ball as he perfectly timed his jump to keep a run off the board.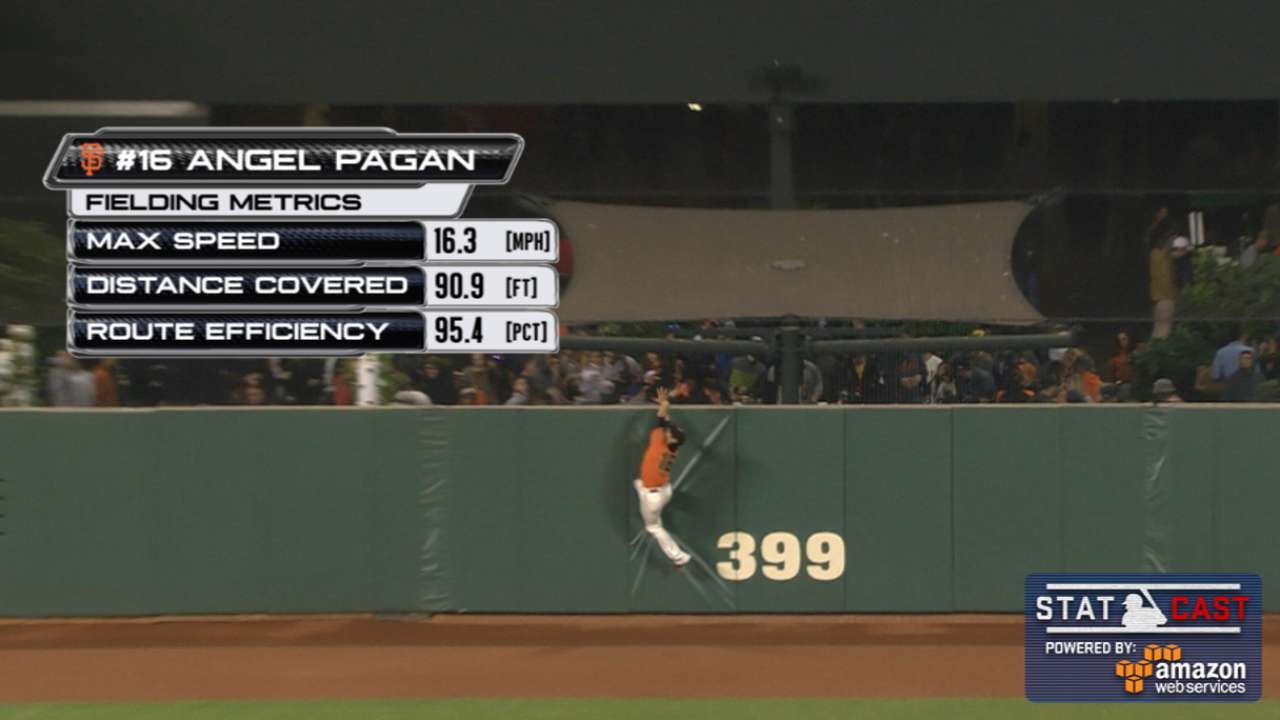 Another night, another Cespedes homer
Yoenis Cespedes crushed a ball that neither Bourn nor any Braves outfielder could get to. Cespedes doubled the Mets' lead with a monster two-run homer to left field, his seventh dinger in 10 games this month. The no-doubter jumped off Cespedes' bat at 107.5 mph and traveled a projected distance of 431 feet before landing deep into the left-field seats at Turner Field.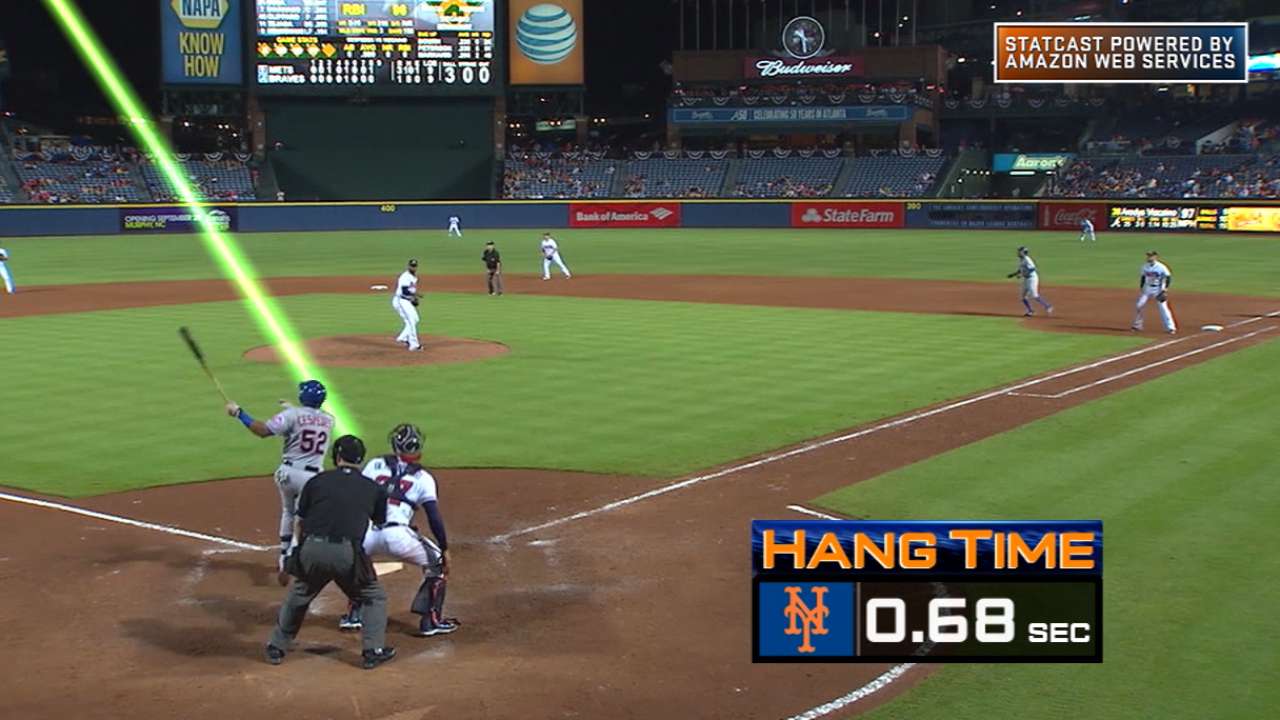 Donaldson keeps crushing, too
Not to be outdone, Blue Jays third baseman Josh Donaldson wasted no time in crushing his 38th home run of the year in a key victory over the Yankees on Friday night. Donaldson teed off on a 3-2 pitch in his first at-bat to quickly stake the Jays to a 2-0 lead en route to an eventual 11-5 victory. The first of five Toronto homers, Donaldson's towering shot had an exit velocity of 109.4 mph and traveled a projected distance of 435 feet before finally landing in the left-center field seats at Yankee Stadium.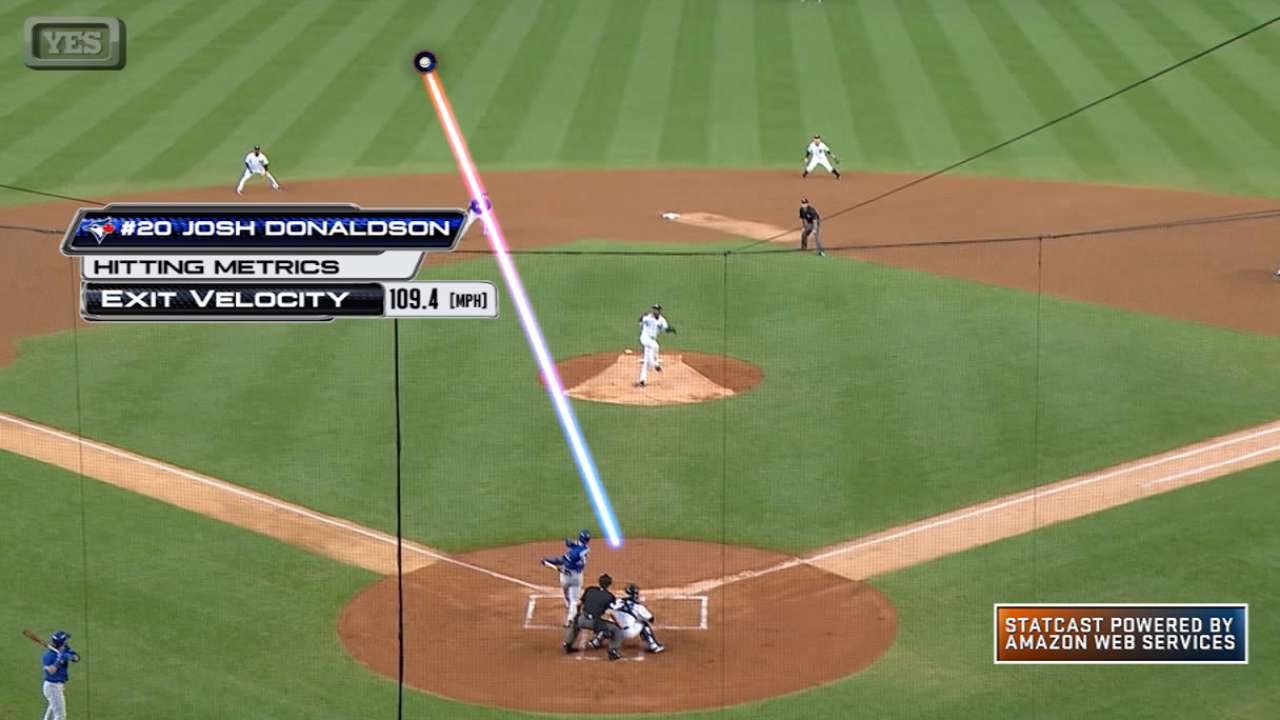 Bryant caps big doubleheader with homer
After coming through with a go-ahead RBI double in Game 1 of the Cubs' doubleheader on Friday, third baseman Kris Bryant upped the ante with a mammoth two-run homer in the nightcap. The shot left Bryant's bat at 104.9 mph and traveled a projected 439 feet before disappearing into the bushes beyond the center-field wall at Citizens Bank Park.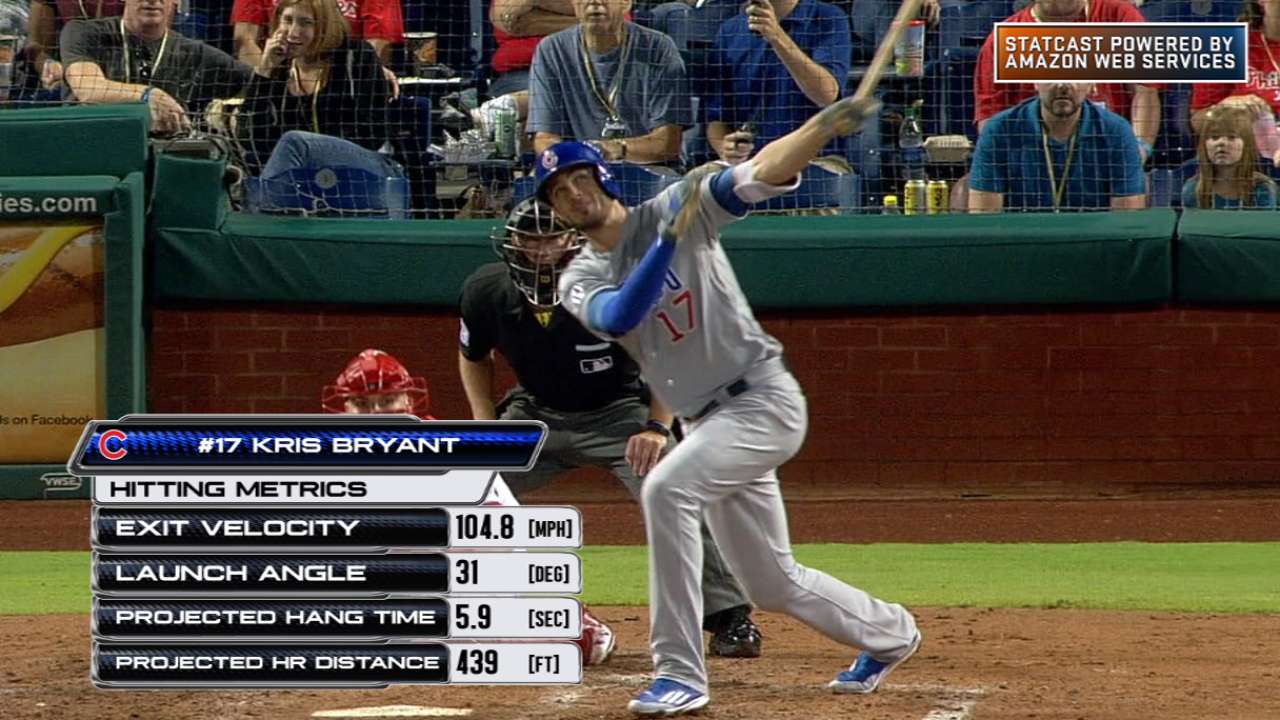 Paul Casella is a reporter for MLB.com. This story was not subject to the approval of Major League Baseball or its clubs.