Tazawa tips cap to Rays after rocky outing
Red Sox setup man struggles to locate, surrenders 4 runs
ST. PETERSBURG -- When the calendar turned to August, normally reliable Red Sox reliever Junichi Tazawa saw his production take a turn for the worse. September, for the most part, has offered little in the way of relief. Pun intended.
The veteran setup man, who played a key role in the Red Sox's 2013 World Series championship, struggled mightily in the eighth inning of Friday night's 8-4 loss to the Rays after inheriting a 4-3 lead from starter Wade Miley, allowing four earned runs on four hits -- including a towering, two-run homer to center by Asdrubal Cabrera that proved to be the game-winning blow -- while recording just one out.
In his 15 appearances dating back to Aug. 2, Tazawa has surrendered 14 earned runs over 13 2/3 innings while watching his ERA soar from 2.60 to 4.14. He has allowed the lead to slip away five times during that span after doing so just twice in his previous 46 appearances this year.
"I don't think so," said Red Sox interim manager Torey Lovullo, when asked if workload is a factor behind Tazawa's recent woes.
"He's had 71 outings back-to-back years, and he's into the 60s now. I just think fastball command right now is a little bit inconsistent. It gets him into situations where he gets a little bit predictable at times, and they hit a couple of good pitches tonight. Give them a little credit."
Tazawa echoed those sentiments in his postgame comments, citing command as a key factor behind the recent struggles.
"The hits that they were getting were because of the mislocation of my fastballs," Tazawa said through an interpreter. "Missing high has been a problem. It's probably just mechanics, release point. Today was definitely off."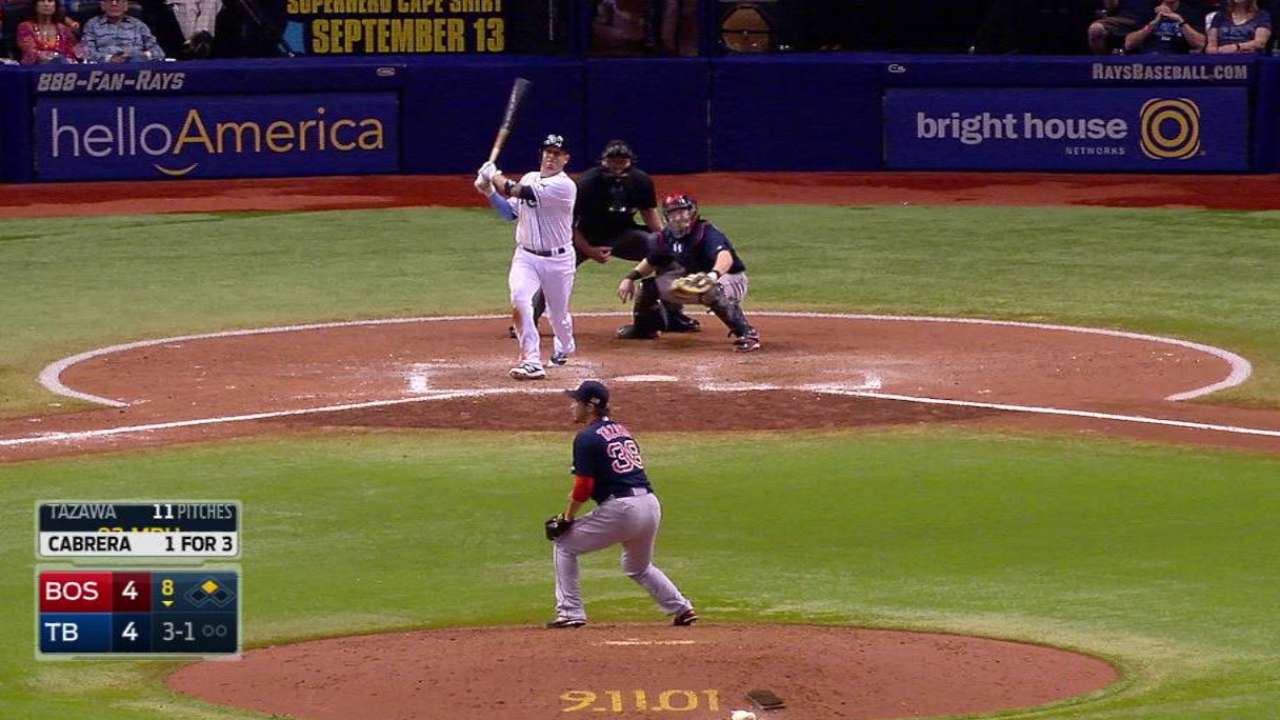 Lost in the Rays' late-inning outburst was a superb effort by Miley, who allowed three earned runs in seven innings, striking out five without issuing a walk.
The veteran left-hander, who has now pitched six-plus innings in eight consecutive starts, continues to deliver against Tampa Bay, with a 1.85 ERA across six career starts.
"I gave up the runs, gave up the lead and we lost," Tazawa said. "That was the bigger issue for me tonight."
Michael Kolligian is a contributor to MLB.com. This story was not subject to the approval of Major League Baseball or its clubs.