Lack of command costs Severino vs. Jays
Yankees rookie allows six runs over 2 1/3 innings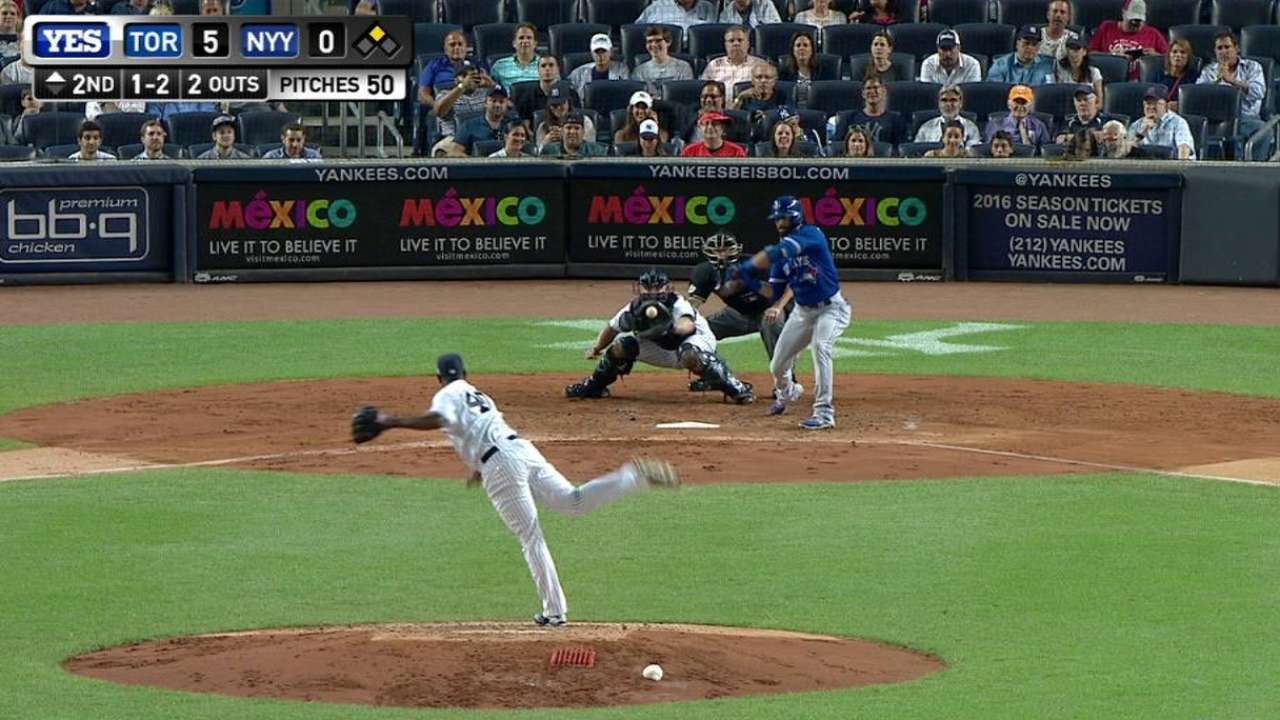 NEW YORK -- "Let's go Blue Jays" chants broke out in the top of the ninth and rang through Yankee Stadium through the bottom of the inning, too. But Friday night's series opener between the Yankees and Jays had been decided long before then.
On a night when the intensity was amplified as the two clubs battle for the American League East title, Yankees rookie Luis Severino couldn't get out of the third inning, laying the groundwork for the Jays' eventual 11-5 victory.
Severino gave up six hits, six earned runs and three walks in 2 1/3 innings, relinquishing one fewer earned run on Friday than he had in all five of his August starts combined. He also gave up two homers.
"It was command. He didn't really have any command of his fastball tonight," Yankees manager Joe Girardi said. "He struggled with command of his other pitches and they made him pay. For the most part, we were up in the zone all night, and that's why we got hit so hard."
Severino seemed to get his cleat caught on the mound early in the game Friday, which resulted in him falling off the mound, and a concerned Girardi immediately sprinted out to check on him. Severino said he slipped while he was landing, but indicated it was very small and didn't affect his pitching at all.
"When you make good pitches, you have good results," Severino said. "That didn't happen."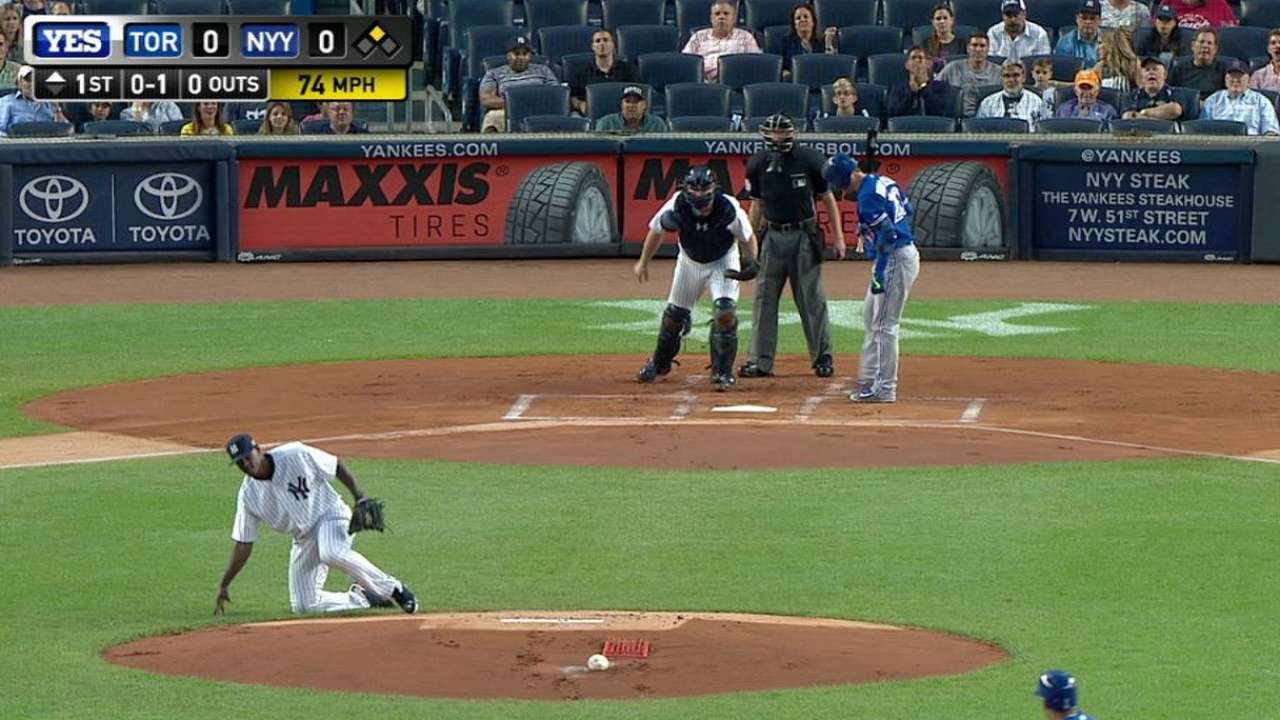 For weeks Girardi has lauded Severino's poise and demeanor as the 21-year-old has entered the Yanks' rotation at the season's most pivotal point. In seven career starts, Severino has already faced the Red Sox once and the first-place Blue Jays twice.
Asked if perhaps the magnitude of Friday's game and the pennant race affected the young pitcher mentally, Girardi didn't seem to think it did.
"I didn't see him really change his demeanor. He stayed aggressive. He just wasn't able to make pitches," Girardi said. "I didn't really see him get down on himself. He doesn't show a lot of emotions anyway. I think you have to see him for a long time before you can really read a lot about the kid, but I didn't see him change."
The bullpen struggled, too, relinquishing five runs and three more homers. Chasen Shreve gave up two earned runs and a homer, his second in as many outings. Girardi said he, too, struggled with the fastball.
The Yanks, who are 2 1/2 games back in the division, need the pitching to step up if they're going to gain some ground on the surging Jays.
As for Friday, the only thing Severino knew was to turn the page.
"Of course not," he answered, when asked if his confidence is shaken now. "I'm going to have more tough outings like that. I have to keep going. Keep working."
Grace Raynor is an associate reporter for MLB.com. This story was not subject to the approval of Major League Baseball or its clubs.