Schwarber, Bryant proving dynamic duo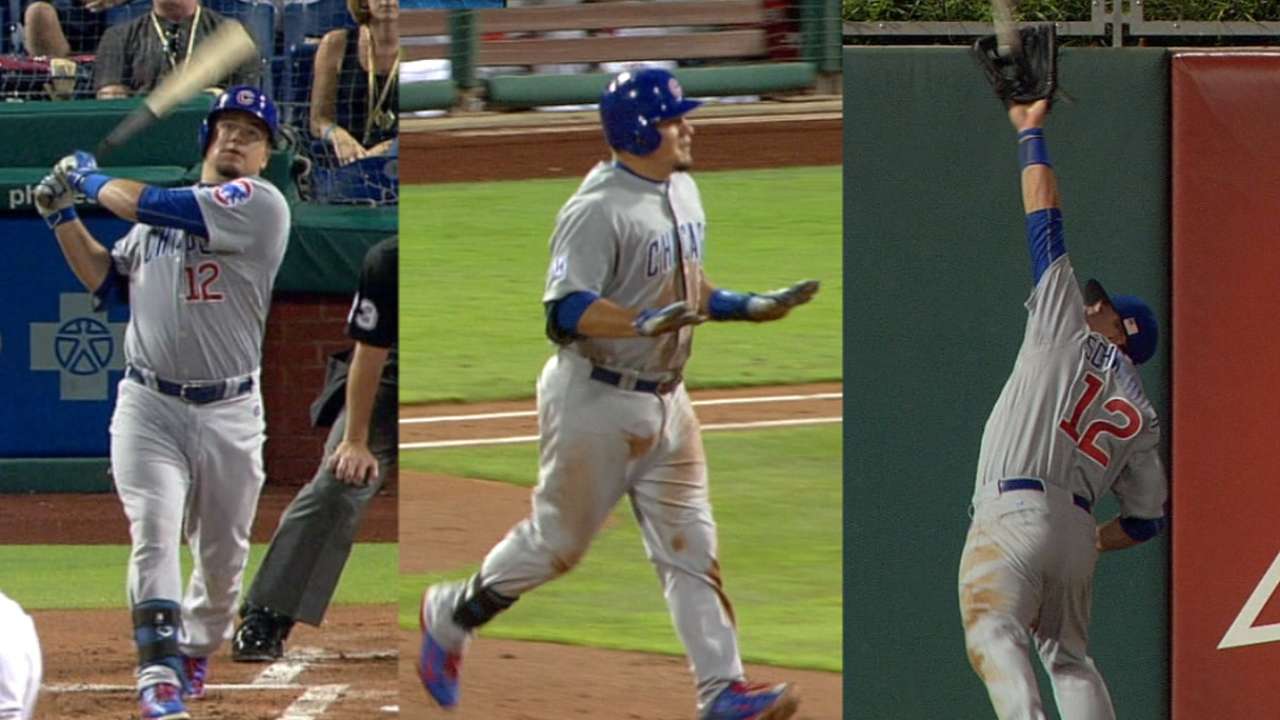 PHILADELPHIA -- The Cubs' rookies are so young, and yet so powerful, and a huge reason for the team's success. And you never know what will happen, like falling flat on your face after hitting a home run.
On Friday, Kyle Schwarber hit a pair of homers and Kris Bryant added his 24th blast to increase the Cubs' rookie total to 60 home runs this season, breaking the old club record of 58 set by the 1966 class. All the power helped Chicago post a 7-3 victory over the Phillies and complete a doubleheader sweep at Citizens Bank Park.
"It's pretty remarkable," Chicago starter Kyle Hendricks said of the rookies. "You'd think they'd take a step back but they keep hitting. It's fun to watch, especially for how young they are -- just coming up, to produce like this is unbelievable. It's fun to come to the ballpark every day and watch that."
Especially when Schwarber, 22, launches homers that land on the concourse behind the center-field seats or Bryant, 23, hits one that drops into the greenery in the batter's eye in straightaway center.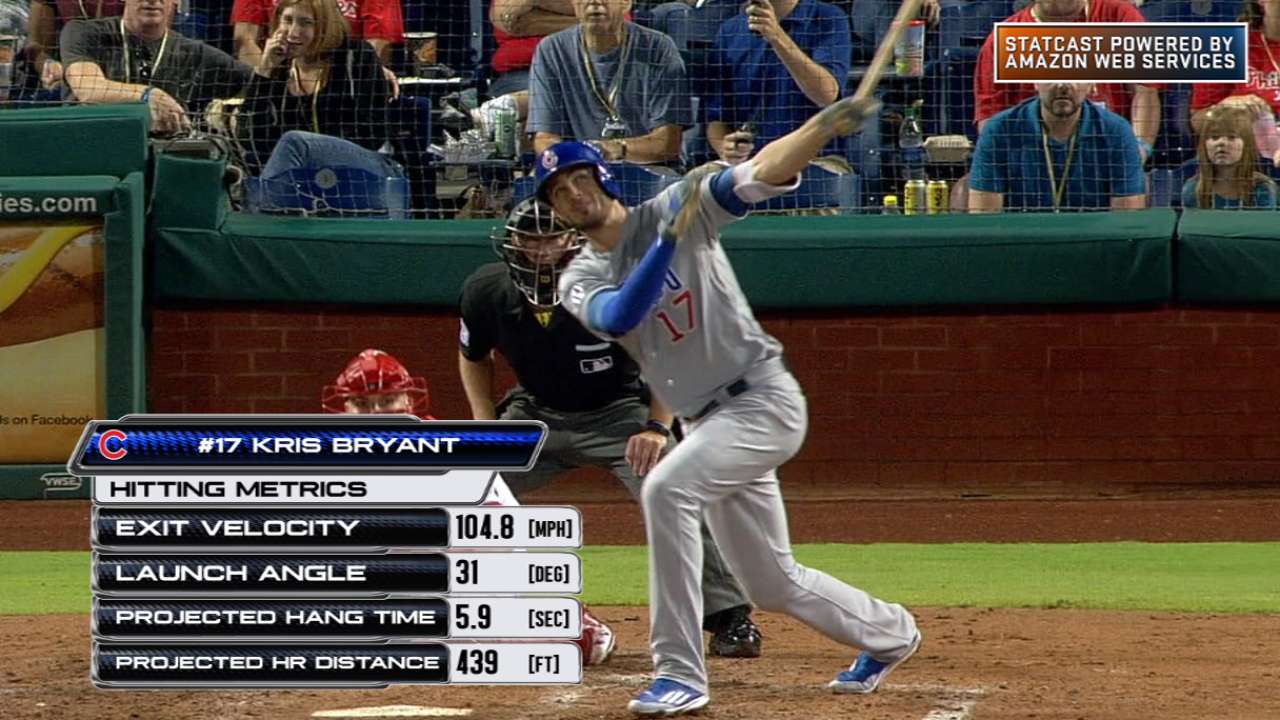 Schwarber's second homer, a two-run shot in the second, didn't go as far, and he almost didn't complete his trip around the bases. The rookie slipped when he stepped on first, fell, and had to finish his home run trot while trying not to laugh.
"He crushes them," Bryant said of Schwarber. "It's fun watching him. Then he fell around first base. We're so young, we don't really care about anything. ... It was funny. He's got to get that on tape -- you've got to keep that."
Will he? Yep. Schwarber had already watched a replay of his slapstick fall.
"I just slipped off the bag," Schwarber said. "I went to round it, and my foot just came off. It was pretty funny. I was laughing."
Did he get any grief from his teammates?
"I got a lot of grief -- a lot of 'Watch out for the snipers,'" he said. "I tried to do the 'safe' sign. I had to get up and run."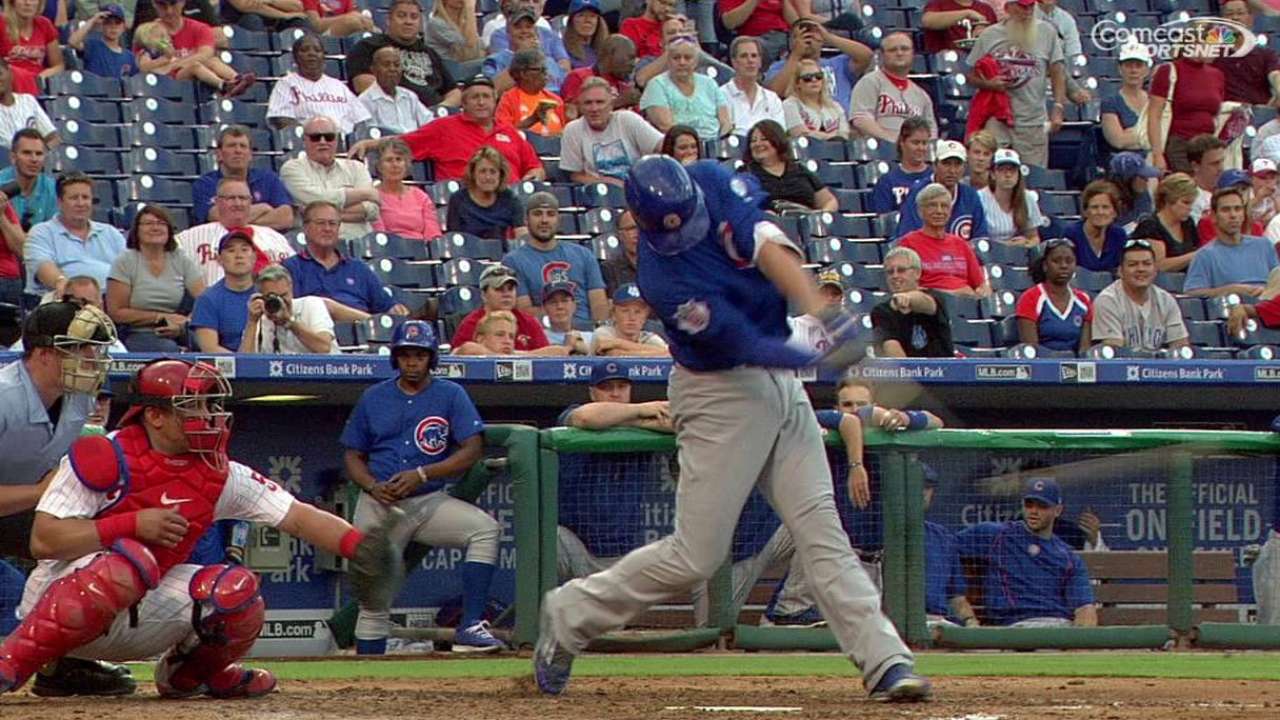 What impressed Cubs manager Joe Maddon was how Schwarber bounced back from a four-strikeout game on Wednesday against the Cardinals, which was his first start in six games. The rookie was sidelined with sore right ribs.
"It might have been a lot for him to see after having been injured for a bit," Maddon said of the four-K game. "It also serves as inspiration for him. If he has a day like that, I know, you know, he'll do everything possible so it doesn't happen again. He was ready for tonight's game."
Schwarber's two homers came off the first two pitches he saw from the Phillies' Alec Asher.
"I just settled things down and tried to handle pitches I could actually handle and not swing at pitches out of the zone," Schwarber said of his approach. "I felt good at the plate and swinging at good pitches I could hit.
"I'll probably have another couple four-strikeout games along the way," he said. "I'm just trying to get comfortable."
Carrie Muskat is a reporter for MLB.com. She writes a blog, Muskat Ramblings. You can follow her on Twitter @CarrieMuskat and listen to her podcast. This story was not subject to the approval of Major League Baseball or its clubs.