Recent late-inning losses distance Nats from postseason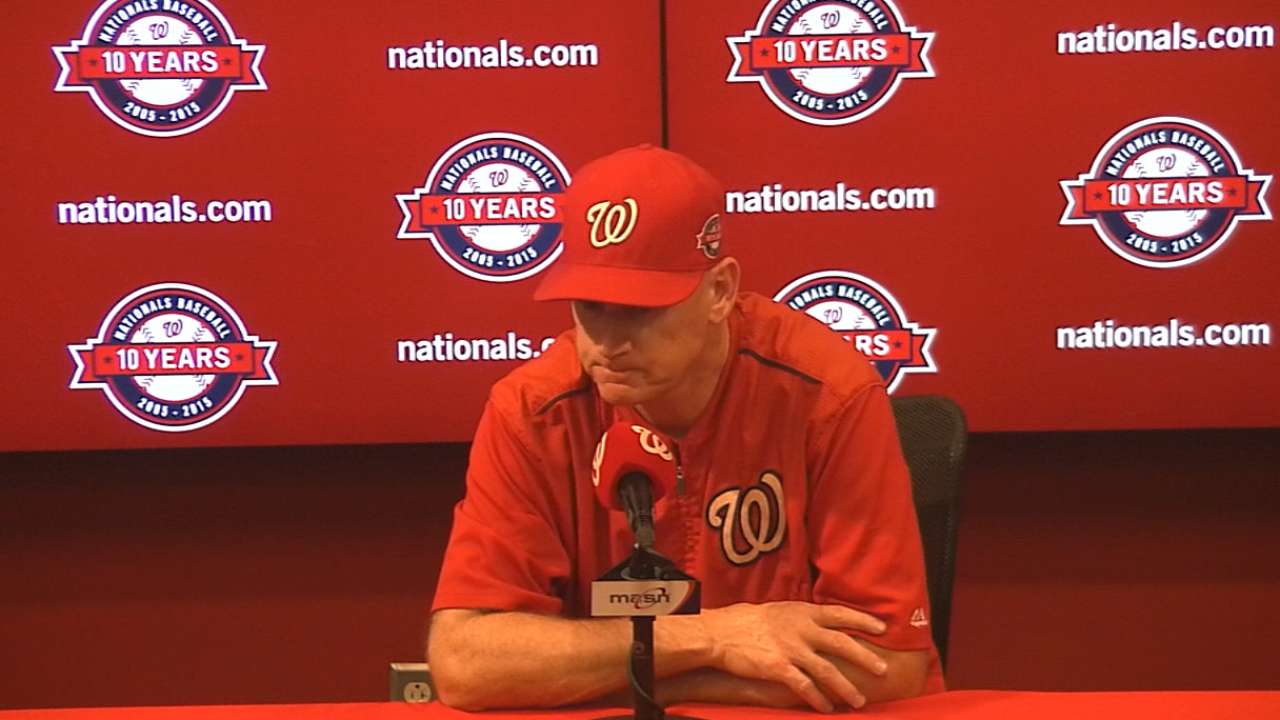 The Nationals dropped two games in the standings over the last 12 days, and with those losses, perhaps their last best chance to gain real ground on a division title passed them by.
From Aug. 31 to Sept. 9, Washington's bullpen blew five late-inning leads, including three in New York against the division-leading Mets. With five wins in those games, the Nationals would be 1/2 game behind the Mets. Now, they sit 8.5 back with 22 to play.
On the last day of August, in the series opener against St. Louis, the Nationals scored three runs in the top of the seventh to jump out to a 5-3 lead. Casey Janssen couldn't get out of the seventh, though, and allowed four runs as the Nats fell 8-5.
Rinse and repeat on the following night. The Cardinals scored two runs in the eighth and three in the ninth to win 8-5. At the same time, the Mets dropped a game in Philadelphia, but the Nationals didn't capitalize.
"We had a two-run lead in the eighth," manager Matt Williams said that night, a theme beginning to develop. "We didn't get it done."
Washington won the series finale in St. Louis and then four straight over the cellar-dwelling Braves. They welcomed the Mets to Nationals Park with four games between them -- the Mets dropped two out of three in Miami.
"They're very good, and we're very good, also, so it's going to be a good three days," Bryce Harper said before the series. "We just need to worry about what we're doing as a team, what we're doing as an organization. If we pitch well, if we play well and hit well, then we'll be OK."
In each the following three games of a series that would likely define Washington's season for better or worse, the Nationals held a lead in the sixth inning or later.
On Monday, Max Scherzer, signer of a $210 million deal in the offseason that cemented him as Washington's ace, wasn't able to hold onto a one-run sixth inning lead. The bullpen allowed three in the eighth, and the Nationals lost by three.
On Tuesday, three relievers combined to walk away a six-run seventh inning lead, and Nationals lost by one.
On Wednesday, Stephen Strasburg took a 2-1 lead into the eighth inning but allowed a solo home run and a single. Yoenis Cespedes mashed a home run off Drew Storen, and the Nationals lost by two.
In the series, Storen faced eight batters. He retired three of them, walked three of them (including three straight to tie the game on Tuesday night) and allowed two hits -- a three-run double to Cespedes on Tuesday and the go-ahead home run on Wednesday.
"It's tough," Storen said after Wednesday's defeat. "Like I said, it tests you a little bit, but that's what this game is about. It's not easy. It's not easy to get here, and it's not easy to stay here, and it's really not easy to be an elite guy. Especially down in the bullpen where you're the hero or zero."
In Washington's last five losses, the bullpen combined for three blown saves and four losses. In 16 innings, relievers allowed 26 hits, 22 runs, 20 earned runs 12 walks, and three home runs.
"I want to do everything we can to win a baseball game," Williams said Wednesday. "I look at it -- every morning I wake up and I look in the mirror and say, 'Do whatever you have to do today to help us win a game.' Tonight, Drew's in there for the righty. Didn't happen. Stephen got us into the eighth. It's good for him. I'm happy to see him healthy. So can we all do a better job? Sure."
Jacob Emert is an associate reporter for MLB.com. This story was not subject to the approval of Major League Baseball or its clubs.