Bullpen shows improvement in loss to Marlins
Treinen, Janssen and Rivero combine to allow just one run over 2 2/3 innings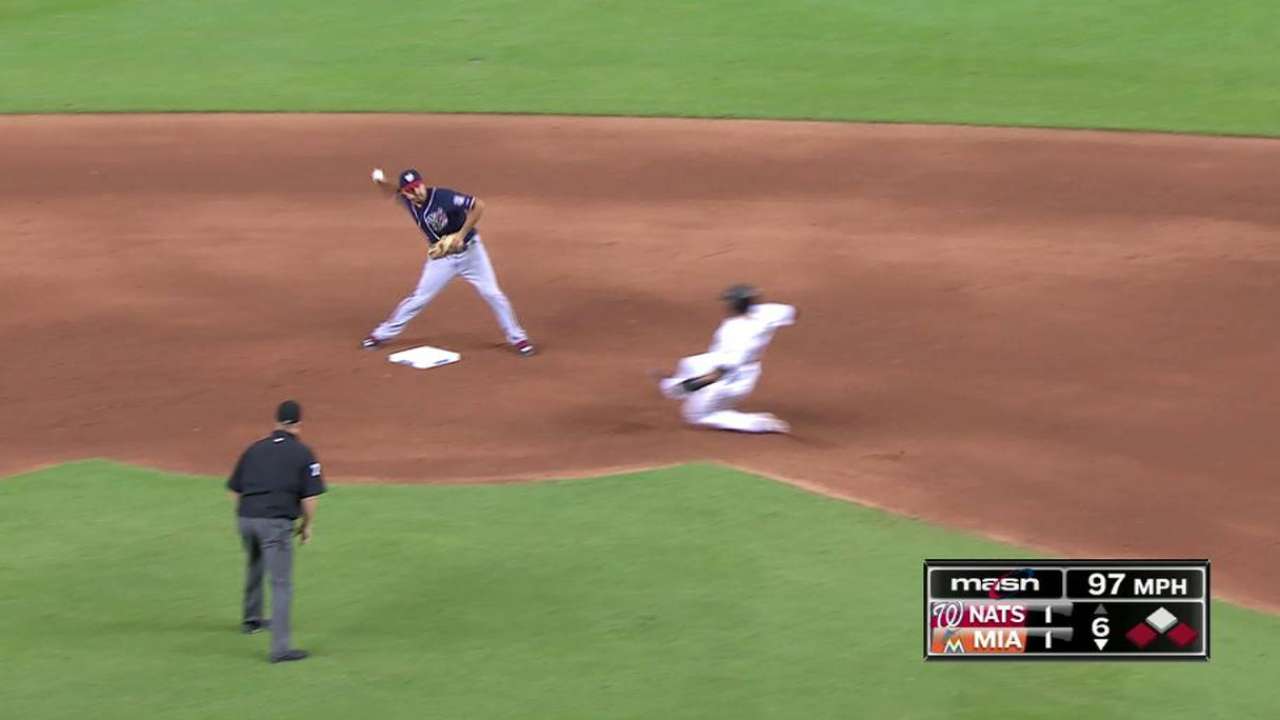 MIAMI -- For a Nationals bullpen that had a rough start to the week, it took a step in the right direction on Friday -- highlighted by Blake Treinen escaping a two-on, one-out jam with one pitch in the sixth inning. However, Casey Janssen slipped up slightly in the seventh inning of a contest that had no room for error, and it proved costly in the Nationals' 2-1 loss to the Marlins.
"It's a function of a tight game -- and a leadoff double [surrendered by Janssen in the seventh] puts you in trouble," manager Matt Williams said. "But we have to keep running those guys in there. They're pros."
The seventh-inning leadoff double came by Marlins catcher J.T. Realmuto. It followed a sixth inning in which Nationals starter Gio Gonzalez exited with one out and runners on the corners, before Treinen entered to induce Marcell Ozuna into an inning-ending double play to keep the score tied at 1.
"Blake got out of it nicely. If he didn't get into trouble, he certainly could have went longer than he did," Williams said of Gonzalez, who went 5 1/3 innings on 87 pitches. "But we had to get out of that inning and get Blake in."
After the double to start the seventh, Janssen fielded Ichiro's sacrifice bunt attempt -- which was popped up before landing -- and threw to third as Realmuto slid in safely. Miguel Rojas then worked Janssen for a sacrifice fly that drove home the winning run.
"Tonight, the leadoff double wasn't good," said Janssen (1-5, 5.14 ERA), who allowed one earned run in 1/3 innings. "From there, just a little unlucky, I feel like. They had the bunt -- I'm still trying to figure out what happened there. I heard [catcher Wilson Ramos] call 'three wheel' and there was no play really there."
While fellow reliever Drew Storen took much of the heat in the bullpen's struggles as Washington was swept by the Mets to begin the week, Janssen has fallen upon hard times as well. The 33-year-old has surrendered five earned runs in 2 2/3 innings in September, which followed a four-earned run outing in 2/3 innings on Aug. 31.
"He's having a bad moment right now, but we know the guy can do the job," Ramos said. "I believe in my guys and I believe in my bullpen. I know those guys need to work, but day-by-day we have a chance to make an adjustment."
The adjustments need to come quickly for the Nationals' bullpen, as Washington fell to 8 1/2 games behind the Mets in the National League East. Although Janssen struggled again, a couple positives from the 'pen that the Nats can take are Treinen's performance and Felipe Rivero's 1 2/3 scoreless frames.
"We look at those guys -- we look at Casey -- he's a proven closer, so he knows how to get himself out of a tough stretch," Williams said. "Tonight it didn't work for him, but he'll be ready to go again. We have confidence in our guys."
Steve Wilaj is an associate reporter for MLB.com. This story was not subject to the approval of Major League Baseball or its clubs.