Castro dazzles with bat, glove
Infielder hits first career homer, adds defensive gem vs. Mets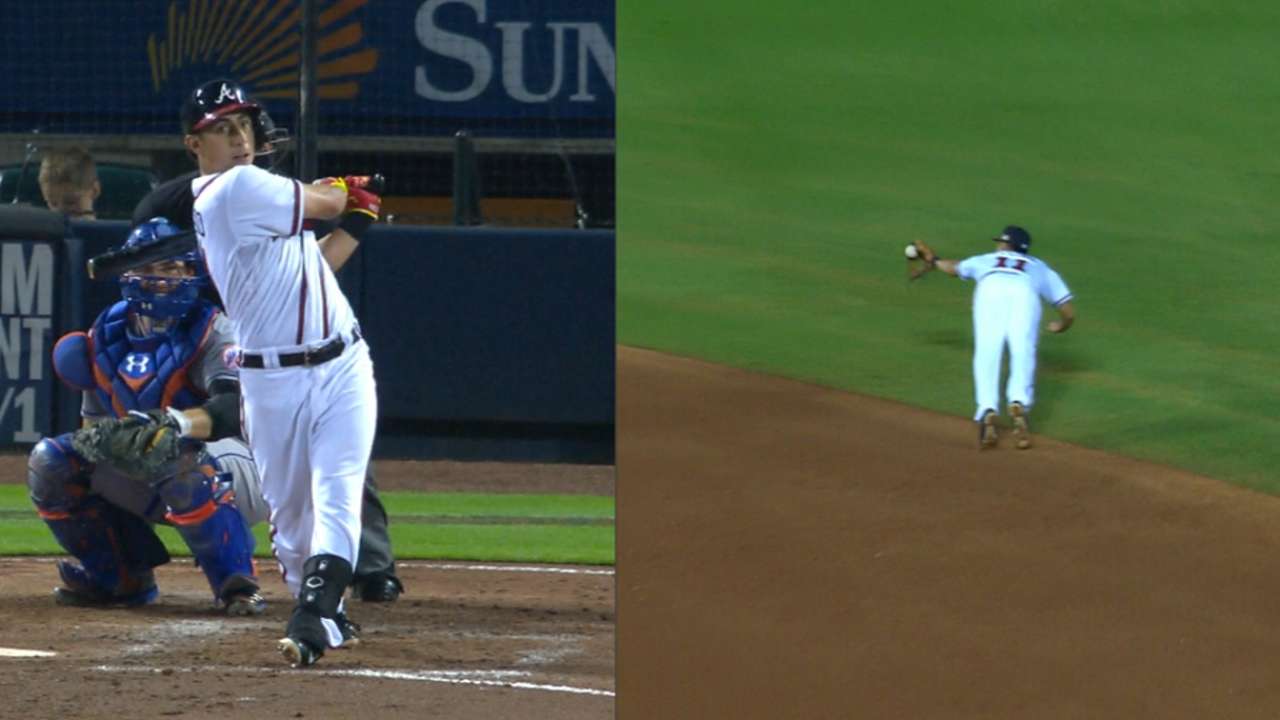 ATLANTA -- As the Braves inch closer toward the end of this frustrating season, they can continue to take advantage of opportunities to evaluate players like Daniel Castro, who dazzled with both his bat and glove during Friday night's 5-1 loss to the Mets at Turner Field.
"I felt good," Castro said, with Alex Cotto serving as his interpreter. "I contributed with the home run and my defense, but we lost the game."
Dating back to the earliest days of this year's Spring Training, Castro showed he was a skilled middle infielder who could prove dependable on the defensive end. He has lived up to that reputation during his short time at the Major League level this year, and he's also provided indication that he has a capable bat.
But the baby-faced infielder certainly provided an unexpected contribution on Friday, when he drilled his first career home run -- a fifth-inning solo shot off Mets left-hander Steven Matz. Castro did not homer in any of the 400 at-bats he collected while playing for Double-A Mississippi and Triple-A Gwinnett this year. In fact, he has totaled just five home runs in the 1,164 Minor League at-bats he has compiled in the United States.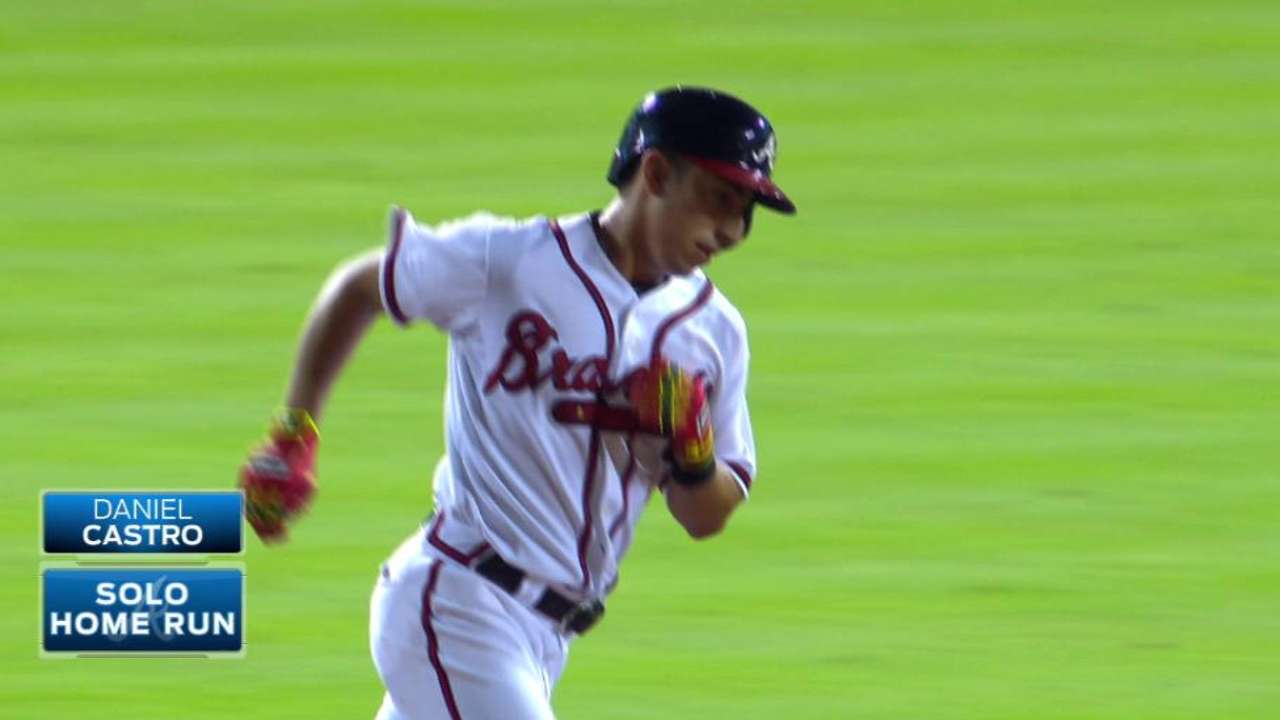 "It felt great, but I wasn't trying to hit a home run. I was down in the count," Castro said. "I was just trying to make contact."
Still feeding off the adrenaline of the home run, Castro wowed the crowd again in the top of the sixth inning, when he dove behind second base to snare Ruben Tejada's sharp grounder before quickly throwing to first base to complete the defensive gem.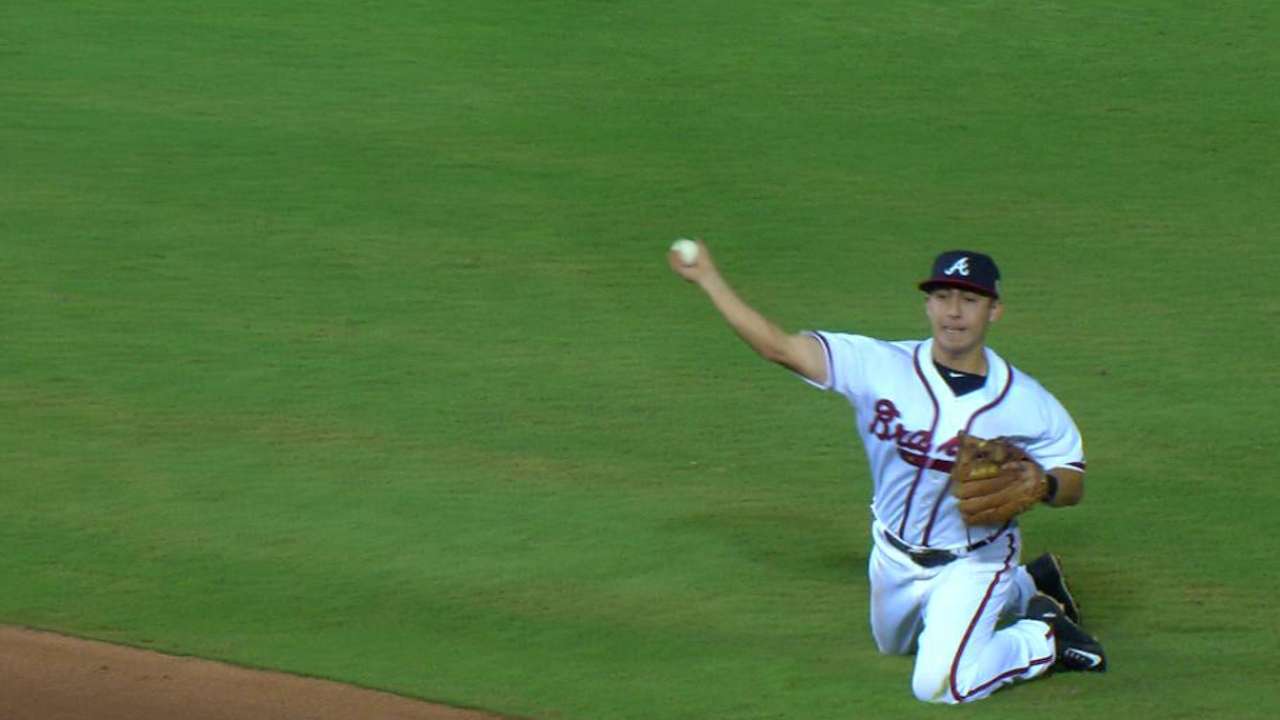 "When I dove, I looked at my glove, and [the ball] was at the tip of my glove," Castro said. "I threw it and got the guy out."
Castro was making his just his 10th career start and second as a second baseman. He made his Major League debut on June 17, but was sent back to Triple-A Gwinnett before appearing in the field. When he returned to the Majors after the All-Star break, he served as Atlanta's shortstop while Andrelton Simmons dealt with a thumb ailment during the first week of August.
But because the Braves wanted him to play on a regular basis, Castro spent most of August refining his skills with Gwinnett. The 22-year-old infielder rejoined Atlanta's roster on Sept. 1 and has since continued to make a strong impression on the coaching staff.
"He's a good player," Braves manager Fredi Gonzalez said. "He's got a great clock. He's almost like Simmons. Nobody is like him, but he's close. He puts the ball in play and knows how to play the game. He plays all three positions in the infield, and he's a good teammate."
Mark Bowman is a reporter for MLB.com. This story was not subject to the approval of Major League Baseball or its clubs.