Royals' short-handed bullpen plan goes awry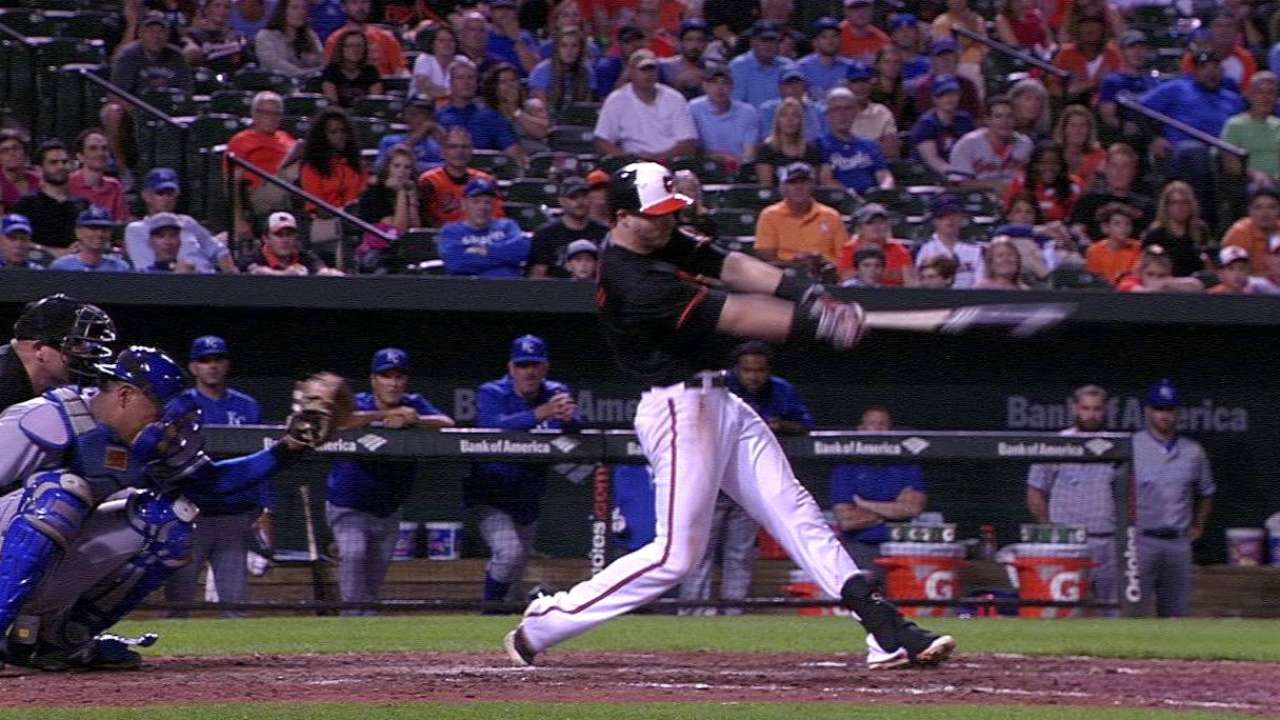 BALTIMORE -- Everything that could have gone wrong for Royals manager Ned Yost with his pitching staff went wrong in the Royals' alarming 14-8 loss to the Orioles on Friday night.
First, Yost needed his starter, Danny Duffy, to go deep into the game to save a tired bullpen. That didn't happen as Duffy went just five innings, which required 101 pitches.
"That's on me. I need to go deeper," Duffy said. "Honestly, I felt like I could have gone to the sixth, but if you throw 101 pitches, you probably don't deserve it."
Yost knew he wouldn't have setup man Wade Davis, who is nursing some tightness in his upper arm and wasn't available.
"I'll be OK," Davis said after the game. "It just felt a little tight in the big muscles, the bicep. I should be good tomorrow."
But without his HDH trio intact, Yost had to go with Luke Hochevar to chew up the sixth inning, then look to Ryan Madson in the seventh, Kelvin Herrera in the eighth and Greg Holland in the ninth.
But trying to hold a 4-2 lead, Hochevar couldn't get an out. He walked two hitters sandwiched around a single, loading the bases with none out.
"I had to get Madson at that point," Yost said.
Madson got out of the jam, giving up just one run and preserving a 4-3 lead. But, Yost's plan again had to adjusted.
Without Madson for the seventh, Yost turned to Chris Young, who worked with a 5-3 lead. But Young gave up a run-scoring single to Chris Davis, and then Yost had to go with Herrera an inning earlier than preferred.
"The plan just didn't work," Yost said.
Herrera got through the seventh, but a long eighth may have affected him, though he said it didn't later. The Royals tacked on a run in the eighth, but, Herrera could not hold a 6-4 edge.
A double, a rare error by third baseman Mike Moustakas, and an infield single loaded the bases for Nolan Reimold.
Herrera fell behind, 2-0, and had to challenge Reimold.
"You're already down, 2-0," Herrera said, "and 3-0 is way worse. You got to throw a strike. I wanted it away, but it was in a bad spot."
The pitch was right down the middle and Reimold didn't miss, though it nearly hooked foul before crashing into the left-field pole for a grand slam. The Orioles poured it on from there with another homer, and then another grand slam in a stunning 10-run inning.
"Everything just got out of sequence," Yost said. "It went awry quick."
Jeffrey Flanagan is a reporter for MLB.com. Follow him on Twitter at @FlannyMLB. This story was not subject to the approval of Major League Baseball or its clubs.