MLB.com Columnist
Richard Justice
Every start special for Lewis these days
Oft-injured Rangers righty experiencing stellar bounce-back season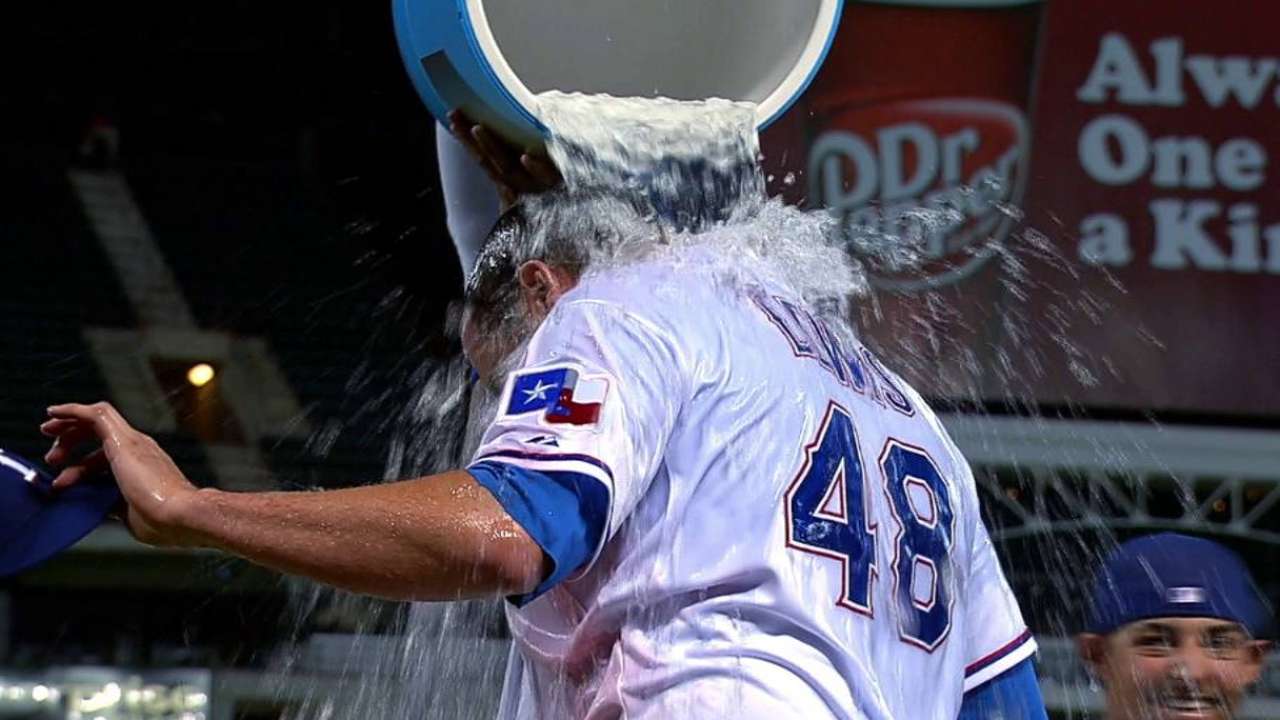 Colby Lewis is a testament to all the things we love about sports. Sure, we cheer for the good guys, and he's one of the best. There's also so much more than that.
To still be capable of pitching at a high level at 36 after all the years and pain and disappointment is simply amazing. How many times have we written this guy off?
There was the rotator cuff surgery after his rookie season in 2003. Then the elbow surgery in 2013. Then the hip surgery a few months after that.
Lewis spent time with the Tigers, Nationals, A's and Royals between stints with the Rangers. There were also two seasons in Japan (2008-09).
He has been waived and released more times than he can count. He knows what the phrase "non-roster invitee" means.
Somewhere deep inside there's a toughness that keeps him climbing off the mat because about the only thing he hasn't done is give up on himself.
So when there's a game like Friday night -- a shutout of the A's and a 4-0 victory for the Rangers -- he probably appreciates it more than most players.
Lewis opened the game by retiring 21 Athletics in a row. Asked later when he became aware that he had a perfect game, he shrugged.
"I knew when I'd gone through the lineup once without giving up a hit," he said.
Oh, that.
His no-hit bid ended when Danny Valencia led off the eighth by lining a hanging slider into left field for a double. Lewis got three more A's out to finish the eighth inning before allowing a Josh Phegley single to open the ninth. He then got the final three outs for his ninth career complete game.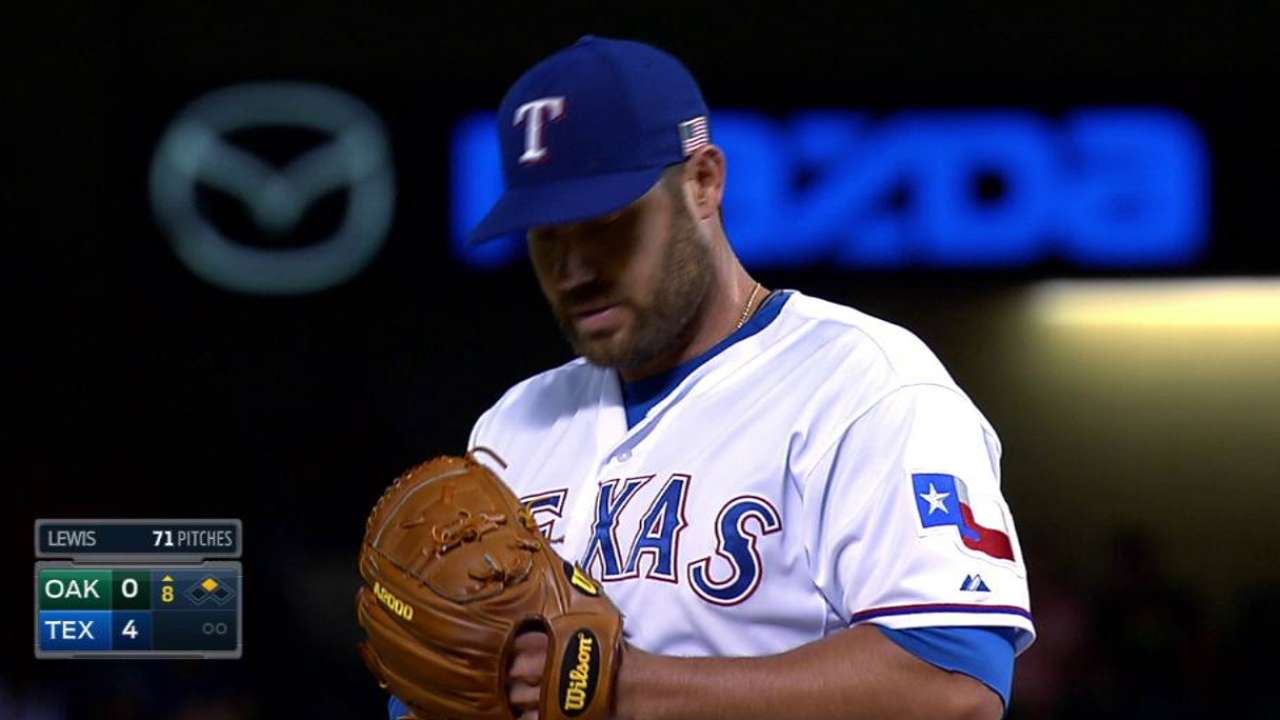 "The things that he's gone through and the resilience that he is, I gotta believe he's a pretty tough cat," Rangers manager Jeff Banister said. "When he gets pushed around, knocked down, he's not out of the fight at all. He jumps right back into it. I don't think you're going to push him around much."
Lewis' 15th victory is a career-high and required just 97 pitches in what has become a redemption tour for both Lewis and his franchise.
When Lewis showed up at Spring Training 2014, he was recovering from hip and elbow surgeries. He felt confident his elbow would be fine, but coming back from the hip surgery -- a complex shaving procedure -- was the bigger challenge.
As far as the Rangers could determine, no pitcher had ever pitched in the Majors after having it. Lewis came to Spring Training in 2014 without a spot on the roster, and Rangers general manager Jon Daniels wasn't sure how it would play out.
"But if he could make it back, we wanted it to be with us," he said. "Colby is real special to the people around here."
Lewis made 29 starts and pitched 170 1/3 innings last season. He was 10-14 with a 5.18 ERA, but on a 95-loss team, plenty of things went wrong.
This season just might end up being his sweetest ride. Lewis was one of the starters who helped keep the Rangers afloat when they were decimated by rotation injuries in the first four months.
On July 30, they were three games under .500 (49-52) and eight games behind the Astros in the American League West. Things changed rapidly after the acquisition of Cole Hamels and as Derek Holland and Martin Perez returned from the disabled list.
In six weeks since, the Rangers have gone 25-14 and surged into contention in the AL West.
With the Astros coming to Arlington for a four-game series beginning Monday, the Rangers have a chance to make this a special season.
As for Lewis, his game these days is pinpoint control, changing speeds and getting movement on all his pitches. On his best nights, he keeps hitters off-balance with a nice assortment that includes a really sharp slider that he sets up with a fastball that seldom touches 90 mph anymore.
Pitching has always been about location and movement as much as velocity. Throwing a 96-mph fastball gives a guy more of a margin for error. On those nights when Lewis doesn't have his control, things can get ugly.
In three starts before Friday, he allowed 15 earned runs in 15 2/3 innings. How about that, Colby?
"Really, I felt the same," he said. "Sometimes you don't get the results you want."
On Friday, it all clicked back into place. His slider was nasty. His fastball had some late kick. When he got that final out, he was subdued as his teammates dumped him with a bucket of ice water.
He began his postgame news conference by saluting the nation's first responders on the 15th anniversary of the Sept. 11 attacks.
"Pretty emotional," he said.
As for the pitching, he said he felt about the same as usual while warming up in the bullpen.
"I felt like every other night," he said. "I made some real good pitches tonight. And I got away with some."
Nothing special, right?
Actually, at this point in his career, they're all special.
Richard Justice is a columnist for MLB.com. Read his blog, Justice4U. This story was not subject to the approval of Major League Baseball or its clubs.