Stewart does it all for Bucs in big victory
Backup catcher drives in three on three base hits, picks off runner at first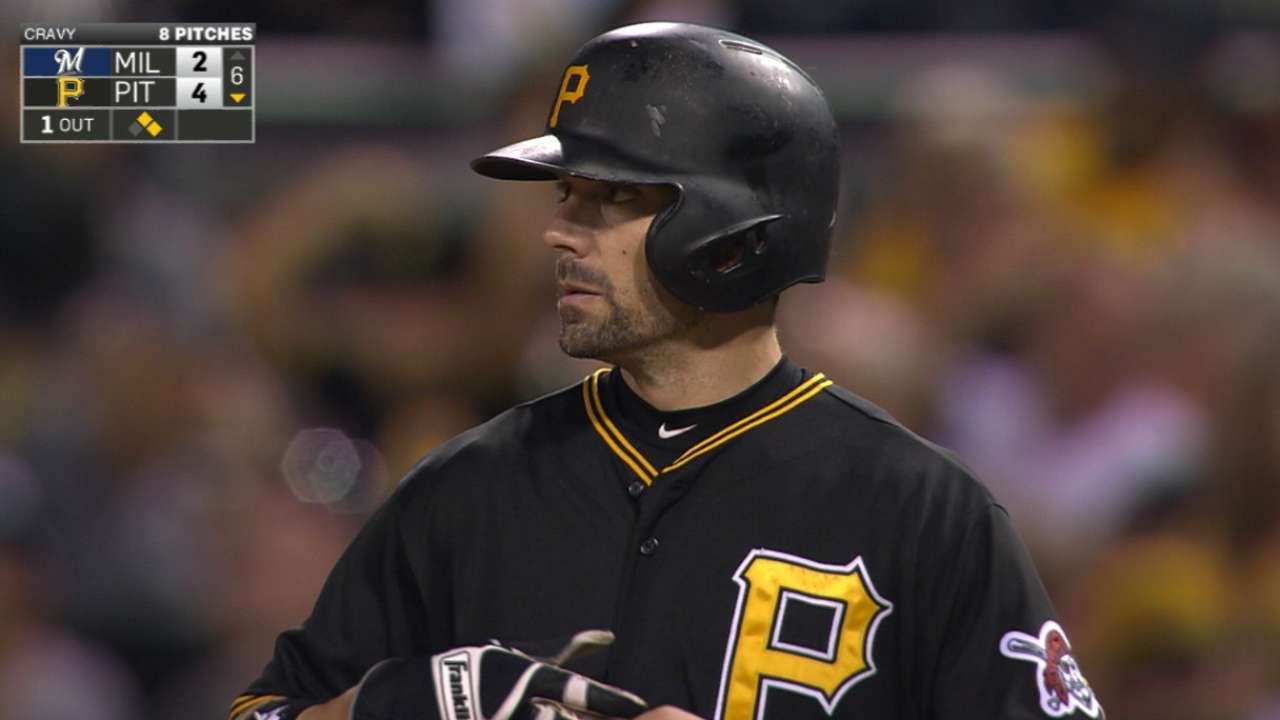 PITTSBURGH -- Chris Stewart has turned out to be much more than the Cole Train's caboose. When the Pirates' No. 2 catcher began compiling an impressive 2015 resume, people said, sure, because he is regularly paired with young ace Gerrit Cole.
That exclusive arrangement is long over, but not Stewart's sizzle, which continued in Friday night's 6-3 victory over the Brewers at PNC Park.
Stewart played the catcher's cycle:
• He had three hits and drove in three runs, his third career three-RBI game but first in the National League. The first two came with the Yankees (April 17, 2012, against the Twins and Aug. 20, 2013, against the Blue Jays).
• He bunted for one of the hits, then characteristically pointed to his head.
"To let everyone know it's a smart hit," Stewart said, smiling. "Any time you keep the ball away from a guy, it usually finds grass and will be a knock. We always try to preach that it's not how hard you hit it, but where. Smart hitting."
• He picked a runner off base, nailing Logan Schafer trying to get back to first in the seventh.
• And he guided Charlie Morton and four relievers through another well-pitched game.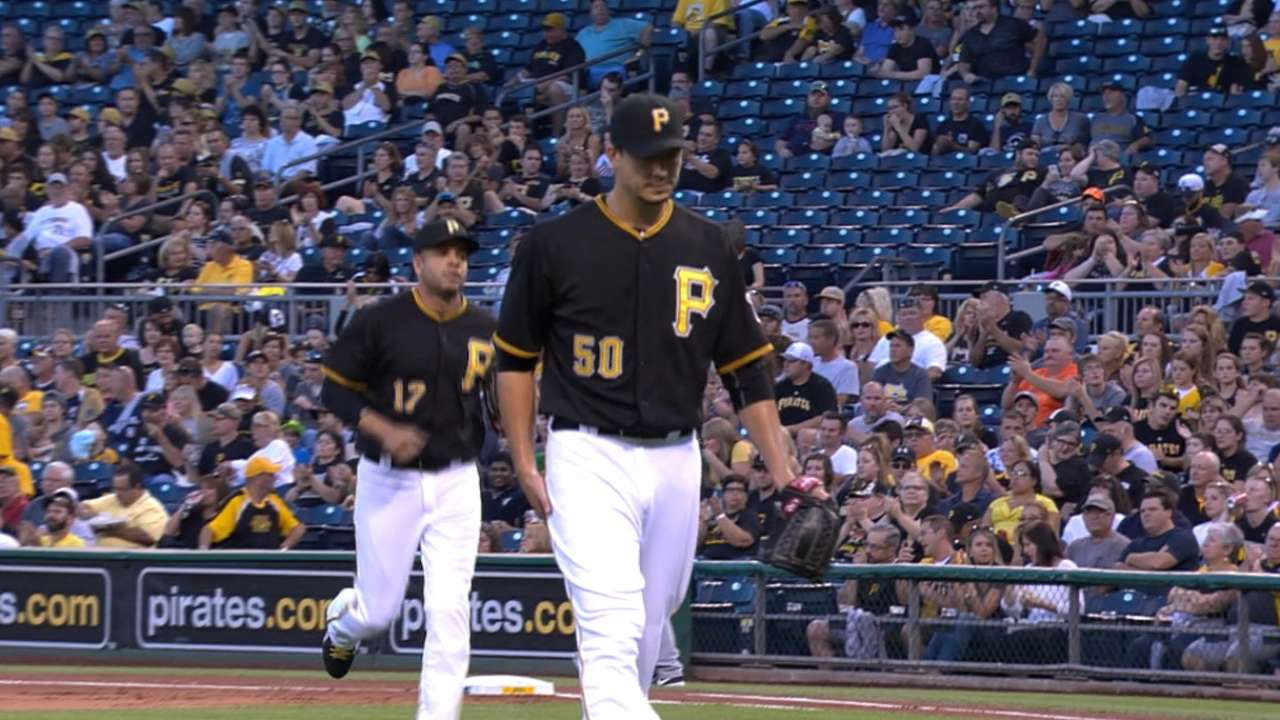 While the Bucs raised their record to 24-9 when Stewart starts behind the plate, he set his catcher's ERA at 2.32. Stewart also ended the night as a .294 hitter and was asked which number meant more to him.
"Oh, the ERA, any day of the week," Stewart said. "My goal is to go out there and help the pitcher keep runs from scoring."
For the majority of the season, only Cole got that help. With postseason flexibility in mind, manager Clint Hurdle began to shuffle his batteries a month ago.
"I'm happy to see people start to notice how good he is at what he does," Morton said.
"It's good to have him on our club," Hurdle said of Stewart, the ideal complement to workhorse Francisco Cervelli. "He helps all over the place, and is able to give you this kind of game from time to time. He's turned himself into a very professional Major League player. He stays within his skill set very, very well."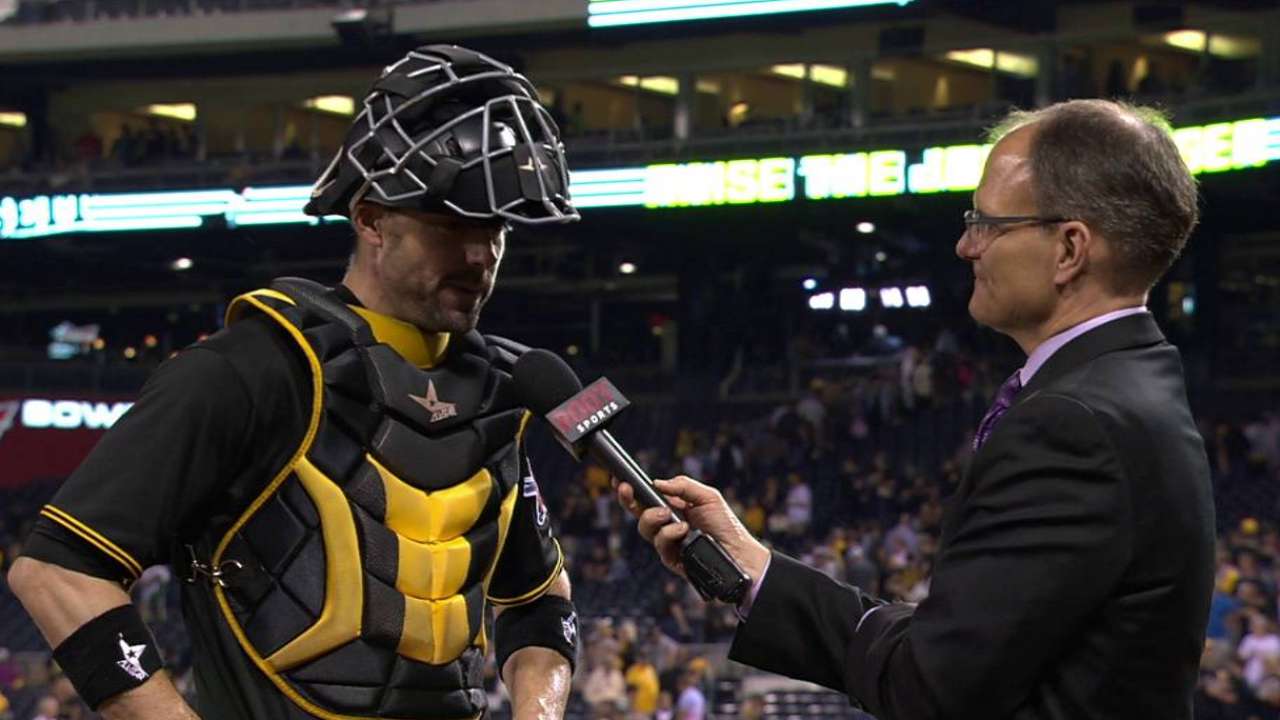 Stewart had by far the night's most important at-bat, and did not miss opportunity's knock. Or, the fastball Jimmy Nelson threw him.
The Bucs had already broken through for a run in the fourth, and they had the bases loaded with two outs when Stewart went up to confront a stressed Nelson. When he got the advantage of a 2-1 count, Stewart smelled shark's blood.
"I got into a hitter's count, he had to make a pitch to me, and I was fortunate to not miss it," said Stewart, who grounded it hard into left field for two runs and a 3-2 lead. "That's what it's all about -- turning the pressure on him and coming through when you need to."
Tom Singer is a reporter for MLB.com and writes an MLBlog Change for a Nickel. He can also be found on Twitter @Tom_Singer and on his podcast. This story was not subject to the approval of Major League Baseball or its clubs.