Wood's command off on 'one of those nights'
Dodgers starter leaves a lot of work for 'pen after early exit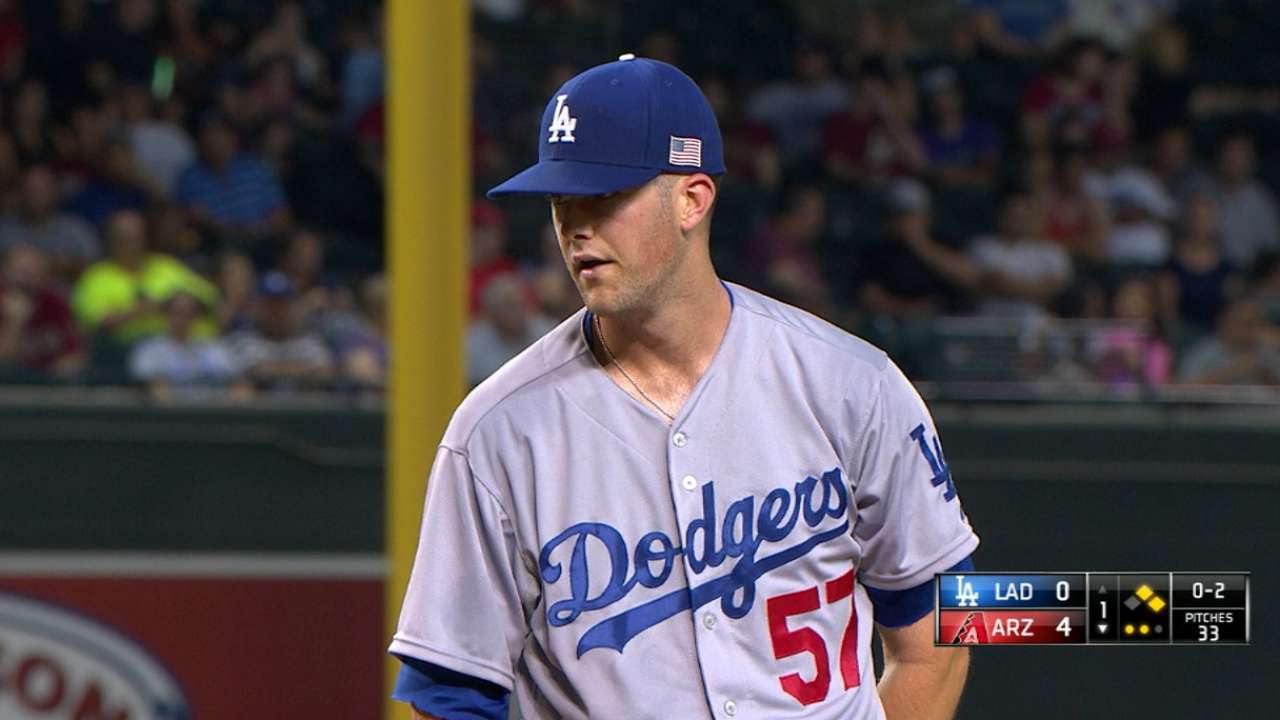 PHOENIX -- The Dodgers traded for starting pitcher Alex Wood, in part to eliminate those dreaded bullpen games, not cause them.
Wood retired only five of 15 batters he faced Friday night, allowing eight runs (six earned) in 1 2/3 innings and the Dodgers were swamped by the D-backs in their series opener, 12-4.
"It didn't take long," said manager Don Mattingly. "But these games count the same as 2-1 or 2-0. For [Wood], he's been pitching pretty solidly for us, kept us in most of the games he's pitched. Tonight just wasn't his night."
Wood was coming off seven scoreless innings in San Diego, followed by this.
"Baseball is funny that way sometimes," said Wood, 10-10 overall and 3-4 since his July 30 trade to the Dodgers from Atlanta. "I had probably the best one of the year last time and the worst one this time. It's a cruel game sometimes."
The only good news to report on Wood is that he wasn't injured in a game that saw Dodgers utility man Alex Guerrero leave after suffering a strained left calf muscle, catcher A.J. Ellis take knocks on a slide at the plate and a foul ball off the mask, but stay in, and home-plate umpire Jim Wolf sent off for precautionary reasons by crew chief Brian O'Nora shortly after taking a vicious foul ball off the mask.
• Umpire Wolf exits after taking foul ball to mask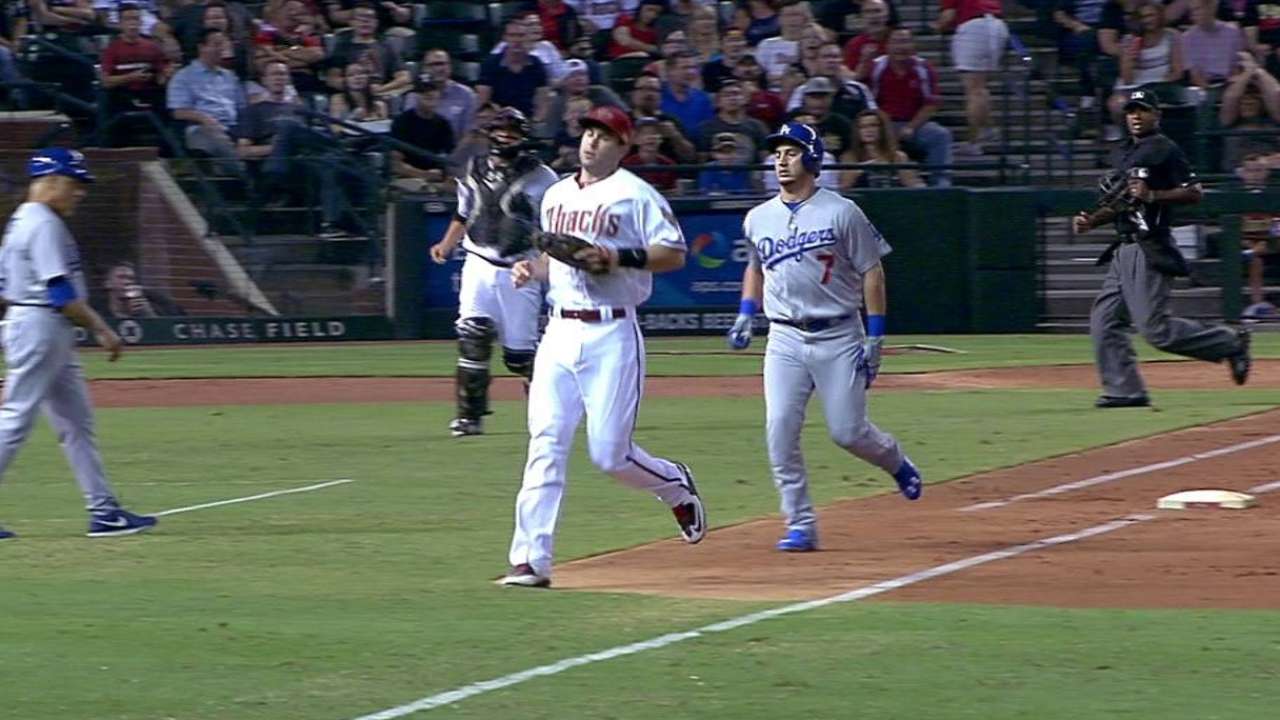 Wood conceded he didn't have command of any of his pitches. Welington Castillo slugged a three-run homer in the first inning and Paul Goldschmidt blasted a two-run shot off Wood in the second inning.
"Usually it's one or two, not all three [pitches]," he said. "From that standpoint, all three weren't very good tonight. Chalk it up to one of those nights."
For all of the recent complaints about expanded September rosters and how they negatively impact games, Wood noted the Dodgers were lucky they had 10 arms in the bullpen to pick up all of those innings he left. The Dodgers used five relievers.
Pedro Baez served up a two-run shot to Nick Ahmed after relieving Wood in the second inning, but Yimi Garcia, Jim Johnson, Joel Peralta and Ian Thomas allowed only one run over the final six innings. Thomas pitched longer than Wood, mopping up the final three innings.
"At that point, you're just trying to manage the guys, keep everybody available for tomorrow," Mattingly said. "Try not to use somebody you don't want to use."
Mattingly surrendered around the sixth inning by giving corner infielders Adrian Gonzalez and Justin Turner the rest of the night off.
When the game ended, the Dodgers' lineup had seven names that had played at Triple-A this year. Two of them made an impact, as Justin Ruggiano ruined the shutout with a two-out grand slam in the ninth inning on an 0-2 count. And rookie shortstop Corey Seager continued to impress with three walks and a single.
Ken Gurnick is a reporter for MLB.com. This story was not subject to the approval of Major League Baseball or its clubs.