Kendrick slowly working way back
Dodgers' injured players, including Puig and Hernandez, not ready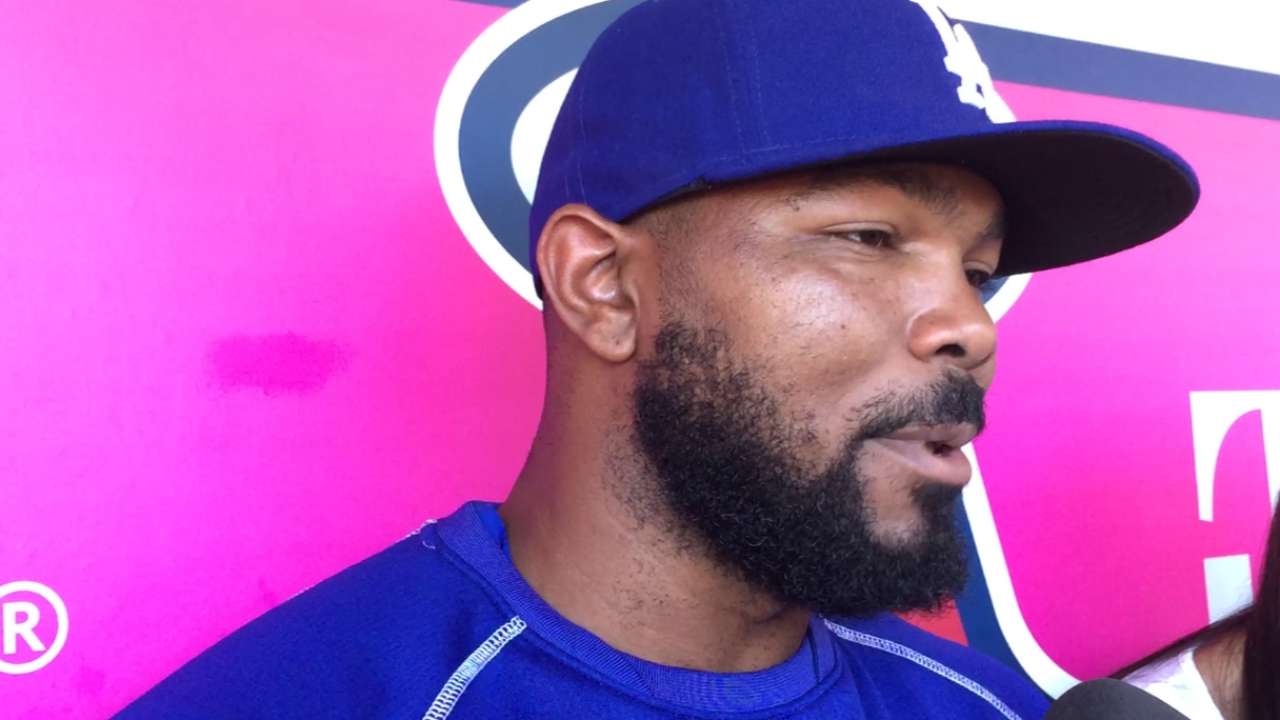 PHOENIX -- Injured Dodgers second baseman Howie Kendrick went through an aggressive workout at Chase Field Friday as he tries to return to the lineup.
Shortstop Jimmy Rollins was not in the lineup for a fourth consecutive game with a sprained right index finger, but came in as a pinch-runner in the third inning of Friday night's 12-4 loss to the D-backs at Chase Field, after pinch-hitter Alex Guerrero singled, then exited with a strained left calf.
• Guerrero to have MRI on left calf
Out since Aug. 10 with a strained left hamstring, Kendrick ran hard twice from first base to third base after going through a three-inning simulated game against Minor League pitcher Steve Smith. Manager Don Mattingly observed the entire workout.
"He did OK today, better than the other day," Mattingly said of Kendrick. "We still feel he's not quite there yet but he's getting there."
Meanwhile, Mattingly said Rollins "kind of woke up sore [Thursday] from the work he'd done" on Wednesday. Rollins did not take batting practice or throw.
Mattingly's lineup Friday night had a middle infield of 21-year-old rookies, Corey Seager at short and Jose Peraza at second base. According to Eric Stephen of TrueBlueLA, the last time that happened for the Dodgers was the final game of the 1947 season (Tommy Brown and Eddie Miksis).
In other injury updates, Mattingly said outfielder Yasiel Puig and utilityman Kiké Hernandez continue to progress from hamstring injuries. Puig, working out at the club's Camelback Ranch-Glendale complex, still has tightness in his right hamstring and has not started baseball activities. Hernandez, working out with the big league club, apparently is behind Kendrick but ahead of Puig.
"We're seeing that hamstrings feel better, but they get to a point where they can't get to 100 percent," said Mattingly.
Catcher Yasmani Grandal reported improvement in his chronic sore left shoulder and he would test it Friday hitting in the batting cage.
Pitcher Mat Latos, whose Wednesday start in Anaheim was scratched because of a stiff neck, was significantly better after being seen by back specialist Dr. Robert Watkins. Mattingly, however, would not commit to Latos' return to the starting rotation.
"I don't know where we'll go with that part of it," Mattingly said. "Our main four (Clayton Kershaw, Zack Greinke, Brett Anderson and Alex Wood) is where we've settled and we'll make decisions based on matchups."
Ken Gurnick is a reporter for MLB.com. This story was not subject to the approval of Major League Baseball or its clubs.