Another night, another gem for Arrieta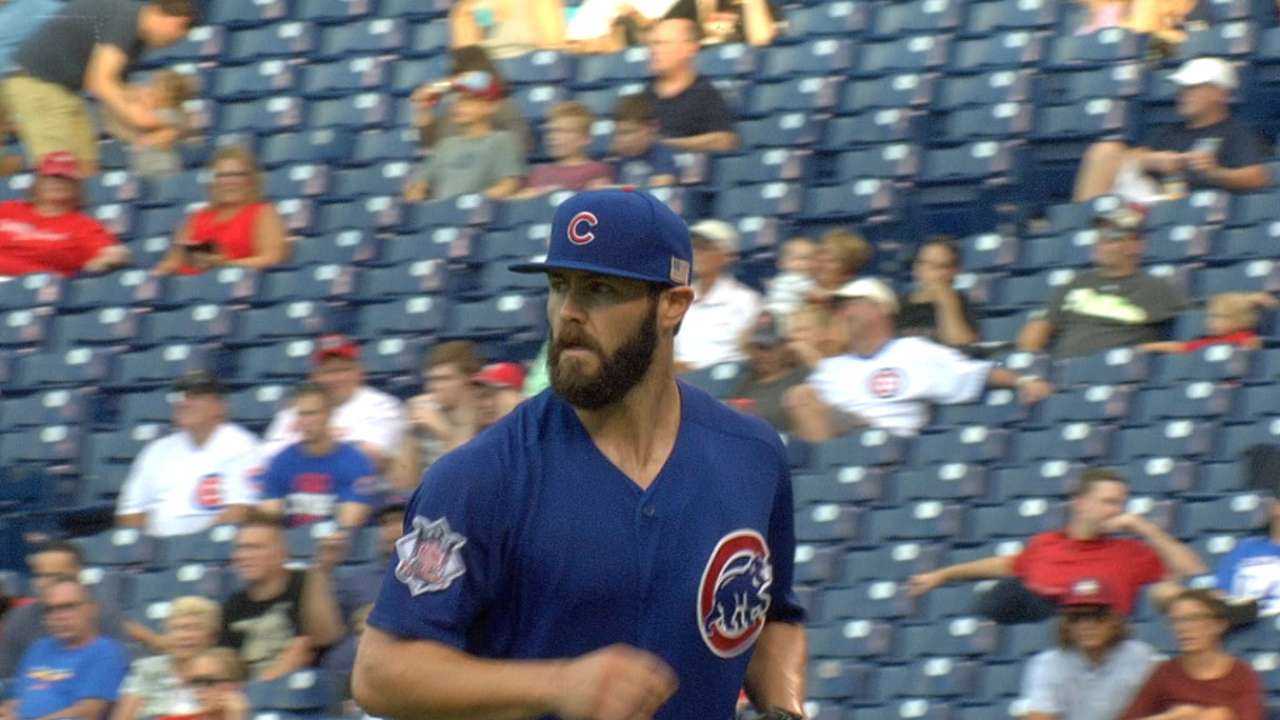 PHILADELPHIA -- Jake Arrieta isn't focused on his individual statistics, but they're adding up to a stellar season that Cubs manager Joe Maddon feels is deserving of the National League Cy Young Award.
"I definitely believe our guy deserves it, no question," Maddon said of Arrieta, who won his Major League-leading 19th game Friday in the Cubs' 5-1 win over the Phillies. "I've seen Zack Greinke pitch and I know he's really good. I'm getting to watch Jake in person and it's pretty spectacular to watch.
"I don't even know what innings pitched looks like, I don't know about all that other stuff, strikeouts -- I'm just watching a dominant right-handed starter."
Arrieta scattered six hits over eight innings, including a solo homer by Aaron Altherr, and lowered his ERA to 1.99. He surpassed the 200-strikeout plateau and is one inning shy of 200. Friday was his 16th straight quality start, the most by a Cubs pitcher since Lon Warneke posted 17 in a row in 1933.
How has he been able to stay so consistent?
"Nothing fazes me," Arrieta said. "Men on base, walks, homers -- deal with it and move forward."
Arrieta's timing was a little off early but he was able to get back on track, something he might not have been able to do early in his career with the Orioles. Working with catcher David Ross, Arrieta said, "It was almost like he knew what I wanted to throw."
Maddon thought Arrieta took a big step when he threw a shutout June 21 against the Twins. That game started his string of quality starts. The Cubs' manager doesn't need to see much else to cast his Cy Young vote.
"My vote's for Jake," Maddon said. "These other guys are really good. It's going to be an interesting conversation, no question. It's good for baseball to have all that discussion, and it'll be hard to argue against any of the trinity."
The trio includes not just Arrieta and Greinke, but also Clayton Kershaw. Arrieta doesn't want to talk about it.
"I think about pitching in October every day but it's really not going to be any different," Arrieta said. "I know it's a different stage, people waving towels, there's more people. ... I saw it in Baltimore. It's a crazy atmosphere. Whether there's 45,000 or 50,000 or 10,000, it doesn't make what I have to do any different."
There weren't that many people at Friday's game, which was the first of a doubleheader and a makeup of Thursday's rainout.
"That's what I mean by not paying attention to the atmosphere," Arrieta said. "You want to take that in the postseason and enjoy it, but if you're doing that before you're about to step in between the lines, your focus isn't where it needs to be."
He'll get a taste of what the postseason will be like when he makes his next start Wednesday at PNC Park against the Pirates, who lead the Wild Card standings. He's learned to tune out all the noise, the distractions. His stellar 1.99 ERA doesn't surprise him.
"That's what I expect," he said. "That's what the team needs. That's what I try to give it."
Carrie Muskat is a reporter for MLB.com. She writes a blog, Muskat Ramblings. You can follow her on Twitter @CarrieMuskat and listen to her podcast. This story was not subject to the approval of Major League Baseball or its clubs.