Suzuki back behind the plate for Twins
Escaped serious injury to knee in collision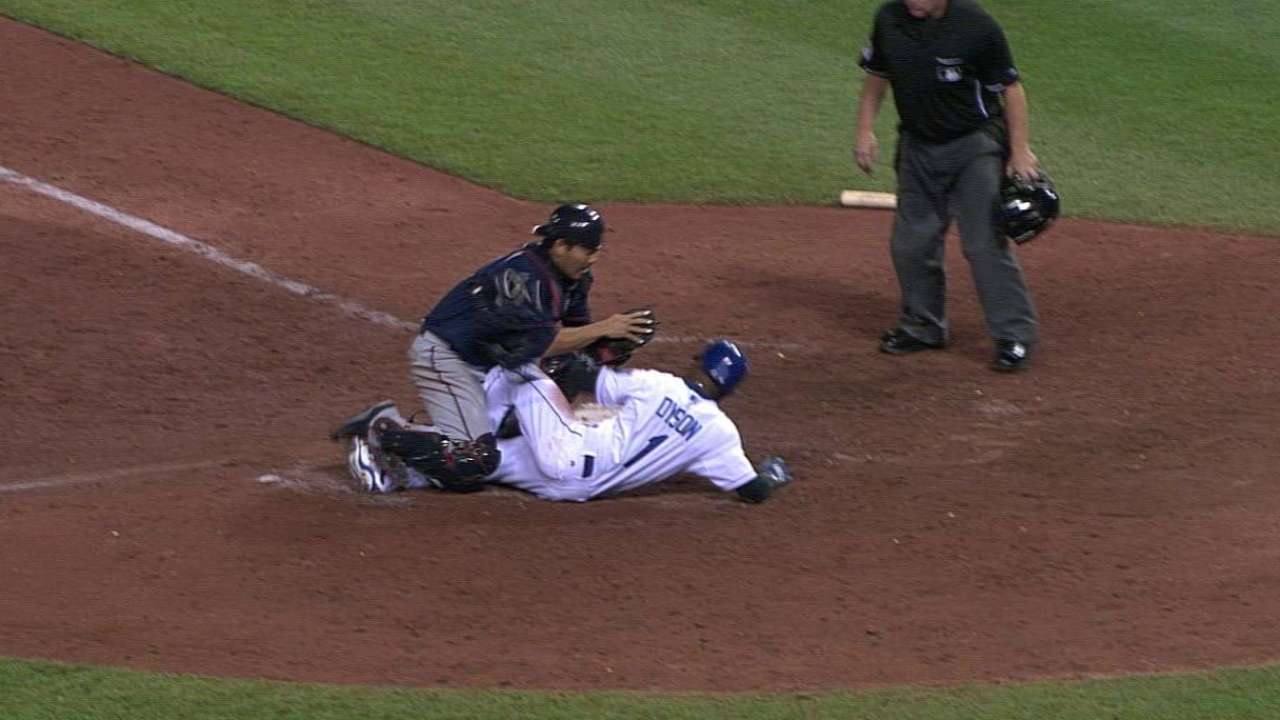 CHICAGO -- Twins catcher Kurt Suzuki said he wouldn't watch the replay of his collision on Wednesday night, even after he was inserted into Friday's lineup against the White Sox.
His family had watched it, his friends had watched it and the doctor treating him in Chicago had watched it, but he would not look at a replay. After he was cleared to play, the eight-year veteran said he was just relieved it was nothing serious.
"It was kind of a scary moment there, obviously, but you never know what can happen," Suzuki said. "Fortunately, everything worked out. We won the game and I didn't get hurt. It was kind of a double bonus.
"Everybody told me, 'Don't watch the replay.' So I didn't."
The collision came near the end of Minnesota's victory over Kansas City as Jarrod Dyson slid into home plate, but Suzuki was diagnosed with a mild contusion and avoided serious ligament damage. Suzuki said, other than soreness and bruising, he felt fine and ready to catch.
And Suzuki didn't have to fight to get his way back into the lineup. His trainers and coaches asked how he felt and he told them he felt fine.
"I guess it was all they wanted to hear," he joked.
Twins manager Paul Molitor was happy to have the veteran back as the Twins sat one game out of the American League's second Wild Card entering Friday's action. This season, Suzuki is batting .243 with 44 RBIs, but he is hitting .333 while scoring four runs in September.
"I think when you're in these types of games late, experience behind the plate is important," said Molitor. "And overall, he's played better here as of late, offensively and defensively. I think we're fortunate to have his experience back there more than anything."
Worth noting
Miguel Sano will likely remain at designated hitter for the remainder of the season, Molitor said. The rookie had split time at third base, but Molitor had hoped to avoid further injury on defense by leaving Sano at DH.
Molitor is hoping a two-day break will help Sano come out of his funk. Over his last 10 games, Sano hit .230, but he did homer in Wednesday's game as a pinch-hitter in the 12th inning.
Greg Garno is an associate reporter for MLB.com. This story was not subject to the approval of Major League Baseball or its clubs.