Banister hoping for boost with Delino back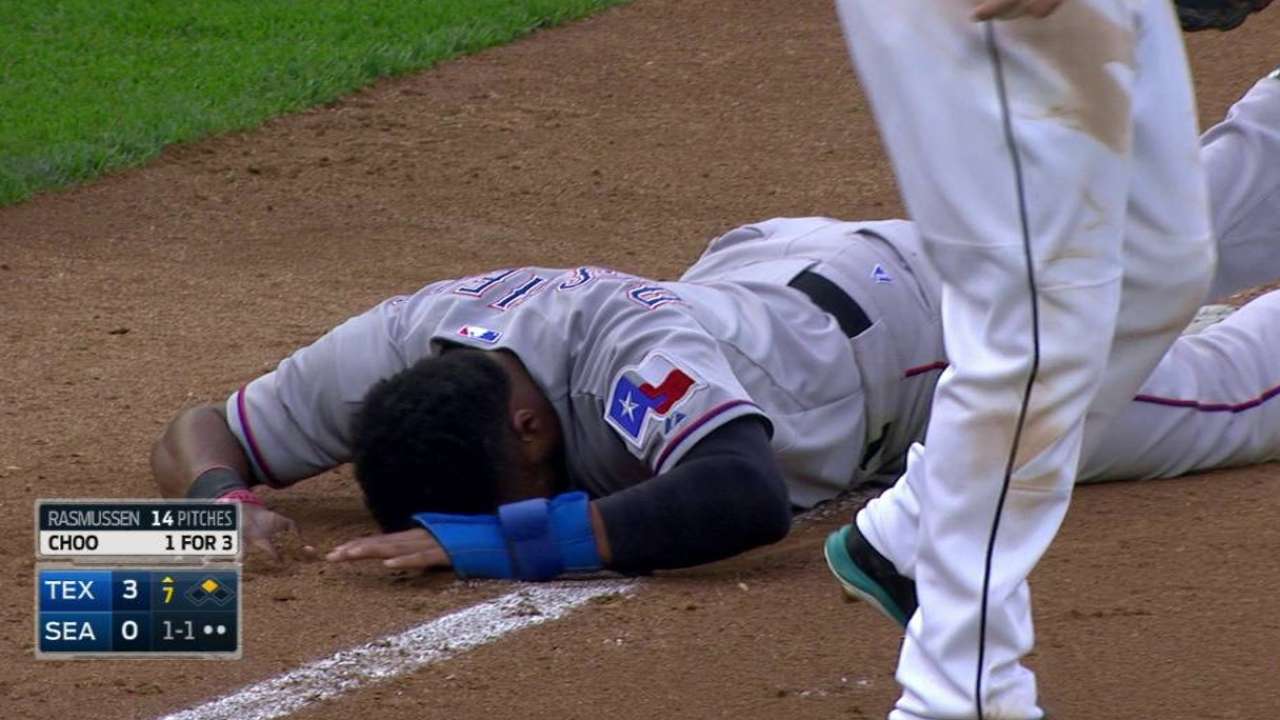 ARLINGTON -- After missing three games because of a sprained left knee, Delino DeShields returned to the Rangers on Friday to resume his role as a "catalyst" for the offense, in manager Jeff Banister's words.
Without DeShields the Rangers didn't score in the previous 19 innings before Friday's game. Banister acknowledged that DeShields' absence and the Rangers' offensive struggles might not have been coincidental.
"I think you can look at the stats," Banister said when asked about the difference with DeShields and without him.
In fact, the Rangers are 57-42 when DeShields played and 16-24 when he did not. DeShields entered Friday hitting .256 with a .344 on-base percentage and 22 stolen bases.
This week in Seattle, the Rangers were shut out in back-to-back games without DeShields, who has started atop the batting order in 72 of Texas' 139 games.
"Statistically, it proves the fact that when he's in there we're a better offensive ball club, a better run-scoring ball club," Banister said. "When he gets on base, we feel confident that we're going to score. We also feel confident that he's going to do something at the top of the lineup that's going to spark our offense."
DeShields still has some discomfort in the knee but expects to play through it.
"I'm going to suck it up and go out there and do what I can do to help," DeShields said. "I'm competitive. I don't like sitting and watching. I feel good, and I feel like I'm ready to contribute in the ways I have throughout the season."
Worth noting
• Saturday's game against the A's will be aired in the Dallas-Fort Worth area on TXA Ch. 21; in the rest of Texas, Oklahoma and Louisiana, it will be aired on Fox Sports Southwest Plus. In Arkansas the game will air on DirecTV, Dish and AT&T U-Verse only.
• Josh Hamilton underwent arthroscopic surgery on his injured left knee on Friday as planned, with Dr. Keith Meister repairing a small tear in Hamilton's medial meniscus. There's no timetable for Hamilton's return; if he can come back at all this season, it would be as a pinch-hitter.
• Leonys Martin continues to rehab his surgically repaired right hand and could potentially be an option as a defensive replacement, but not a hitter, at some point this month.
"He's probably the best outfielder we've got," Banister said. "He's a definite defensive weapon."
Dave Sessions is a contributor to MLB.com. This story was not subject to the approval of Major League Baseball or its clubs.