Questions growing over injured Alonso's future
Notes on Kemp, Solarte, Ross, Myers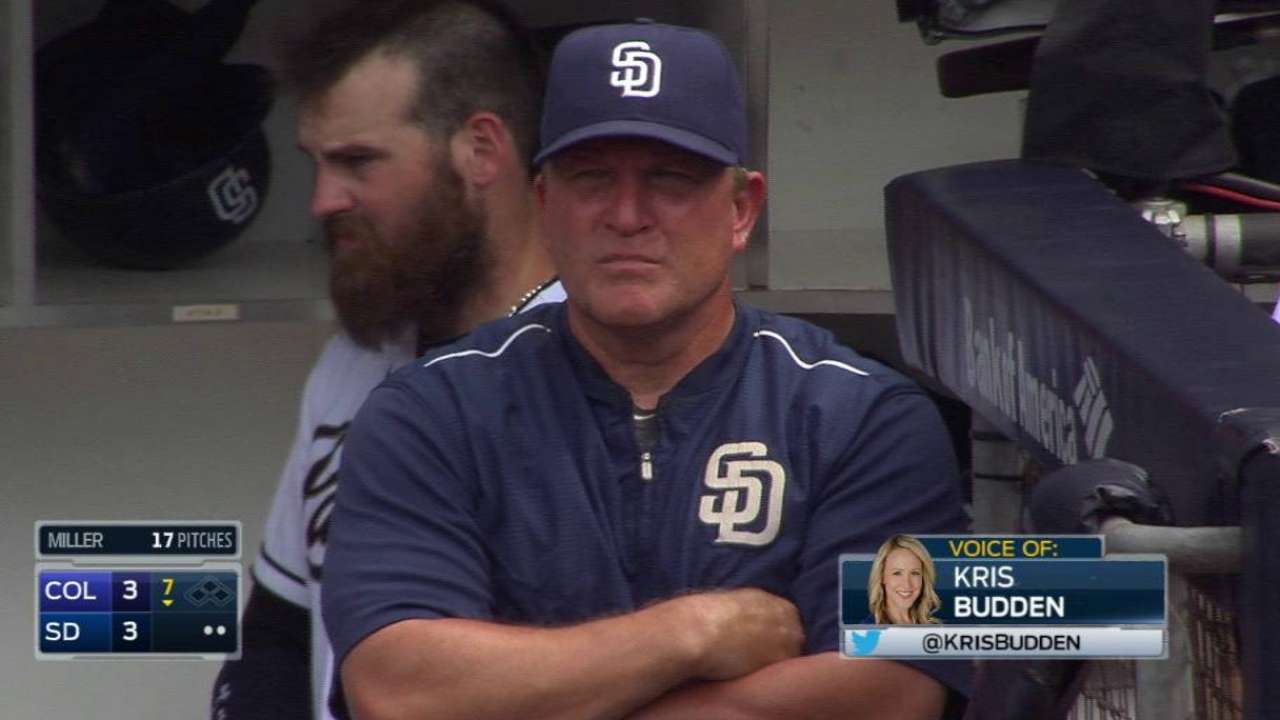 Bill Center, longtime sportswriter for U-T San Diego, is an employee of the Padres.
First baseman Yonder Alonso could be done for the season with a lower back injury, a development that could mark the third straight season that Alonso's season has ended early due to injury.
But the biggest question facing Alonso is what is his future with the Padres beyond 2015?
Alonso, 28, will finish 2015 with the highest batting average (.282) and on-base percentage (.361) among Padres regulars this season. But he is hitting .203 with runners in scoring position with only five homers and 31 RBIs in 354 at-bats as a first baseman. His slugging percentage is .381.
The production figures don't cut it as a first baseman.
The Padres are already talking about the possibility of Wil Myers playing first base next year. In fact, if Myers hadn't re-injured his left wrist in June, there was a very good possibility that he might have moved to first this season with Alonso auditioning at third.
The Padres want more run production from first. Do they still believe Alonso will develop more power? The opposite could be the case.
After hitting .273 with 39 doubles, nine homers and 62 RBIs in 155 games as a rookie in 2012, Alonso hasn't duplicated those numbers - although he was limited to 97 games in 2013 and 84 in 2014 due to a series of hand, wrist and forearm injuries.
Both those seasons ended with Alonso on the disabled list.
Alonso is on hold at 103 games this season with the Padres announcing Thursday that Alonso will "likely" miss the rest of the season with a stress reaction in his lower back.
Alonso has been out since Sept. 2 with a sore lower back. A bone scan taken earlier this week showed a stress issue in a set bone in a joint in the lower back. Alonso will not accompany the Padres on their nine-game, 11-day trip to San Francisco, Arizona and Colorado.
Alonso said he suffered the injury sliding into home on Aug. 31. He hadn't played since coming out of the Sept. 1 game while awkwardly fielding a grounder at first.
"When I slid, my back went one way and my body the other," said Alonso. "I was surprised to learn after the bone scan earlier this week that the stress issue flared up. I understood the way it happened and the severity. I went from being out two to three days to a bone scan."
FROM THE SCORECARD:
Matt Kemp extended his career-best on-base streak to 30 straight games with a first-inning homer Thursday. He finished the game 2-for-3 with a walk. Thursday's homer was his third in the four-game series against the Rockies at Petco Park - and his 20th since June 6. Kemp's streak is tied for the longest on-base streak by a Padre since Adrian Gonzalez also reached base in 30 straight games during the 2006 season. During the streak, Kemp is hitting .331 (40-for-121) with 10 homers and 35 RBIs. His on-base streak includes hitting streaks of 15, five and eight straight games. Kemp was 6-for-16 with three homers, five RBIs and four runs scored in the four-game series against Colorado.
Third baseman Yangervis Solarte was 1-for-4 Thursday to extend his hitting streak to 11 straight games, equaling his career-best established earlier this season. He is hitting .404 (19-for-47) during the hitting streak. Solarte has also reached base in 12 straight games. Solarte was 8-for-18 in the four-game series against the Rockies with three doubles, two RBIs and two runs scored, although he grounded into an inning-ending doubleplay with runners on first and third and one out in the fifth Thursday.
Right-handed pitcher Josh Johnson will not make a decision on his future until he meets in person with Dr. James Andrews. "We talked by phone this week," Johnson said. "But I don't know what's next until I visit him, get an MRI and we both go over the results." said Johnson. Johnson left the mound last Friday night with Single-A Lake Elsinore after only four pitches of a scheduled 25-pitch rehab assignment.
Right-handed starter Tyson Ross gave up three homers Thursday. It marked the second time in his career and the first time since May 12, 2012, that Ross gave up three homers in a start. Earlier this season, Ross set a Padres franchise record by working 16 straight starts without allowing a homer and entered Thursday's game with the lowest homer rate (0.26 per nine innings) in the Major Leagues. He had allowed only five homers in 171 innings before allowing three in seven Thursday.
Wil Myers has hit in five straight games, going 7-for-20 with a homer, a double, two walks, a RBI and three runs scored.