Hughes to start Tuesday as rotation stretches
Molitor to rest other starters in final weeks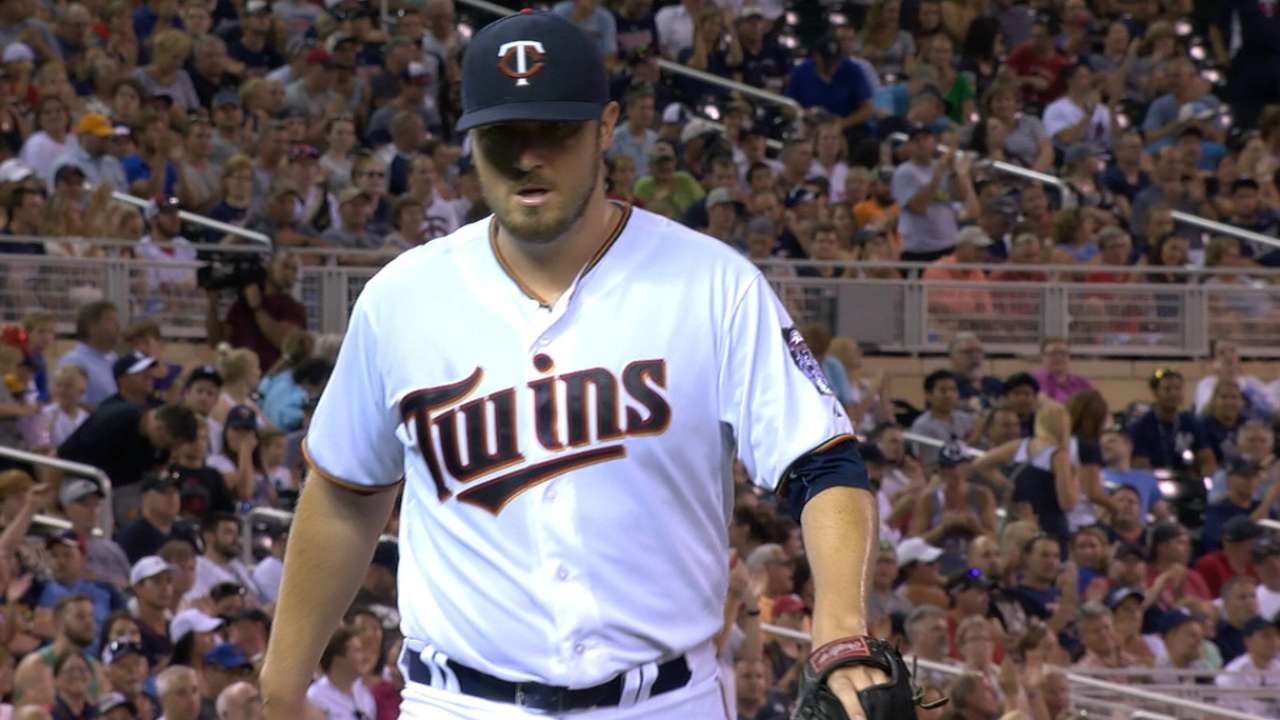 CHICAGO -- Twins manager Paul Molitor admitted he wouldn't bring back Phil Hughes as fast as he did if it were earlier in the season. But sitting one game back of the Rangers for the American League's second Wild Card entering Friday's series opener against the White Sox, the Twins are inclined to act quickly.
Friday, Molitor announced Hughes would start Tuesday's game in Detroit after missing nearly five weeks with inflammation in his lower back. The right-hander pitched a simulated game on Wednesday, but he has not pitched in the Majors since Aug. 9.
"With how much left in the season we have, I might as well see what I can provide," Hughes said. "If I feel like my stuff is good enough, then I'll try to squeeze as much out of the season as I can.
"I'll just have to go out there and see how I do, there's not much to it."
Molitor considered sending Hughes on a rehab assignment with Class A Cedar Rapids while it competes in the playoffs, but the manager wasn't willing to take the risk of the affiliate getting eliminated.
That means Molitor will ease his Opening Day starter back in with about "75-80 pitches" in his first start while he shuffles his rotation. Hughes will throw a bullpen session on Saturday, but will otherwise jump right into the thick of the Twins' playoff race.
"Phil deserves a chance to get back in there and help us," Molitor said. "We wouldn't do it just to appease him, we're trying to find guys who can go out there and give us quality starts."
Hughes' return means that Mike Pelfrey will receive added rest, as will Tyler Duffey. Molitor noted that Pelfrey would miss his next start, but would not move to the bullpen, which has 11 members with the return of J.R. Graham from the disabled list.
"We're going to try to keep [Pelfrey] as strong as we can," Molitor said. "And we're going to extend people's rests from time to time from here on out to try and keep certain people on a more regular rotation, and put it together as we see fit."
Duffey will also be rested as time goes on, having been used in Hughes' absence. The rookie is at 32 innings with the Twins this season, but threw 140 as a starter in Double-A Chattanooga and Triple-A Rochester.
"We're trying to figure out how many starts we can get out of him between now and the end," Molitor said, "trying to find him extra rest where he can and still use him, because he's certainly effective.
With under a month remaining in the regular season, Molitor will look at matchups when figuring out his roation, but he noted his process includes "a lot of pencil."
"It's not a traditional six-man rotation in that we're going to rotate through six guys on a consistent basis," Molitor said. "I think we'll keep certain people locked in as much as we can."
Greg Garno is an associate reporter for MLB.com. This story was not subject to the approval of Major League Baseball or its clubs.