Showalter tossed after Davis is hit with pitch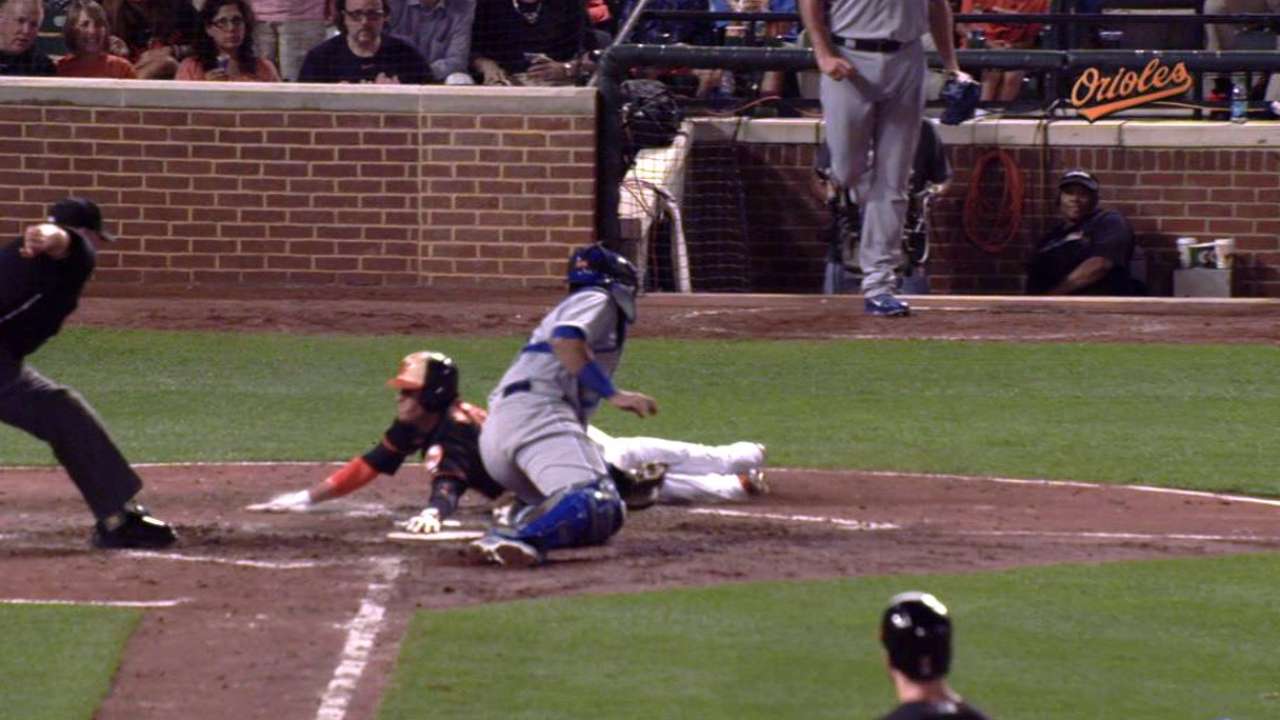 BALTIMORE -- Orioles manager Buck Showalter was ejected in the bottom of the eighth inning of Friday night's 14-8 win over the Royals for his animated arguing when both benches were warned by home-plate umpire Mark Carlson.
Following back-to-back homers for the O's, including Nolan Reimold's go-ahead grand slam, Chris Davis was promptly hit in the back. Davis, the Major League leader with 41 homers, didn't take kindly to reliever Franklin Morales' plunking and slammed his bat into the ground as he glared from home plate.
"I had one go behind my head the other night and then was drilled, I think the next at-bat, in the arm," Davis said. "We hit a grand slam, another home run, a couple rockets. It just didn't look right, regardless of whether it was on purpose or not."
Showalter immediately ran out to run interference for Davis, helping escort him to first base, as Carlson and the rest of the umpiring crew tried to keep the peace.
"He should have been thrown out of the game," Showalter said. "You don't have to warn anybody if you think somebody's throwing at him."
Carlson instead issued warnings to both benches and Showalter, arguing that his club had done nothing to warrant a warning, was livid with the move. After a few seconds of yelling, he was ejected by Carlson, though the two continued to have a spirited conversation until Showalter finally exited -- to a standing ovation from the sellout crowd of 45,420 -- kicking the top step of the dugout and throwing a few things on his exit.
"He got hit by a pitch intentionally," Showalter said. "Chris has certainly had his share of that. It just happened in New York twice. You get to a point to where your nose is rubbed in it. Sometimes it's harder to do what Chris did than what some other people might have done. It gets tough time and time again turning the cheek, but our guys responded well to it."
It marked the second ejection of the season for Showalter and he wasn't sure if there would be any carry-over or not.
"Whatever comes our way, we'll handle it," he said. "You react to things you don't think are very ethical and you move on."
Added Davis: "In that situation, you lose your head a little bit, your emotions are high. I've played against Franklin for a number of years. I respect him as a player. It is what it is. It's part of the game unfortunately. There's been a little bit of feel lost for it. I always thought growing up if a guy gets drilled, somebody else is going to get drilled and then it's over. But nowadays it seems to carry over game to game. Hopefully, it's done with."
Brittany Ghiroli is a reporter for MLB.com. Read her blog, Britt's Bird Watch, follow her on Facebook and Twitter @britt_ghiroli, and listen to her podcast. This story was not subject to the approval of Major League Baseball or its clubs.