Zimmerman continues to rest ailing oblique
With Robinson out due to the birth of his first child, Moore starts at first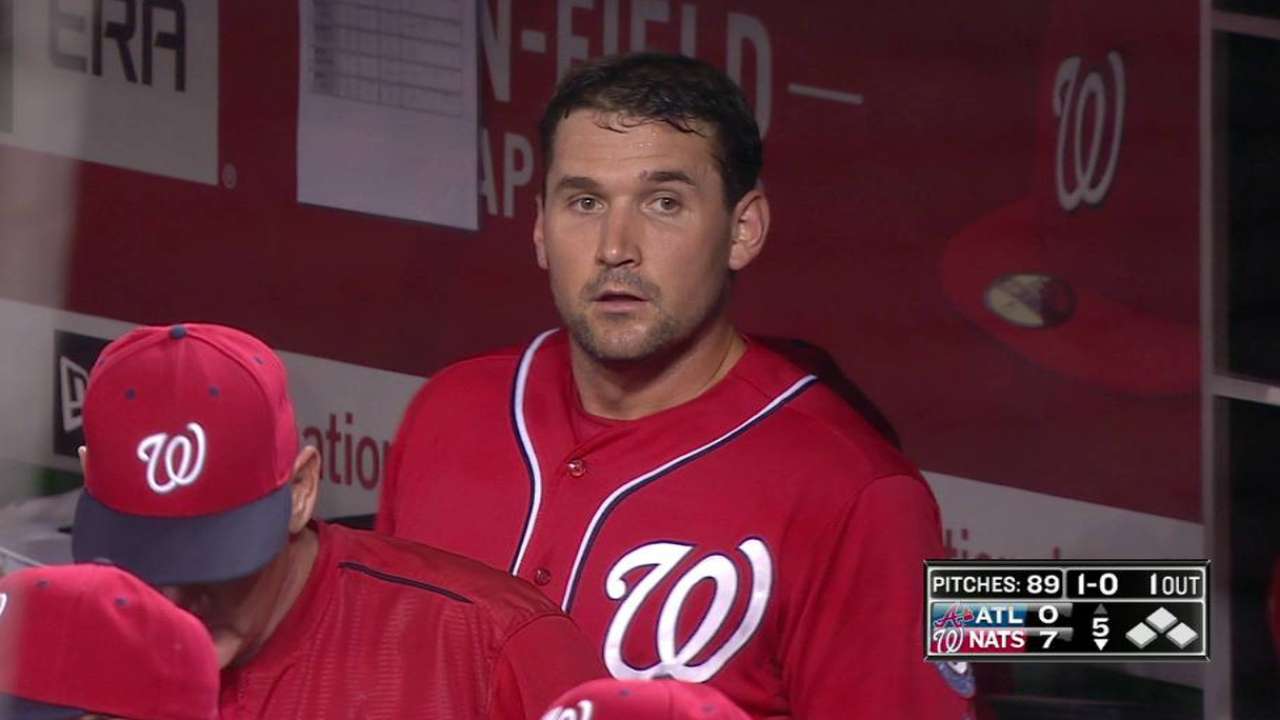 MIAMI -- For a couple different reasons, the Nationals are thin at first base as they begin a three-game set in Miami on Friday night. With Ryan Zimmerman day-to-day with a left oblique injury and Clint Robinson on paternity leave, Tyler Moore made the start on Friday.
Zimmerman last played on Monday vs. the Mets, before sitting out the next two days with the bothersome oblique. He said prior to Friday's contest that the injury progressively became worse and that the plan going forward is simply rest.
"It's still kind of a day-to-day thing and hopefully it continues to get better," Zimmerman said. "But there's really no way to know except wake up every day and come here and see how it feels."
Zimmerman hasn't swung a bat for the past few days. Manager Matt Williams said that will be the first step in, hopefully, a speedy recovery.
"We're treating him aggressively," he said. "We're trying to get that calmed down as much as we can."
The 30-year-old went 2-for-5 in Monday's loss and has been one of the Nationals hottest hitters of late -- batting .367 with seven home runs and 25 RBIs in his past 15 games. For the season, he's hitting .249 with 16 homers and 73 RBIs.
"I was playing really well and finally felt healthy -- the foot was feeling pretty good," said Zimmerman, who returned from left foot plantar fasciitis on July 28. "But it's part of it."
"Obviously, time isn't on our side," he added. "I think there's no reason to go out there and play if you have a chance of seriously injuring yourself or not being able to play to the level that you should be able to play."
Robinson, batting .272 with seven homers this season, replaced Zimmerman at first on Tuesday and Wednesday. However, the 30-year-old is in Arkansas with his wife as the couple are expecting the birth of their first child.
"It's an important time for every father, every time -- but especially your first," Williams said. "I know that if she didn't go into labor naturally, they were looking to induce at some point today. That's where we're at right now."
In turn, Moore gets his first start since Sunday. Prior to that contest, his previous start came on July 23. For the season, Moore is hitting .197 with four homers in 157 at-bats.
"T-Mo's a good first baseman and he can play over there," Williams said. "He's got an opportunity tonight -- and who knows beyond that -- to play. So it's important for him to get out there."
In other injury news, center fielder Michael Taylor, who missed Wednesday's game with a swollen knee, returned to Friday's lineup, as did third baseman Yunel Escobar, who missed Wednesday's contest with a high temperature.
Meanwhile, utility man Danny Espinosa is unavailable on Friday with a swollen right wrist after being hit awkwardly by a ground ball earlier in the week.
Steve Wilaj is an associate reporter for MLB.com. This story was not subject to the approval of Major League Baseball or its clubs.