Souza makes impact in return from DL
Rookie notches 2 hits after missing 34 games with fractured left hand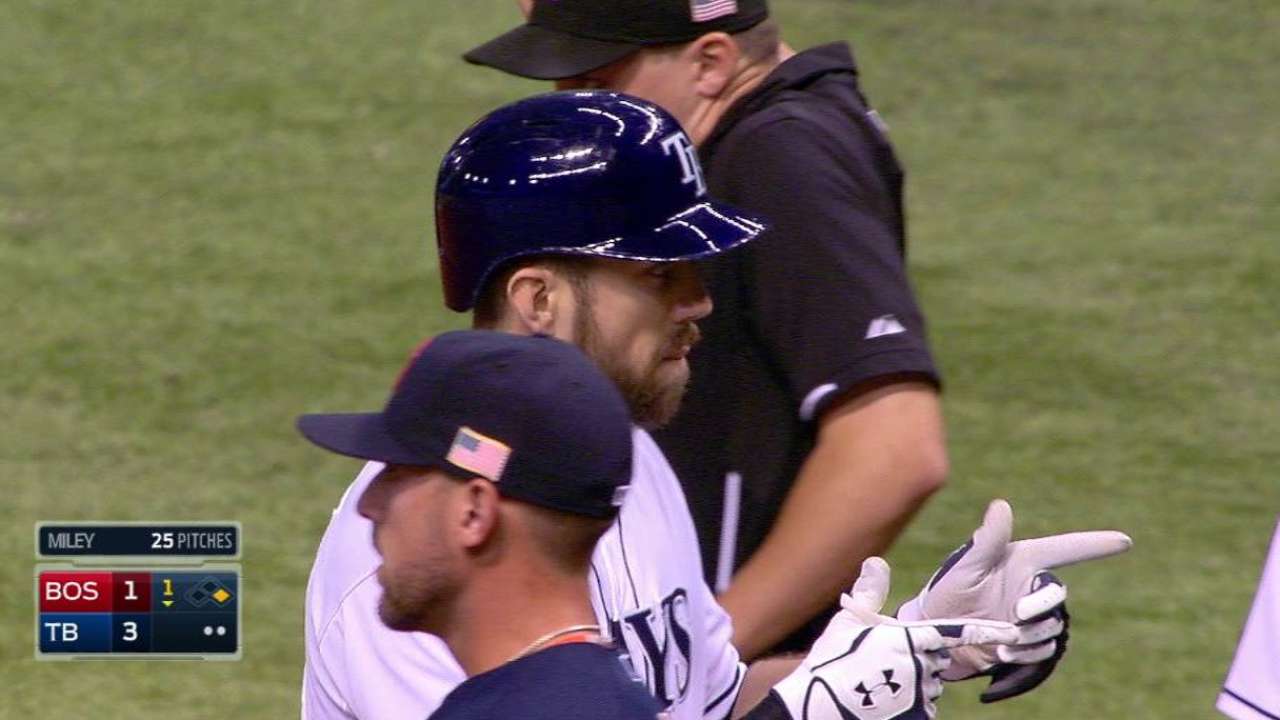 ST. PETERSBURG -- Steven Souza Jr. came off the 15-day disabled list on Friday and resumed his position in right field for the Rays. The rookie slugger, who missed 34 games with a fractured left hand, didn't seem to miss a beat in his return.
Souza went 2-for-4 with an RBI and stolen base, scoring on J.P. Arencibia's homer in the eighth inning as the Rays rallied for an 8-4 victory.
"Ready to go," Souza said before the game. "One hundred percent. Feel good. One-hand finishes are good. Everything is good. Rehab, all the games went well. Went better than expected. At no point was I sore or hurting or hesitant."
Souza hit .333 in five rehab games before his return, including three with Triple-A Durham before joining Class A Advanced Charlotte for two games to finish his rehab.
"By the time I left Durham, I felt pretty good," Souza said. "But it had been a month and a half since I'd hit. So they wanted me to get more ABs. So that was beneficial."
Souza smiled when asked about the prospect of getting a championship ring from Charlotte if the Stone Crabs can win the Florida State League crown.
"They have my email," Souza said. "So I can send them my ring size if they go all the way."
Rays manager Kevin Cash said he was happy to have Souza back in the lineup.
"To his credit, he worked extremely hard," Cash said. "Really did everything that the trainers asked as far as rehab. He was itching to get out there and get some at-bats. He got his timing, gradually, back. His last game in Port Charlotte, everything sounded really good, that he feels pretty locked in, so we're thrilled to have him back."
Souza should see a lot of playing time for the remainder of the season.
"Plan is to play just like he did [before the injury]," Cash said. "If you look at where he was before the injury, he was really swinging the bat well. Part of that was his aggressive approach. He had really taken to it. The 10 games prior to that he started to see some really positive signs. So hopefully he picks up were he left off."
Meanwhile, outfielder Desmond Jennings (bruised left knee), catcher Curt Casali (strained left hamstring) and left-hander Jake McGee (torn left knee meniscus) continue to make progress.
Cash allowed that Jennings and Casali could be active by the end of the 10-game homestand, which started Friday, while McGee should be ready to return in the final week of the season.
Bill Chastain is a reporter for MLB.com. This story was not subject to the approval of Major League Baseball or its clubs.