Orioles stun Royals with 2 slams in 10-run 8th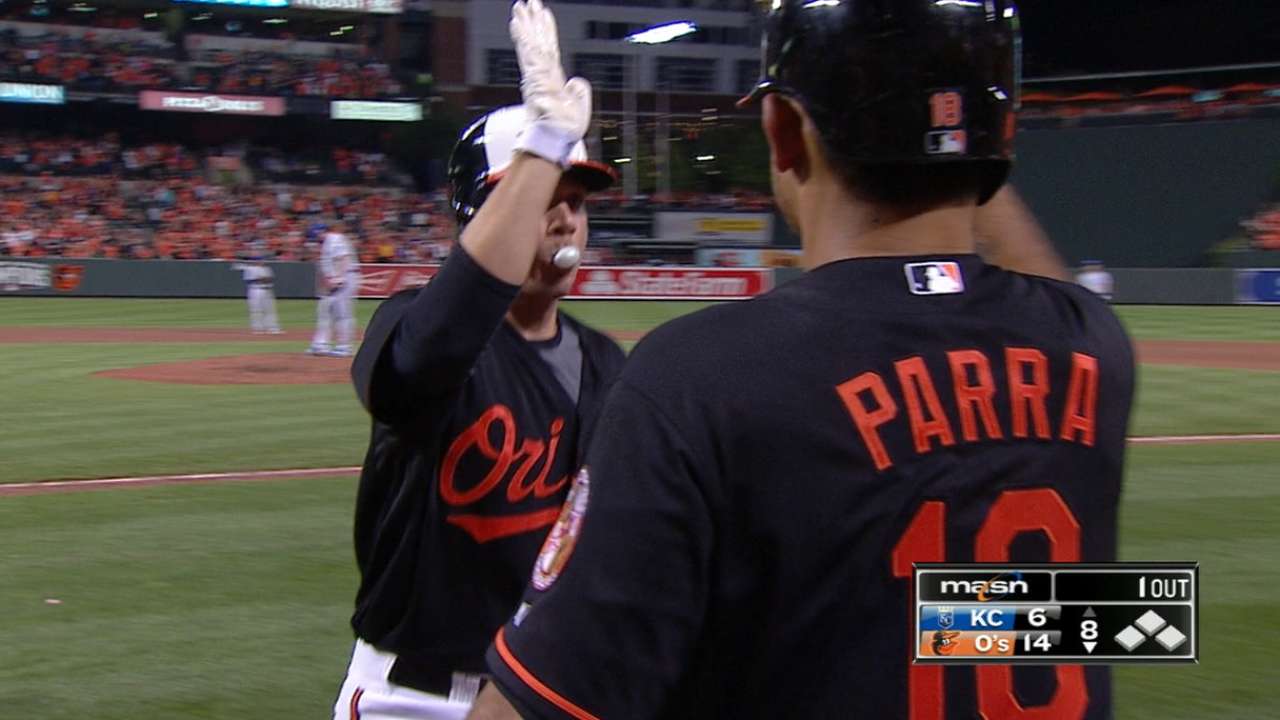 BALTIMORE -- Nolan Reimold and Steve Clevenger hit grand slams during a 10-run eighth inning, carrying the Orioles to a 14-8 victory over the stunned and suddenly slumping Royals on Friday night.
The Royals now have lost six of seven as their magic number to clinch the American League Central remained at 13, with the Twins' 6-2 win over the White Sox. The Royals' lead for home-field advantage throughout the playoffs was reduced to three games over the Blue Jays.
Royals manager Ned Yost said he doesn't have a big level of concern.
"We've had a bad week," he said. "I'm surprised it hasn't happened sooner. It's a credit to them it took this long.
"They don't need any speeches. They don't need any rah-rah stuff."
Reimold's homer, off the left-field foul pole, came during a wild eighth that featured a rare meltdown by Kelvin Herrera, who worked with a 6-4 lead. After Franklin Morales replaced Herrera, Manny Machado homered, Adam Jones singled and Chris Davis was hit by a pitch -- Davis pounded his bat angrily and both benches were warned, which prompted Orioles manager Buck Showalter to argue and eventually get tossed. Clevenger's grand slam came off Joba Chamberlain.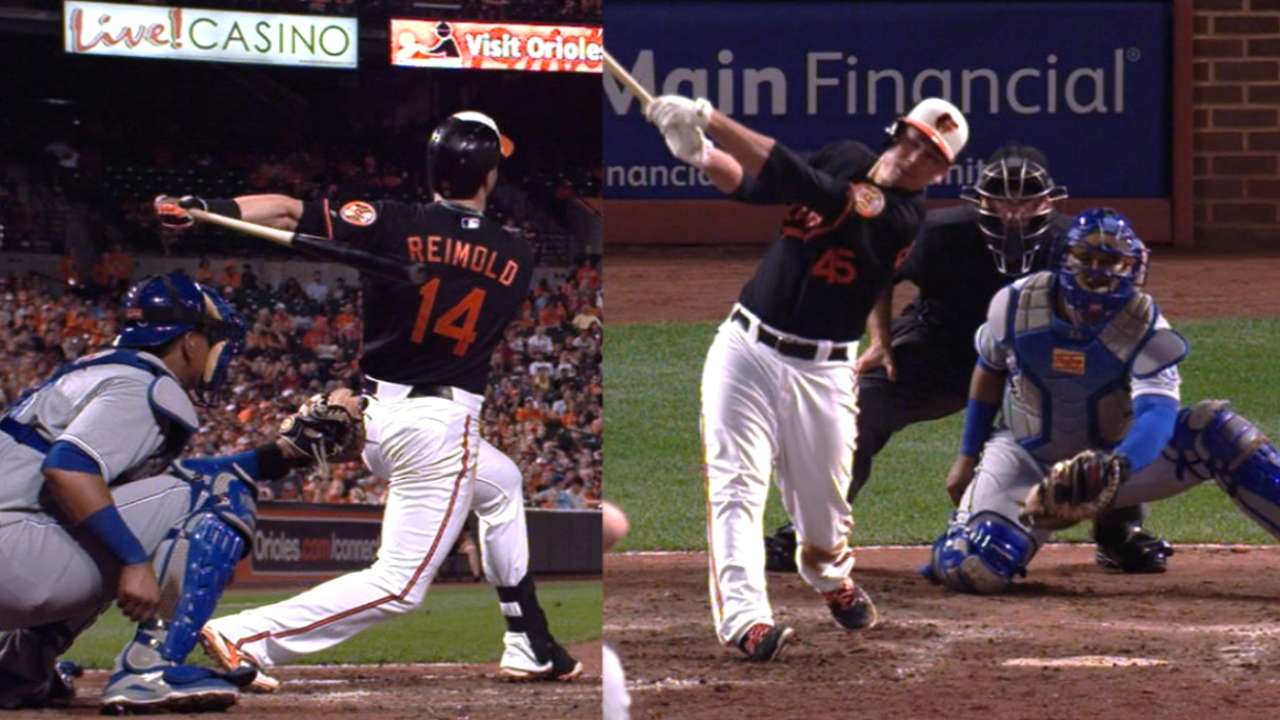 "I didn't see the second one. I watched it," Showalter said of Clevenger's ball. "It was a big inning for us, obviously. I thought we'd make a run at them. We had to do some things different from what you normally do because of how good they are at the end of the game.
"Turned the odds around tonight against one of the better relievers in baseball in that situation."
Both starters lasted just five innings -- the Orioles' Mike Wright gave up four hits and four runs, while the Royals' Danny Duffy gave up two runs, but struck out eight.
MOMENTS THAT MATTERED
Reimold, Clevenger grand in 10-run 8th: Left fielder Reimold clobbered his fourth homer of the year, giving the Orioles their first lead of the night with his first career grand slam. Clevenger followed on a full-count pitch, sending the crowd into an uproar. More >
"We came together as a team," Clevenger said. "Being down two runs and then Nolan coming up big with that grand slam to go ahead and give us a little boost going into it, and get everybody going. That's what it takes sometimes as a team to get the line moving and get some confidence."
Davis hit, Buck tossed: Things got heated after Reimold and Machado homered. Davis, who stepped in after Jones' single, was hit in the back and the slugger -- who leads the Majors with 41 homers -- slammed his bat into the ground and glared at Morales as he walked to first base. Both benches were warned, and Showalter vehemently argued that his club had done nothing to warrant the warning, resulting in his second ejection of the season. Showalter's anger was met with rousing applause and he exited to a standing ovation in front of the sellout crowd at Camden Yards. More >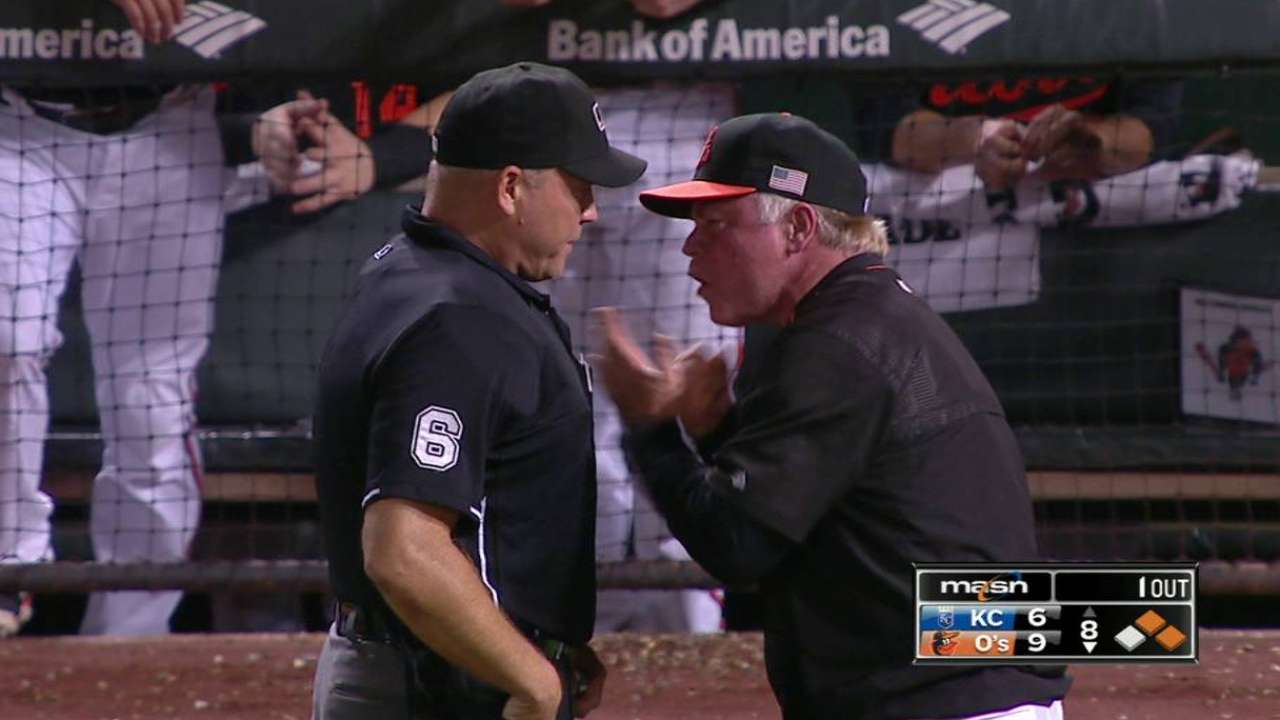 "He got hit by a pitch intentionally," Showalter said. "Chris has certainly had his share of that. It just happened in New York twice. You get to a point to where your nose is rubbed in it. Sometimes it's harder to do what Chris did than what some other people might have done. It gets tough time and time again turning the cheek, but our guys responded well to it."
Madson's magic: Royals reliever Ryan Madson inherited a major mess in the bottom of the sixth when Luke Hochevar came in and walked two hitters sandwiched around a single, loading the bases with none out. But Madson got Caleb Joseph to hit into an RBI fielder's choice, he struck out J.J Hardy, and then got pinch-hitter Gerardo Parra to pop out to short center.
LoCain muscles up: Lorenzo Cain, who came into this season with 17 career homers, banged his 15th and 16th of this season. His homer in the first, a towering drive to left-center. Then in the sixth, Cain hit a rocket into the left-field corner that just made it into the seats. That was Cain's first two-homer game since Sept. 7, 2012, when he hit two against the White Sox at U.S. Cellular Field.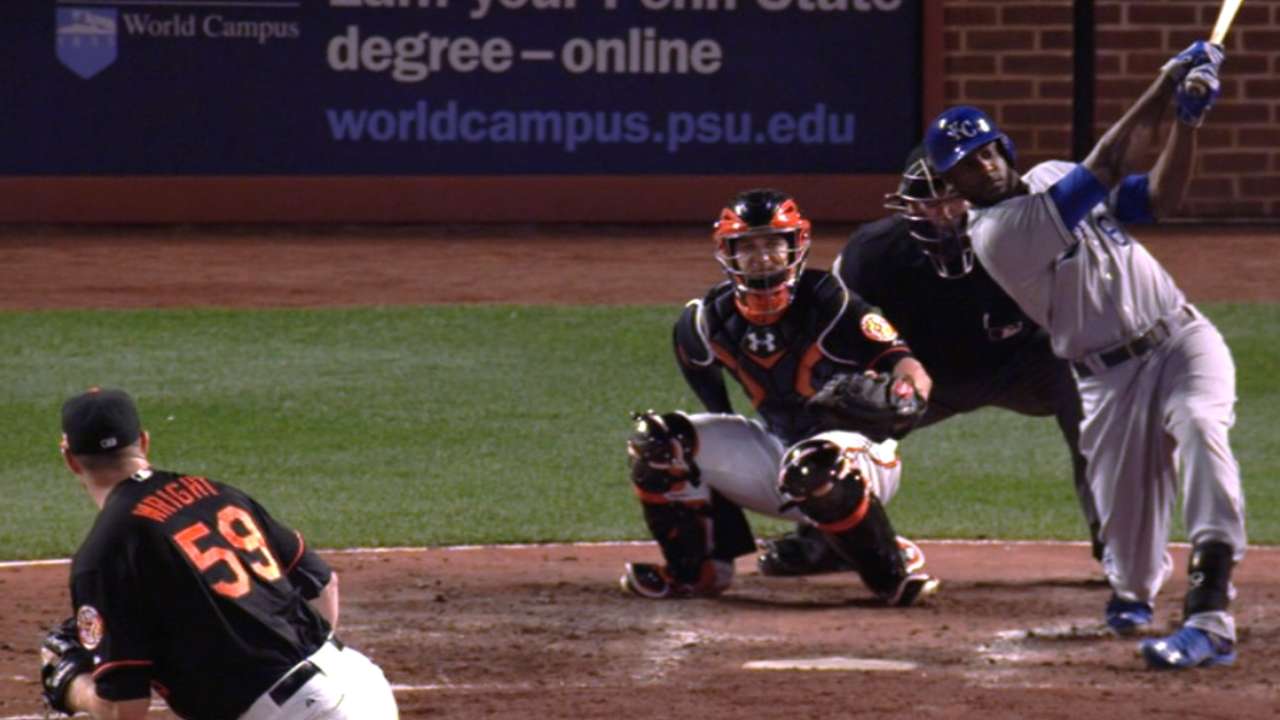 "Tremendous night for Lo," Yost said. "Really great game."
BIG OVERTURN
The Royals challenged a safe call at second base in the bottom of the sixth. The O's had the bases loaded and none out when Joseph sent a bouncer toward left that third baseman Mike Moustakas speared on a dive. From his knees, Moustakas threw low to second baseman Ben Zobrist, who bobbled the throw and the runner was called safe. A run scored and the bases remained loaded in a 4-3 game. But the safe call was overturned, resulting in the first out of the inning.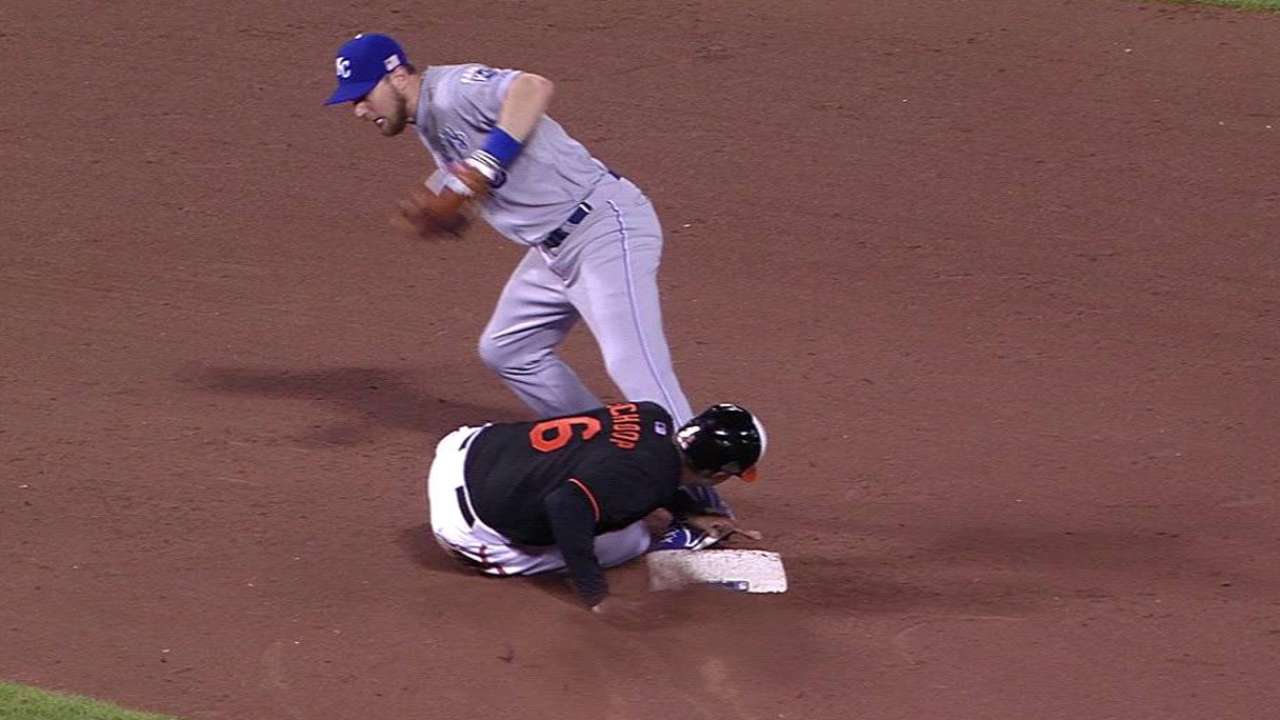 SOUND SMART WITH YOUR FRIENDS
Two grand slams have been hit by a team in the same inning just eight times, with the Orioles the only franchise to do it twice (also 1986). The last team to hit two grand slams in one inning was the Mets in 2006.
QUOTABLE
"In that situation, you lose your head a little bit, your emotions are high. I've played against Franklin for a number of years. I respect him as a player. It is what it is. It's part of the game unfortunately. There's been a little bit of feel lost for it. I always thought growing up if a guy gets drilled, somebody else is going to get drilled and then it's over. But nowadays it seems to carry over game to game. Hopefully, it's done with." -- Davis, on the hit-by-pitch
WHAT'S NEXT
Royals: Right-hander Yordano Ventura will start the middle game of this road series on Saturday at 12:05 p.m. CT. Ventura (10-8, 4.34 ERA) flipped spots in the rotation with Johnny Cueto, who will get the ball for Sunday night's finale at Camden Yards.
Orioles: Right-hander Chris Tillman gets the start on Saturday at 1:05 p.m. ET for the second of this three-game set. Tillman (9-11, 5.15), who has been unable to go deep into games, is 0-3 with an 11.20 ERA in his last three outings.
Watch every out-of-market regular-season game live on MLB.TV.
Brittany Ghiroli is a reporter for MLB.com. Read her blog, Britt's Bird Watch, follow her on Facebook and Twitter @britt_ghiroli, and listen to her podcast. Jeffrey Flanagan is a reporter for MLB.com. Follow him on Twitter at @FlannyMLB. This story was not subject to the approval of Major League Baseball or its clubs.