Cosart, Marlins' bullpen stymie Nationals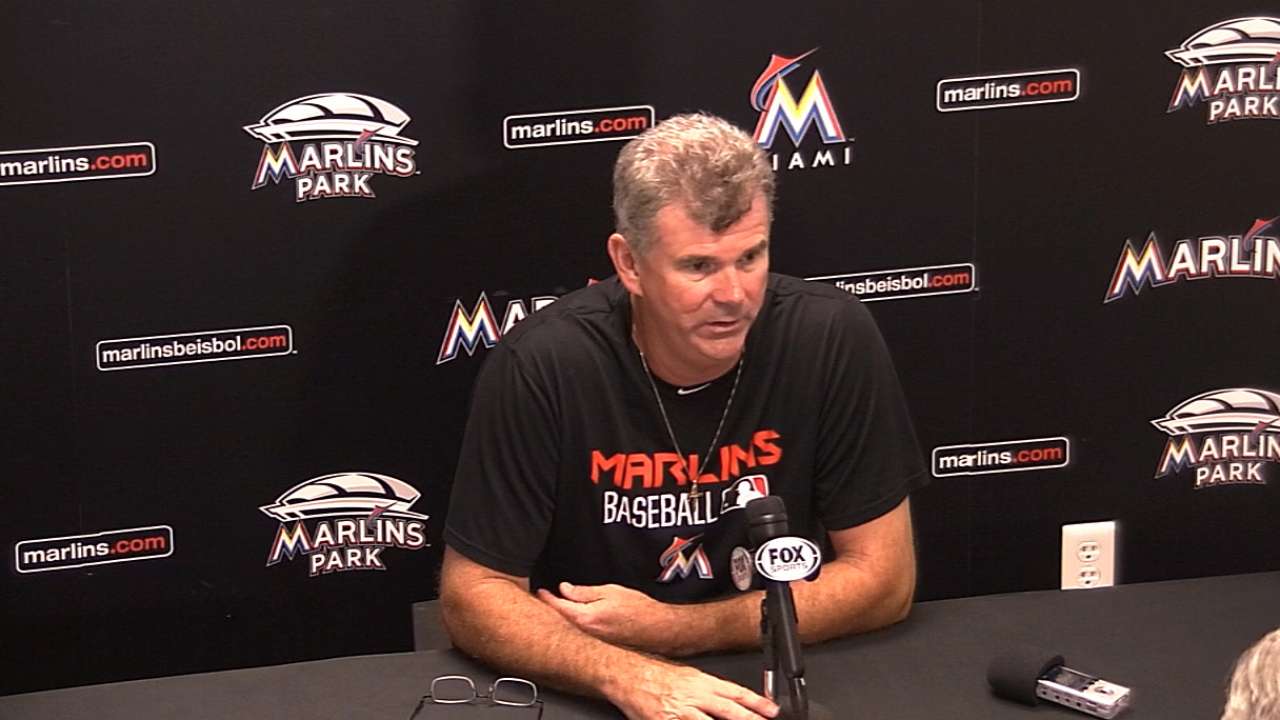 MIAMI -- The Nationals' uphill climb got a little bit tougher on Friday night. Miguel Rojas' sacrifice fly in the seventh inning scored J.T. Realmuto and lifted the Marlins to a 2-1 victory at Marlins Park.
Playing the role of spoilers, the Marlins handed the Nationals their fourth straight loss. With the Mets' win over the Braves, the Nats now trail in the NL East by 8 1/2 games. Miami, meanwhile, has won eight of 10, and is 5-2 on the homestand. Realmuto started off the seventh with a double, and with no outs, Rojas lined his sacrifice fly to right field.
"I think this a great challenge for us, to go head-to-head against some of these teams that are fighting for playoff berths down the stretch," Miami manager Dan Jennings said. "This is great experience. I think it shows the character and the fight and fire that our guys have right now in the way that we're playing."
Washington had chances early off Jarred Cosart, putting runners at the corners with one out in the first inning, but wasn't able to cash in. The Nationals left nine on base, with Bryce Harper striking out twice with runners in scoring position.
"Bryce has had a fantastic year for us," Washington manager Matt Williams said. "He had a couple opportunities tonight -- didn't happen for him. We'll try to give him those opportunities every day, that's for sure."
The Marlins manufactured a run in the fourth inning off Gio Gonzalez on Marcell Ozuna's fielder's choice grounder to short, which scored Martin Prado. But in the sixth inning, the Nationals tied it at 1 on an unearned run off Kyle Barraclough. Wilson Ramos lifted a sacrifice fly to center, scoring Yunel Escobar, who singled and advanced to second on Barraclough's error on a pickoff attempt.
MOMENTS THAT MATTERED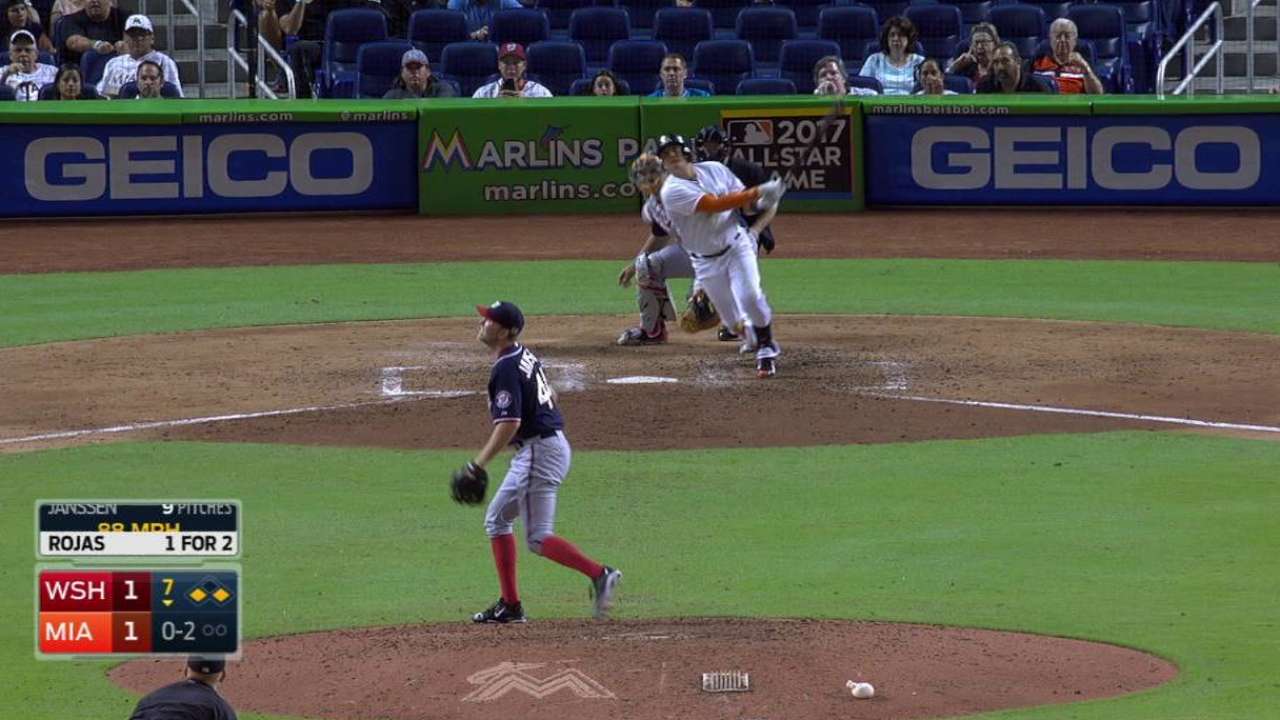 Realmuto's speed factor: Once again speed was a weapon Realmuto was able to showcase. The rookie catcher doubled to open the seventh inning off Casey Janssen. Janssen compounded his troubles when he unsuccessfully tried to get Realmuto at third on Ichiro Suzuki's bunt. With runners on the corners and no outs, Rojas lifted a liner to right. Harper raced in to make a sliding catch. Realmuto dashed for home, and scored easily when Harper's throw was up the line. The run put Miami ahead, 2-1.
"Very few [catchers] have that component," Jennings said. "He can steal a base. He goes first to third. You saw the inside-the-park homer the other day. Then the ability to go back and tag on a medium-depth fly ball. It's a tremendous weapon to have on the bases. It allows us to put the game in motion. Not be afraid to start him on any count over there." More >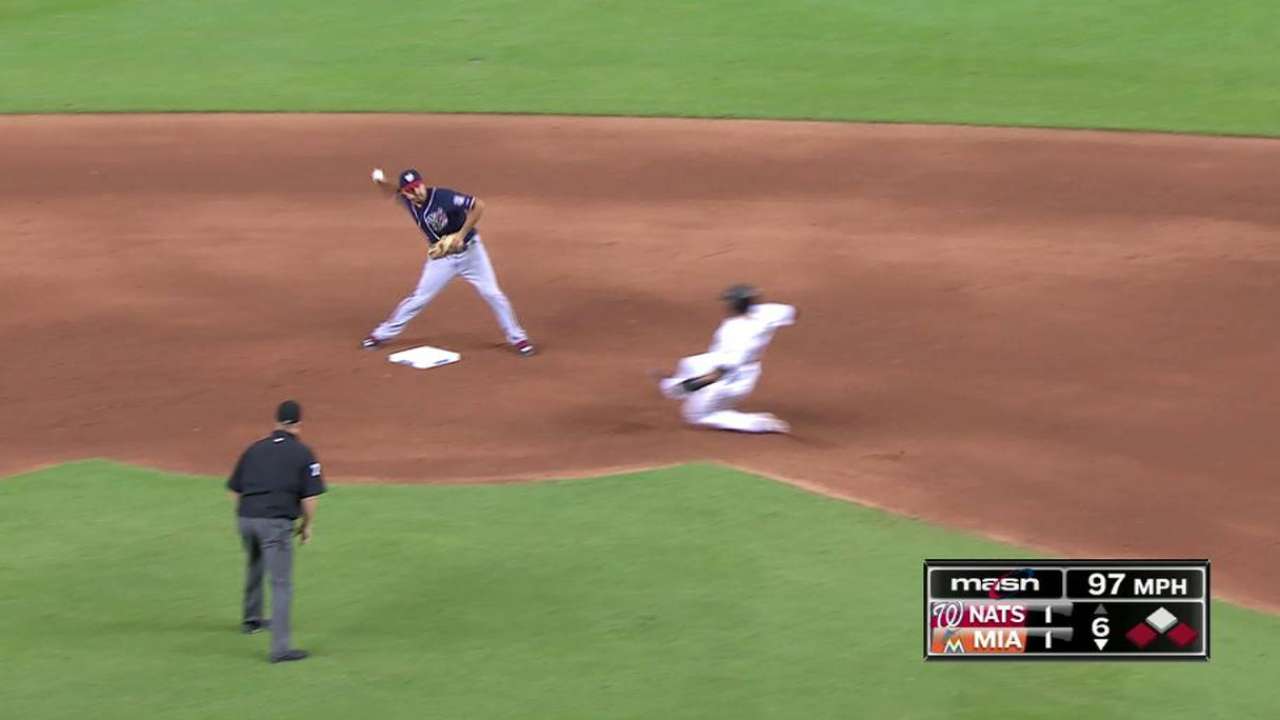 One pitch does it: It took Blake Treinen just one pitch to escape a sixth-inning jam set up by Gonzalez. The lefty starter left the game with Miami's Christian Yelich on third and Prado on first with one out and the score tied. Treinen induced Ozuna to hit into a first-pitch 6-4-3 double play. It was the only pitch Treinen threw, as he was lifted for a pinch-hitter in the top of the seventh. However, Janssen would give the lead up in the seventh and take the loss when he allowed one run on one hit in 1 1/3 innings.
"We look at those guys -- we look at Casey -- he's a proven closer, so he knows how to get himself out of a tough stretch," Williams said. "Tonight it didn't work for him, but he'll be ready to go again." More >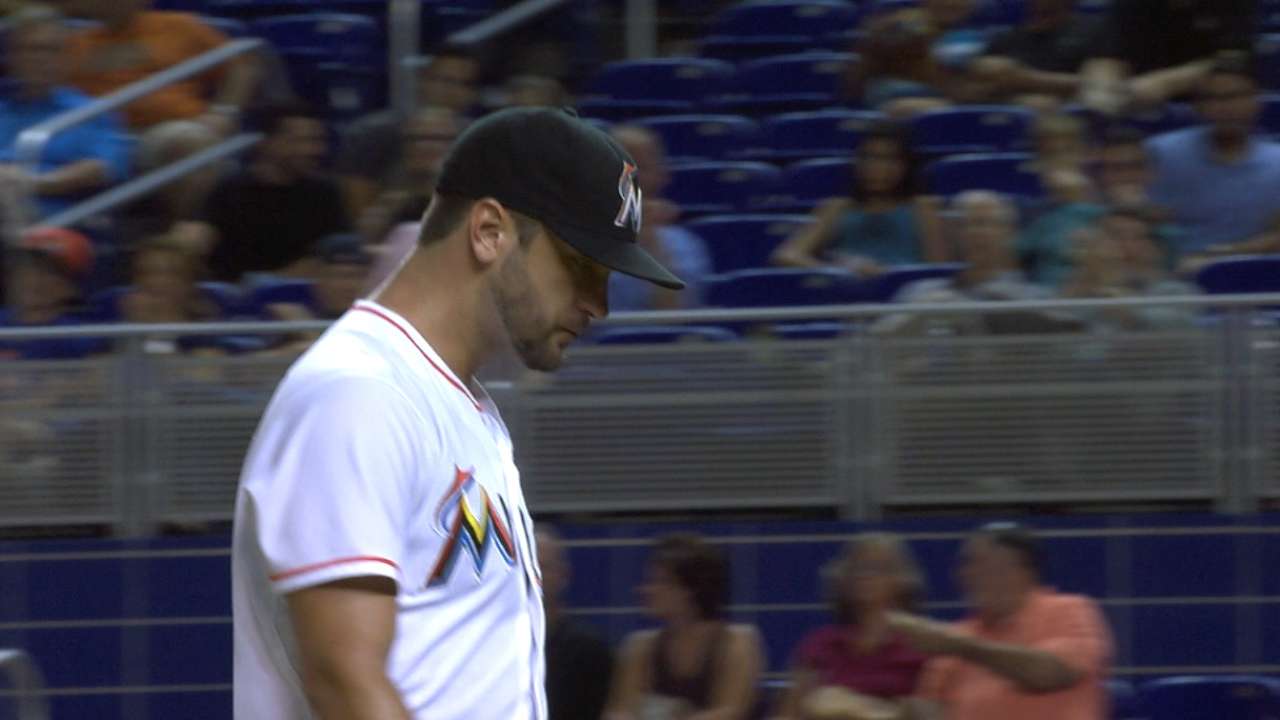 Cosart's encouraging start: Making his second start since overcoming a right inner ear disorder, Cosart threw five shutout innings, striking out five. At 90 pitches, he was lifted for a pinch-hitter in the fifth, with Miami up by a run. Cosart worked out of a first-and-third, first-inning jam, getting Escobar to pop out before striking out Ian Desmond. In the fifth inning, he struck out Harper for the second time, leaving runners on first and second.
"To get out of the first was big," Cosart said. "I felt much better in the second inning with my secondary stuff. I was able to get some backdoor cutters working pretty good. I felt pretty smooth after the first." More >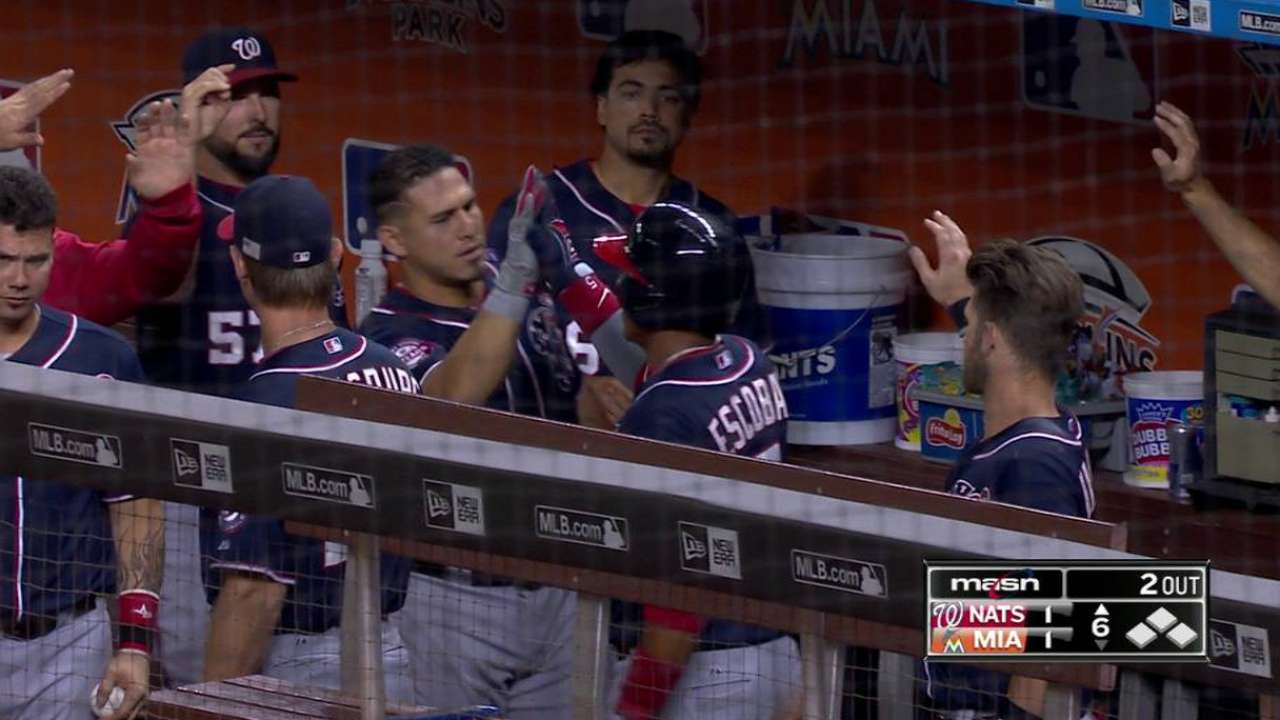 Nats take advantage: Washington's sixth-inning game-tying run was a manufactured one, with a little assist from the Marlins. Escobar walked to leadoff the inning and advanced to second on an errant pickoff throw by Barraclough. Desmond's flyout to right field then allowed Escobar to advance to third base, before Ramos brought him home with a sacrifice fly after falling behind in the count, 1-2.
QUOTABLE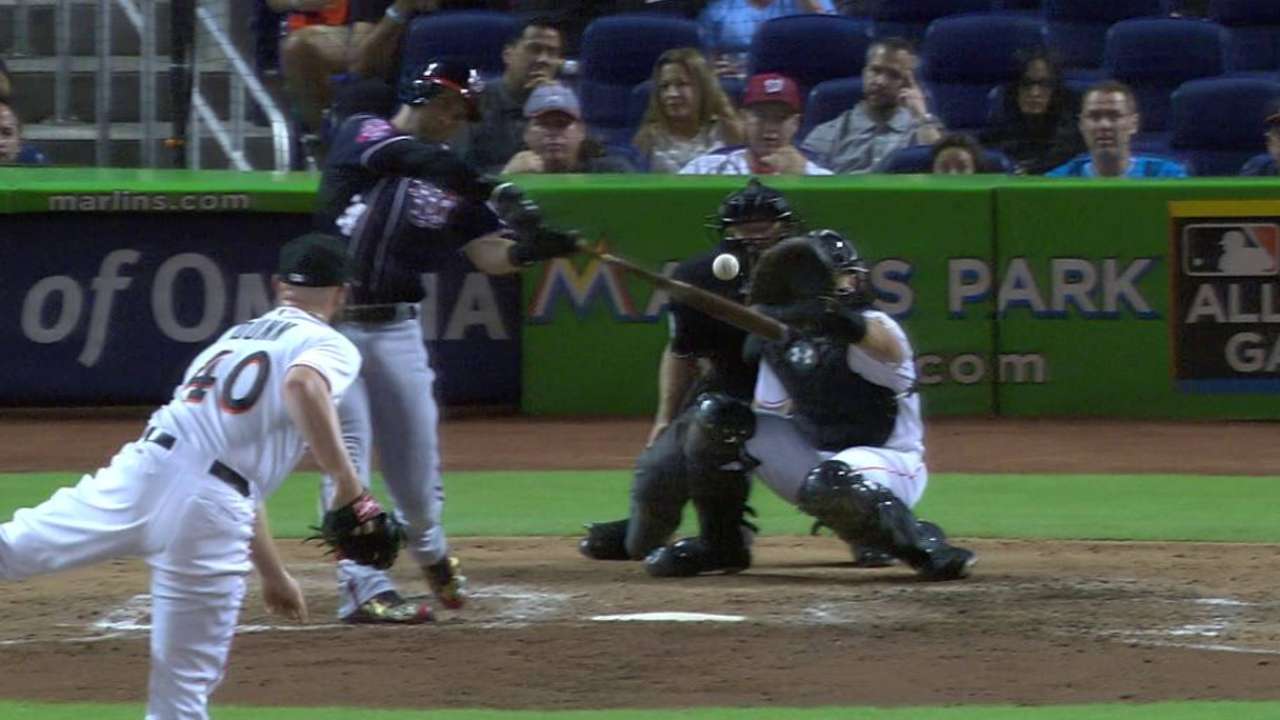 "Coming out of a new year with a lot of new pieces, it doesn't always click right away. This year, I feel like everyone has kind of come together here as of late. That's a good thing. Now we're just playing baseball loose. We're just trying to have fun. We're trying to play the spoiler role. Go out there. We're not going to lay down and let teams just come in here and get wins. We're going to fight until the very end, and hopefully we get some W's along the way." -- Marlins reliever Mike Dunn, who had a big strikeout of Harper with two outs in the seventh
"We have to keep fighting. It's not over yet. … I think right now, it's plenty of game left. Things change -- lucky rabbit foot or something comes through. But I think we're gonna stay positive and keep fighting. We still have a lot of fight in us." -- Gonzalez, on chasing Mets in the NL East
SOUND SMART WITH YOUR FRIENDS
By recording a single and a walk, Nationals leadoff hitter Jayson Werth extended his on-base streak to 20 games. He has now hit leadoff 21 times this season, and is 28-for-87 (.322) in the top slot.
WHAT'S NEXT
Nationals: Tanner Roark (4-4, 4.41 ERA) makes his second start since returning to the rotation in the second game of the series at 7:10 p.m. ET. In seven starts in 2015, Roark is 3-1 with a 5.21 ERA.
Marlins: Jose Fernandez (4-0, 2.30) will be reinstated from the disabled list and make his first start since Aug. 7 at 7:10 p.m. ET. He had been out with a right biceps strain.
Watch every out-of-market regular season game live on MLB.TV.
Joe Frisaro is a reporter for MLB.com and Steve Wilaj is an associate reporter for MLB.com. This story was not subject to the approval of Major League Baseball or its clubs.