Swing vote: Esurance MLB Awards balloting underway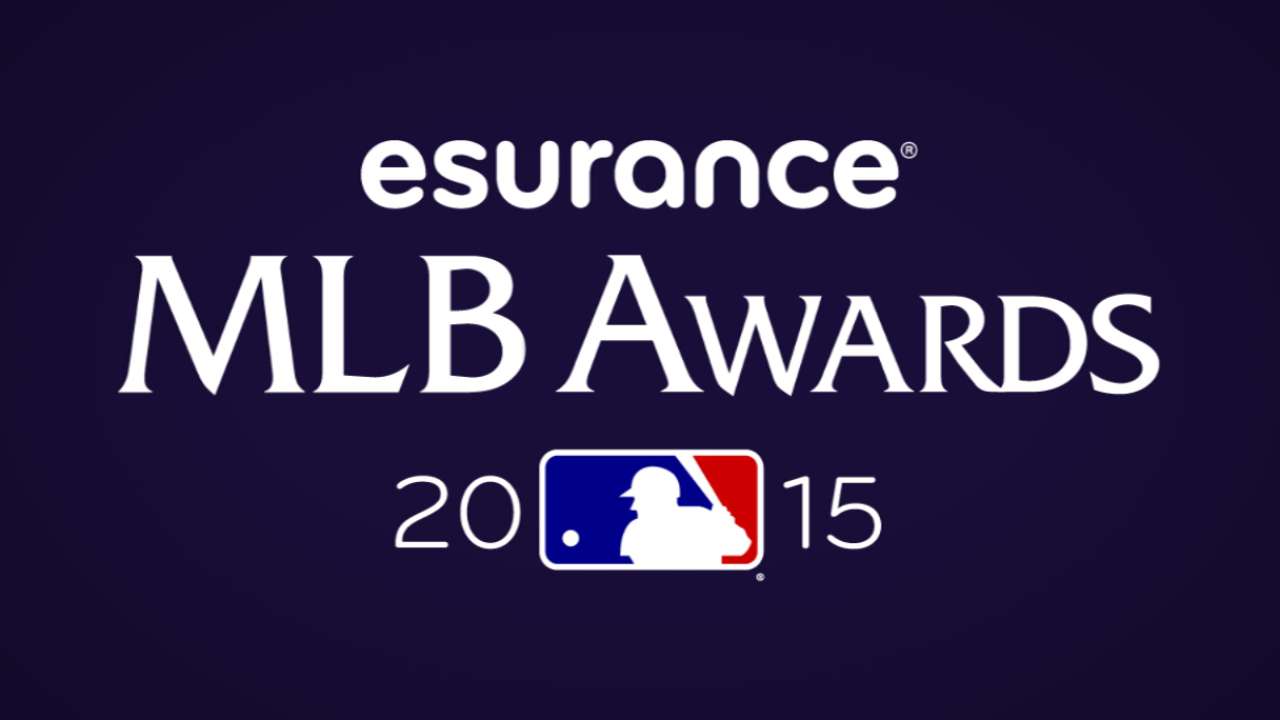 Welcome to the Esurance MLB Awards -- the next move forward in the annual awards process. Baseball already has what many consider the most prestigious awards season in professional sports, and this round of hardware makes it that much more exciting, as we recognize the best players on the field, as well as the year's most memorable highlights, social media moments, fan interactions and much, much more.
But we need some help in picking the winners -- and you've watched the games too, after all. To start playing your part and cast your ballots, simply visit mlb.com/awards. Voting is open through Nov. 13.
In addition to you, the fans, baseball's A-listers will be chosen by a comprehensive panel featuring Hall of Fame players, club presidents and general managers, many of the industry's everyday reporters, and the analytically inclined Society for American Baseball Research.
In other words: If this combination of observers and insiders can't get this right, no one can.
"I think it's a privilege to be included in the voting," said Astros GM Jeff Luhnow.
"This is an increasingly prestigious award every year, and I know the players and the fans both take it very seriously. The winners are usually very well deserving, and I'm glad to be part of the group that's going to be selecting the winners."
The former-player voter group also appreciates the comprehensiveness of the MLB Awards process. And who better to pick the best of the best than those who have been there and won that?
"I think it's a great honor for the players to be recognized in this no matter what the category is that they're in," said former big leaguer Luis Gonzalez, a five-time All-Star.
"To be recognized by fans, former players, broadcasters and front-office people, that means a lot. You're being recognized by some of the elite people in the game of baseball."
Baseball's awards season begins its crescendo with the Baseball Writers' Association of America (BBWAA) awards, which will be announced live on MLB Network and MLB.com beginning with AL and NL Rookies of the Year on Nov. 16. The Esurance MLB Awards -- which will be revealed exclusively on MLB Network and MLB.com at 7 p.m. ET on Friday, Nov. 20 -- are the finishing touch.
The Esurance MLB Awards take the best of recent award programs to a new level: MLB.com's Greatness In Baseball Yearly Awards (GIBBYs), which began in 2002, as well as MLB Network's more recent Social Media Awards. There are a total of 24 categories, and winners will receive the trophy known as the GIBBY.
Individual awards will go to the Best Major Leaguer, Everyday Player, Starting Pitcher, Rookie, Defensive Player, Breakout Player, Bounceback Player, Manager, Executive, Social Media Personality and postseason performer.
Winners will also be recognized for the year's best offensive play, defensive play, Moment, single-game performance, Social Media Post, Celebrity Fan, Fan Catch, Interview, TV call, radio call, Player-Fan Interaction, Video Board Moment and Trending Topic.
The first inning … of voting
Opening Day of the MLB Awards is all about star power. Beginning here, you can help decide the year's Best Major Leaguer, Everyday Player, Starting Pitcher and Rookie. Nominees for additional categories will be announced on Sept. 21, Oct. 6 and Oct. 8 (more on that below).
Best Major Leaguer
To win Best Major Leaguer would be quite the honor, an acknowledgment from the collective baseball community of one's superiority over the pack.
The following men are up for the headliner MLB Award: Jake Arrieta, Yoenis Cespedes, Josh Donaldson, Paul Goldschmidt, Zack Greinke, Bryce Harper, Clayton Kershaw, Dallas Keuchel, Andrew McCutchen, David Price, Mike Trout and Joey Votto.
Twelve nominees. A combined 36 All-Star Games among them. And a total of four players who previously won an AL or NL Most Valuable Player Award. All but three are under the age of 30.
Who are you going to pick? If you have an affinity for power and speed, a handful of options exist.
Donaldson, Trout, Cespedes and Harper have a legitimate shot at 40 homers this season. Goldschmidt could come close, while also chipping in 20 steals.
Feeling the pitching? Then the four tremendous arms listed above merit strong consideration.
The choice is yours. But we never said it would be easy.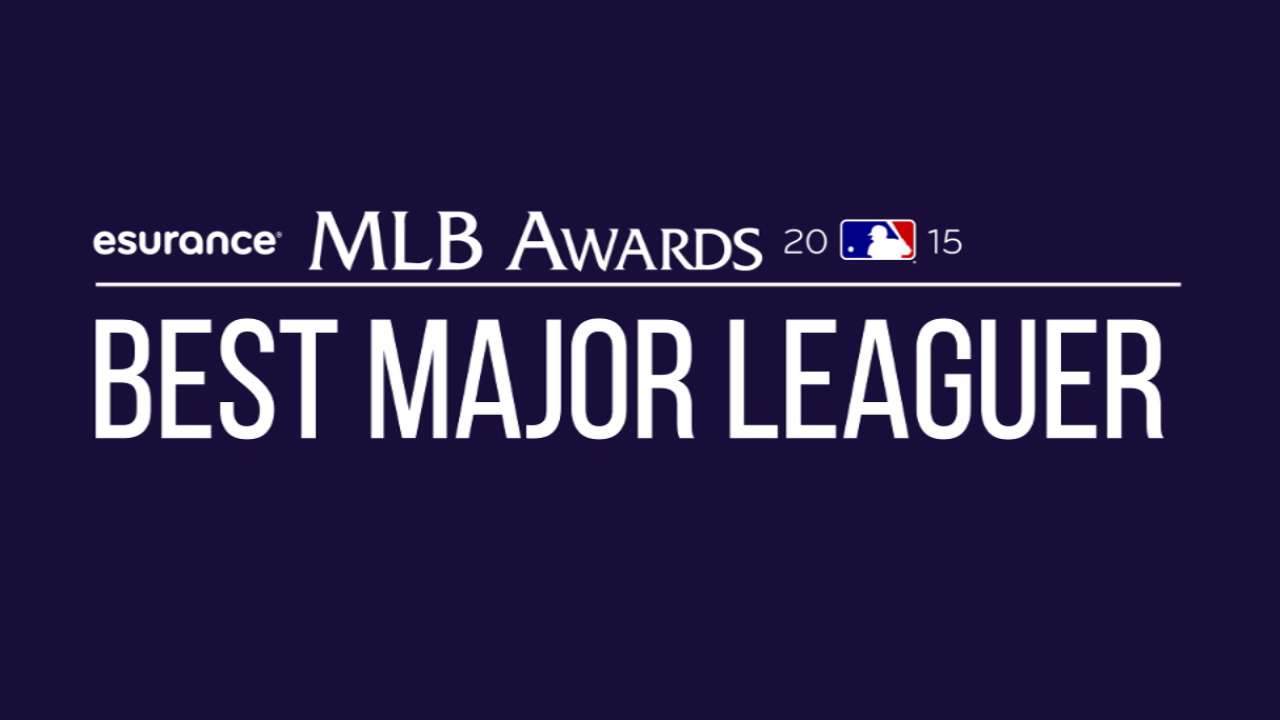 Best Everyday Player
This category is designed to honor the men who grinded it out day after day all year long, while posting statistical seasons for the memory vault. The non-pitchers from Best Major Leaguer will get a second look here, along with Nolan Arenado, Lorenzo Cain, Nelson Cruz, Manny Machado and Buster Posey.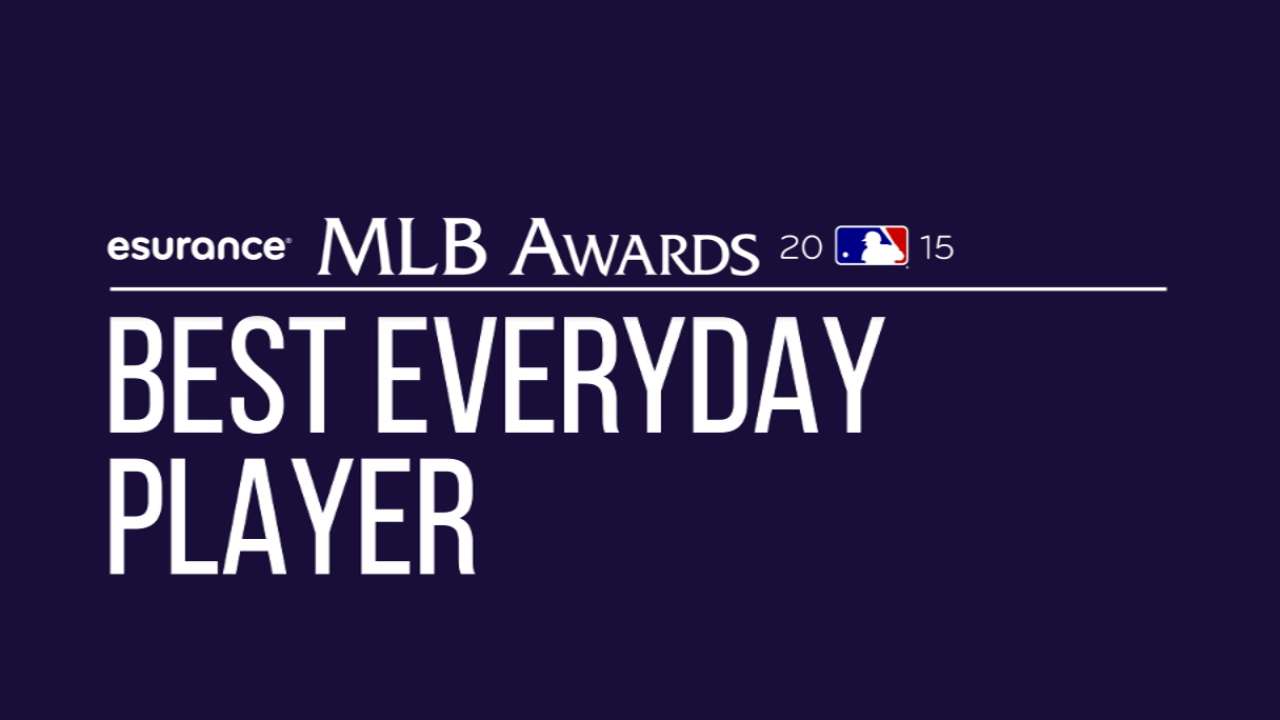 Best Starting Pitcher
This category features a cavalcade of former Cy Young Award winners. We have Kershaw, who could become the first pitcher in more than a decade with 300 strikeouts in a single season. And Greinke, whose ERA is almost too minuscule to see.
And that's just in Chavez Ravine.
In addition to Los Angeles' lethal 1-2 punch, the Best Starting Pitcher group is complete with rotation anchors on clubs sailing straight for the postseason.
Arrieta (Cubs), Jacob deGrom (Mets) and Keuchel (Astros) have led staffs that could be pitching deep into October following years of being on the outside looking in during baseball's biggest month. For their great work, they join a slew of stellar starters in this group, including Chris Archer, Madison Bumgarner, Gerrit Cole, Sonny Gray, Felix Hernandez, Price, Chris Sale and Max Scherzer. Impressive, huh?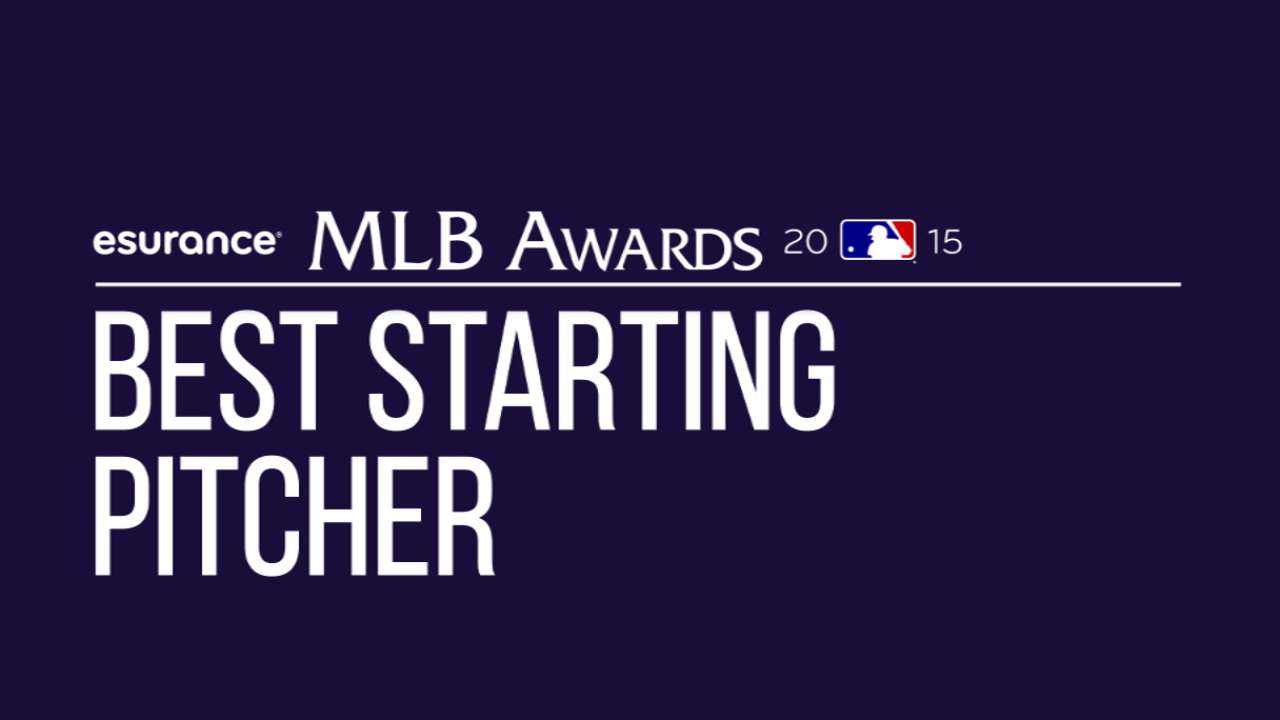 Best Rookie
The 2015 MLB campaign was often referred to as the Year of the Rookie. Fair warning: This one's not going to be easy, either.
The Astros' Carlos Correa and the Cubs' Kris Bryant have gotten plenty of headlines, but they have plenty of company among first-year phenoms. The Mets' Noah Syndergaard teamed up with deGrom and Bounceback Player candidate Matt Harvey to form a terrific young pitching triumvirate in Queens.
Out in San Francisco, Matt Duffy helped fill a big hole following the free-agent departure of third baseman Pablo Sandoval. Duffy was not even the Giants' first option to man the hot corner, but boy, has he done a fine job.
This category has other great candidates, too. From St. Louis (Randal Grichuk) to South Korea (former KBO star Jung Ho Kang), and from Middle America (Minnesota's Miguel Sano) to Hollywood (Joc Pederson), baseball was filled with fresh faces in 2015.
So there you have it, baseball fans. We're starting you off slow, with just four groups to consider today. But make sure to get into top voting form ASAP, because this party's just getting started.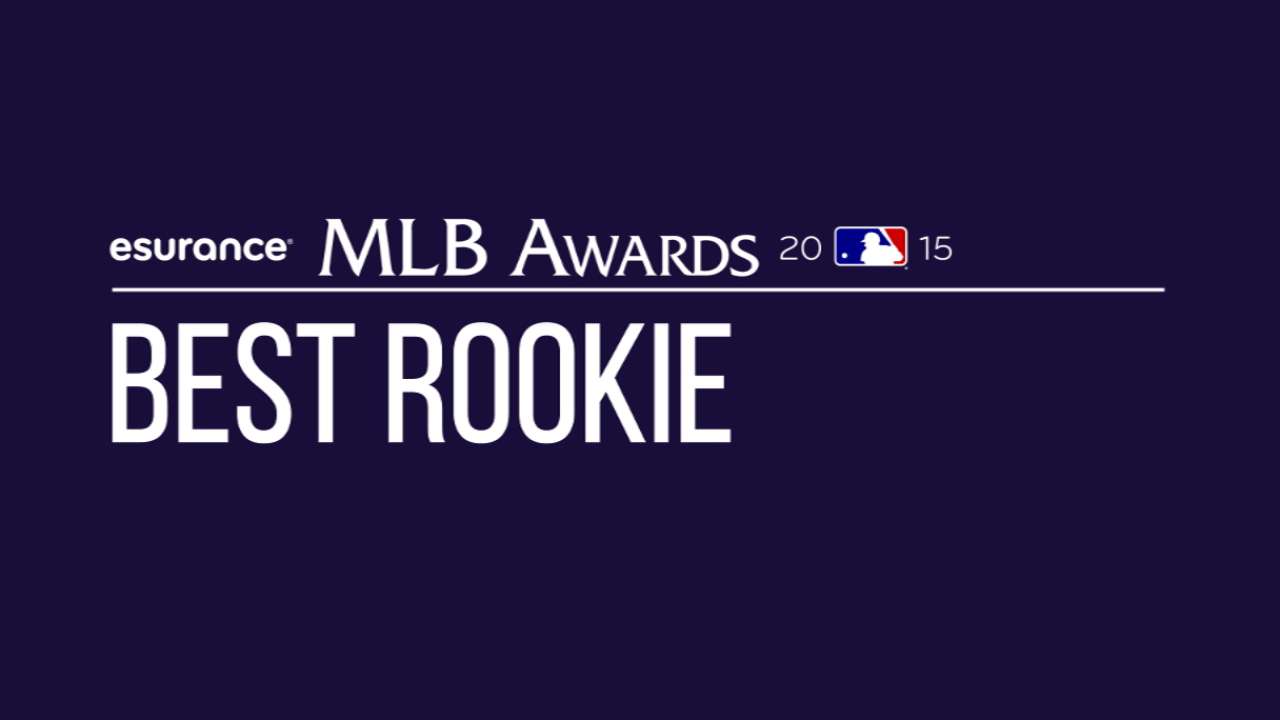 Looking ahead
On Sept. 21, another three categories will be released to the masses. At that point -- with pennant races heading straight for the steepest climb of the stretch run -- you can help determine the season's best Defensive Player, Breakout Player and Bounceback Player.
Then, hours away from the official start of the postseason on Oct. 6, a slew of social media and highlight-driven categories will go up for vote. At this time, you will be asked to put on your pop culture hats. And guess what? YOU (or someone you know) may be up for an award, as nominees for Best Player-Fan Interaction will also be made public.
Two days later, on Oct. 8, the best Managers and Executives of 2015 will hit the page. And shortly following the Fall Classic's final out, nominees for the grand finale category -- Best Major Leaguer, Postseason -- will become known.
So sit back -- nah, stand up -- and help us determine the best of the best of 2015.
Zachary Finkelstein is an editor for MLB.com. This story was not subject to the approval of Major League Baseball or its clubs.