MLB.com Columnist
Terence Moore
Breaking down the NL MVP candidates
While eight players are worthy of consideration, Harper soars above the rest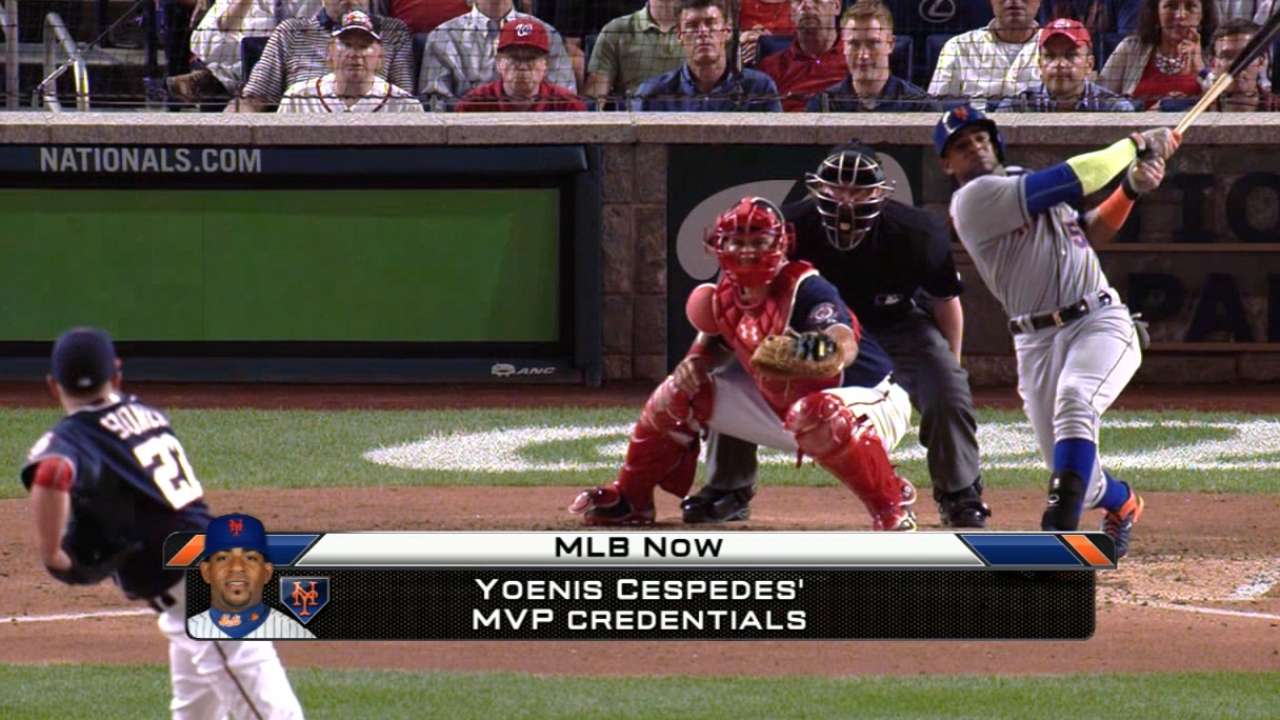 You can make the case for so many folks regarding this year's National League Most Valuable Player Award (actually, just go with Bryce Harper), and here's an example: Yoenis Cespedes. If the Mets didn't acquire this Pied Piper of a slugger before the non-waiver Trade Deadline, they'd have been struggling to make the playoffs instead of surging atop the NL East.
Call it the "Fred McGriff factor." Despite future Hall of Fame pitchers Greg Maddux, John Smoltz and Tom Glavine, the 1993 Braves reeked midway through that season. More specifically, they were a mess at the plate and in the standings.
Then along came a July trade for McGriff from the Padres, and during his first game with a tomahawk across his chest, he ripped a home run that sparked the Braves to a 52-18 finish. Not only that, their division featured the Giants ending with 103 victories, but the Braves rode McGriff's career-high 37 homers and clutch bat to 104 victories.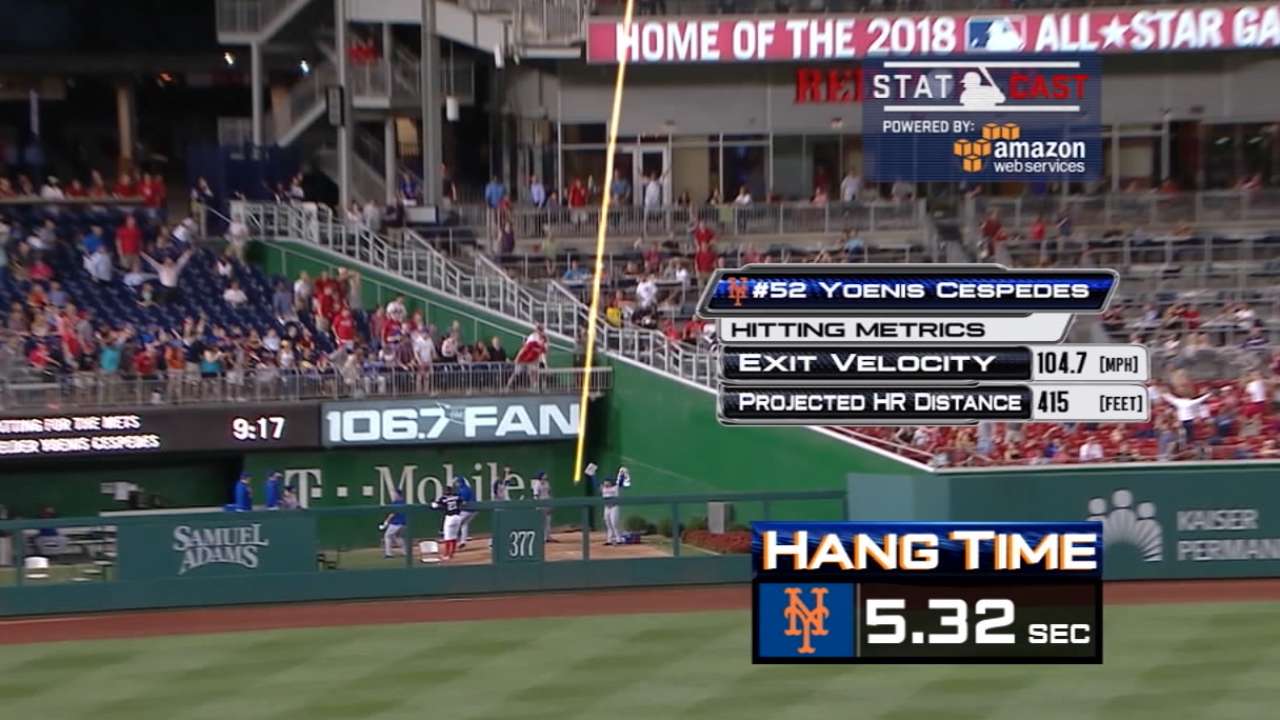 See where I'm going? Cespedes is this year's version of McGriff, and McGriff's second-half heroics in 1993 were such a catalyst for the previously listless Braves that when it came to NL MVP Award voting, Crime Dog finished …
Fourth? Yep. Barry Bonds, who eventually captured seven NL MVP Awards, grabbed his third in four years in his first season with the Giants. Given that historical precedence -- and the wealth of strong NL MVP Award candidates this season -- Cespedes is the eighth-best pick as top player in the Senior Circuit.
The seventh best? Well, as I go in reverse order during this countdown to No. 1, I'll make things simple: The seventh- and sixth-best choices are pitchers, who not my preferred choice for league MVP awards. We're talking about Zack Greinke and Clayton Kershaw, the stifling duo of the Dodgers. While Kershaw is 13-6 with a 2.15 ERA, Greinke is 16-3 with a 1.68 ERA. Greinke gets the edge over Kershaw, even though Kershaw leads the Major Leagues in strikeouts (259) and innings pitched (201). But here's the bottom line: pitchers have their own yearly prize called the Cy Young Award, which means they rarely -- if ever -- should win a league MVP award. That's especially true during a season such as this one, with so many everyday players as wonderful candidates.
Like No. 5 on the list.
It's Paul Goldschmidt, the first baseman for the D-backs who never has a season that is less than superb. In addition to another smooth year with the glove, he is hitting .317 with 27 home runs and 97 RBIs. Only the Rockies' Nolan Arenado has knocked in more runs in the NL than Goldschmidt, and Goldschmidt is among the Major League leaders in walks and on-base percentage.
The D-backs aren't doing much in the standings, though. They are 67-73 to sit 13 1/2 games behind the NL West-leading Dodgers, and they also aren't a factor in the league's Wild Card race. So much for Goldschmidt. Just as I'm not huge on pitchers challenging for MVP Awards, I feel the same regarding everyday guys with outstanding years for average (or worse) teams.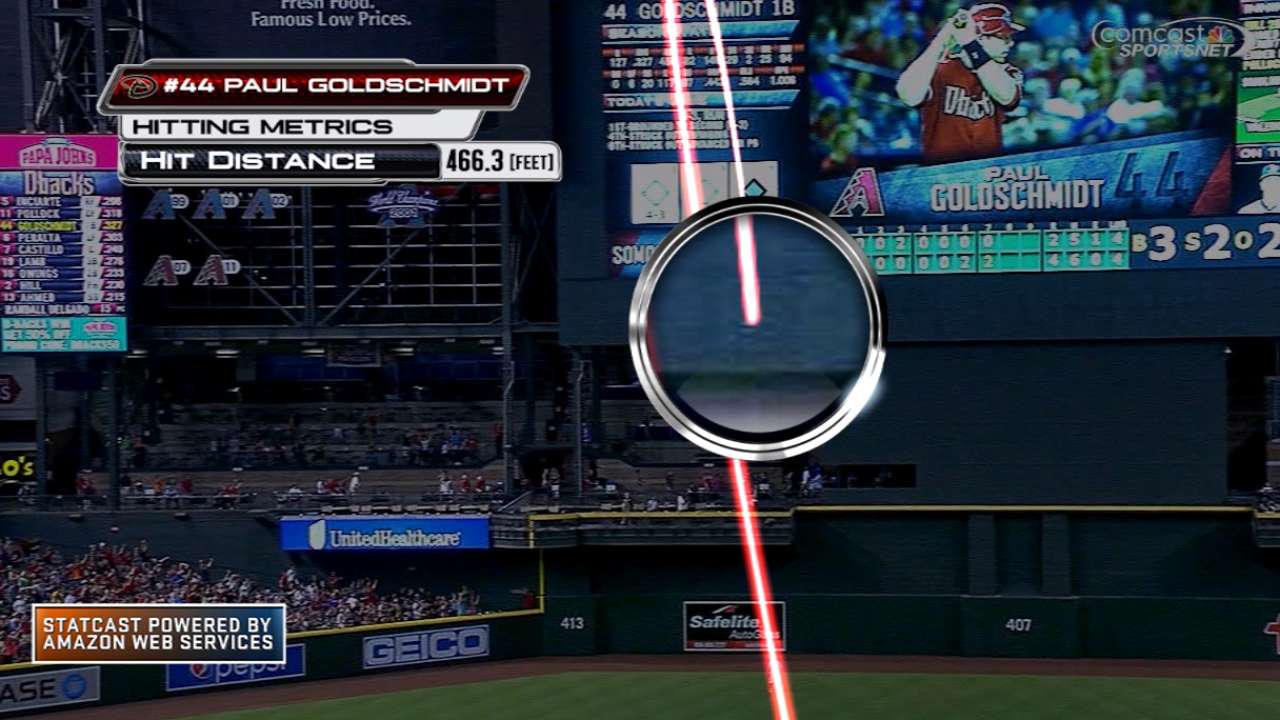 Andre Dawson was the exception to my rule. In fact, neither I nor most folks using common sense had a problem with The Hawk winning the 1987 NL MVP Award with the last-place Cubs. Not after he led the Major Leagues in RBIs with 137, tied for baseball's top spot in homers with 49, grabbed the seventh of his eight Gold Glove Awards in the outfield and won the Home Run Derby.
Joey Votto has been pretty good this season, but he isn't vintage Dawson, which is why Votto is just the fourth-best NL MVP Award candidate. Harper (there's that man again) at 9.0 and Goldschmidt at 7.5 are the only position players who rank higher than Votto at 7.0 in the Major Leagues in Wins Above Replacement. Only Harper's .467 on-base percentage surpasses Votto's .460. In addition, Votto leads the Major Leagues in walks with 123. And if all of that isn't enough, he has a .317 batting average, 27 homers, 71 RBIs and plays solid defense at first. For the last-place Reds.
No wonder Andrew McCutchen gets the edge over Votto and Goldschmidt for third in the NL MVP Award race. McCutchen's Pirates are 2 1/2 games ahead of the Cubs for the league's top Wild Card spot, and they still have a decent shot at catching the NL Central-leading Cardinals with just a 4 1/2-game deficit. The key to the Buccos' success is McCutchen, their gifted center fielder when it comes to defense, offense and leadership.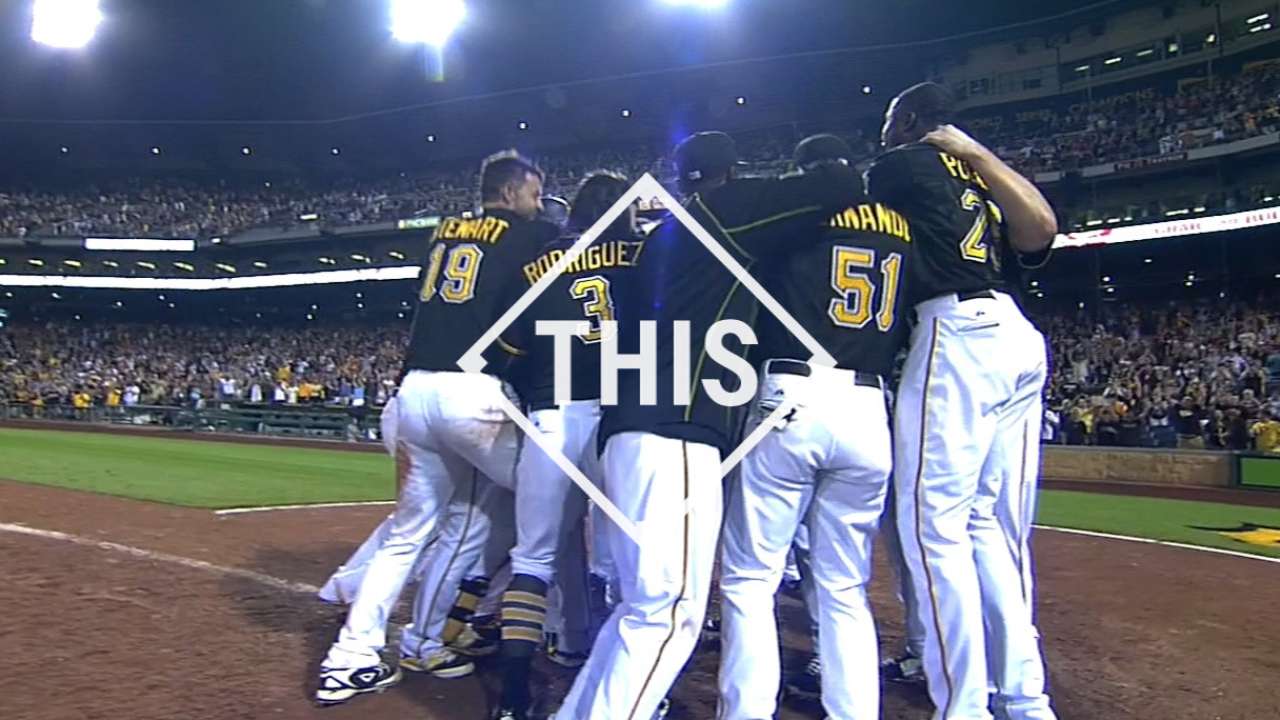 The numbers don't tell the whole McCutchen story. After all, he doesn't have the batting average of most of the other NL MVP Award candidates (.299), and he has just 22 homers. But his 90 RBIs rank fourth in the NL, and most of them came in the clutch. He also has those intangibles.
Which brings us to Anthony Rizzo. He's our No. 2 guy in the NL MVP Award race, and here's why: At 26, he is the "old man" among the position players on a roster whose strength revolves around the superb pitching tandem of Jake Arrieta and Jon Lester and a trio of gifted rookies (Kris Bryant, Addison Russell and Kyle Schwarber). Those pitchers and those new players have helped the Cubs surge to a nine-game lead for the second NL Wild Card, but none of this works without Rizzo.
Just like that of McCutchen, Rizzo's significance with his team goes beyond the usual data: .285 batting average, 29 homers and 88 RBIs. Cubs manager Joe Maddon is seeking to rest players down the stretch, but he said one of them likely won't be Rizzo, who has an RBI in 37 of his past 39 games.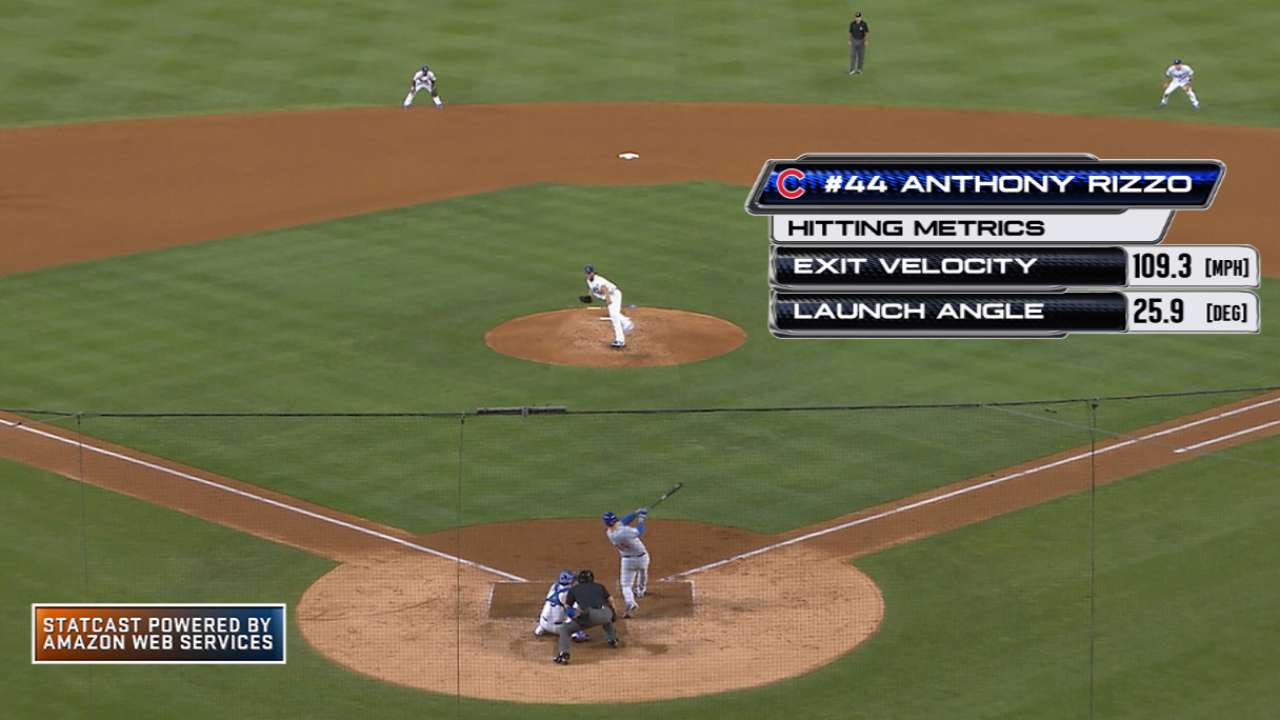 "There are really no tough matchups for him, if he really needed a day [off]," Maddon told reporters this week. "But you saw the plays he's made at first base, the hits -- all that stuff is important to us. That's the one position [where] we don't have another replacement who can play like him."
Sounds like the NL MVP Award winner to me.
Except there is Harper, and the Nationals outfielder leads the NL in batting average (.336), runs scored (104), on-base percentage (.467), slugging percentage (.657) and OPS (1.124). He also is second in the league in total bases with 295 (to Arenado's 310) and third in homers with 36 (to Arenado's 38 and to Carlos Gonzalez's 37).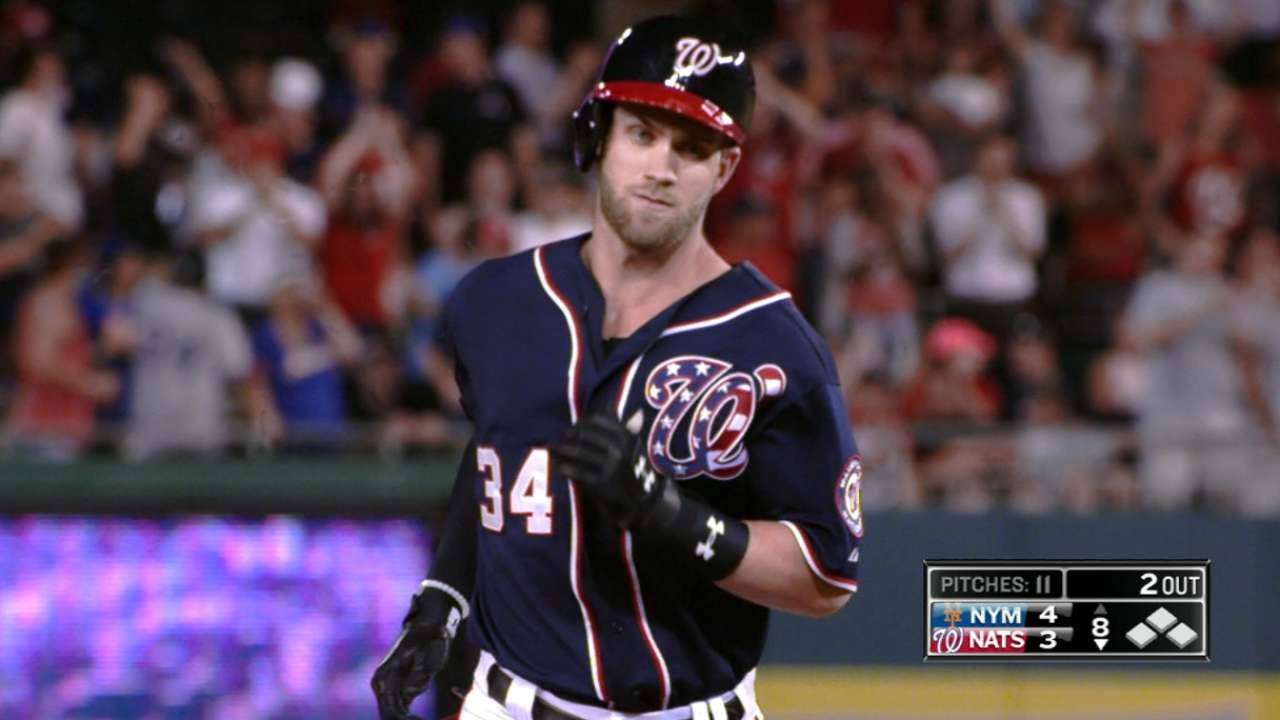 If those things aren't enough, Harper's Nats still had a pulse entering September in pursuit of the Mets in the NL East.
It's Harper, Harper, Harper. Case closed.
Terence Moore is a columnist for MLB.com. This story was not subject to the approval of Major League Baseball or its clubs.