Right shoulder sprain ends Feldman's season
Astros will continue using a five-man rotation for the rest of the year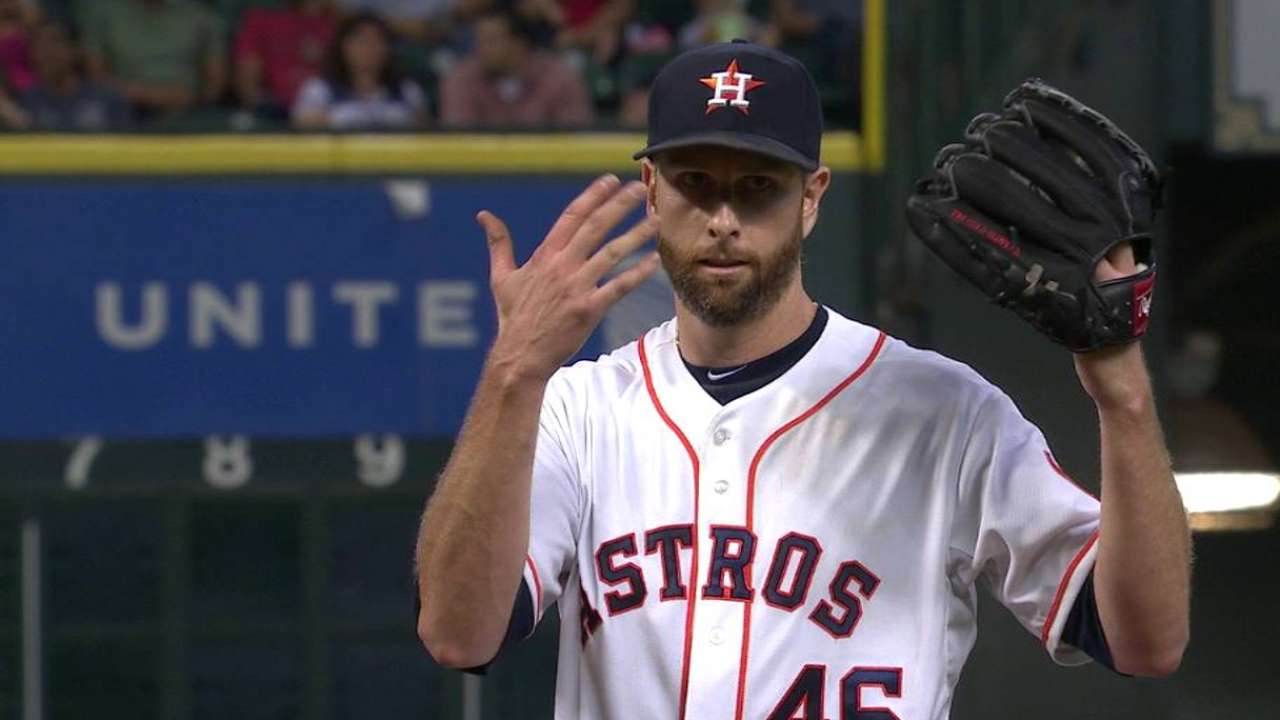 ANAHEIM -- Losing veteran right-hander Scott Feldman for the rest of the season -- including the playoffs -- with a sprained right shoulder is a blow to the Astros, but their starting-pitching depth has them in good position to absorb the loss.
The Astros announced Friday that Feldman has been diagnosed with a sprained right shoulder, ending his season. He underwent an MRI on his shoulder Thursday in Houston, which revealed the injury, and he will begin a rehabilitation program to get healthy for the 2016 season.
Feldman left his Sept. 1 start against the Mariners with shoulder discomfort, and he had a pair of cortisone shots. Overall, he was 5-5 with a 3.90 ERA in 18 starts this year, and he was terrific in August, allowing four earned runs in 27 innings.
"It's definitely not the news I was looking for or hoping for, especially [when] the team is actually really good this year and looking to do some fun things in October and hopefully into November," Feldman said. "I won't get to be a part of it on the field, which obviously [stinks], but I'll still be around and rooting for everybody. Hopefully I can still make a couple of road trips and things like that.
"From a personal standpoint, it's a bummer [that] I won't get to be out there playing, but [I'll] try to keep positive and try to make sure that I'm ready for a full season next year. And [I'll] just do everything I can to make sure I have a speedy recovery and start my throwing program on time and all that kind of stuff."
The Astros had been using a six-man pitching rotation in August in an effort to ease the workload of some of their starters, and they've been back to a five-man rotation -- Dallas Keuchel, Collin McHugh, Lance McCullers Jr., Scott Kazmir and Mike Fiers -- since Feldman went down.
"This is where the depth really kicks in and is valuable for a team, when one of your starters you relied on heavily the last two years is not able to finish the season," general manager Jeff Luhnow said. "We're pleased at the development of the young guys like McCullers and [Vincent] Velasquez, and the acquisition of Fiers becomes bigger as a result of this, but we feel like we've got the depth to finish out the season and perform in the playoffs -- should we be fortunate enough to get there. Hopefully we get a healthy and productive Scott back next year."
Feldman, in the second year of a three-year, $30 million deal, wasn't sure what his rehab process would entail beyond some initial rest. He plans on joining the team next week in Arlington for a crucial series against the Rangers to support his teammates.
"When I came out of the game, I knew my shoulder hurt a lot, and usually if you've been pitching for a little while, you've got to pitch with some pain," Feldman said. "I knew this was something I couldn't pitch with, and that worried me a little bit -- just knowing the difference between something that was just a little sore or tight and actually something where I needed to come out of the game. That's always a little worrisome, for sure."
Brian McTaggart is a reporter for MLB.com and writes an MLBlog, Tag's Lines. Follow @brianmctaggart on Twitter and listen to his podcast. This story was not subject to the approval of Major League Baseball or its clubs.