NY native Betances reflects on heartache of 9/11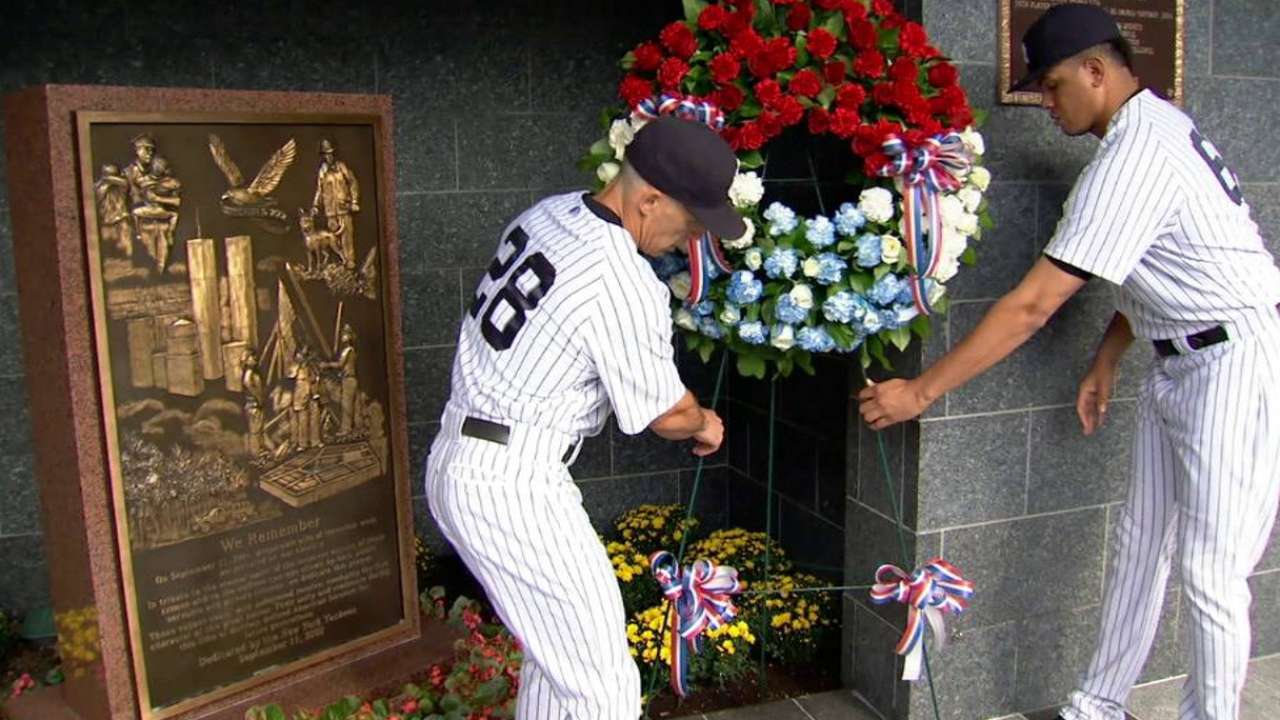 NEW YORK -- On the morning of Sept. 11, 2001, Dellin Betances had just found a seat in his homeroom class at East Side Community High School in lower Manhattan. Less than three miles away, the world changed at 8:46 a.m., and the future Yankees star will never forget what happened next.
"I remember I was in eighth grade at the time, just starting the day at school," Betances said. "I remember some the kids started saying, 'Oh my gosh, the World Trade Center, the Twin Towers, one of the towers just got hit.'"
Betances remembers a teacher trying to keep the children calm as they all sought details about the disaster, which was later learned to be American Airlines Flight 11 striking the North Tower. At 9:03 a.m., United Flight 175 hit the South Tower, and the word "terrorism" was heard in Betances' classroom.
"I just remember my teacher kind of put her head down, just in shock of everything that was happening," Betances said. "She was trying to hold it together at the same time. We didn't know what to think. We were younger, we didn't know what was going on."
Betances' school was located at 12th Street and Avenue A, and though classes were quickly cancelled, students were not allowed to leave until a parent arrived. His mother, Maria, hurried to the school to pick up her 13-year-old son, and they made the 15-minute walk back to the Lillian Wald Houses together.
"At this point, all you hear is sirens everywhere; cops, fire department, you kind of see the smoke," Betances said. "You smell the smoke and you see everybody walking because none of the subways are working. It was pretty crazy."
Betances said he spent the rest of that day in their apartment, crowded by family members glued to the television for updates on what was happening to their city. There were many prayers uttered within their walls, and life in Manhattan would not return to a semblance of normalcy for quite some time.
"We didn't have school for a couple of weeks, if I remember right," Betances said. "We had just started school and then the next thing you know, we didn't have classes. Everybody was just nervous because things kept happening. It was nerve-racking. Your parents tried to make the best out of the situation."
Betances said that he tries not to think about that day, but each year, when Sept. 11 nears on the calendar, he said that he offers a silent prayer.
"I always pray for the families that were involved, and how fortunate we are to be here," Betances said. "I wasn't as close as some other people were. I was just glad that I didn't watch it [happen in person]. You watched it on TV, and that was enough."
Bryan Hoch is a reporter for MLB.com. Follow him on Twitter @bryanhoch, on Facebook and read his MLBlog, Bombers Beat. This story was not subject to the approval of Major League Baseball or its clubs.