Tigers impeded in basepath adventures
Two runners caught at home on close plays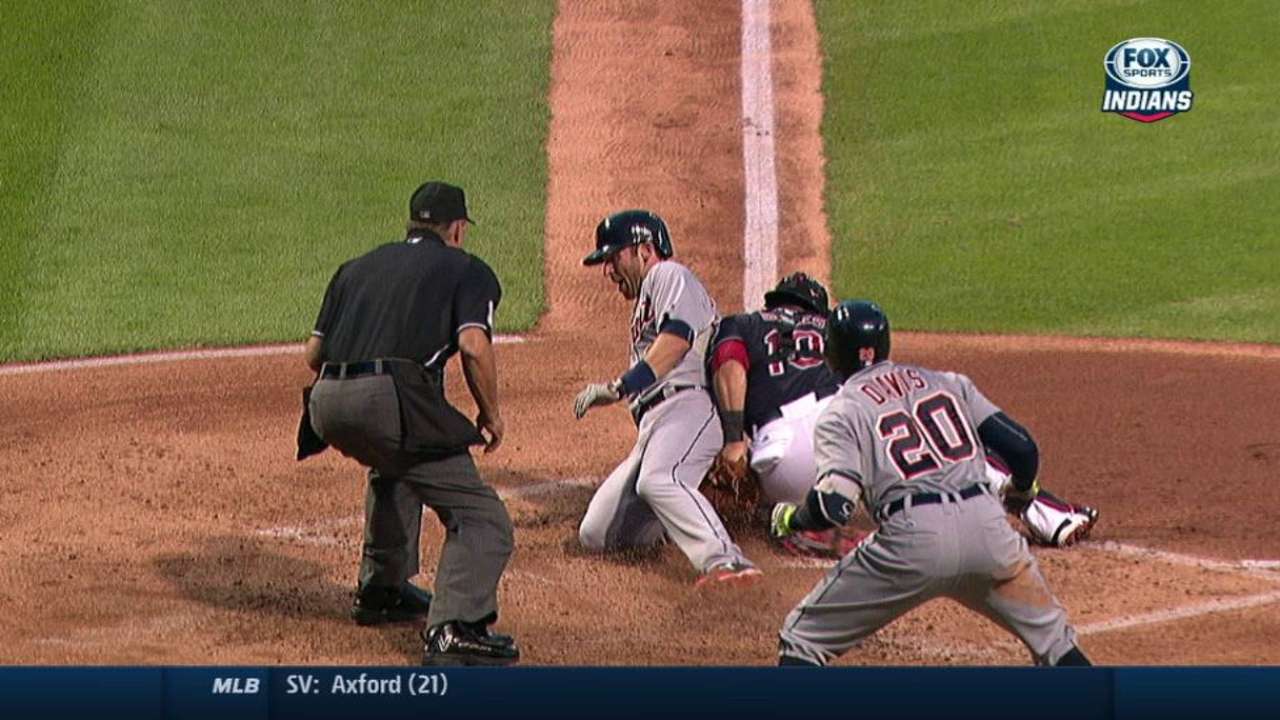 CLEVELAND -- A comeback's only a comeback once you take the lead.
The Tigers scratched and clawed their way back from a pair of two-run deficits in the final three innings of Thursday's 7-5 series-opening loss in Cleveland, but came up short.
What kept the comeback from being fruitful, rather than fruitless?
A trio of outs on the bases, two of which came at home, certainly didn't help. Two of those outs came in the same inning, on the same play, way back in the second. When Anthony Gose singled to right field and scored James McCann, he took a wide turn toward second base and was caught in a rundown when Indians first baseman Carlos Santana cut off the throw of right fielder Lonnie Chisenhall. While a rundown ensued, Andrew Romine attempted to dart home and was thrown out at the plate after Gose was tagged out.
Later, in the seventh, in the midst of their first two-run comeback, Gose was again thrown out -- this time at the plate -- by Chisenhall from right. Ian Kinsler singled to score Romine, tying the score at 3 with two outs, but Gose, trying to give the Tigers a lead, was cut down in a close play at the dish.
Both plays were close enough to be challenged. The Tigers came out on the wrong end each time.
"Those two plays were different, quite frankly," Tigers manager Brad Ausmus said. "On the second one, I didn't even think there would be a play at the plate because Gose is so quick. Give credit to Chisenhall for making a great play."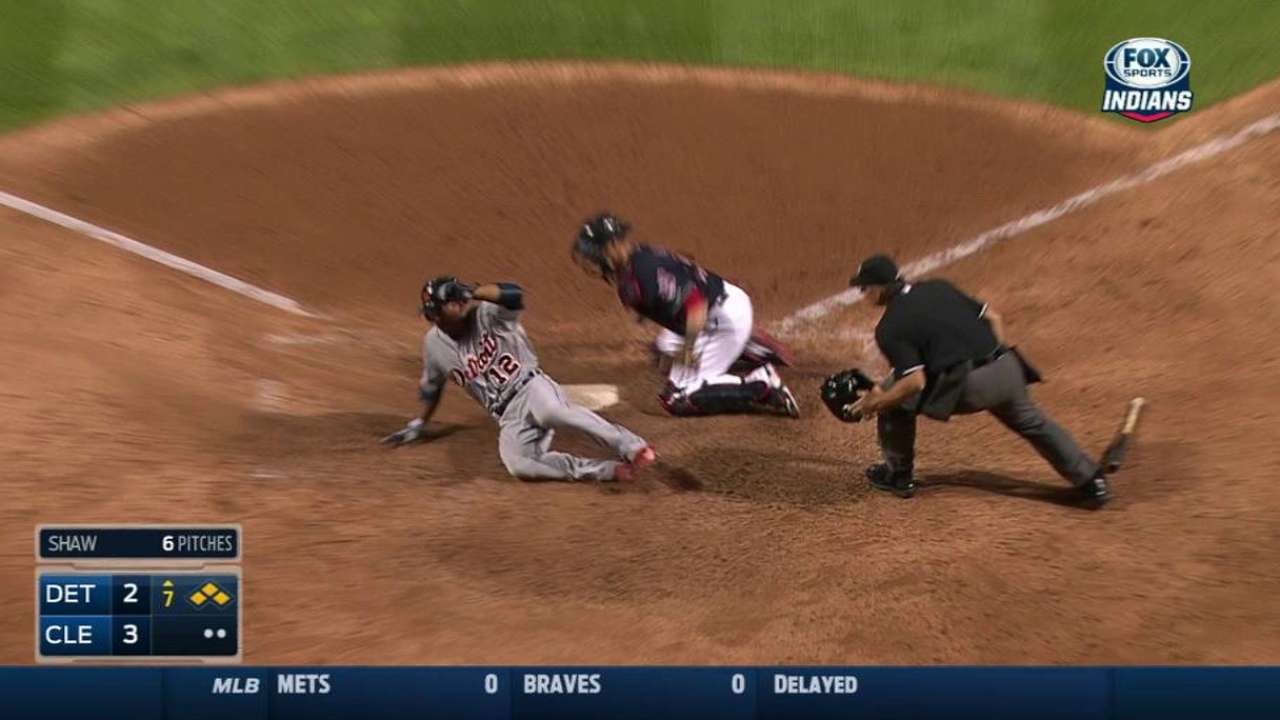 Just a couple good plays, or over-aggressive baserunning?
"I think there was a little bit of both," Ausmus said.
And although it wasn't an out, another costly baserunning issue occurred the following inning, when a plodding Victor Martinez was unable to score what would have been the go-ahead run from first base on a double, high off the left-field wall, by Nick Castellanos.
"We discussed [pinch-running for Victor]," Ausmus said. "The concern was that his spot [in the batting order] would come back around. So I just decided against it. We don't really have a burner over there on the bench either."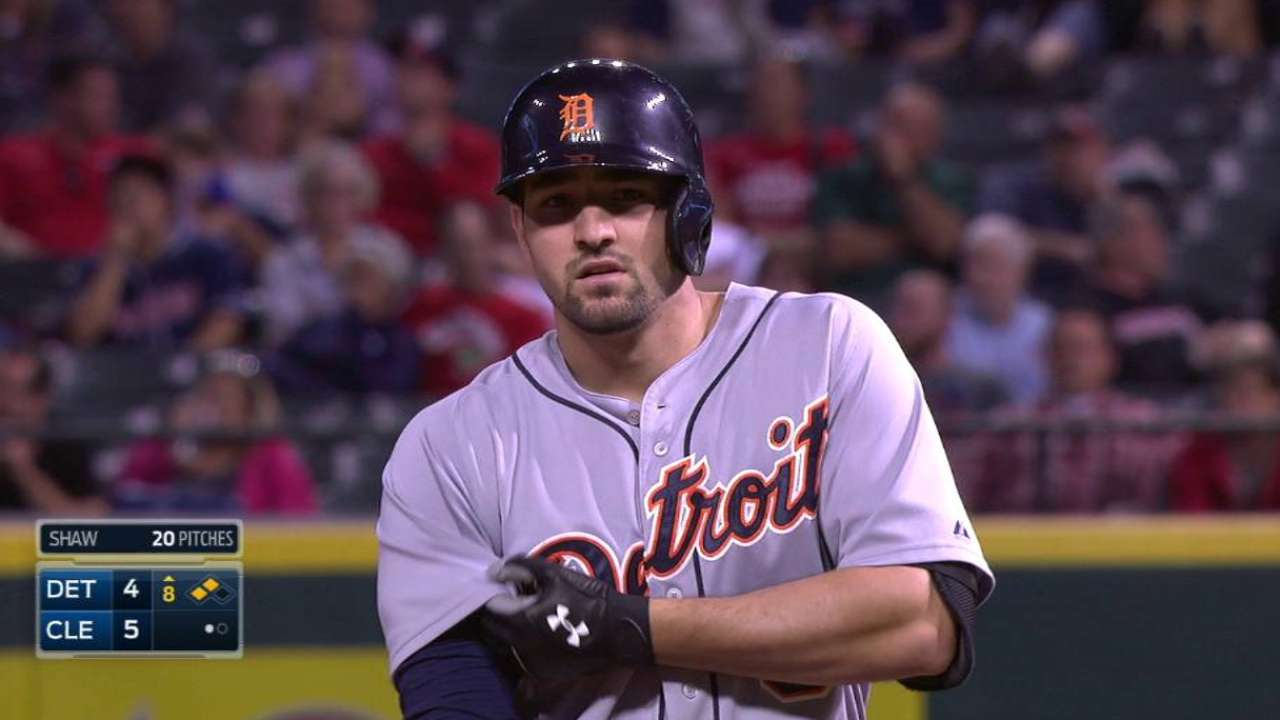 The baserunning may have prevented the Tigers from taking the lead, but it was the bullpen, in something of a recurring theme for Detroit this season, that gave it back to Cleveland.
Blaine Hardy threw Michael Brantley the one pitch in his arsenal that Brantley hadn't yet seen -- the changeup. Brantley saw it and deposited it into the right-field seats for his second go-ahead home run in as many innings.
The homer was the eighth allowed by a Tigers reliever against the Indians this season. The collective unit has posted a 5.29 ERA in 47 2/3 innings against their division rivals this season, with 17 walks to 31 strikeouts.
"We come out and play to win," McCann said. "We're not just rolling over and dying by any means. It was good to see the fight, but those guys in the clubhouse over there are doing the same thing, and they found a way to get it done."
August Fagerstrom is an associate reporter for MLB.com. This story was not subject to the approval of Major League Baseball or its clubs.