Amaro interwoven into Phillies' fabric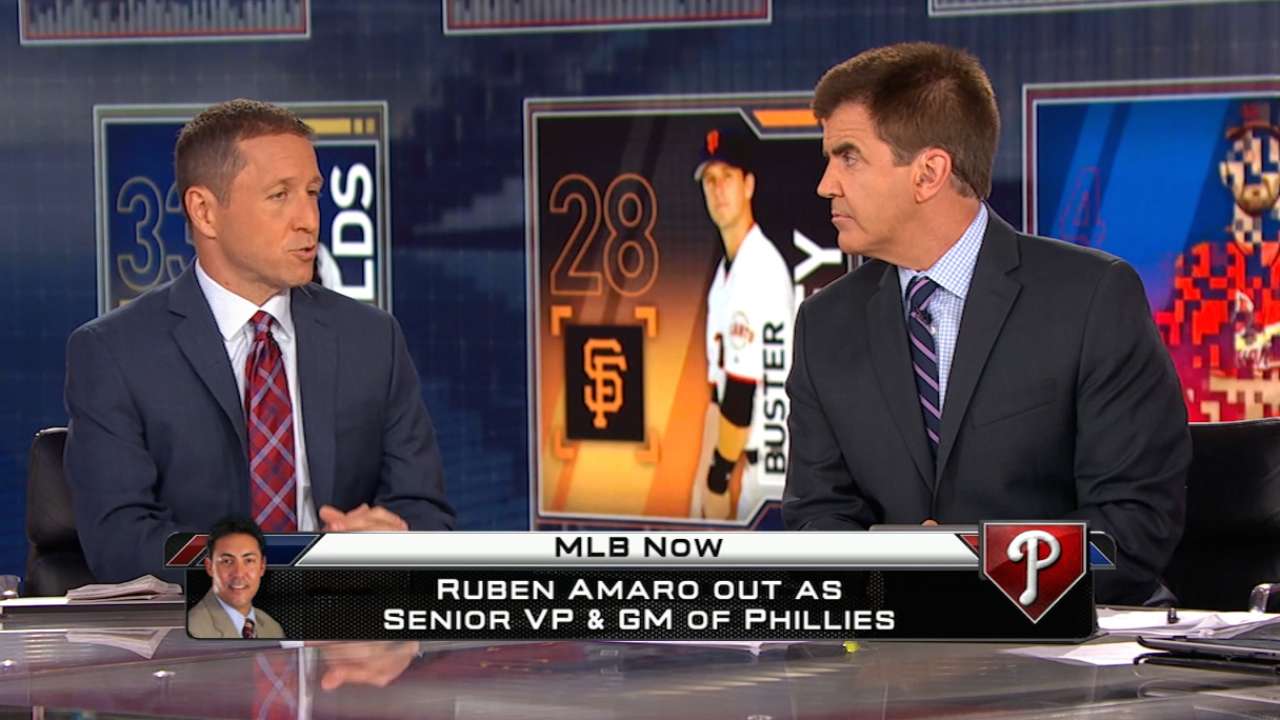 PHILADELPHIA -- If it had just been a matter of not renewing the contract of the general manager, that would have been difficult enough. It's never easy to let somebody go who has been part of the organization for years.
The Phillies' decision to part ways with Ruben Amaro Jr. was particularly fraught, however.
Amaro was more than a guy who kept a high-profile seat warm for seven years. He was more than the steward of a team that won three division titles on his watch.
Phillies seek 'wide spectrum' of GM candidates
He wasn't perfect. He made some moves that backfired, which made him just like every other general manager who ever lived. Otherwise, incoming club president Andy MacPhail wouldn't already be making calls, putting together a list of potential replacements.
To an unusual degree, though, he was part of the fabric of the team. He was born in Philadelphia. His father, Ruben Sr., played and coached for the Phillies. He grew up and attended prep school in the area. He also played for the Phillies.
He was a bat boy for the 1980 Phillies team that became the first in franchise history to win the World Series. He was the assistant general manager for the 2008 club that became the second to take home the big, shiny trophy.
John Middleton, spokesman for the ownership group, acknowledged all that.
"Moments like this are also occasions for reflection and gratitude," he said. "Ruben has a long history with the Phillies. He started as a bat boy in 1980, continued as a player. He was here for our glory years. As an assistant general manager [under Ed Wade and Pat Gillick] for 10 years, he helped and contributed significantly to rebuilding the organization from the depths of the late '90s that led to the World Series championship in 2008.
"I'd like to thank Ruben personally for his years of service to the organization ... and for the scores of memories that all of us will cherish forever."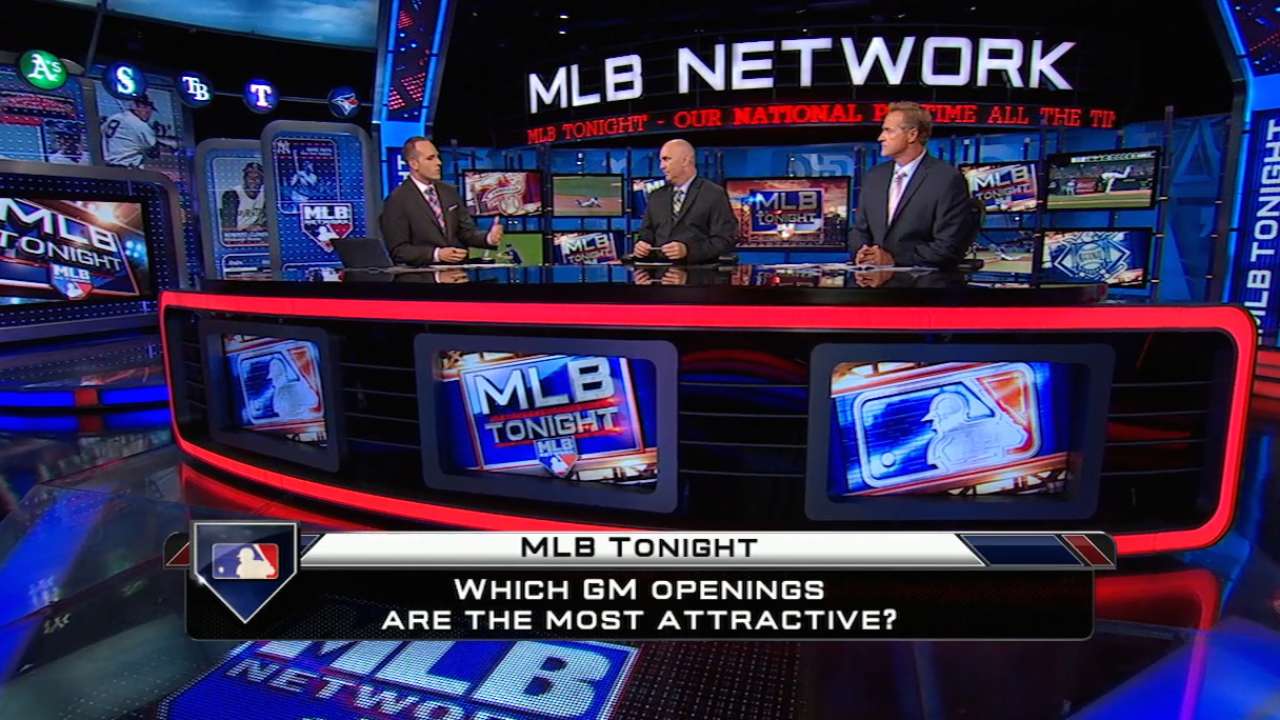 As a general manager, Amaro will be remembered for being bold and unafraid. He signed free agents like Raul Ibanez, Pedro Martinez, Jonathan Papelbon and A.J. Burnett and traded for big names such as Roy Halladay, Roy Oswalt, Hunter Pence and Michael Young. He traded for, traded away and re-signed Cliff Lee. He assembled the Four Aces rotation in 2011.
He did all that with the full encouragement of the organization that was trying to win as many championships as possible with a once-in-a-lifetime nucleus that included Chase Utley, Jimmy Rollins and Ryan Howard.
Mackanin, Phils' operations staff likely to return
And if it had worked, if the Phillies had won one or two more World Series, who knows? Maybe the inevitable decline that followed because of the draft choices that were lost as compensation for free agents signed and the prospects traded away for established stars wouldn't have been viewed as harshly.
But after losing the World Series to the Yankees in 2009, Amaro's first year on the job, the Phillies never got that close again. They were eliminated by the Giants in the NLCS in 2010 and by the Cardinals in the NLDS in 2011, despite winning a franchise-record 102 games. Now they have baseball's worst record.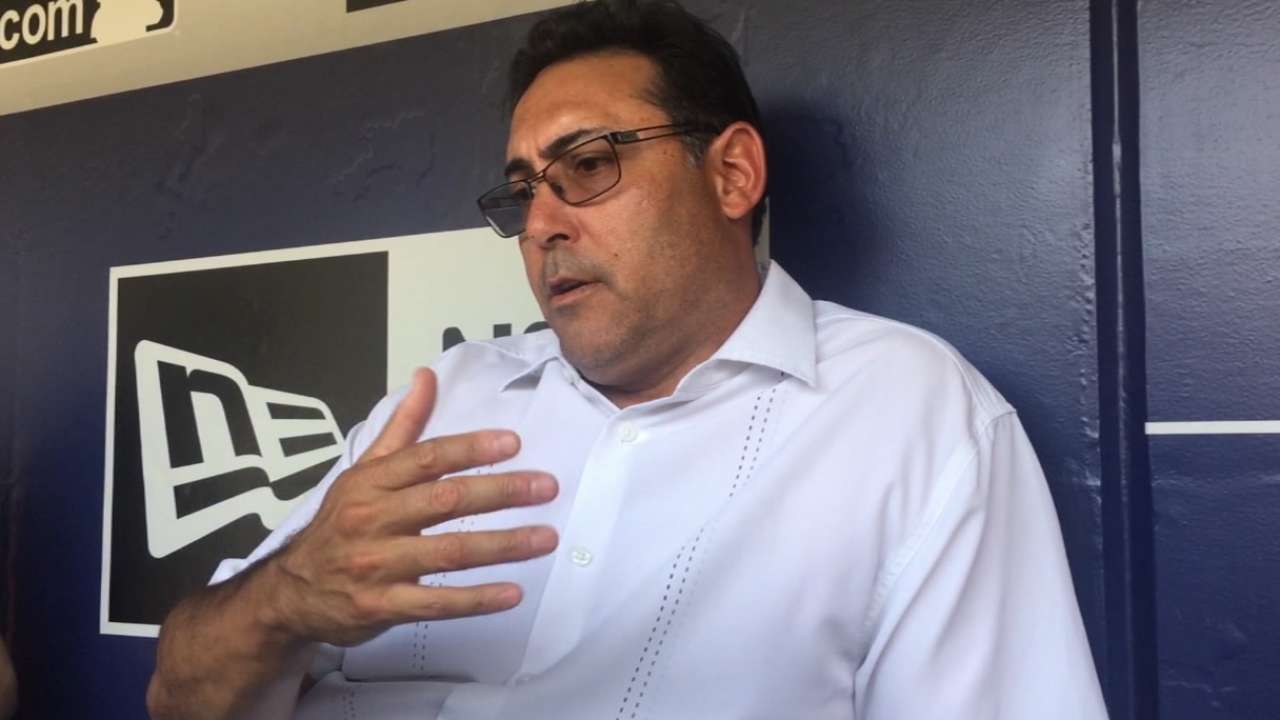 Once the franchise decided to rebuild, Amaro did an impressive job of restocking the farm system. MacPhail, who came on board in July, was impressed by what he was able to get back for Hamels, Utley, Jonathan Papelbon and Ben Revere.
"Ruben Amaro ran that Trade Deadline. Ruben Amaro didn't do anything that Ruben Amaro didn't want to do," MacPhail said. "I think, in fairness, it would be difficult to make the case that Ruben Amaro did not do good work when I was here. I think he really did."
None of that changed the ultimate decision in the end. But that, and Amaro's long history with the organization, did make that choice more difficult than it normally would have been.
Paul Hagen is a reporter for MLB.com. This story was not subject to the approval of Major League Baseball or its clubs.