Elder blanksman: Colon sets scoreless record
Mets starter hurls 31 consecutive innings without a run, longest for 42 or older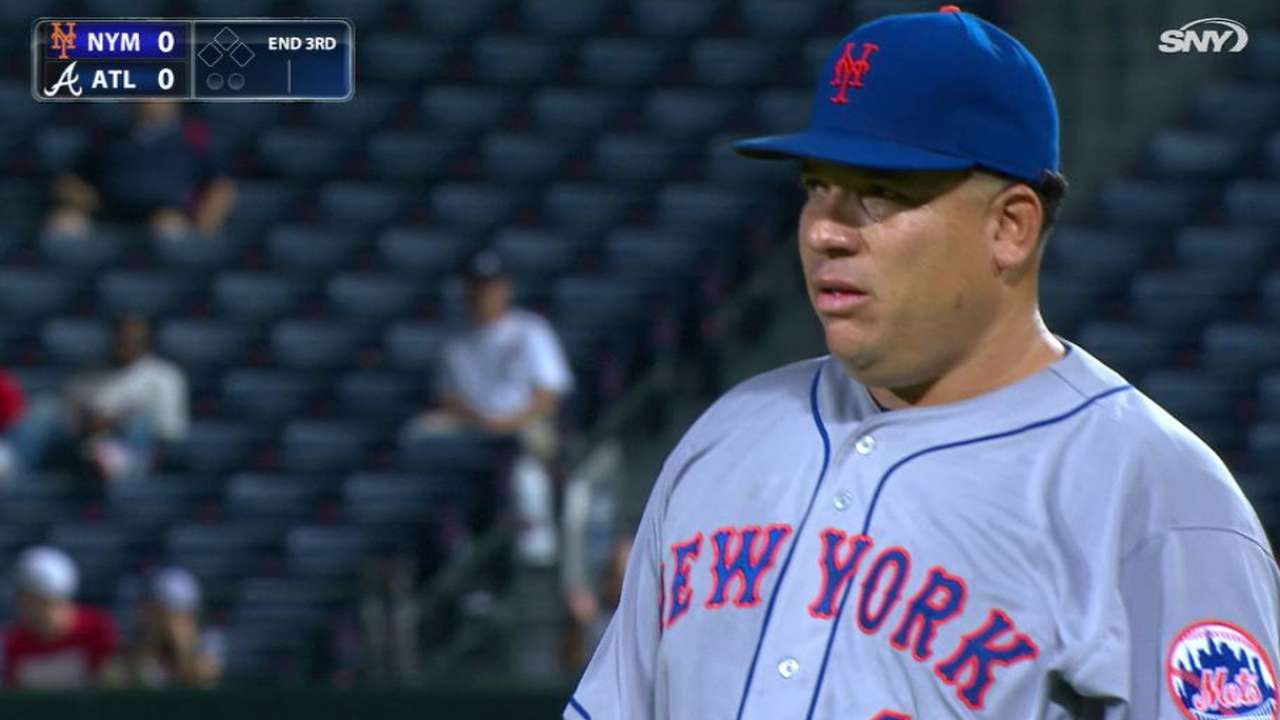 ATLANTA -- New York Mets starter Bartolo Colon set a Major League record for most consecutive scoreless innings by a 42-year-old (or older) in Thursday's 7-2 win over the Atlanta Braves, pushing the mark to 31 straight innings before the Braves' Jace Peterson stopped things with a run-scoring triple in the seventh.
Colon, who started the game with a career-best 25-inning scoreless streak, surpassed Warren Spahn and Cy Young, who each had 27-inning streaks. The big right-hander, now 14-11 with a 4.13 ERA, went 6 2/3 innings in his win, was charged with two runs on seven hits, walked one and struck out two.
"I'm really proud. I surprised myself," Colon said through a translator after the game. "I didn't know at this stage of my career I could do that kind of stuff and perform like that. So I'm really happy."
Colon's mark was the longest by a Mets pitcher since knuckleballer R.A. Dickey tossed a franchise-best 32 2/3 innings in 2012.
"He makes our job so much easier back there," said Mets catcher Kevin Plawecki, who drove in three runs in the win. "He knows what he wants to do out there every single time out."
The reigning National League Pitcher of the Week, Colon was coming off a shutout in his last start, a win against the Miami Marlins on Saturday. The big right-hander had made three straight starts without giving up a run, the first time he'd done that in a career that has spanned 18 years.
His 31 straight scoreless innings spanned four starts -- against Philadelphia (twice), Miami and Atlanta -- and a one-inning relief appearance against Boston.
After a rain delay pushed Thursday's game back by two hours and 20 minutes -- it didn't start until 9:30 ET -- Colon stepped onto the mound and picked up where he left off. He escaped from a two-on, two-out jam in the first inning and wasn't threatened again until his scoreless streak finally ended with nobody out in the seventh.
"It didn't really affect me; it didn't really bother me at all," Colon said of the delayed start. "I've been around for too long. Little things like that, I don't really think about it."
He spotted a 90ish fastball with an effective changeup throughout the night and stayed sharp, throwing a first-pitch strike to 16 of the 27 batters he faced. His walked Atlanta slugger Freddie Freeman in the sixth, the first walk he allowed in 68 straight plate appearances, since he gave a free pass to Philadelphia's Ryan Howard on Aug. 31.
Colon's willingness to go with his changeup has been key to his resurgence, according to manager Terry Collins.
"When you're willing to take something off, you're going to get some bad swings, you're going to slow the bat down a little bit and keep the ball in the ballpark," Collins said. "I think it's been a very effective pitch for him the last three or four outings."
John Donovan is a contributor to MLB.com. This story was not subject to the approval of Major League Baseball or its clubs.