No sweat: Rockies match homer feat in heat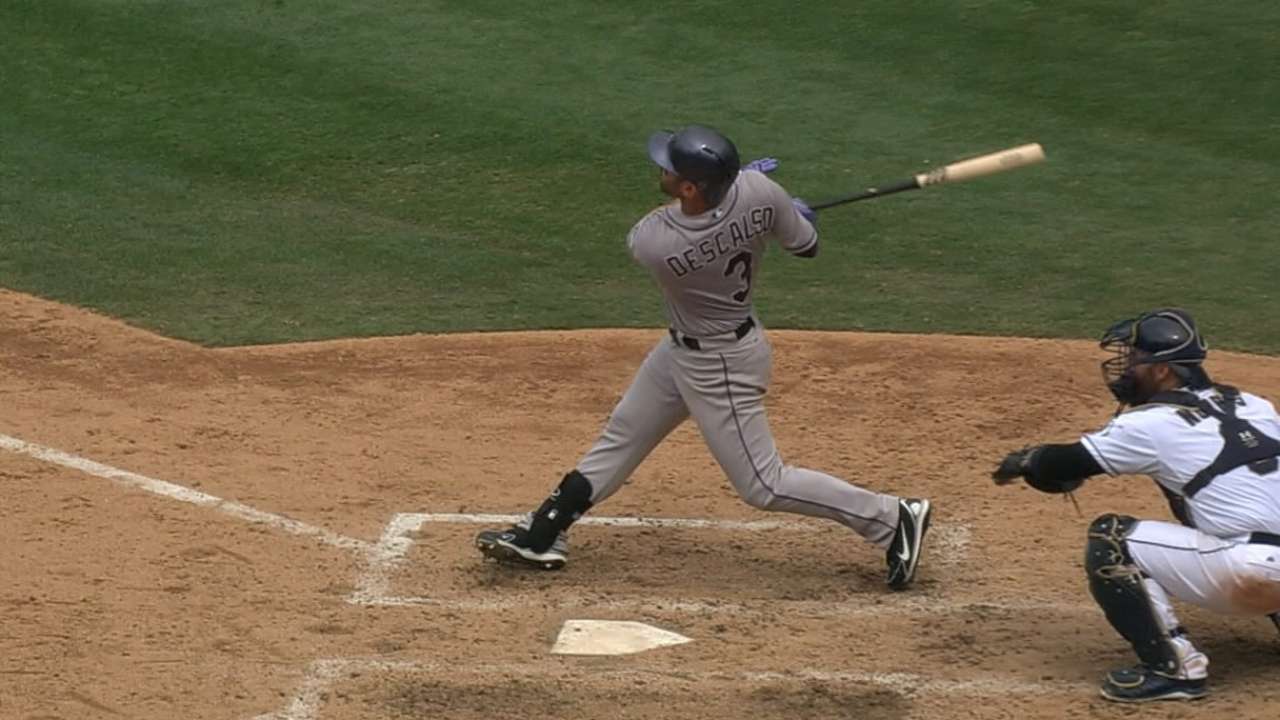 SAN DIEGO -- Although manager Walt Weiss said that the ball usually doesn't carry in humidity, that didn't seem to be the case for the Rockies in Thursday's 4-3 win over the Padres.
First pitch of the game was 93 degrees -- the warmest in Petco Park history -- and Colorado's bats were hot too, as the game marked only the third time in franchise history that the Rockies scored all four runs on four homers.
"We were in Southern California, but it felt like Atlanta," said Nolan Arenado, who got the scoring started with his National League-leading 38th homer in the first.
Daniel Descalso, who started at second base, hit the go-ahead shot in the eighth. Facing San Diego reliever Joaquin Benoit, Descalso's shot to right field on a full-count pitch, which landed a projected 394 feet away from home plate, according to Statcast™, marked his fifth homer of the season and first since Aug. 9 in Washington.
"I was just trying to get on base there, looking for a good pitch to hit," Desclaso said. "He left something up over the plate and I was able to put a good swing on it and drive it.
"I hit really well. This is a big park, but I was pretty sure it was gone."
Nolan Arenado, Carlos Gonzalez and Corey Dickerson all went deep off San Diego starting pitcher Tyson Ross. Thursday marked only the second time in his career that the right-hander allowed three home runs in a game.
"Ross was good. That one, he left a cutter above the plate," Arenado said of his first-inning homer. "He made me look pretty ugly on everything else today. He is a good pitcher."
Arenado has recorded eight home runs so far in the month of September, and he's hit 20 in road games this season. Gonzalez's homer gave him 37 -- one behind his teammate for the NL lead.
"I think we put some good swings on some pitches that were up, and too bad for us there wasn't guys on base when those homers were hit," Descalso said. "We will take four homers, but we would like to get them with guys on base and get some big innings out of them."
Beth Maiman is an associate reporter for MLB.com. This story was not subject to the approval of Major League Baseball or its clubs.