O'Brien gives outfield a shot -- and prefers it
Prospect's transition from catcher to fly-ball catcher proves fruitful in Minors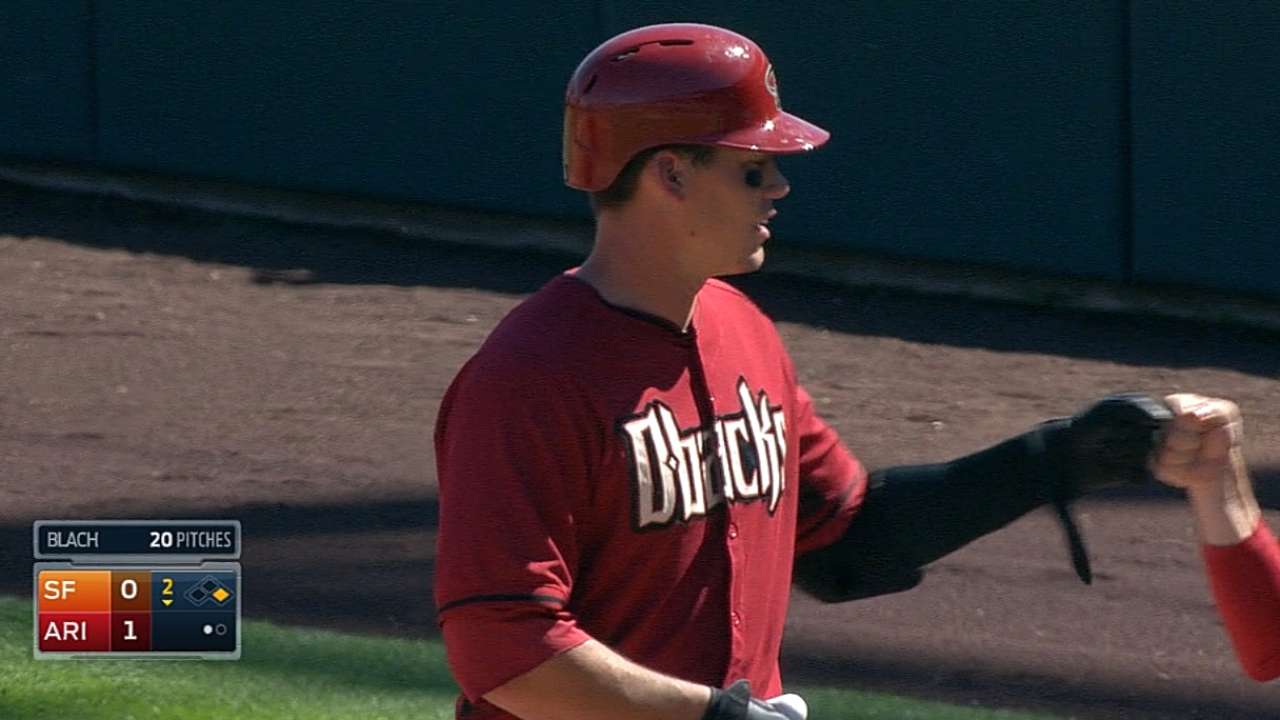 PHOENIX -- After dealing with some throwing issues behind the plate this past spring, the D-backs decided to play catcher Peter O'Brien in the outfield during the first month of the Minor League season.
At the time, they said the idea was to help him get his feet underneath him at the plate without having to focus on catching.
That certainly worked, as he got off to a torrid start at the plate, hitting .383 with an on-base plus slugging of 1.172, impressive even in the hitter-friendly Pacific Coast League.
"When I played out there the first month, I really felt like I made a huge jump in my hitting and getting to know myself a little bit better," O'Brien said. "It just allowed me to slow the game down a little more."
It went so well that he told the D-backs he would prefer to remain in the outfield and not move back behind the plate.
"You come to the field and you don't have as many things to worry about. It's not saying [that catching is] completely gone or completely out of the picture. I still have my stuff, and I still take some reps back there every now and then, but I'm comfortable in the outfield right now."
O'Brien started 11 games behind the plate in 2015 for Reno, four at first base and 101 in the outfield, split almost evenly between left and right fields.
When they acquired O'Brien from the Yankees in exchange for Martin Prado just before the non-waiver Trade Deadline in 2014, they believed his future was as a catcher. The Yankees were not so sure, as they also tried him in the outfield as well as at third and first base.
With a dearth of catching this past spring, the D-backs talked initially about O'Brien possibly winning the starting job before camp opened.
"I think it's a personal decision," D-backs chief baseball officer Tony La Russa said. "We've talked about it. He prefers to play the outfield; that way he can concentrate more on his hitting. We saw enough progress as a defensive player behind the plate that we were excited. So what that means? I don't have a crystal ball. One thing we do have here, and I know he is aware of it, is outfield depth."
With a starting outfield of David Peralta, A.J. Pollock and Ender Inciarte, plus Yasmany Tomas also getting time out there, it's clear that sticking with catching would have provided a clearer path to the big leagues for the 25-year-old.
"It's kind of something you think about," O'Brien said. "But at the end of the day, you can't worry about those things. You just have to go out there, and when you get your opportunity, try to do the best job you can do and just be confident in yourself when you do get a chance."
Steve Gilbert is a reporter for MLB.com. Read his blog, Inside the D-backs, and follow him on Twitter @SteveGilbertMLB. This story was not subject to the approval of Major League Baseball or its clubs.