Ross victimized by stomach bug, homer bug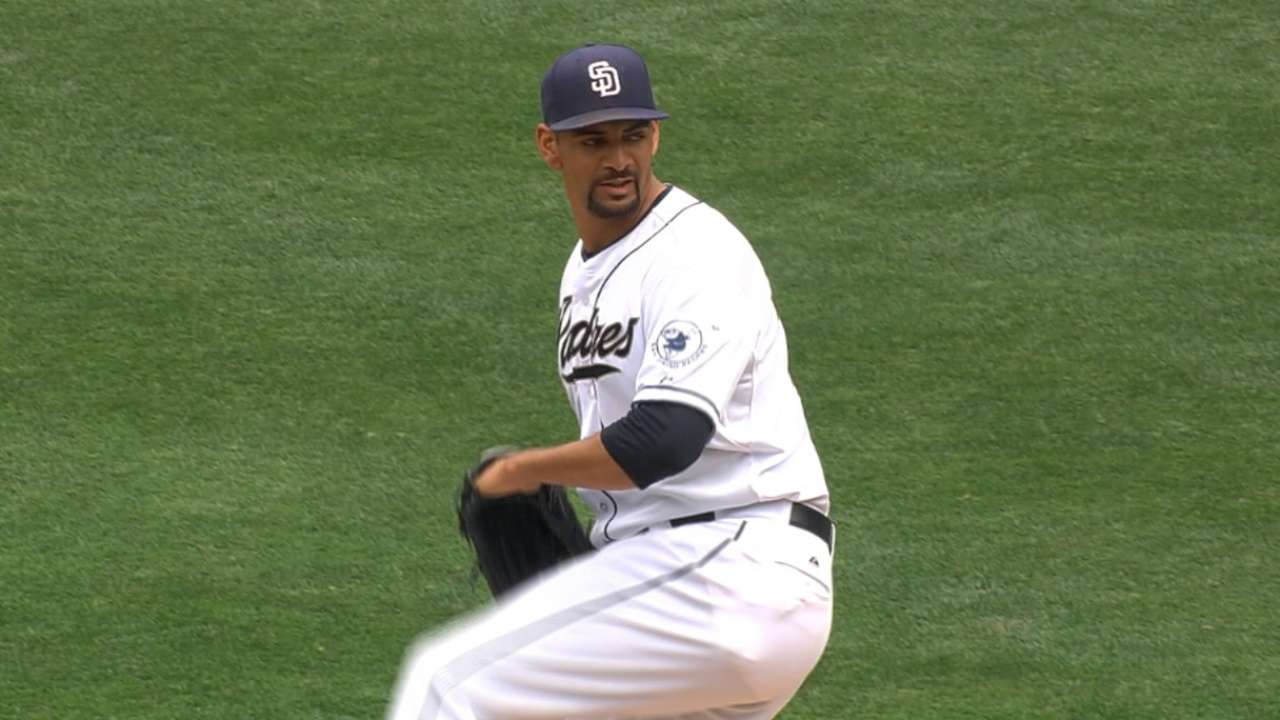 SAN DIEGO -- The Padres' Tyson Ross wasn't himself Thursday, and he proved it by allowing three home runs.
"I didn't feel great physically out there," Ross said. "But I tried to grind it through, tried to make pitches and keep us in the ballgame."
What he couldn't do was avoid an upset stomach and Rockies home runs. Colorado hit three of them off a wobbly Ross en route to a 4-3 victory over San Diego on Thursday. He allowed just one other hit in his seven innings.
"There is a little bug going around, and I'm not feeling great," Ross said. "But I only get a chance to throw every five days, so I'm going to give it my best shot."
Long shots were tough to find on his stat sheet before Thursday. Ross was touched for just five homers this season over a span of 171 innings. No pitcher had a lower home runs per nine innings (0.26) rare than the righty.
But Nolan Arenado stroked his National League-high 38th in the first, and Corey Dickerson went deep in the sixth. Carlos Gonzalez stayed one behind Arenado in their race for the NL homer title when his effort in the seventh inning landed in the left-field seats. The last blast tied the game and stayed with Ross.
"Overall I was happy in how I threw the ball, except for giving up the lead there in the seventh," he said.
Appropriately, the Rockies went ahead in the eighth on their fourth solo homer, Daniel Descalso's knock coming off reliever Joaquin Benoit.
It was clear on a sticky San Diego afternoon that baseballs had extra giddy-up.
"We were in Southern California, but it felt like Atlanta," Arenado said. "To win like that was kind of weird, but we will take it."
What the Padres couldn't seize was a key hit. They went 0-for-5 with runners in scoring position; twice they had bases loaded with no outs and came away empty.
That, as much as the Rockies' home runs, prevented Ross, who had six strikeouts, from notching his third win in four starts.
"For [Ross] to do what he did today -- he gave us a chance to win," interim manager Pat Murphy said. "I thought he was good. We just didn't take advantage of what we could have under the circumstances."
Ross didn't want to squander a chance to pitch. Even if his stomach was doing somersaults in the heat.
"They hit balls that were up in the zone and over the plate," he said. "That tends to happen regardless of the weather."
Jay Paris is a contributor to MLB.com. This story was not subject to the approval of Major League Baseball or its clubs.