Cardinals' slide continues as Reds tie modern MLB record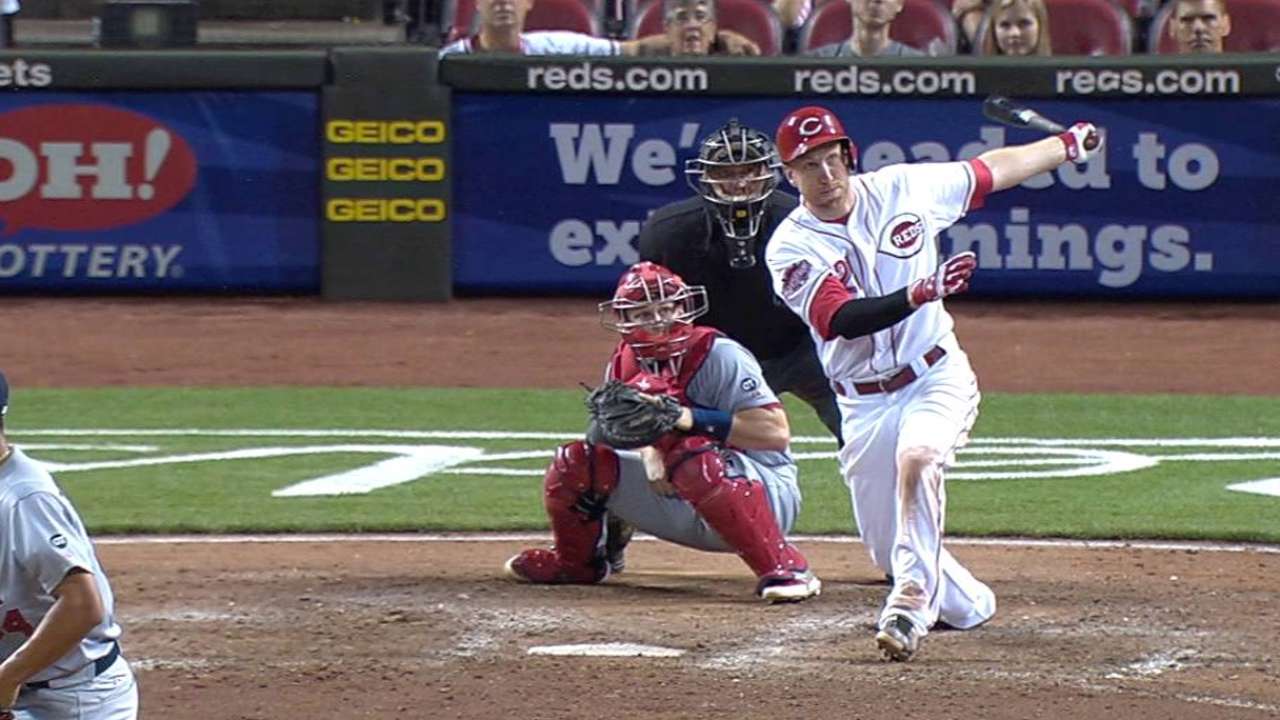 CINCINNATI -- By tiptoeing around six walks over his five-inning start on Thursday, John Lamb stalled the Cardinals' pursuit of moving closer to clinching a postseason berth and secured his first Major League win in an 11-0 Reds victory to open a four-game series at Great American Ball Park.
The loss was St. Louis' sixth in its last eight games, a stretch during which the team has been outscored, 52-20. The Cardinals' lead in the National League Central stayed at 4 1/2 games, however, after the Pirates fell to the Brewers in 13 innings.
"It's going to happen," Jason Heyward said of the team's recent funk. "You have to give the game credit sometimes. We're not complacent. We're not making excuses. We understand it's still one day at a time. Sometimes it's just not going to happen all the time."
It took Lamb six starts and plenty of damage control in this one to earn his first victory on a night when the Reds tied a modern Major League record by starting a rookie pitcher for the 41st consecutive game. Lamb walked the first two batters he faced and six in total, but sprinkled in enough strikeouts (six) and other timely outs to keep the Cardinals from scoring.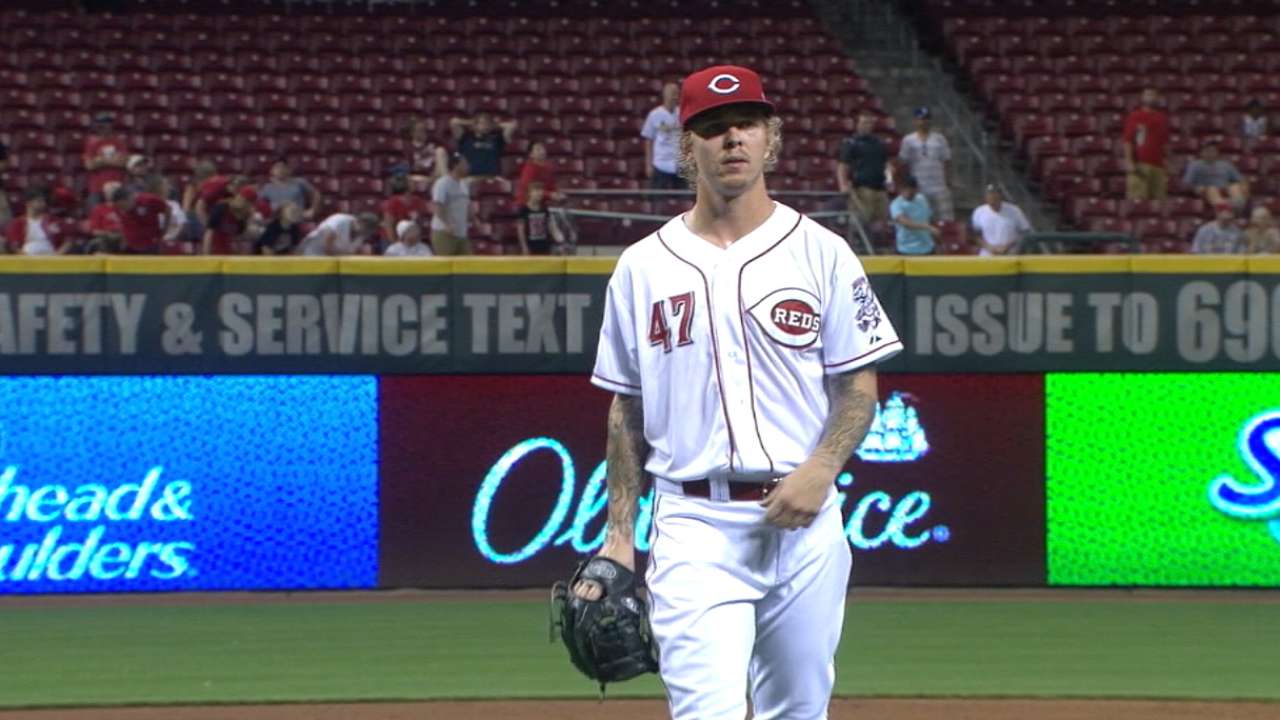 "It wasn't pretty," Reds manager Bryan Price said. "He was very erratic with his command but he found a way to stay in there for five innings without giving up any runs and gave us a chance to take a lead and secure his first win."
In the meantime, the Reds jumped on Cardinals starter Jaime Garcia for six runs over 4 1/3 innings. Garcia, who hadn't allowed more than four runs in any of his previous 15 starts, gave up his first two on forceouts before the Reds broke out with a four-run fifth that chased him from the game. Joey Votto and Todd Frazier delivered run-scoring doubles in that frame.
Over the team's last eight games, the Cardinals' starting pitchers have posted a 6.80 ERA and averaged five innings a start.
"We've been so good all year," Garcia said. "We just have to continue to battle and grind through this last month. We, as starting pitchers, try to do our job of keeping us in a ballgame and giving us a chance to win."
MOMENTS THAT MATTERED
0-2 count? No problem for Votto: During the pivotal fifth inning with runners on first and second, Votto was in an 0-2 count when Garcia fired a fastball up and in. Votto had to hit the deck and once he got up, he shot a glare toward the mound. Garcia's next pitch missed in the dirt before Votto fouled the next two pitches and took Ball 3. With the count full and choked up on the bat, Votto lifted an RBI double to the left-field corner that Stephen Piscotty just missed catching. Votto's streak of reaching safely extended to 29 games when he walked in the first inning.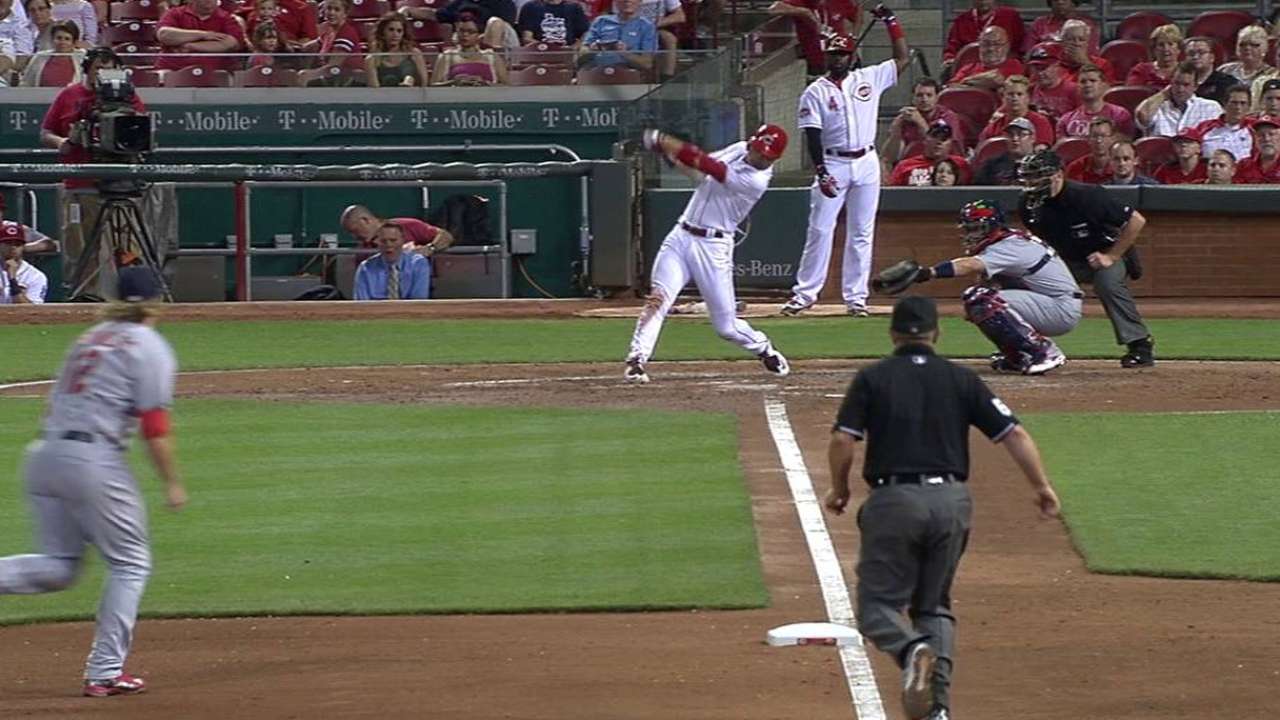 "He's obviously locked in right now and taking good at-bats," Cardinals manager Mike Matheny said of Votto. "That kind of changes the game a little bit. We're trying to get Jaime through him there, and then see if we can limit the damage. But the first couple guys get on in that situation, already we have our backs up against the wall."
Reynolds wrapped up: Lamb's nine-pitch strikeout of Mark Reynolds to strand the bases loaded in the third was a microcosm of the offense's night. Reynolds, who paused the at-bat for one point after fouling a ball off his left foot, couldn't help the Cards capitalize in an inning where they drew two walks and tallied two singles. Over Lamb's five innings, the Cardinals stranded seven runners, grounded into two double plays and went 0-for-4 with runners in scoring position. More >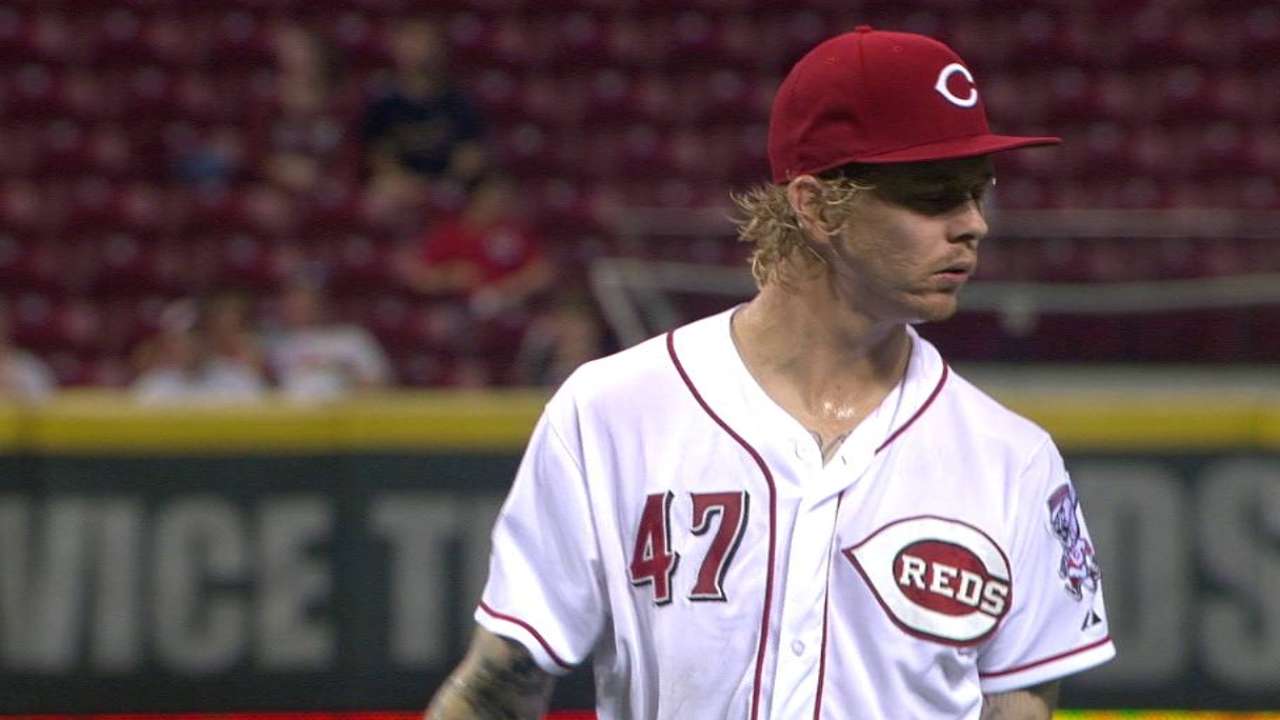 "[Lamb] got himself into that corner where he knew he would have to be on the plate and made a big pitch," Price said. "He had to gut out a fastball there, 3-2, with the bases loaded. It was really a game breaker for him. I don't know if I could allow him to face another hitter if he walked in a run there." More >
Double the fun: Later in the fifth, Frazier sent an RBI double through the gap in left-center field to finish Garcia's night. For Frazier, it was his 40th double of the season, making him the only player in the Majors this season to have at least 40 doubles and 30 home runs. Frazier added a two-run homer to left field in the eighth, his 32nd of the season. It gave him 83 RBIs, a new career high.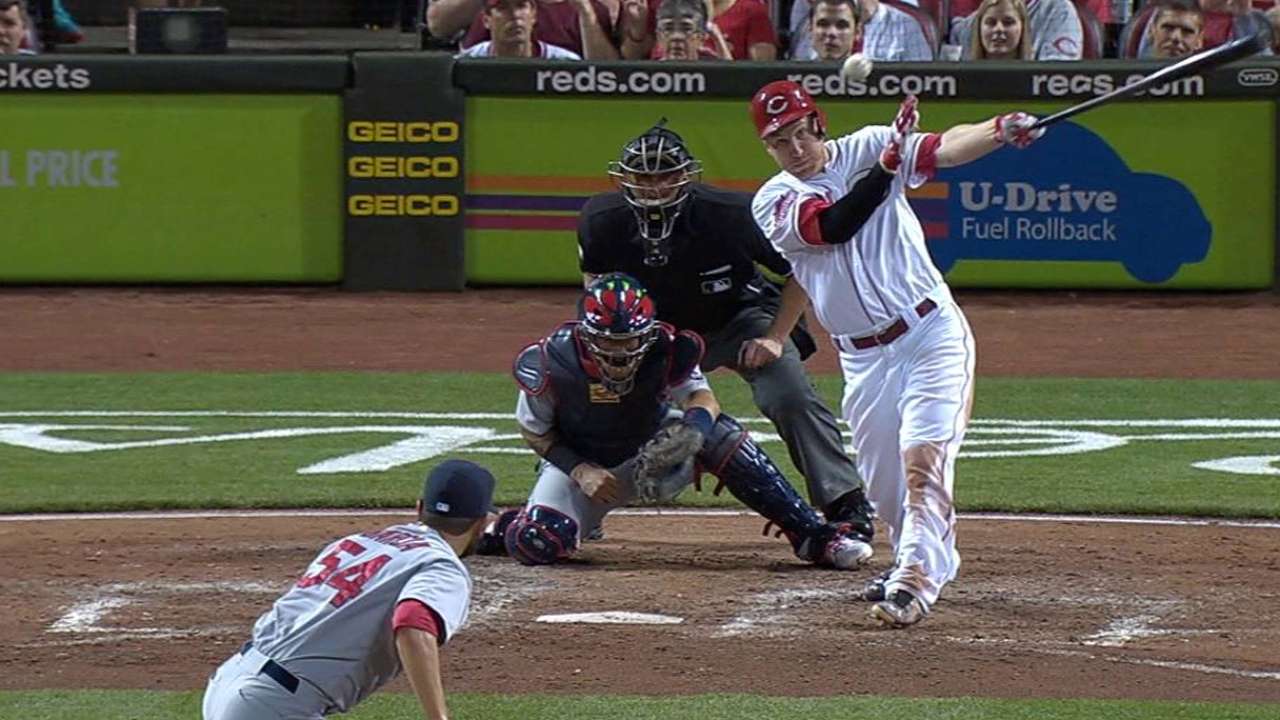 "It's pretty cool," said Frazier, who had been struggling for much of the second half before a recent heat up. "It goes to show you how humbling this sport this is. Through it all, I'm still having a pretty good season. I'm very proud to get 40 doubles and over 30 homers now. I just have to keep on rolling. My swing is feeling good."
In and out: Brandon Phillips' 12th home run of the season was nearly robbed by Jason Heyward, who, after tracking the ball to the right-field wall and timing his leap, had the ball hit in his glove before it bounced out into the stands. Though the blast came with the Cardinals already trailing 6-0, Heyward was frustrated enough with his miss to swat at the warning track dirt when he came up empty.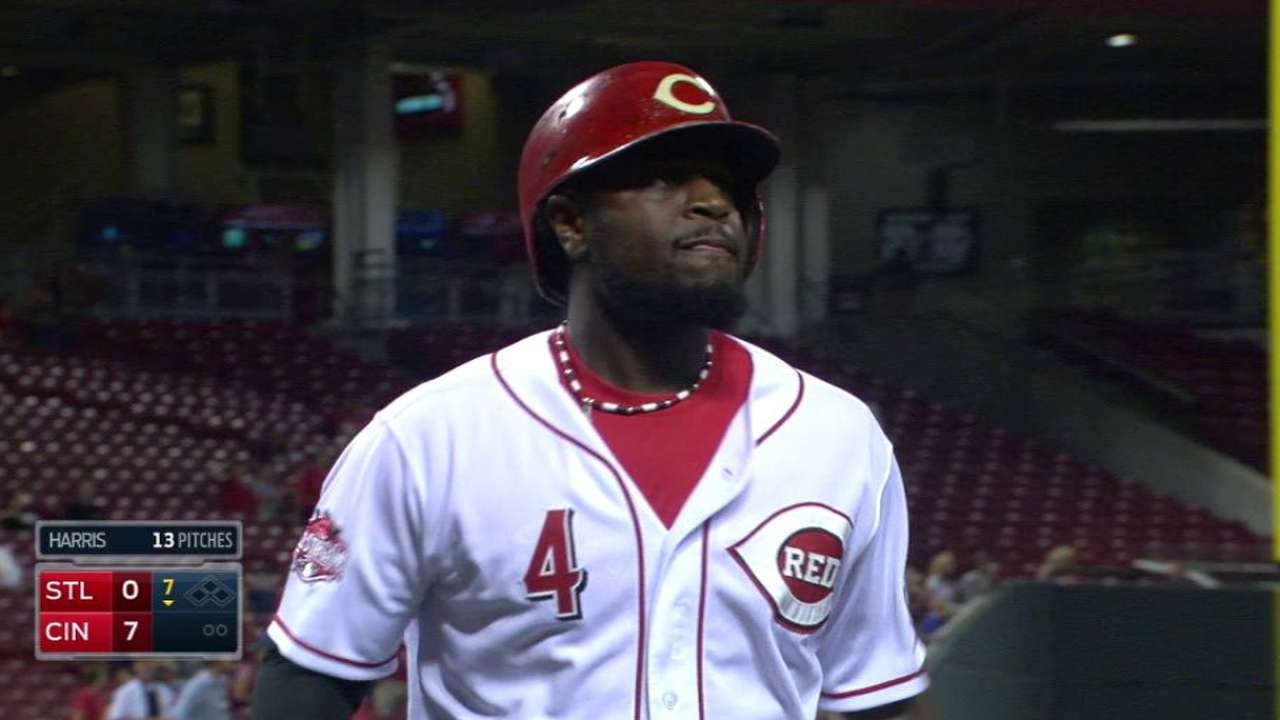 "It was tough to squeeze," Heyward said. "The wall, the way it is here, is tough to climb if you don't have time to climb it because of how stiff it is. It's a little higher. It hit my glove, so that made me feel even worse."
QUOTABLE
"They're rare for anybody. Not everybody is Toronto, scoring 15 runs three or four days in a row. Most teams aren't. When you get a chance to win and win big and get some of the younger guys in there to pinch-hit or for some defense, it's always a good thing." -- Price on the blowout win.
SOUND SMART WITH YOUR FRIENDS
Lamb became the first opposing starter to ever hold the Cardinals scoreless while allowing six walks in a start that didn't extend past the fifth. The last time the Cardinals were shut out when drawing six walks in a game was against the Pirates on Sept. 3, 2007.
BIG CITY MAKES A RETURN
Matt Adams, out since May 26 with a right quadriceps strain, returned to the field with a pinch-hit at-bat in the ninth inning. He looped a pitch down the right-field line for a single, after which he was replaced by a pinch-runner. While Adams is still working toward regaining full mobility, he will be a bat off the bench for the Cardinals.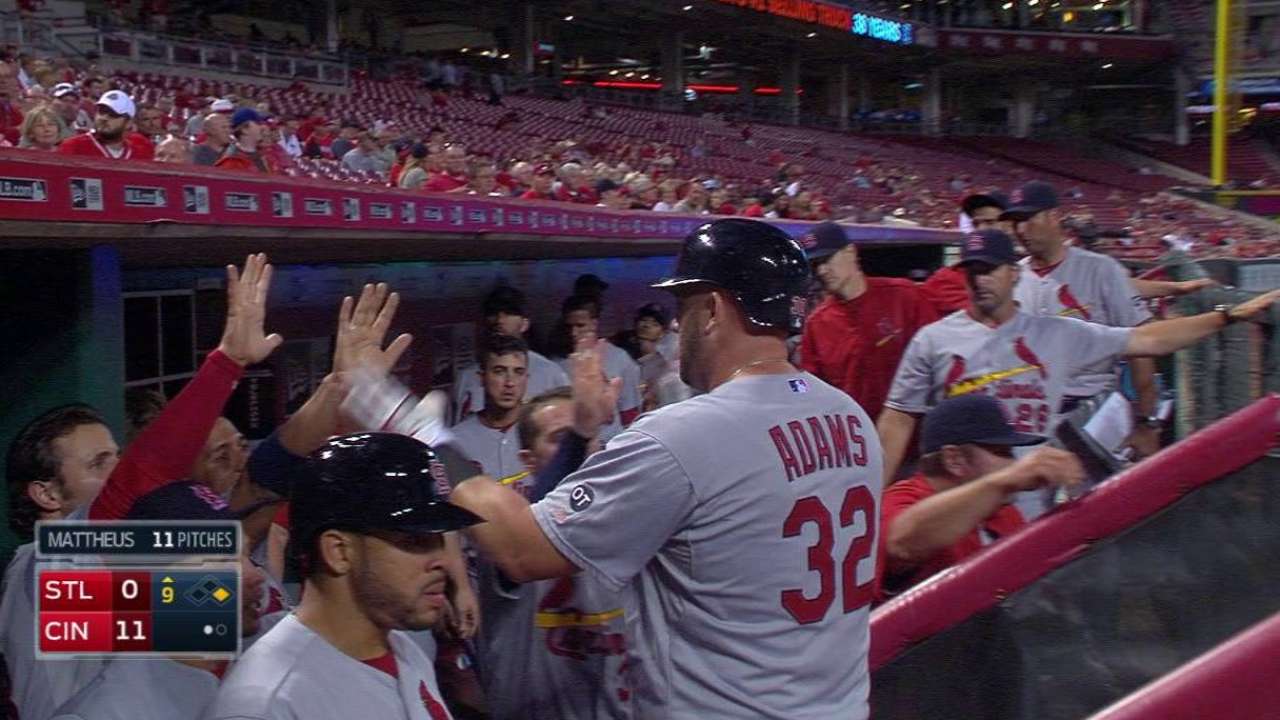 "Everybody was happy to have him back and with us and able to get an at-bat and watch him do with it what he did," Matheny said. "He had a couple of real nice looking swings. He looks good. I'm excited to get him in there."
WHAT'S NEXT
Cardinals: The Cardinals' pursuit of a third straight division title continues on Friday as John Lackey starts in the second game of a four-game series in Cincinnati, at 6:10 p.m. CT. Lackey has allowed two or fewer runs in 13 of his last 16 starts.
Reds: Friday's 7:10 p.m. ET game will feature the Reds starting Michael Lorenzen. It will set a new modern-day record when Cincinnati uses a rookie starting pitcher for its 42nd consecutive game.
Watch every out-of-market regular season game live on MLB.TV.
Jenifer Langosch and Mark Sheldon are reporters for MLB.com. This story was not subject to the approval of Major League Baseball or its clubs.