Blackmon judges correctly, makes grab at wall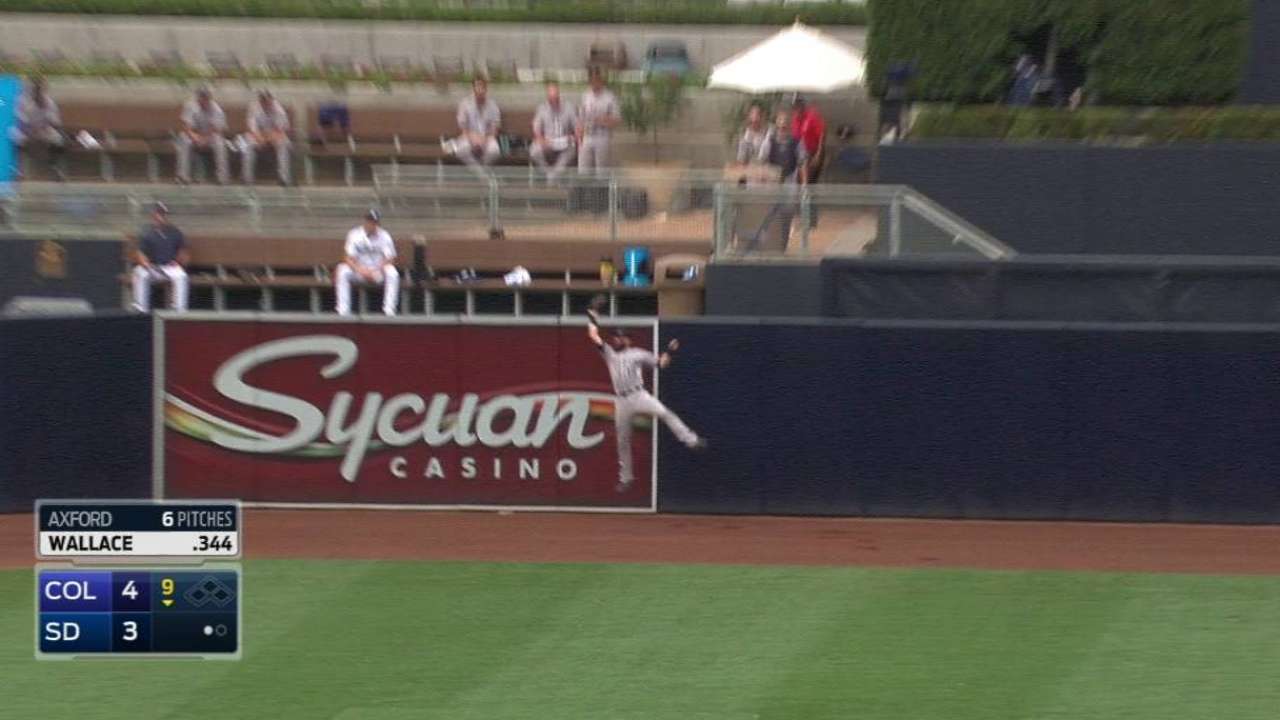 SAN DIEGO -- With one out in the bottom of the ninth inning of the Rockies' 4-3 win on Thursday, the Padres sent pinch-hitter Brett Wallace to the plate with hopes of making something happen.
Wallace, who had his first career walk-off RBI in Tuesday's 2-1 Colorado loss, hit what looked like to be a ball heading out of the park in center field off Rockies closer John Axford.
However, center fielder Charlie Blackmon read the ball perfectly, jumping up against the wall and reaching up to make the catch.
"Wallace is locked in," manager Walt Weiss said. "He's hitting everything hard. I thought it was a home run off the bat. Charlie made a real nice play. It's a tough play right there. I thought it was gone when he hit it."
For Blackmon, he was more convinced the ball was staying in the park, but the difficulty came with solidifying that he could make the play.
"I was trying to gauge how close to the fence it was," Blackmon said. "Deciding, 'Do I need to jump? But what if you jump too early? Or should I put my arm out and catch it?'"
Despite the long thought-out process, Blackmon was able to make the grab for the second out, and Axford followed by striking out pinch-hitter Justin Upton to earn his 21st save of the season.
Although the play came at a crucial moment, Blackmon said he would still only rate the difficulty of the catch a 6.5 out of 10.
"That's the kind of thing where you know that you have an opportunity to make the play," Blackmon said. "You don't want to not realize that the wall is sneaking up on you and bang into the wall and then it's a ball you should have caught."
Beth Maiman is an associate reporter for MLB.com. This story was not subject to the approval of Major League Baseball or its clubs.