Price-Severino opens huge Jays-Yanks showdown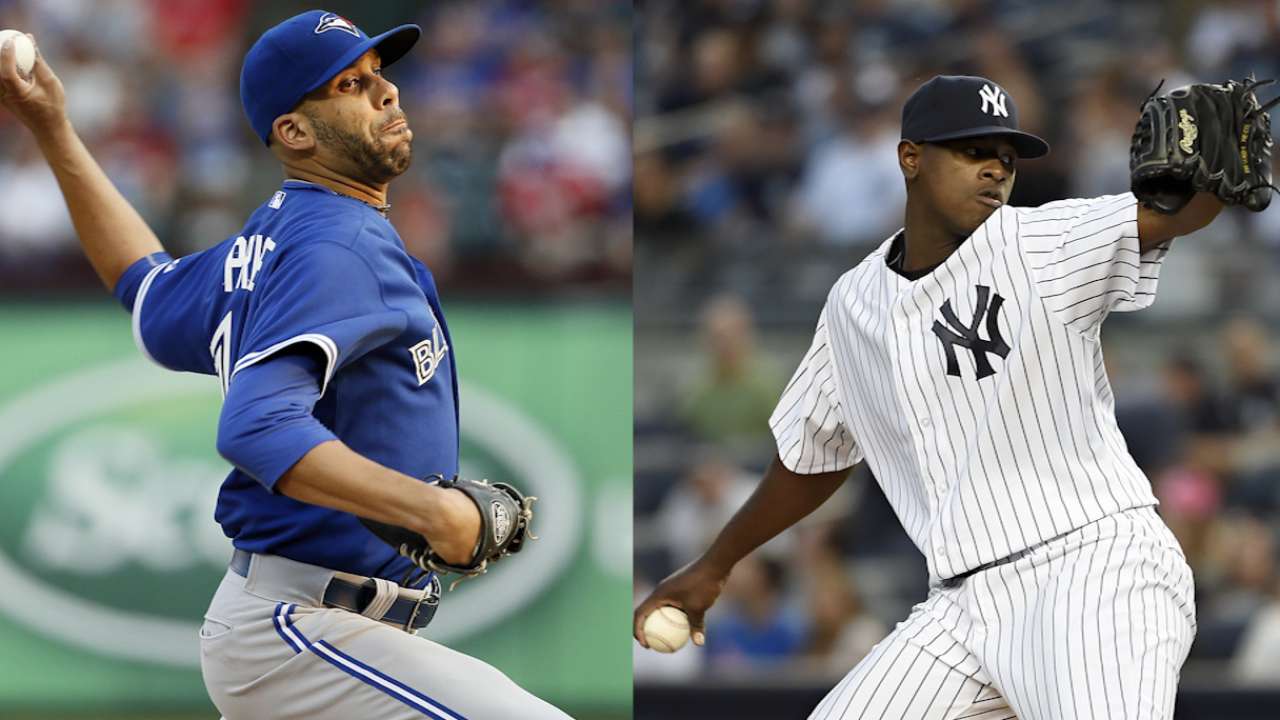 After inclement weather forced the postponement of Thursday's series opener between the Yankees and Blue Jays, the teams will begin their four-game series in the Bronx on Friday. The American League East lead hangs in the balance, with Toronto ahead by 1 1/2 games and seven head-to-head matchups remaining.
Thursday's rainout, to be made up as part of a single-admission Saturday doubleheader, forced both teams to push their scheduled starters back a day. In the series opener, the Jays will go with left-hander David Price, who has lived up to expectations since arriving in Toronto via the non-waiver Trade Deadline on July 30. In seven outings for his new club, all of them quality starts, Price has gone 5-1 with a 2.15 ERA and 58 strikeouts over 50 1/3 innings.
The Yankees will counter with a recent addition of their own, albeit this one from within the organization. Rookie right-hander Luis Severino has done nothing but impress since making his Major League debut on Aug. 5, posting a 2.04 ERA and striking out nearly a batter per inning in six starts. In each of his last five, he has completed at least six innings.
Here are a few other matchups and games to look forward to today.
Astronomics: HOU @ LAA, 10:05 p.m. ET
The Astros enjoyed a productive day of rest on Thursday, seeing their AL West lead over the Rangers increase to 2 1/2 games when Texas lost at Seattle. Houston ace Dallas Keuchel, who leads the league in victories (17) and innings (200 2/3), will try to give the road team a boost in its opener against the Angels.
Much of Keuchel's success this season has come at home, where he's posted a 13-0 record and an astounding 1.49 ERA in 16 starts. The left-hander goes from extraordinary at home to just plain ordinary on the road, where he's notched a 4-6 record and a 3.35 ERA in 12 outings this season.
The Angels, one game over .500, are 5 1/2 games behind the Astros in the AL West and just three games back in the AL Wild Card race. They've also won 12 of their last 17 against the Astros in Anaheim. They'll start veteran Jered Weaver, who has given up just two runs in two starts against the Astros this year. He held the Rangers to four hits and one run in his last start on Saturday.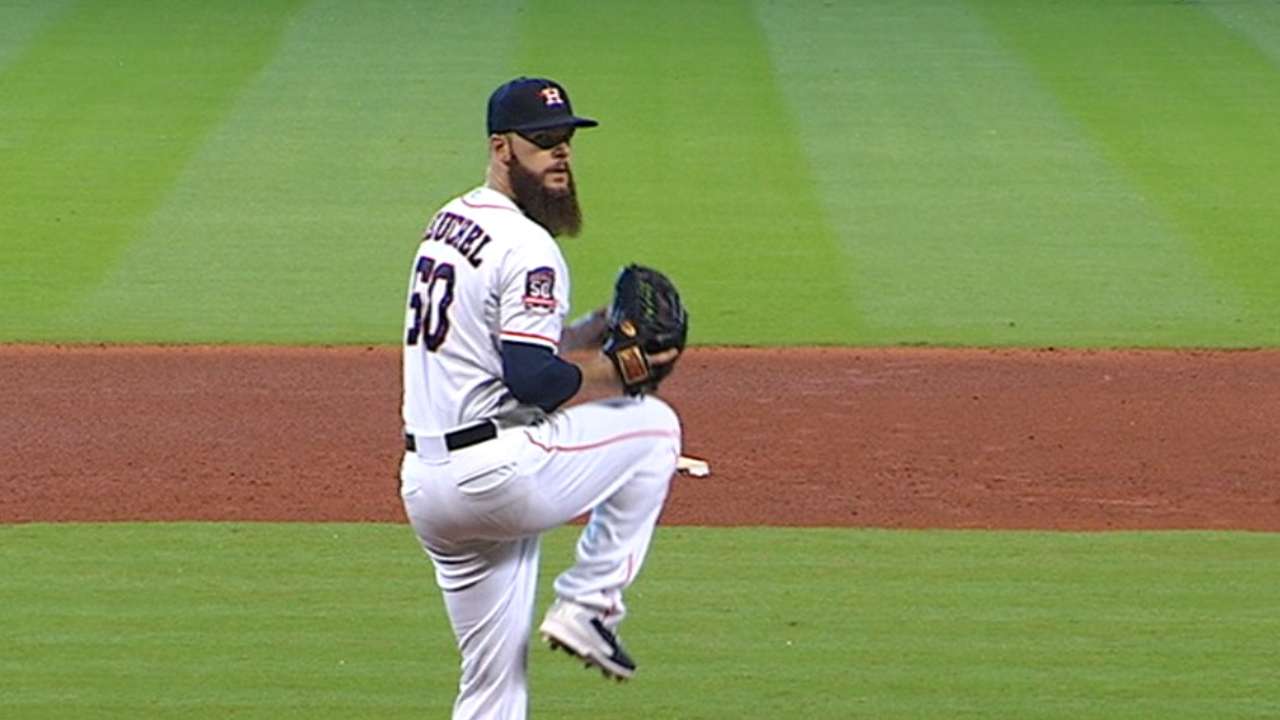 Running wild: OAK @ TEX, 8:05 p.m. ET
The Rangers find themselves embroiled in two races, as they currently hold the AL's second Wild Card spot by a game over the Twins, and they also still have a shot at catching Houston in the AL West. Every game and every win will matter for them down the stretch.
Colby Lewis will get the ball on Friday, and he'll be trying to reverse a recent run of poor results. Lewis is 0-3 with an 8.62 ERA in his last three starts, and opponents are hitting .343 off him in that span. The veteran has a 2.00 ERA in three starts against the A's this year and is looking for his career-high 15th win.
The A's, meanwhile, will go with Jesse Chavez, who leads all AL pitchers with 14 losses. Chavez has been much better at home (5-6, 3.38 ERA) than he has been on the road (2-8, 4.95 ERA) this season, and he's trying to reverse a second-half run that has seen him post a 5.72 ERA in his last 10 starts.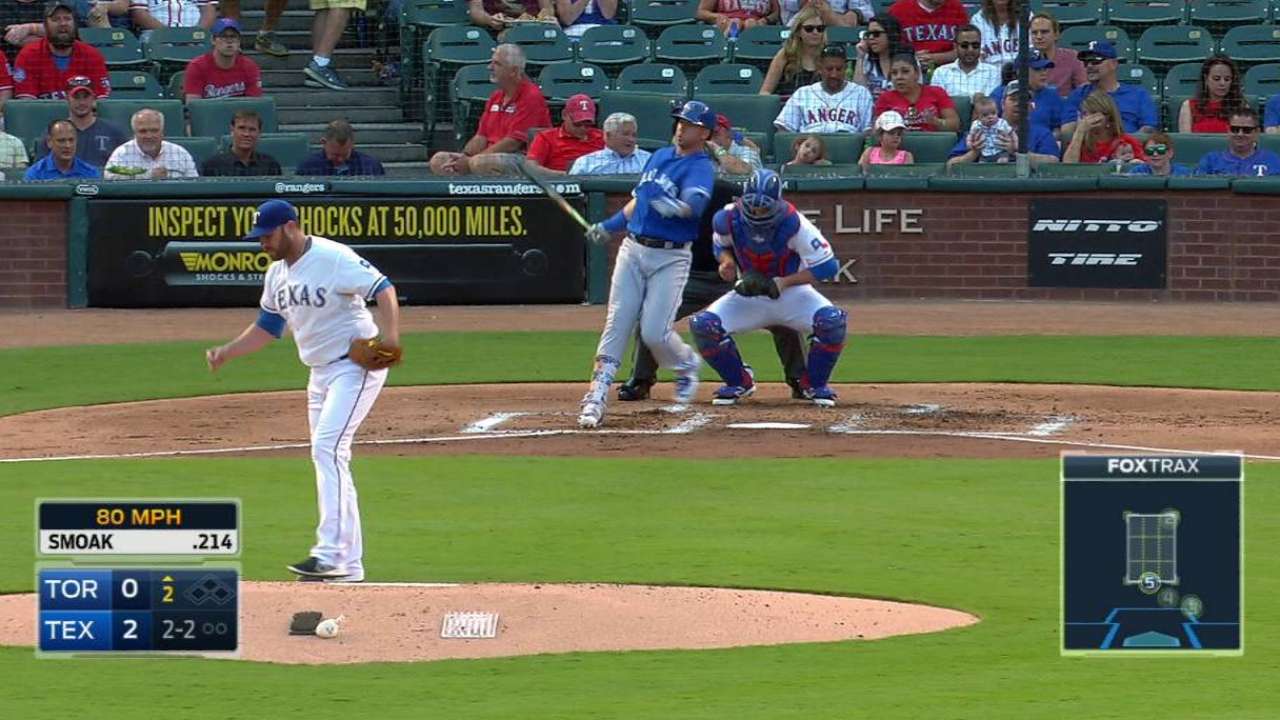 Chasing Texas: MIN @ CWS, 8:10 p.m. ET
The Twins are running hot on the Rangers' heels, just one game back in the Wild Card hunt despite posting a 23-27 record in the second half. Minnesota has been outscored 249-215 over its last 50 games, but the Twins will go into this series with an 11-5 record against the division rival White Sox this year. They are 2-3 on a current nine-game road trip that has taken them to Houston and Kansas City.
Minnesota is 6-4 in its last 10 games, and veteran Ervin Santana will take the mound in the series opener. Santana has gone 4-4 with a 4.72 ERA in 10 second-half starts, but he's been dominant in his last two outings, both against the Astros, working 15 innings and striking out 21 batters.
Chicago youngster Erik Johnson will make his second start of the year, and he's coming off the fifth victory of his Majors career. Johnson, 25, has gone 5-3 with a 4.71 ERA in 11 big league starts, and he was 11-8 with a 2.37 ERA for Triple-A Charlotte this season.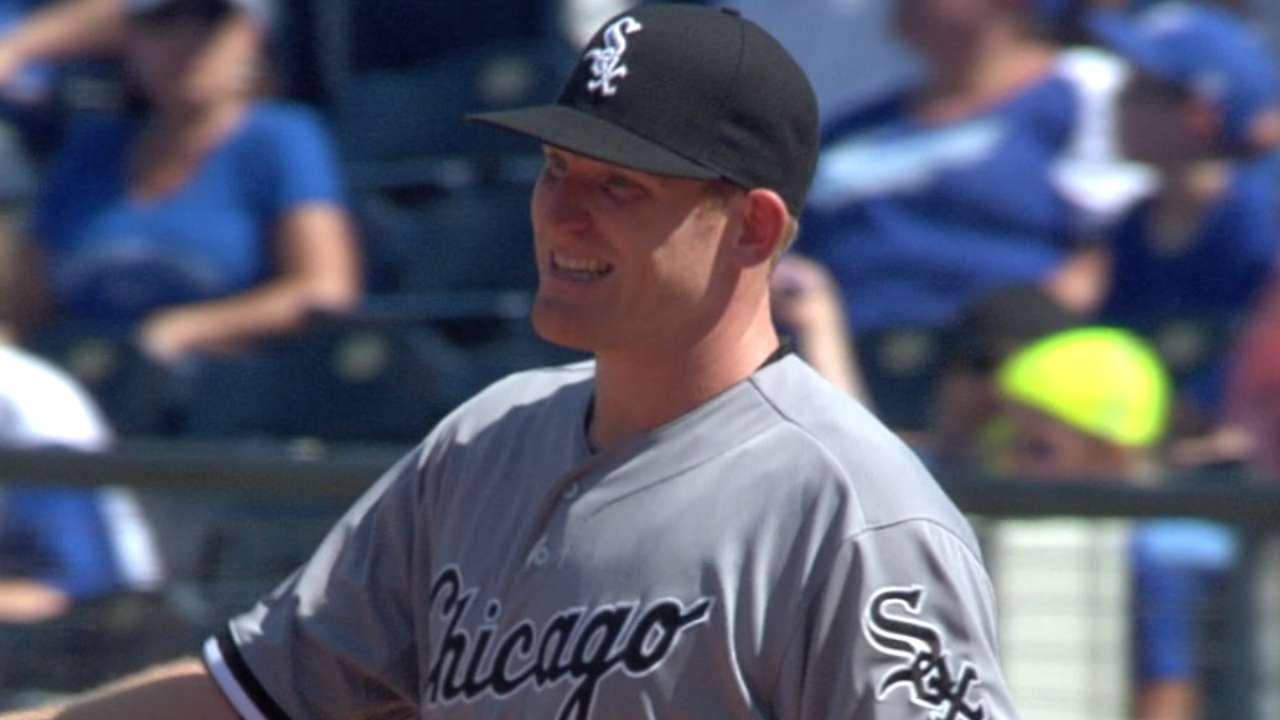 Also notable:
Cleveland's Wild Card push includes wins in 14 of its last 20 games. The Indians, currently four games back in the Wild Card race, are trying to return to the postseason for the first time since 2013, when they won 21 of their last 27 games to claim a Wild Card spot in manager Terry Francona's first year at the helm.
Spencer Fordin is a reporter for MLB.com. This story was not subject to the approval of Major League Baseball or its clubs.