Maddon to tinker with defense down stretch
'It really helps a lot,' manager says of Cubs' versatile players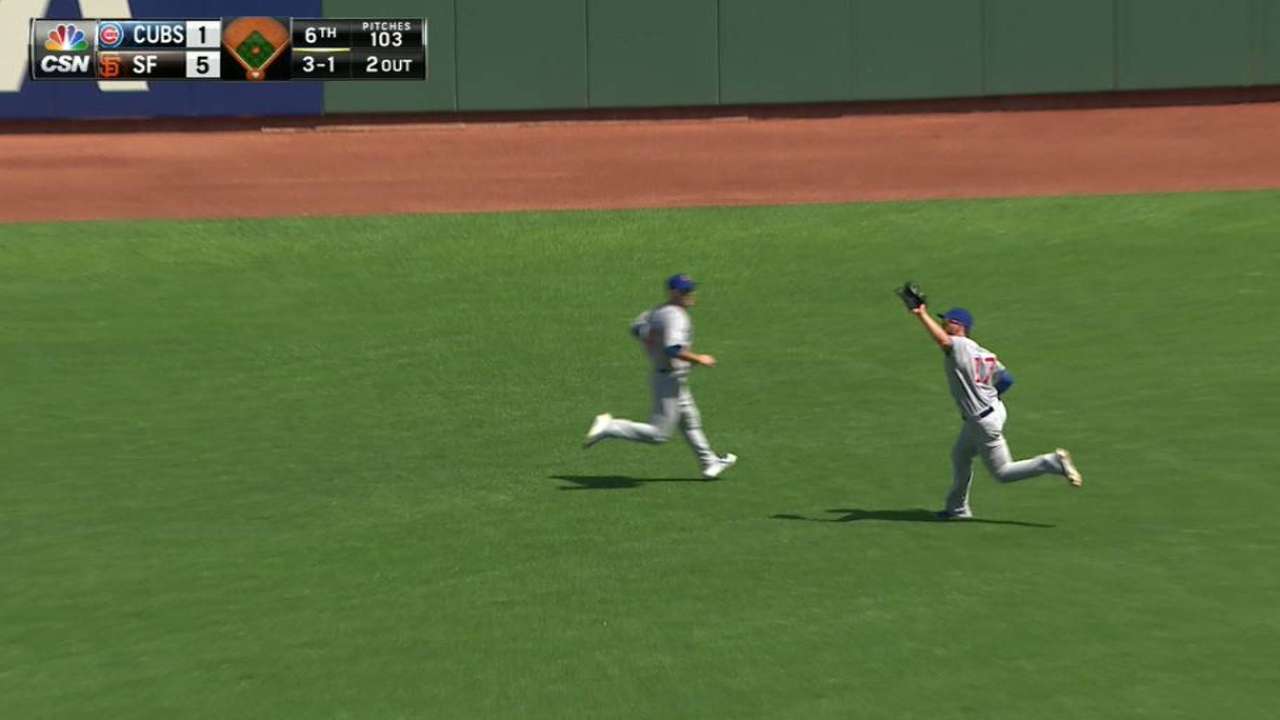 PHILADELPHIA -- In his last 12 games, Kris Bryant has started five games in the outfield and the other seven at third base. It's all part of the Cubs' attempt to see what they might need regarding the postseason roster.
"You can still see [Bryant] at third, too," Cubs manager Joe Maddon before Thursday's rainout in Philadelphia. "You'll probably see him out there [in the outfield] a lot, I can't deny that. He's not done playing the infield by any means.'
With Bryant in the outfield, Javier Baez, who has primarily played second and shortstop, can start at third. Maddon loves having versatile players.
"It really helps a lot," Maddon said. "Injuries are part of it, matchups are part of it, giving guys days off is part of it -- there's all these different things when you have versatile guys and play them in different spots and still feel like you're strong defensively."
Baez, who joined the Cubs from Triple-A Iowa on Sept. 1, has started three games at second and three at third so far. He's played stellar defense, and was batting .320 in eight games.
"Of course, you have to consider him [for the playoff roster], just for his glove, if anything," Maddon said of Baez. "What he's done defensively is pretty spectacular."
It helps that Bryant and others are comfortable moving around. Chicago began Thursday with a hold on the second National League Wild Card spot.
"You've got a little bit of a lead now, and I'm not saying you get cavalier, but if you want to try things out, you try them out now," Maddon said.
Worth noting
• Rain postponed a simulated game Thursday for Cubs' outfielder Jorge Soler, who has been on the disabled list since Aug. 24 with a left oblique strain. Soler did hit in the cage, but he may be running out of time to get in game shape in time for the postseason.
"He needs to play some," Maddon said. "You can't throw him out in a pertinent game now -- he might be OK. We'll have to wait and see."
The only Cubs' Minor League team still active is Class A Myrtle Beach, which faced elimination Thursday in the Southern Division playoffs. The other option would be to send Soler to the Cubs' complex in Mesa, Ariz., for instructional league, but that doesn't begin until Sept. 21.
• As far as series go, Maddon liked to say he'd be happy with meatloaf, as in the rock group Meat Loaf's song "Two out of Three Ain't Bad." But the Cubs were ticked at not completing a sweep of the Cardinals on Wednesday.
"Meatloaf wasn't good yesterday," Maddon said.
• The Cubs' Sept. 27 game against the Pirates at Wrigley Field, which was listed as "to be determined" on the schedule, will start at 7:08 p.m. CT, and be part of a national television broadcast on ESPN.
The Cubs have yet to announce the start time for the Sept. 26 game against the Pirates.
Carrie Muskat is a reporter for MLB.com. She writes a blog, Muskat Ramblings. You can follow her on Twitter @CarrieMuskat and listen to her podcast. This story was not subject to the approval of Major League Baseball or its clubs.