Day after tirade, Votto mum
Price doesn't understand why star player's request for time not granted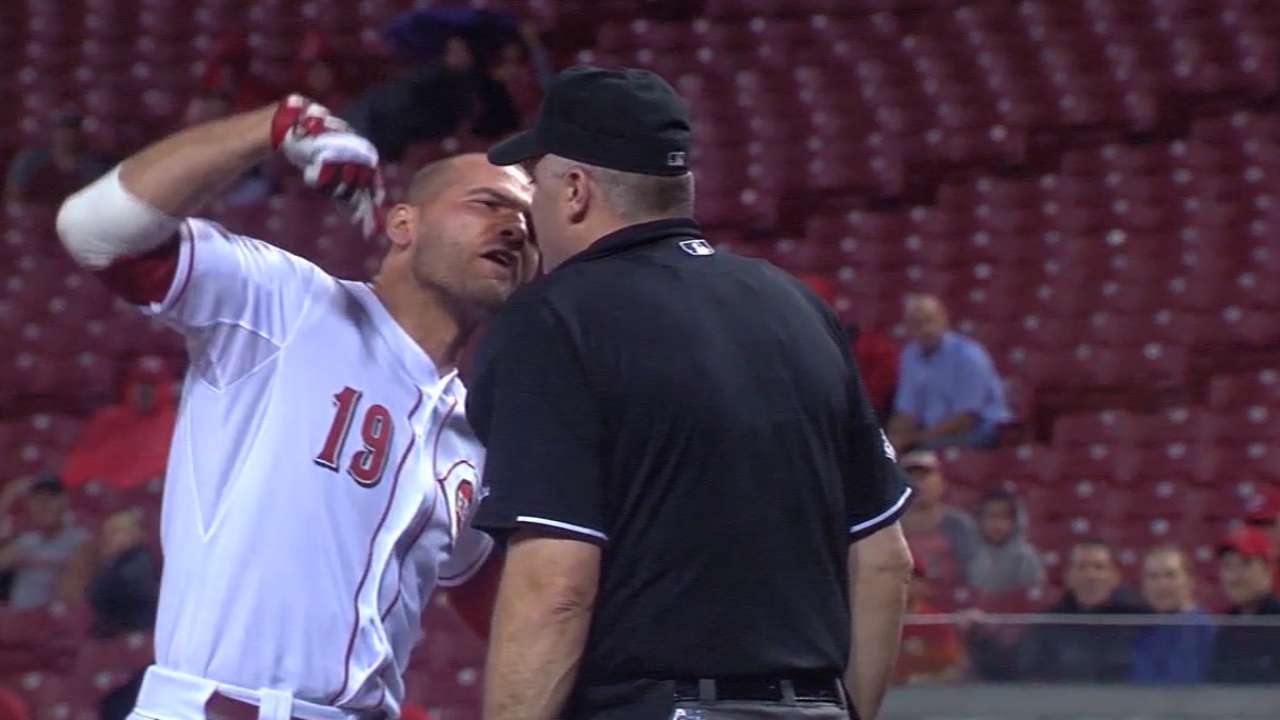 CINCINNATI -- In Pittsburgh on May 6, when Joey Votto lost his cool after being ejected and bumped umpire Chris Conroy with his chest, the Reds first baseman was immediately contrite and willing to discuss the situation after the game.
On Thursday, the day after an explosive outburst fueled by another ejection, Votto was in no mood to discuss what went down in the batter's box with home plate umpire Bill Welke.
"I'm not going to talk about the exchange last night," Votto said.
Other questions during the one-minute stretch with reporters went unanswered.
During a 5-4 loss to the Pirates here, Votto represented the go-ahead run as he batted with two men on while Cincinnati was trailing by two runs in the eighth inning. Already disappointed with some balls and strikes calls throughout the game, Votto took a pitch from Pittsburgh reliever Tony Watson and had a few words to say after Welke called it a strike. Then Votto asked for timeout while in the box and Welke wouldn't grant it. When Votto turned to his dugout to say "I asked for time," Welke ejected him.
An irate Votto promptly slammed his helmet to the ground and screamed in the face of the umpire before being separated by another umpire and coaches. Reds manager Bryan Price was also ejected.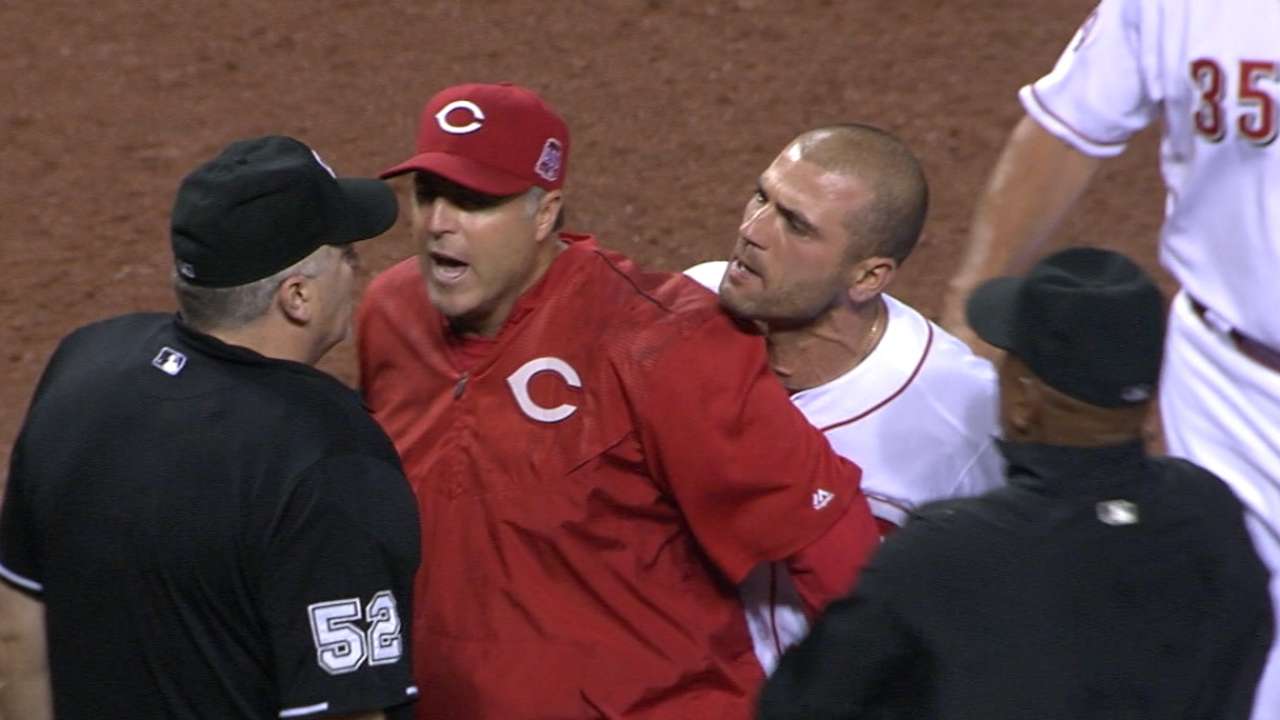 There has been no word on possible discipline for Votto and he was in Thursday's lineup vs. the Cardinals. He served a one-game suspension for bumping Conroy, a punishment that could have been more severe had Votto not quickly made amends by apologizing to Conroy privately and publicly.
"I've done some investigative work and made a couple of phone calls to get some sort of better understanding about what happened," Price said on Thursday, which was also Votto's 32nd birthday. "I imagine there will be some contact with the league anyway, as there typically is with any ejection."
Votto has been ejected three times this season and seven times since debuting in the Majors in 2007. His first-ever big league ejection was issued by Welke on July 12, 2009.
Umpires are not required by rule to automatically grant requests for a timeout, but usually do. Price still believed Welke should have let Votto have a moment to reset himself.
"That to me would warrant a response from Joey to get some help from his manager, which he asked for and then was ejected for," Price said. "I spoke to Joey and he feels like he handled the situation as he should. He asked for timeout, didn't get it, was ejected and responded to the ejection."
During their discussion on the field moments before his own ejection, Price asked Welke why he didn't give Votto timeout.
"He just said there was some back-and-forth and he came to his own conclusion as to why Joey would ask for timeout," Price said. "If there was any disagreement about the strike zone earlier in the game, it doesn't matter. The bottom line is, the guy is asking for timeout and then as he typically does, be ready to get back in the box and compete. I'll be real interested to see how this plays out."
Mark Sheldon is a reporter for MLB.com. Read his blog, Mark My Word, follow him on Twitter @m_sheldon and Facebook and listen to his podcast. This story was not subject to the approval of Major League Baseball or its clubs.